For Mother's Day, we had the Ranchers and Grandmom over to the farm, and served all the dishes that Grandmom loves best: Shrimp Cocktail, hamburgers and pimento cheese. And for supper, I took the pimento cheese a step further, and put it on top of the hamburger!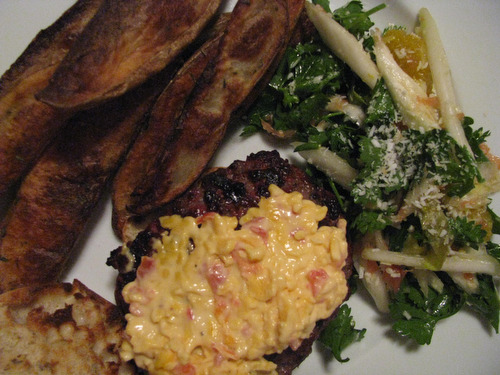 Wow. With oven fries and a parsley-endive salad with orange, grapefruit and coconut, that was one delishy meal.
More, including dessert, after the jump.
The table is set and ready: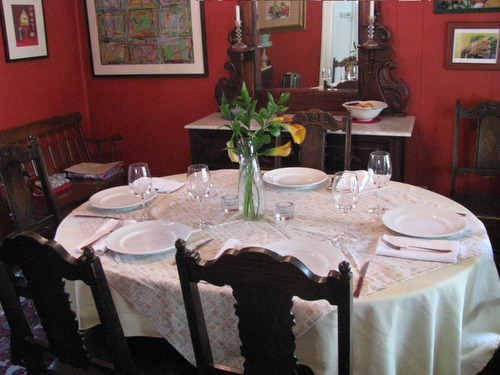 In the vase are some beautiful calla lilies that the Hunna brought me for my birfday. After touring the bees, we tried to be outside but the wind was too bitter. So inside we went: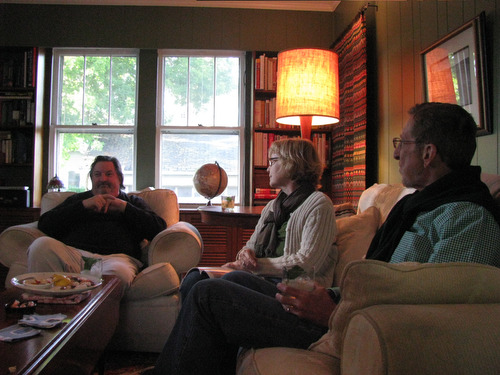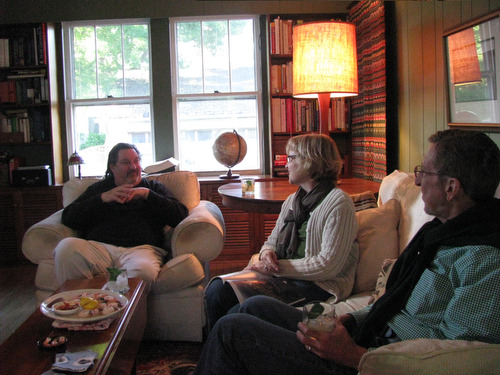 And here's Grandmom!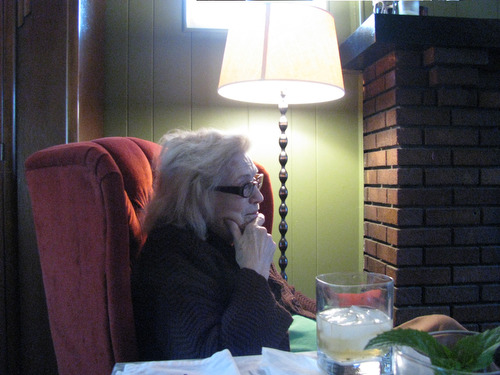 To start, we had the aforementioned pimento cheese, the recipe for which you can find here on the Sour Cherry Farm archives: Rachel's Pimento Cheese.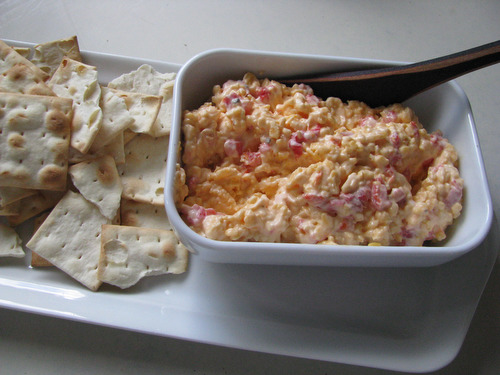 And srimp cocktail, the recipe for which is right here: Recipe: Shrimp Cocktail.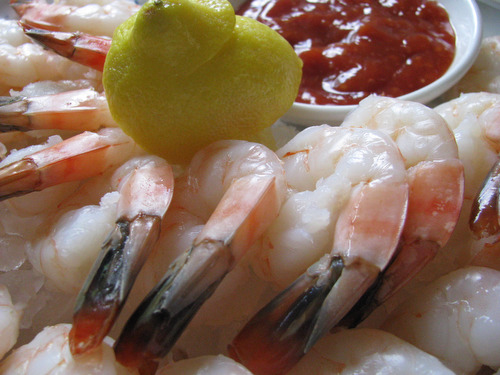 For dinner, we sliced Idaho potatoes into eighths and roasted them at 400 for about 40 minutes. The edges were nice and crispy and the inside was fluffy and light.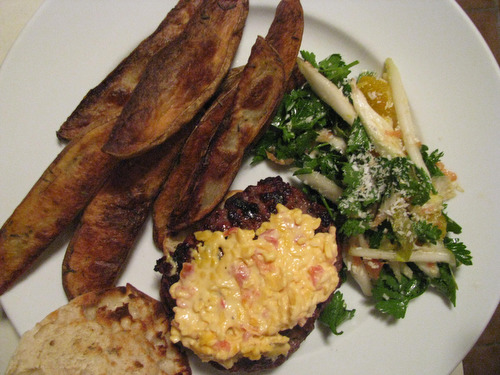 And the parsley-endive salad is a grown-up version of ambrosia and I found it in the new Simple Fresh Southern: Knock-Out Dishes with Down Home Flavor by Matt Lee and Ted Lee. It was fabulous.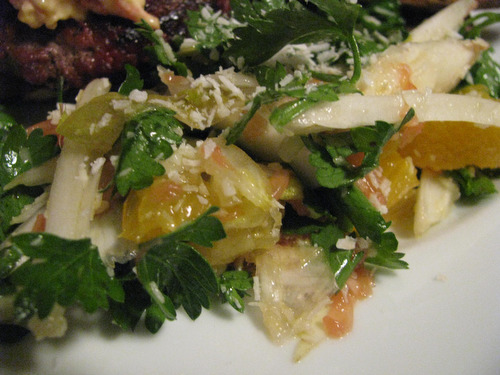 Best part? I tossed the leftovers with some wheatberries and I now have my own kicked-up version of tabouli.
At the table: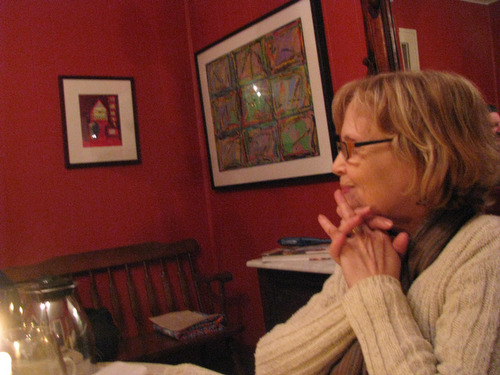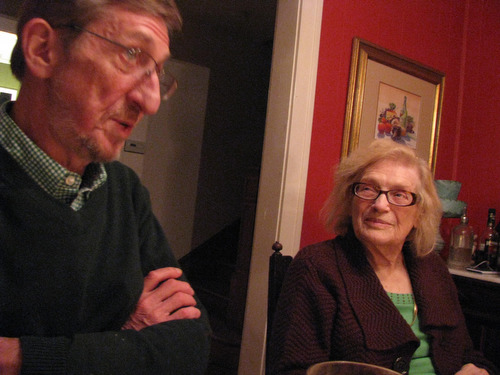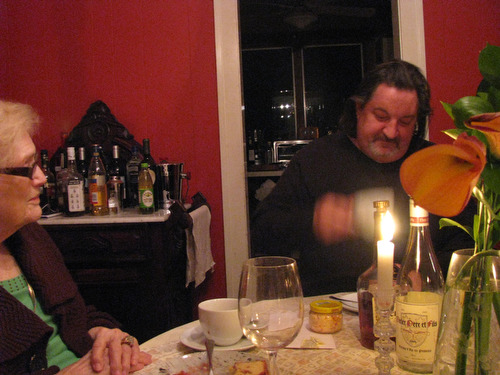 And for dessert, my favorite Suzanne Goin dessert, Pastel Vasco. Here's the recipe: Pastel Vasco with Fruit Compote.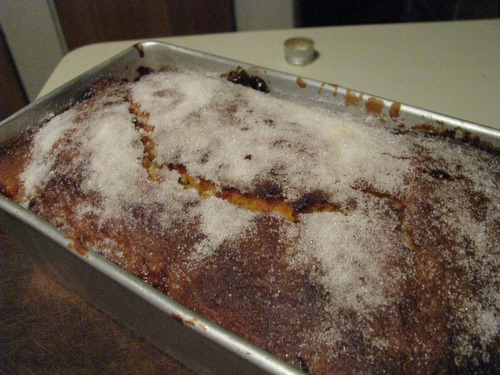 This time I made it with strawberry compote rather than blackberry.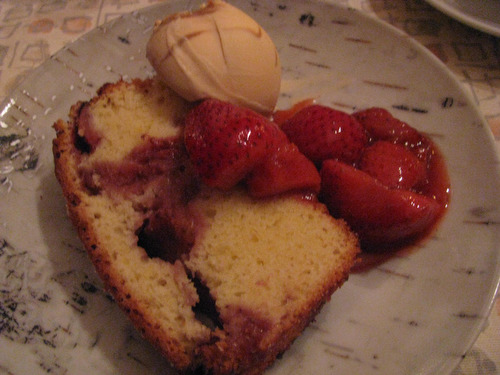 Delishy.
Happy Mother's Day!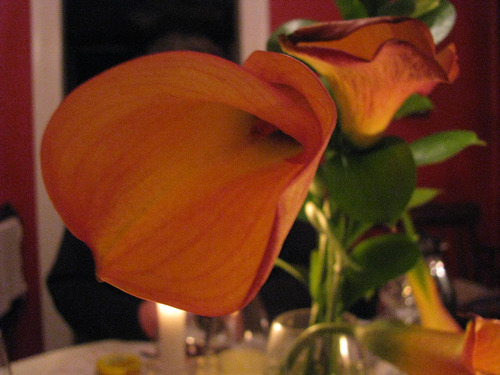 1 year ago: Mother's Day 2009: Roasted Chicken with Lemon at the Ranch.
2 years ago: Mother's Day 2008: Ham and popovers at the Farm.
3 years ago: Mother's Day 2007: Brunch, with Smoked Shrimp over SCF greens, Sorre Soup and Oeufs en Cocette with Tomato and Tarragaon, served with Dines Farm Bacon and Potatoes Lyonnaise.
4 years ago: Mother's Day 2006: A Mother's Day with Many Mothers.