For Cathy and Thor's big splurge meal, we went to Ma Peche — the midtown restaurant of David Chang of Momofuku fame — for Beef Seven Ways, a seven-course dinner with, you guessed it, beef prepared seven different ways.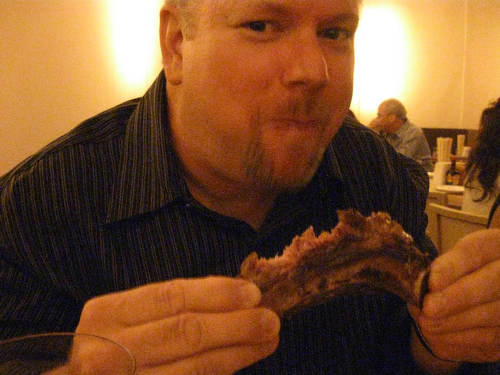 All dressed up and somewhere to go!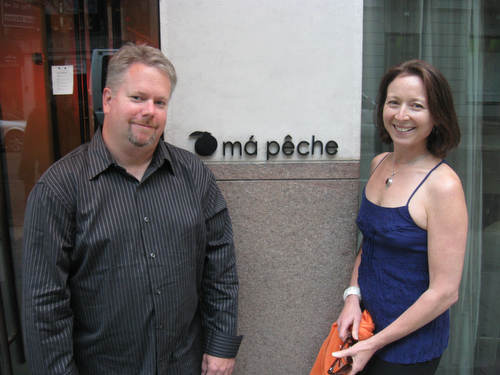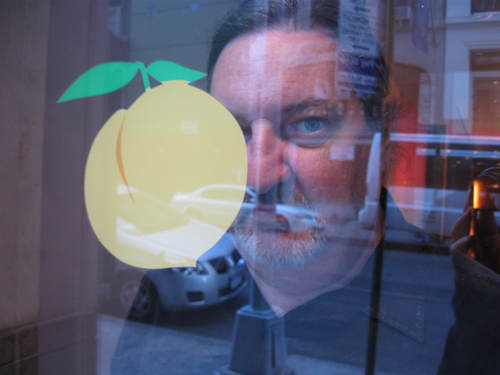 The room is very spare.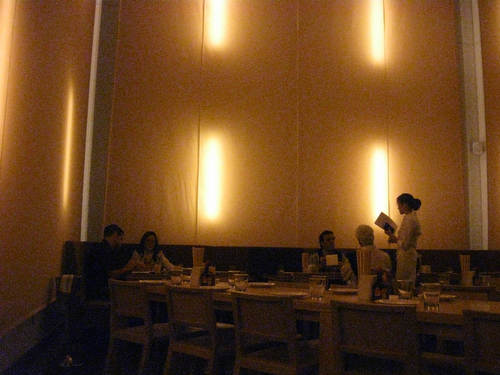 You can see up to the mezzanine, where the bar is: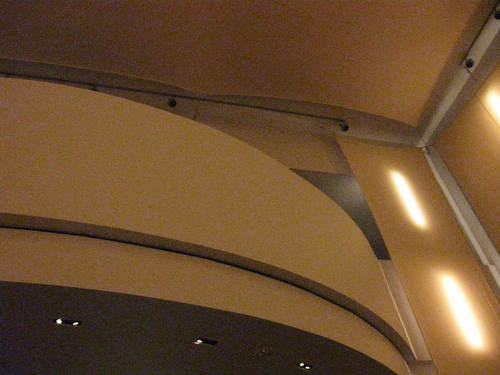 (And where I had drinks with Mom and Boo and Craig back in July.)
And sort of yellow. So forgive the tint on these photos. My apologies for not having corrected it.
Hunna at the table: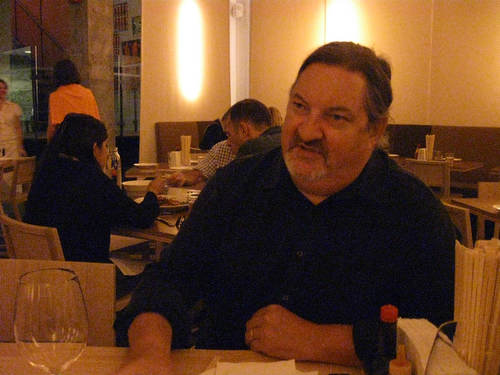 Me and Thor: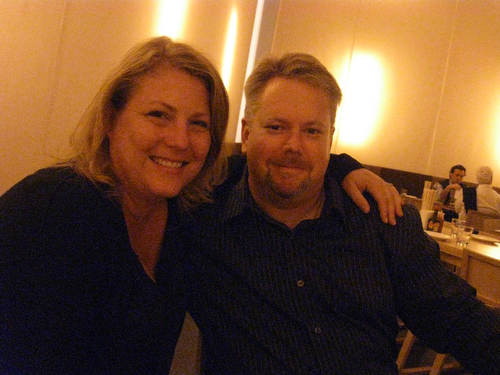 Cocktails. I can't remember what this was at the moment: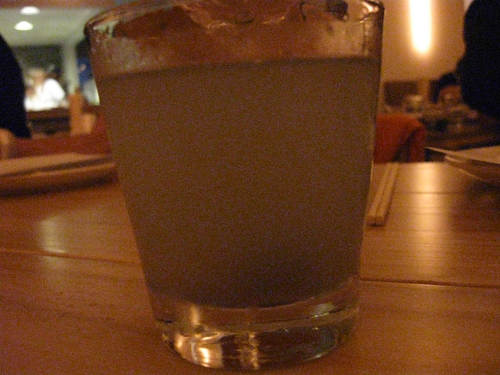 It may have been an Aviation. Another cocktail: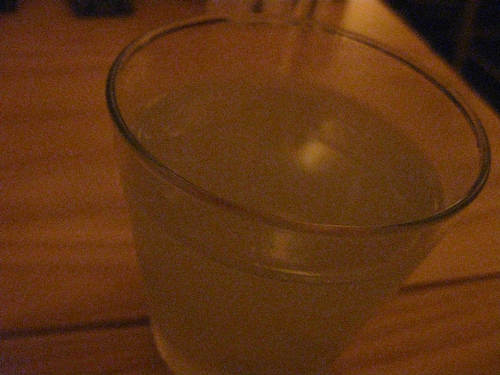 Our other guests arrive, Stephanie and Tim: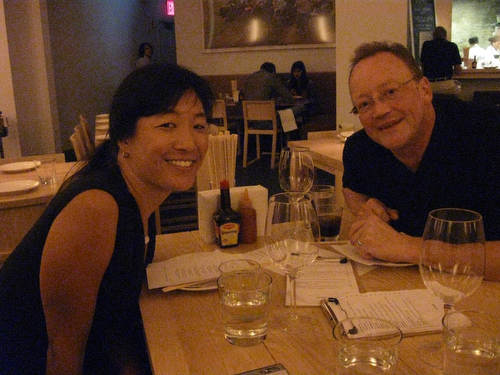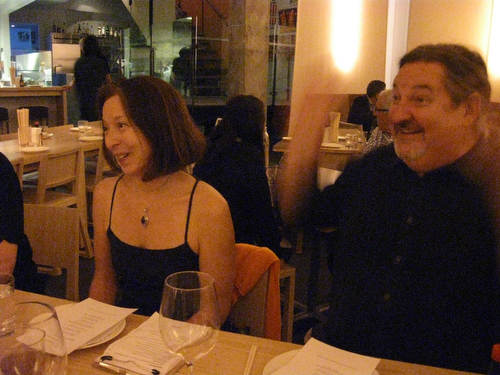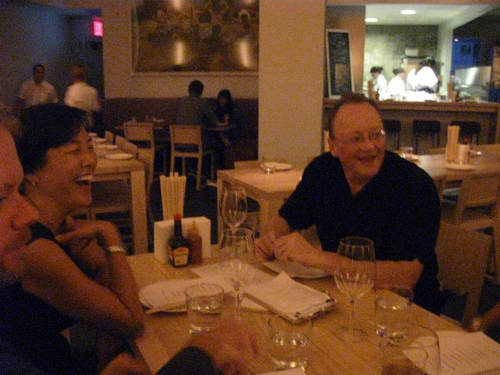 We decided to start with some oysters: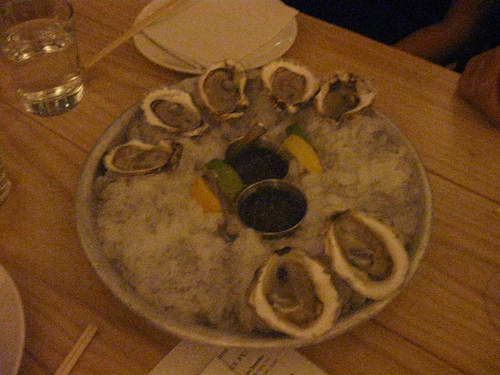 Slurp!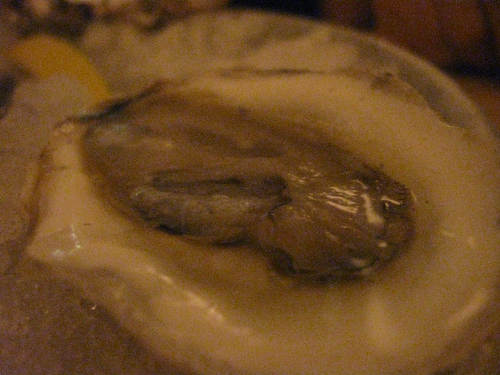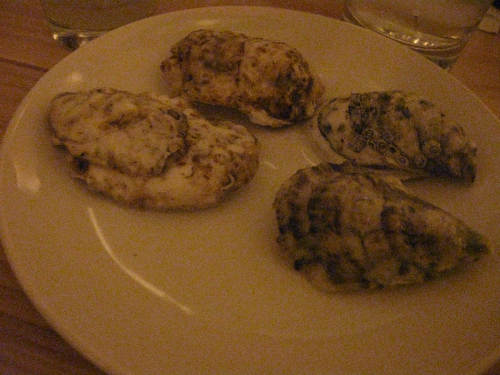 Our wine:
Here is our menu: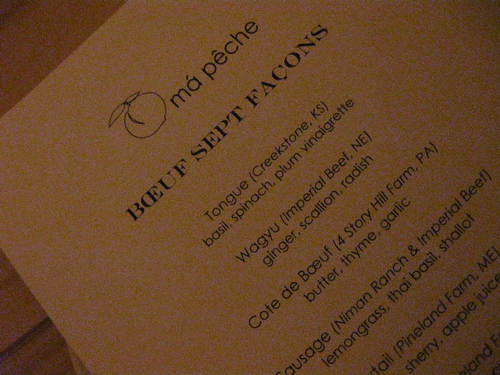 We're starting with tongue. It was in a Vietnamese salad of sorts, with chopped peanuts on top: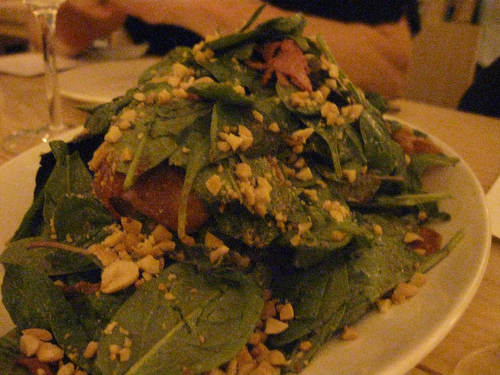 It was absolutely delicious.
Here is the waygu: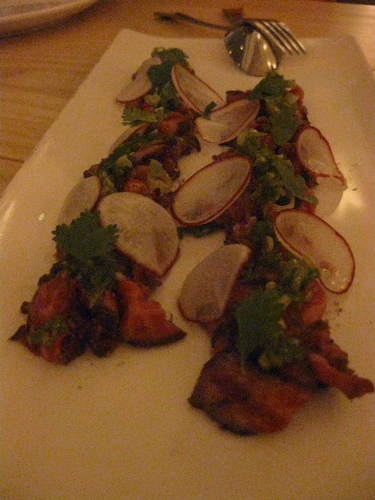 Also divine. These were both brought out at the same time, and the dishes were served family-style. That surprised me. I guess for some reason I thought this meal would be served like a tasting — everyone with his own plate and in a progression.
Here's my portion: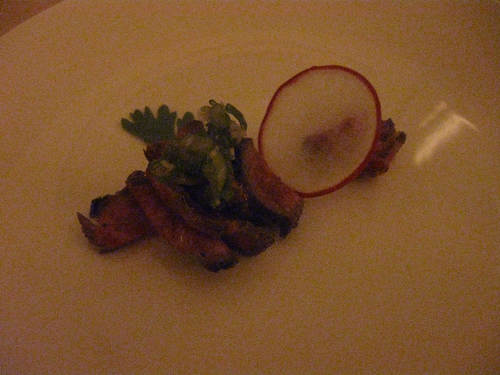 It was very, very tasty.
Our waitress: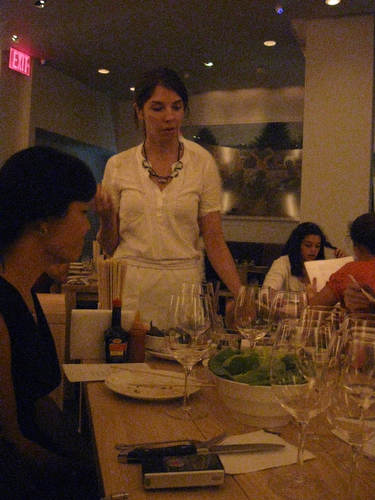 She brought out the fixin's for our lettuce wraps that go with the cote de boeuf: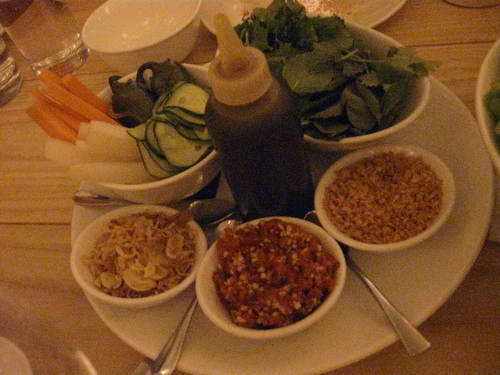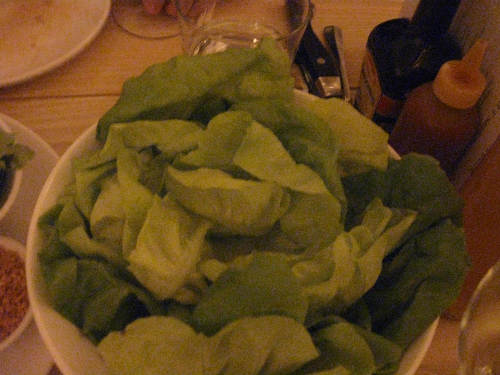 Here is the ribeye, as well as the lemongrass sausage: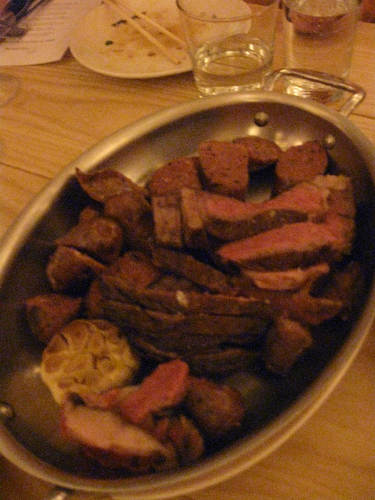 This was also a little unexpected. I didn't think two "ways" would be served together. But I guess that was my preconceived notion — after all, this is Beef Seven Ways, not A Tasting Menu of Seven Courses of Beef.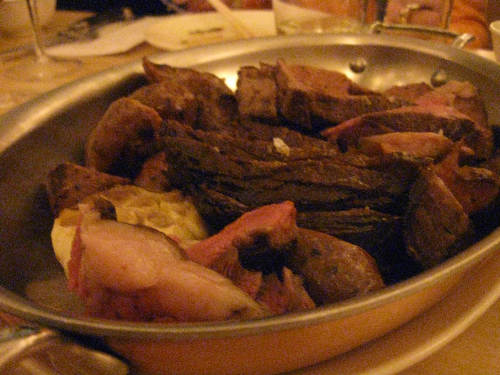 It was, though, really, really tasty. Gorgeous, in fact.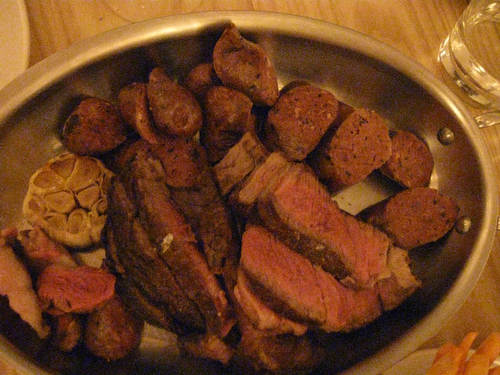 Greg makes a lettuce wrap: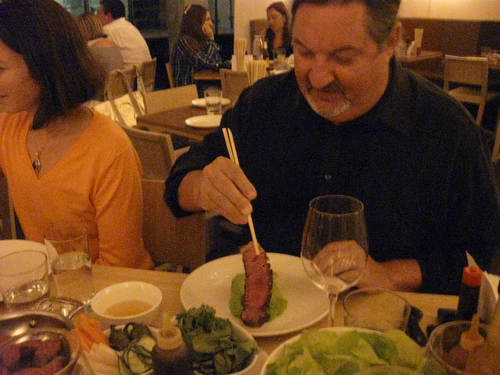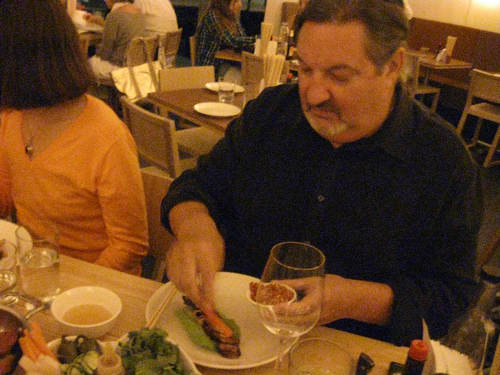 Tim makes a lettuce wrap:
New wine: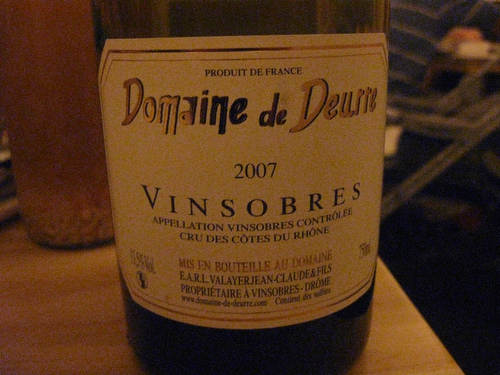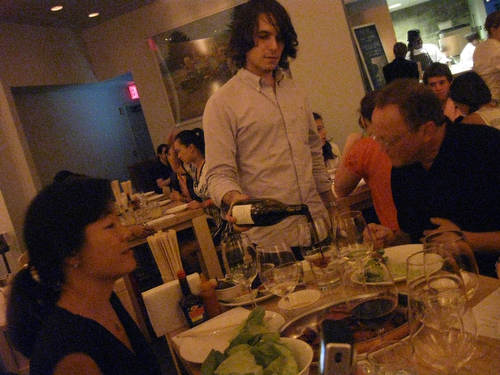 Lip-smacking good: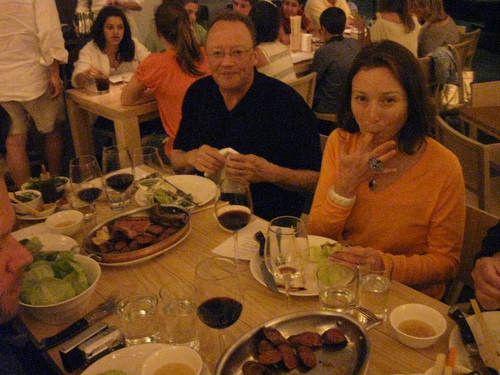 Serving and clearing: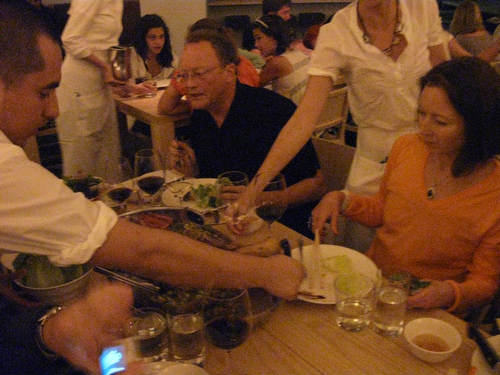 The enormous shank has been served: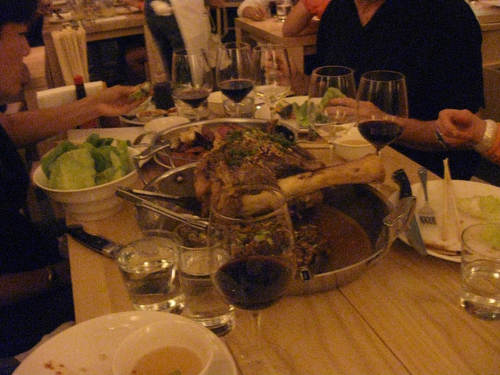 Shank and oxtails: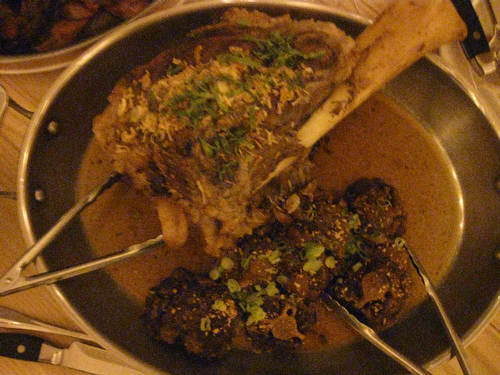 Dig in, folks!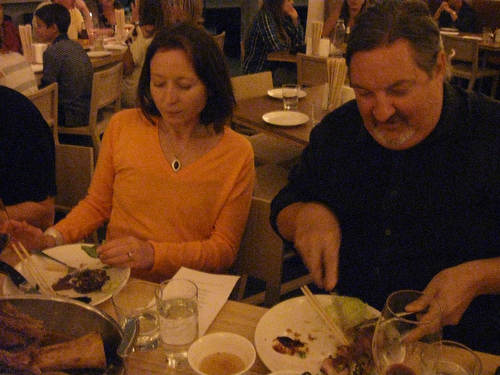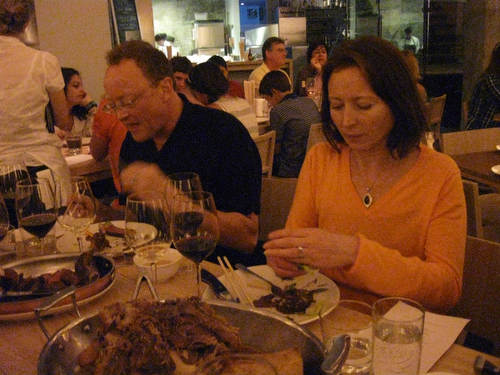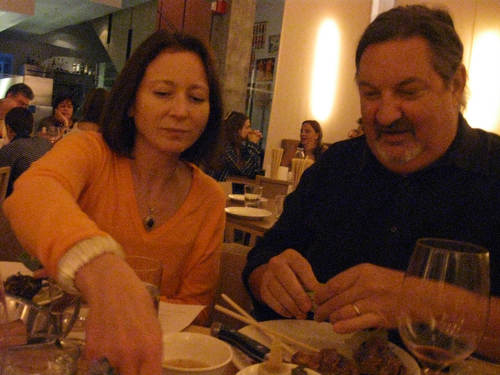 Smile!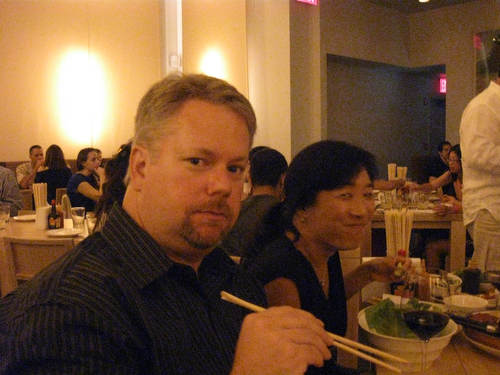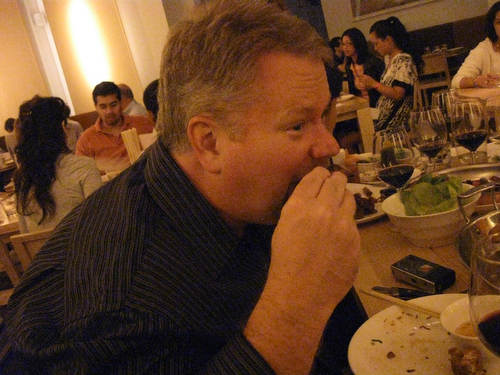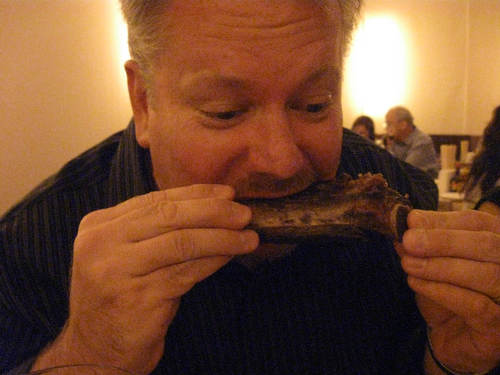 Tim must be telling a funny story here: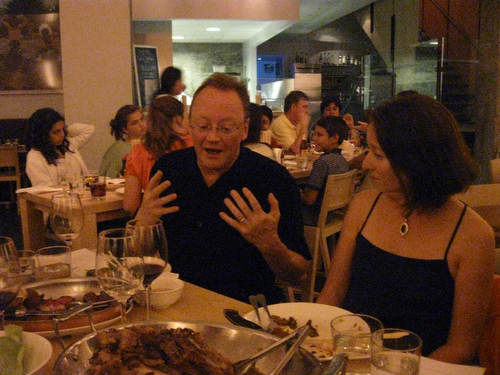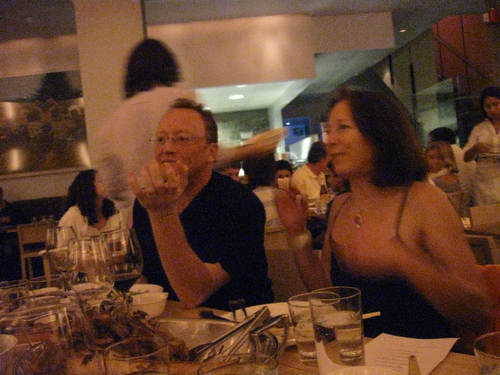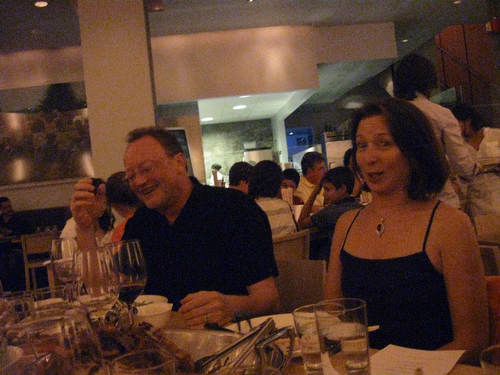 For our seventh Way, we have consomme: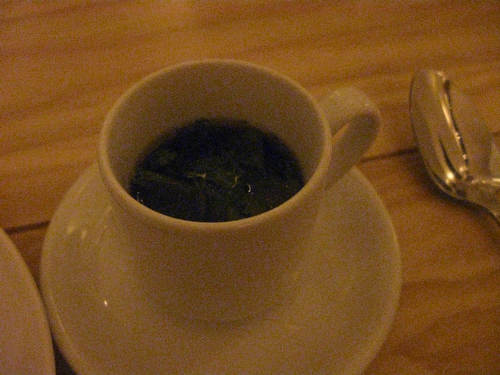 It has little pieces of basil in it. It was warm and restorative and a nice way to end a gluttonous feast.
Except!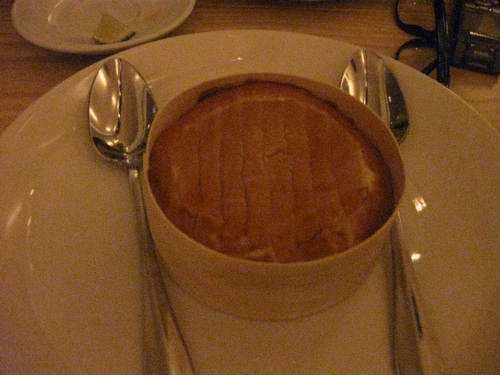 We decided to go for the wheel of epoisses. Here it is being opened: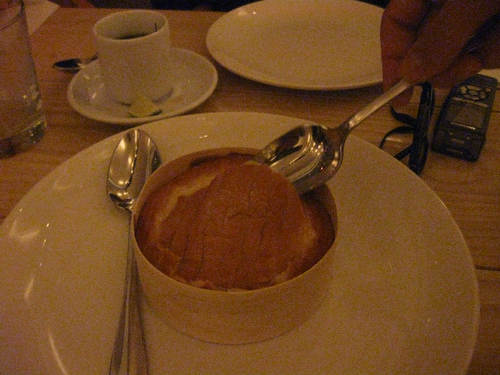 It's an entire pound of cheese: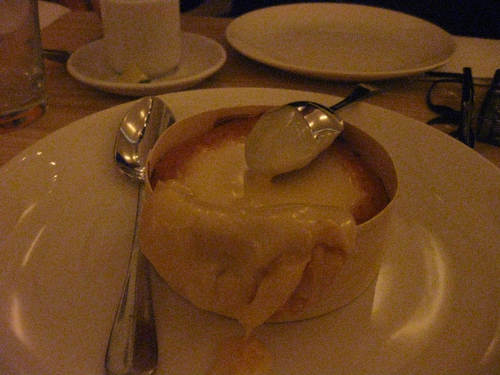 For which we ordered one more bottle of wine: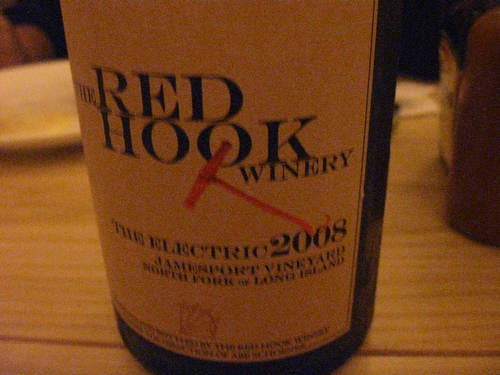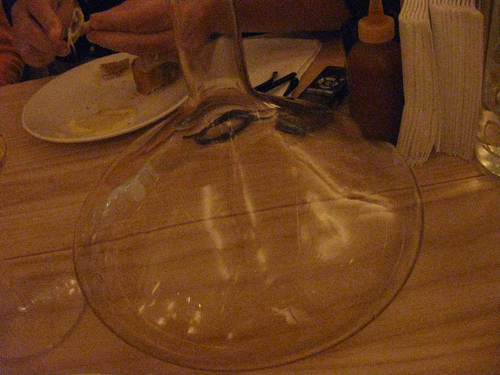 Unfortunately, the cheese was ammoniated — too old or stored poorly, I guess. It was unfortunate. We sent it back. So we were a little sad about that.
We went upstairs to the Milk Bar to see about a sweet dessert: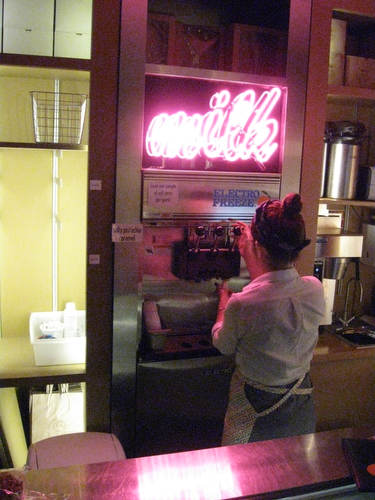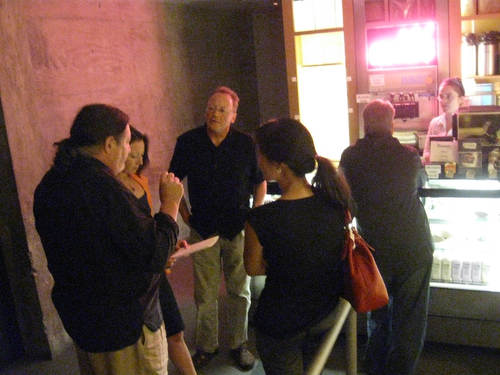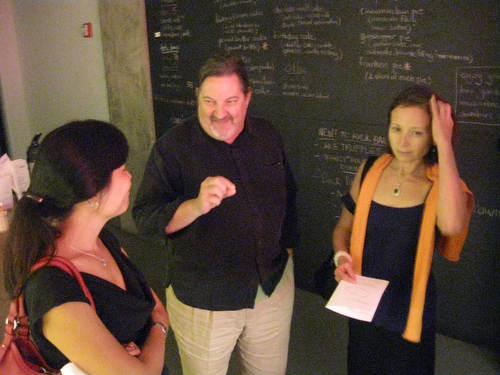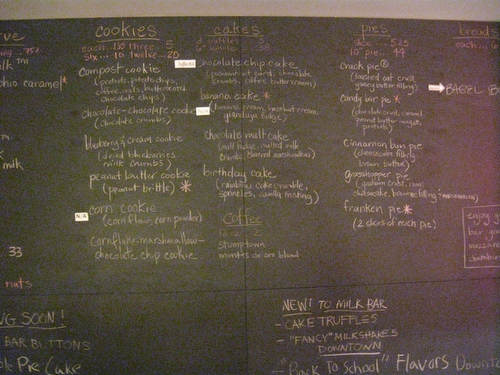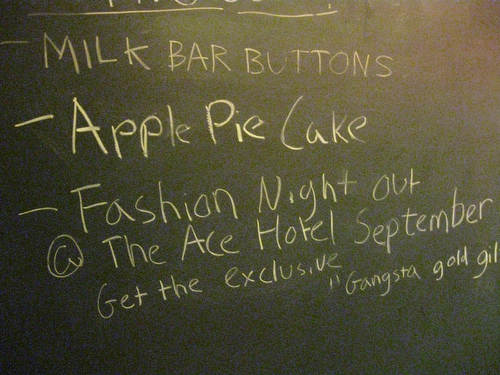 Stephanie and Cathy: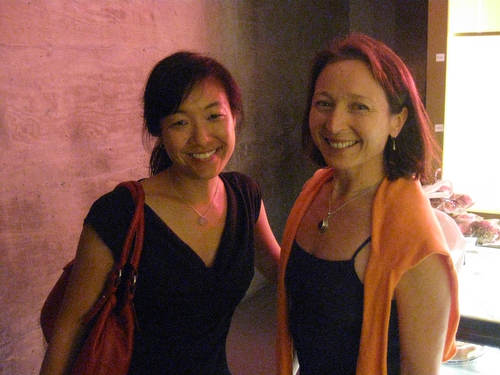 The gang!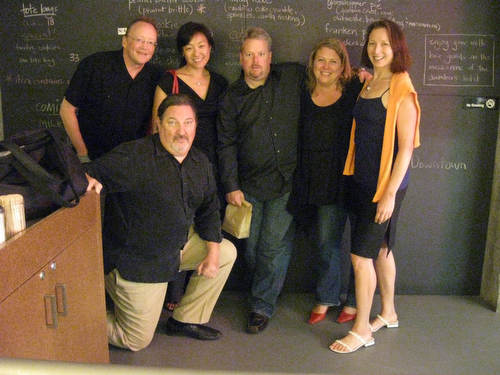 So, just to recap, here was the menu:
tongue (creekstone, ks) – basil, spinach, plum vinaigrette
wagyu (imperial beef, ne) – ginger, scallion, radish
cote de boeuf (4 story hill farm, pa) – butter, thyme, garlic
sausage (niman ranch & imperial beef) – lemongrass, thai basil, shallot
oxtail (pineland beef, me) – soy, sherry, apple juice
shank (pineland farm, me) – crab paste, onion, chili
consommé (pineland farm, me) – cilantro, basil, lime
All in all — a meal, nay an experience, well worth having. Even though the pacing of the evening was a little off, the food was incredible and the company was even more so. A great splurge.
The 411 on Ma Peche: 5 W. 56th St. (btwn 5th and 6th), Manhattan. momofuku.com/mapeche