We've been living on the farm for 8 1/2 years now, but this is the first fall we've gotten it together in time to plant bulbs for spring. A couple weeks back, I did the orchard: tulips, hyacinth, crocus. Today, we did the fields in front: 100 daffodils, a couple dozen tulips, some Dutch iris and a couple dozen muscari.  We created a little border bed between us and the neighbors, who contributed some bulbs too. We're hoping for a big show in the spring!
The worst part was an old fence post that was buried four feet down in the ground. We also planted two lilacs on the side of the house, and this post was in the way. If we didn't remove it today, it would have been there forever for people to twist their ankles (Tasha) and slice open their toes when wearing flip flops (me). It was a brutal task.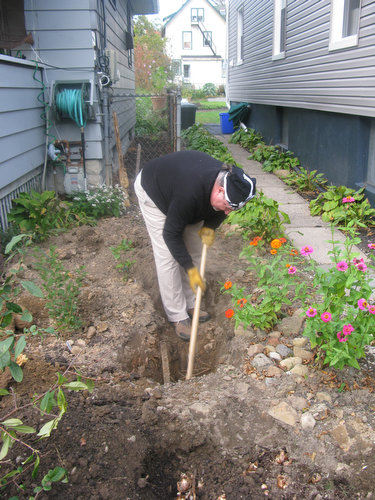 Nasty, nasty, nasty: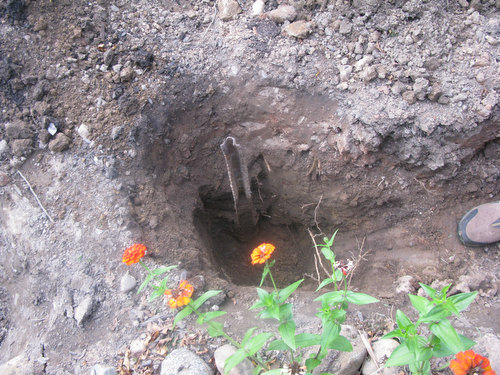 Here's a look at a few of the daffodils: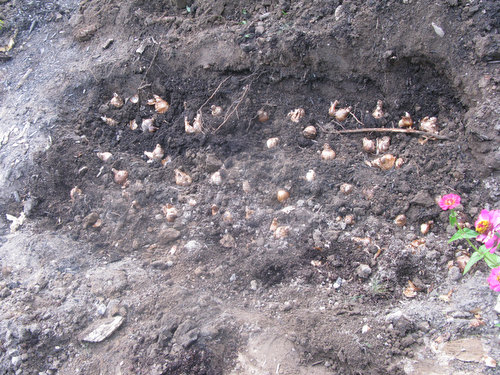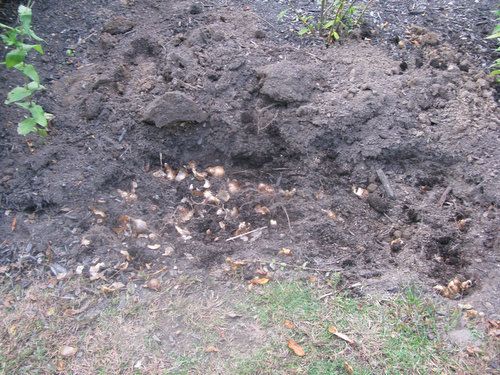 And the hunna, working out the post: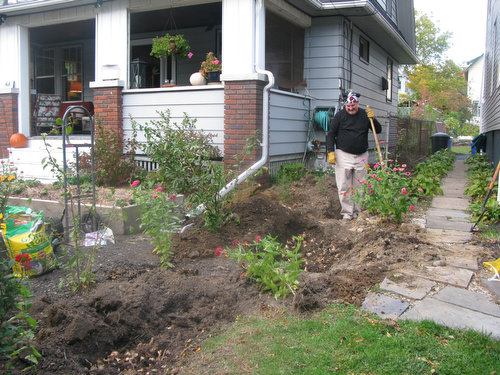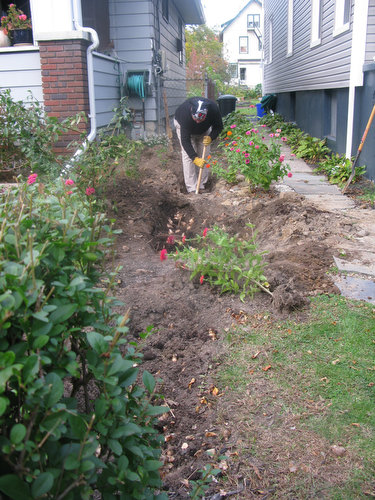 Just to keep track of our plantings, here's the rundown. The daffodils are a mix of varieties suitable for naturalizing.
In the bed closest to the street, I layered them with muscari: Muscari Plumosum 'Cotton Candy.'
In the middle bed, I layered the front part with two types of Crocus: Crocus 'Blue Pearl' and 'Remembrance.' In the part toward the back yard, I planted Dutch Iris: 'Purple Sensation.'
In the bed closest to the back yard, I layered the daffodils with red tulips: 'Oxford.'
I also planted two lilacs. The one in the front will be shorter and bushier, and grow about four feet. It's called Syringa Bloomerang. In the back is a taller lilac tree, which will only bloom in spring. It's called Syringa vulgaris 'Sensation.' It can get as tall as 8 or 10 feet.
I hope this will bring a lot to the front fields of the farm come spring!