There are many things to like about Wasabi — any time of the year. The food is always terrific, the wines are easy-drinking and the atmosphere is fun. What I like so much about going there on New Year's Eve is that they don't muck up the experience by putting on a show with a three-course, prix fixe menu you're stuck with. Nope. On New Year's Eve, even, you can order just what you like. Even if that includes a single piece of uni.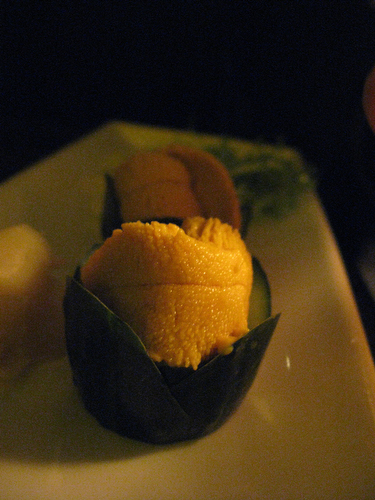 The other good part about Wasabi on New Year's Eve? It's walking distance from the Farm. We made the short journey with the neighbors, Tasha and Shannon. But not before a little pre-champagne champagne at the house.
Yes, so we broke open a bottle of the Croteaux rose we got this summer at the vineyard on the North Fork.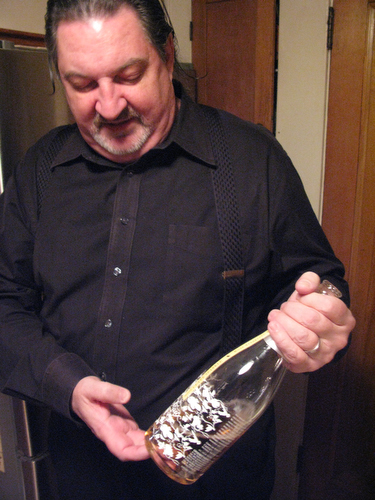 Cheers, girls!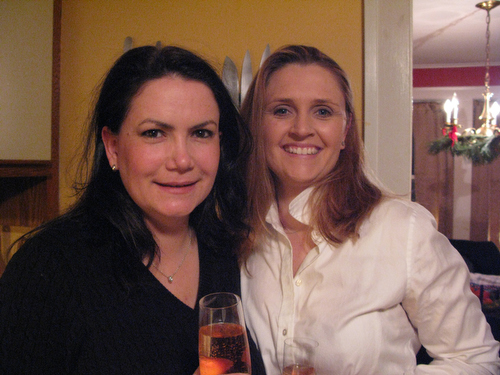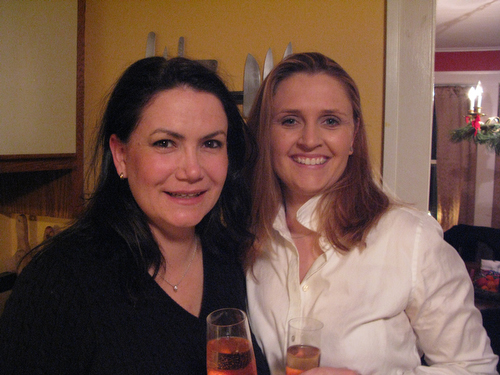 And cheers to us!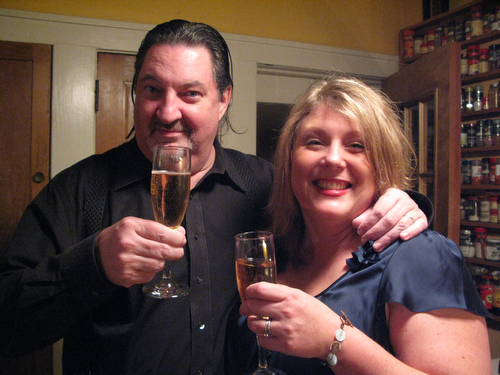 Les dorkages:
A little cocktailing in the living room: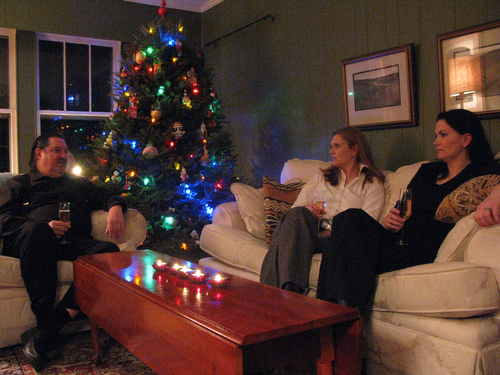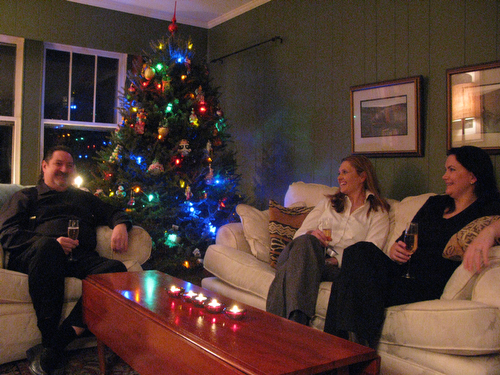 And then we headed downtown. Shan and Greg: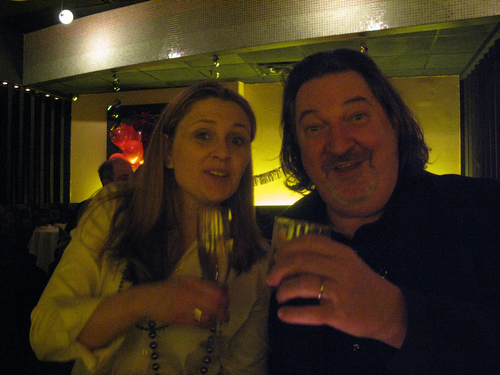 Shan: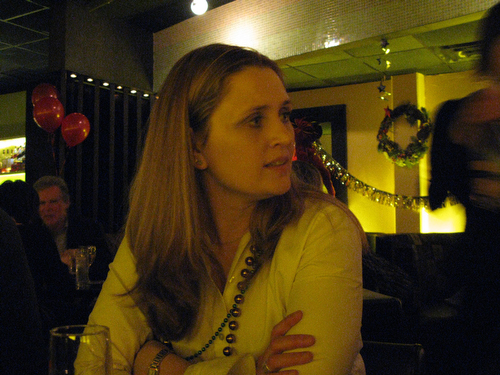 Tash and me: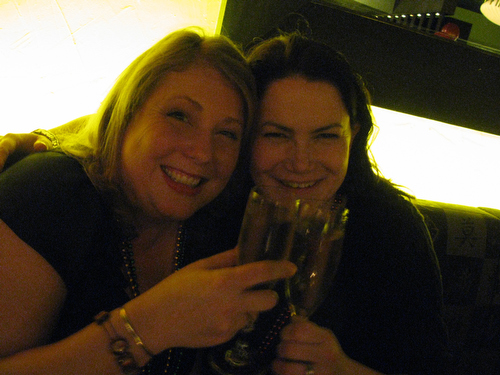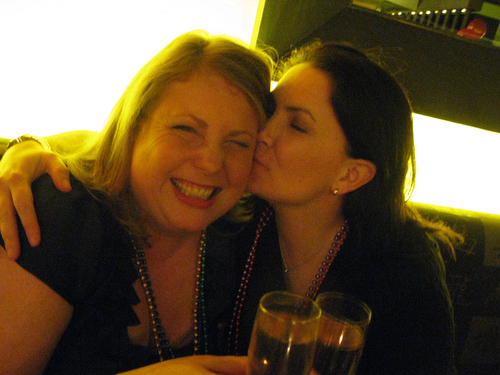 Random other scenes along the banquette: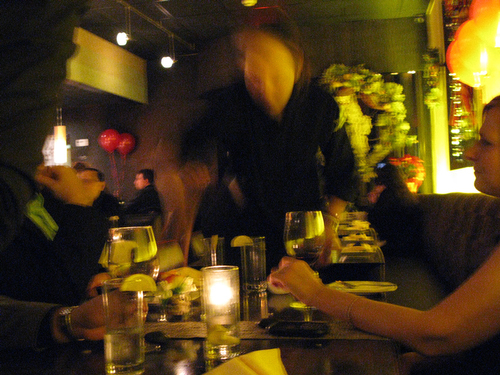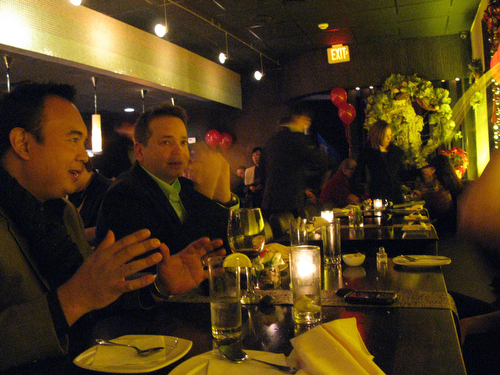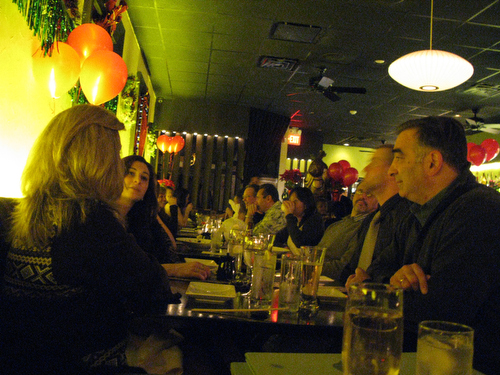 So we started the evening off with a few favorites.
White abalone: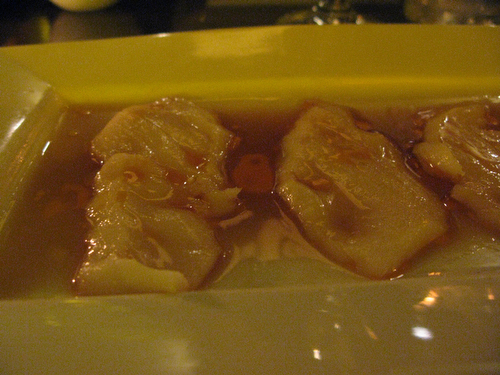 Yellowtail jalapeno: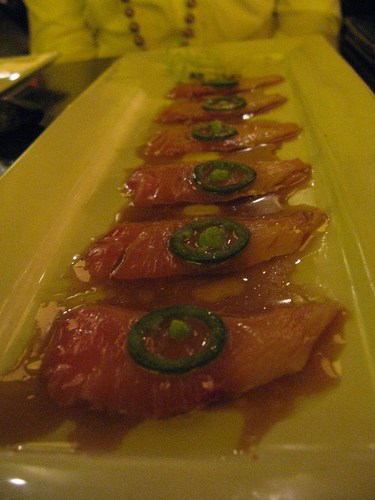 Live scallop: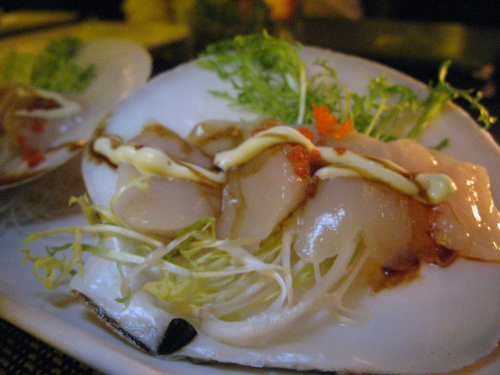 Rock shrimp tempura: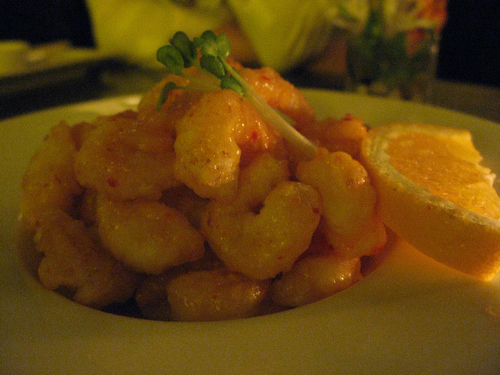 All terrific, as usual.
Then we had some fun new stuff. An Asian pear salad with salmon, pomegranate seeds and honey-ginger dressing:
So delicious. The Asian pear was like a ribbon of brightness around the fatty salmon.
A nice couple pieces of uni: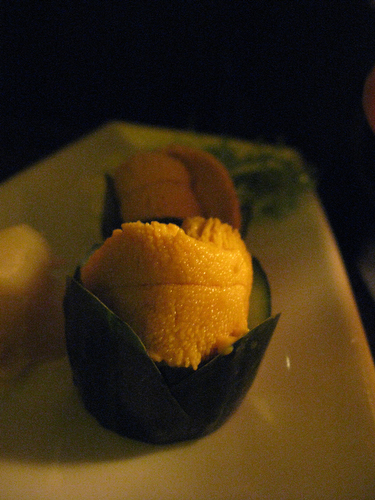 Black cod with miso: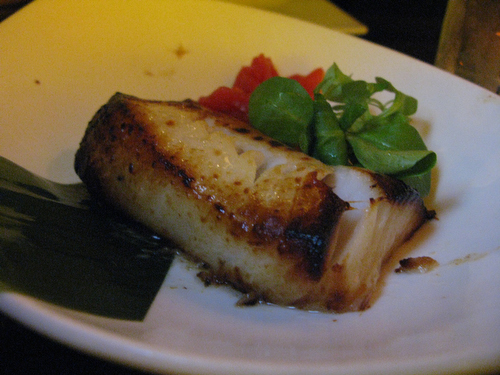 (That dish is almost intoxicating, it's so good.)
What's known at the restaurant as "Salmon Encrusted.":
Sounds gross, but it is really very tasty. It's a twist on chef-owner Doug Nguyen's Tuna Millennium, a flash-fried tuna encrusted in tempura. In this case, it's made with salmon. Love it!
Here's a dish Doug sent out, a tuna and strawberry tartar on shrimp toasts: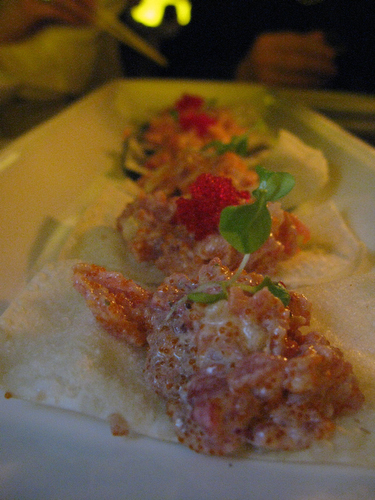 Fab!
Scallop ceviche with mango, red onion, cilantro and yuzu juice: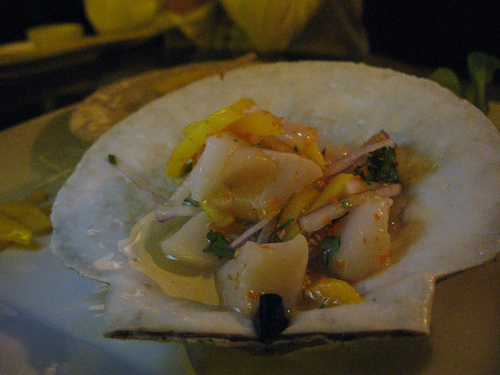 Also lovely.
And lobster tail with black rice: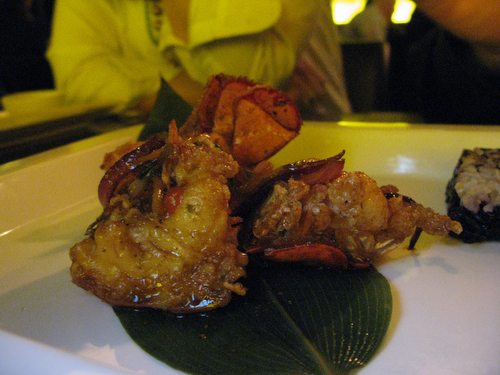 Doug says these are a few dishes he's working on as he rethinks the concept of Wasabi. He hopes it will fit better with what's going on in the economy. Just don't take away the yellowtail jalapeno, Doug!
Another great one, oyster tempura with salmon roe and wasabi cream: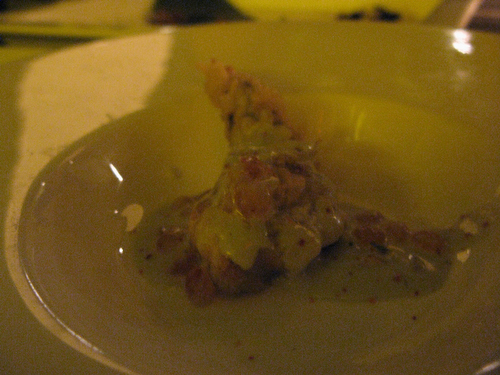 I don't usually dig fried oysters, but this one was A-OK. Really clean and good.
Shannon and her chopsticks: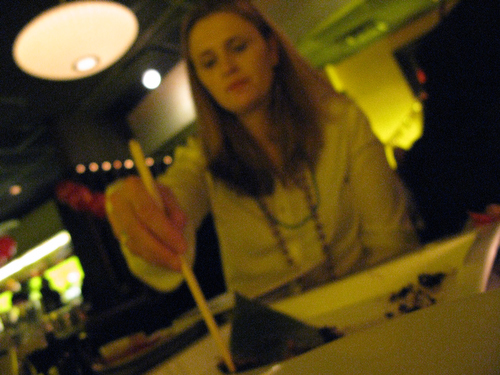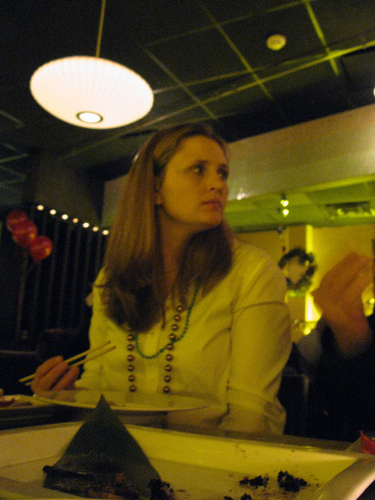 Tasha: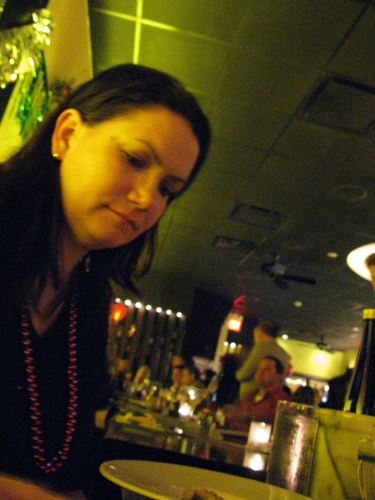 Our table: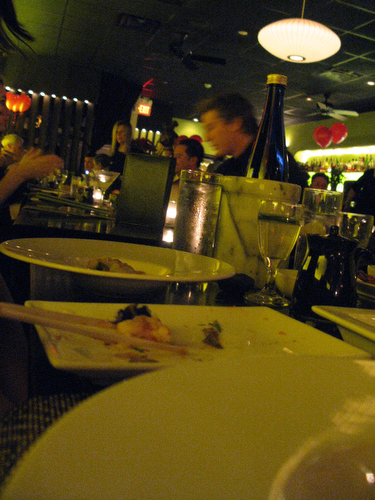 We decided we had room for one more taste, so Doug sent out a lobster-tuna sushi roll: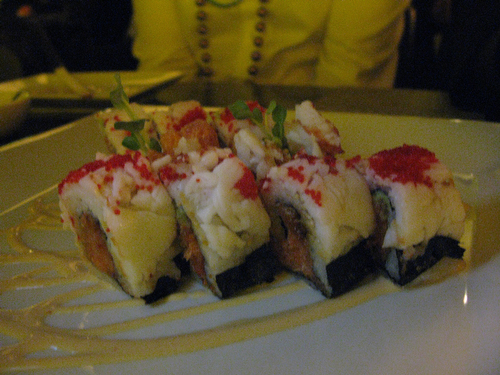 Another winner.
And even though we begged off dessert, it showed up anyway: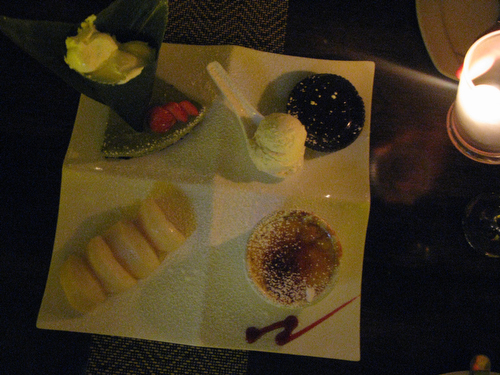 Thanks, Doug, for another great meal!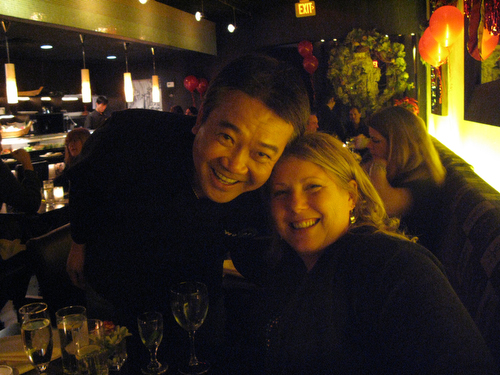 And thanks Tasha and Shannon for another fun evening!
Happy New Year!