Jump to navigation
Halloween Massacre: In the Garden, No One Can Hear You Scream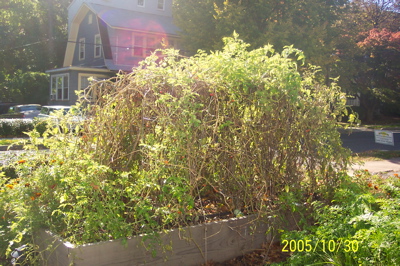 Tomatoes, pre-scream, naively unaware of the terror coming to them
I'm looking out the window on the day before Halloween at a shriviled, boney tangle of dying tomato vines. A sad sight and a sad day. End of the season. We turned the clocks back last night. Tomorrow we apply face paint and don colorful wigs. And now the heart of the garden, the precious tomato patch, must be put down, lopped off at the ankles and thrown intently on the compost pyre, bearing the hope of ashes to nourish a new season.
We Still Have Tomatoes
I'm off to work but thought I'd leave you with a rare sight: fresh tomatoes on Halloween. Picked yestesrday. Can you believe it? Gotta love those Sour Cherry Farm Green Zebras!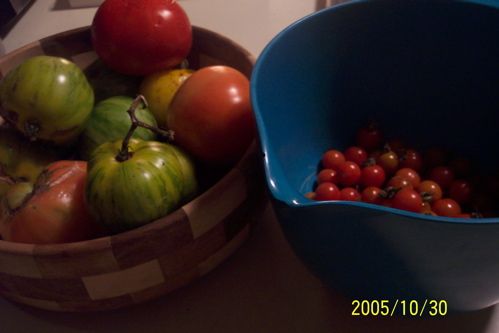 Tonight, Dinner with Paula Wolfert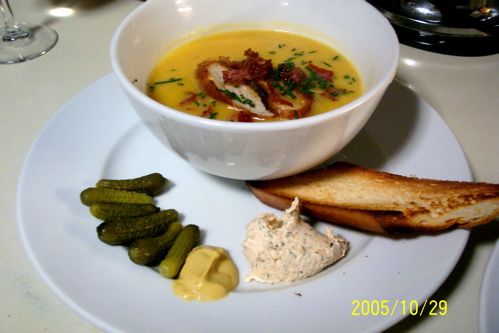 Creme de Potiron
(Autumn Squash Soup with Country Ham and Garlic Croutes)
It's Halloween!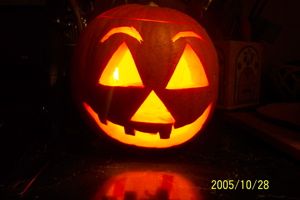 Busy mom Kelli is the only girl who got it together in time to carve a pumpkin. Of course, itís probably the most expensive pumpkin ever to be carved: she bought it at
Whole Paycheck.
Thing is, while she was there, she picked up some very delicous shell steaks that were soaked in Whole Paycheck's Korean marinade. It made for a lovely dinner on Friday.
How Cool Is That?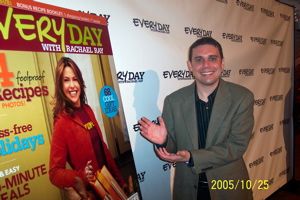 Joe beside his idol's new mag
On Tuesday, Joe, Liz, Tessa and our friend Tara went to the launch party for Everyday with Rachael Ray. Joe was
beside
himself, even before the three kisses.
Laying Down 17 Pounds of Sauerkraut
I've been hankering since last fall for choucroute, that Alsatian dish of bacon, pork belly, kielbasa and sausages on sauerkraut seasoned with juniper berries and riesling. And everybody says, when it comes to sauerkraut, there's no substitute for homemade.
Dinner at Pooky's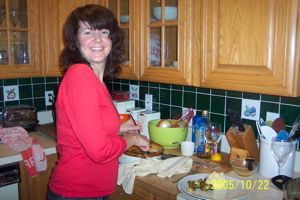 Pooky Lee at the hearth
Chicken and leek pie, mash and sprouts. What better meal on a rainy night in fall?
Roasting Tomatoes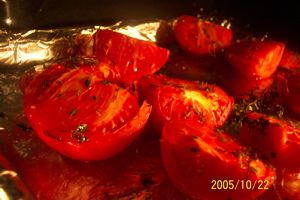 Can you believe we still have tomatoes on Oct. 23? Still, end-of-season ones just aren't as flavorful as those in late August. The solution? Roasting.