Jump to navigation
Perfect Parallel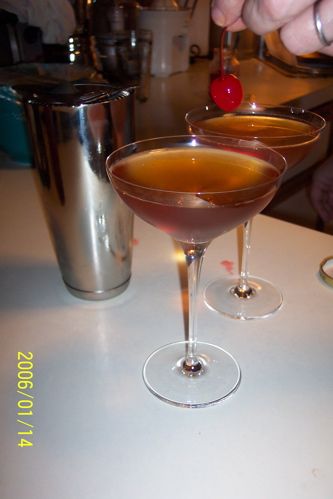 We first had the Perfect Parallel at one of our favorite NYC bars, the Pegu Club. So of course we had to recreate it at home. Last saturday night, before dinner, Greg made a batch. Later, after two of them, as I was chopping (homemade) preserved lemon to top our barley with dates, lemon and almonds (which I was making to go along with roast chicken with such Moroccan spices as cinnamon and cumin) I looked away from the cutting board for just a moment. And, yes. I missed. (Or rather, I hit. My thumb.) If I hadn't pulled up on the knife, I'd be less one thumb tip. Damn itís ugly now. But it's healing. The human body is amazing, isnít it?
Went to Gregoryís in White Plains tonight. Lots of fun, friends and food. Loved the caesar.
Click below for the Perfect Parallel recipe. And please. Make it often.
12 ounces lairds apple jack
1 1/2 ounces sweet vermouth
1 1/2 ounces dry vermouth
4 dashes angostura bitters

Shake vigorously and strain into chilled cocktail glasses.
Yield: 3 to 4 cocktails, the such that will make you cut your finger if youíre not careful.
Comments
Add Comments