Jump to navigation
Out with the Flu
The day after Christmas, Boo, Hunna and I went to see Sherlock Holmes at the movies. A person behind me was coughing like crazy. It is the only Patient Zero I can think of. Two days after that, on Dec. 29, I had a fever of 103. I had the fever for 5 days. I was sick, like, in bed sick and working only a few hours at at time, for two weeks. I'm writing this on Jan. 31 and I am still coughing. I don't know if it was swine flu or regular flu; they don't test. But I've never been sicker.

Greg, we think, had the flu in April, so he did not catch it. (He went out with the neighbors to Wasabi on New Year's Eve. I stayed home in bed.)

I end up going out the weekend of Jan. 9 — Kelli had a party and Marissa had a baby shower brunch — but it was a big mistake. The next week I was having chest X-rays to test for pneumonia. (Negative, thank goodness.) Anyway, I'm really on the mend now. But I did want to share here, not only because you may be wondering why we don't have any photos from New Year's Eve, but also because I come back the archives of SCF often, and in a few years — or even next year, when it's time to get that flu shot — I don't want to forget.
Christmas Night 2009 at The Farm
We had special guests for Christmas night this year: Marissa, Graham and Charlie! After our traditional tamale meal, Greg showed the little guy how to toast marshmallows for s'mores.
Christmas Morning 2009 at the Ranch
Bloody Marys, breakfast and presents. Yes. In that order.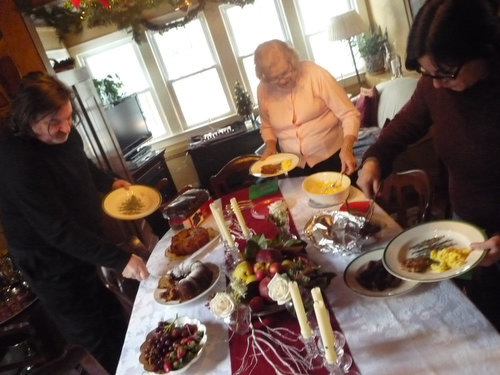 Sour Cherry Farm's Christmas Tree, 2009
This year's tree was tall and thin. (Who doesn't love tall and thin?) It fit better in our little nook than almost any tree we've ever had, and we declared it our second favorite ever, after the 12-foot-high king-of-trees we had our last year at Burd Street.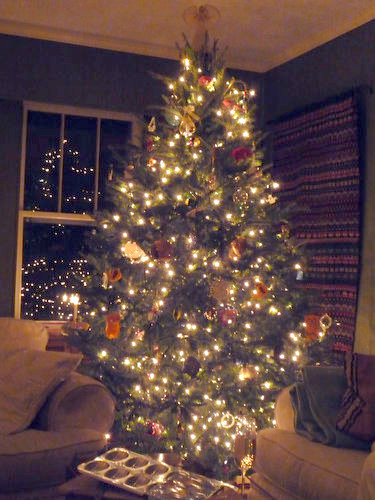 Potluck Sing-A-Long at the Farm
We invited a few friends over for a last-minute holiday gathering, and there were just two rules: You had to bring a dish, and you had to be ready to sing. I think the family band has earned another year of keep. Here are the photos:


Mom's Birthday Party
Sondra celebrated her 65th birthday with a festival holiday bash. Friend and family gathered, the Hudson House catered, and the evening ended with everyone gathered around the living room singing Christmas Carols and banging on the family band. Here's a look at the fun night:



Note: There are two sets of photos here — mine and Barbara's — so you'll see some duplicates. If you don't want to see the captions hit that little index card on the left of the words.