Jump to navigation
Extravagance at Zuppa
Small Bites
readers may recognize this meal from such posts as
Trying the New Menu at Zuppa.
But since you rarely get to see the players on Small Bites, Iíll repost here with photos of my tablemates. Iím not going to get into all the descriptions of the food for this one. Did it over there. If youíre interested in commentary and criticism, please head to
the first version of this post.
Meantime, please enjoy a pretty picture of the salads: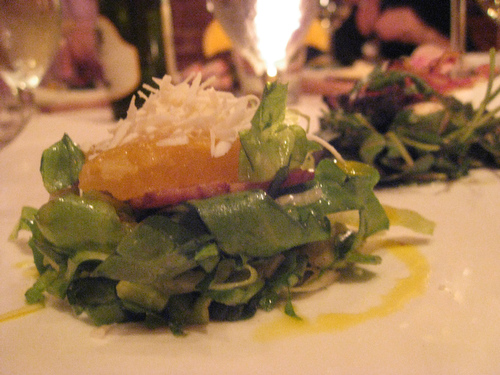 For those of you who might not know, Zuppa is a restaurant near the waterfront in Yonkers. It was the first white-tablecloth restaurant in an area thatís been trying to get back on its feet. Now days, Peter Kellyís X20 is on the pier a stoneís throw away, and other spots have popped up around it. But Zuppa was the pioneer.

The chef, David DiBari, used to cook at Bouley and Babbo and is immensly talented. He just started a new menu and we tried a lot of dishes from it.

We started with cocktails. Francesca, the bartender, put four new drinks on the menu and we tried three of them.

Greg got the pomegranate: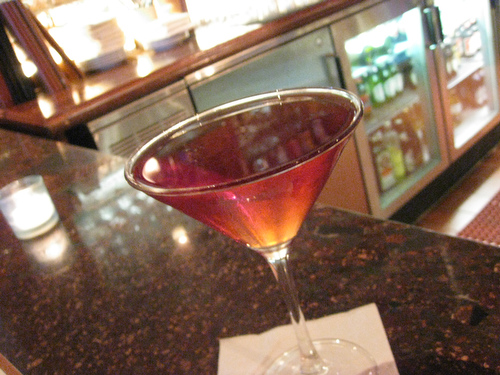 I got the peach bellini martini: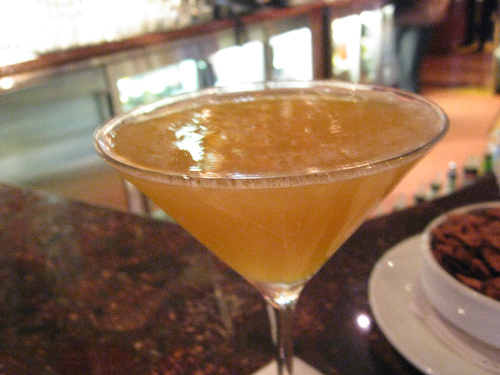 Rory got the Sexy Mojito. Sexy because she drizzles brown rum over the top. I donít have a photo of it. I do have a photo of Rory and Kelli: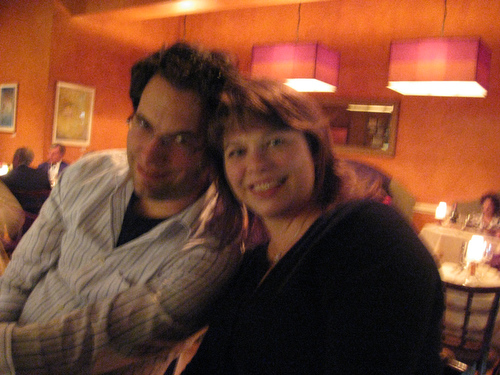 Dinner. We started wtih

Tartufi: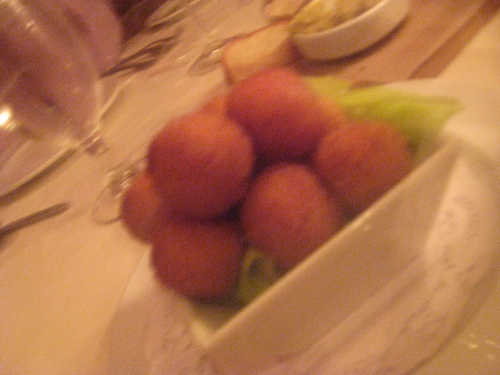 (Available Light Johnson.)

Risotto with gorgonzola and white truffle essence.

Meats and cheeses: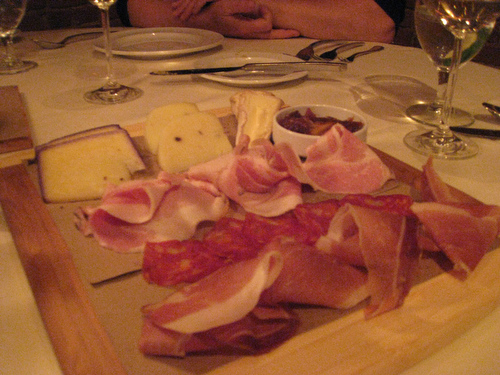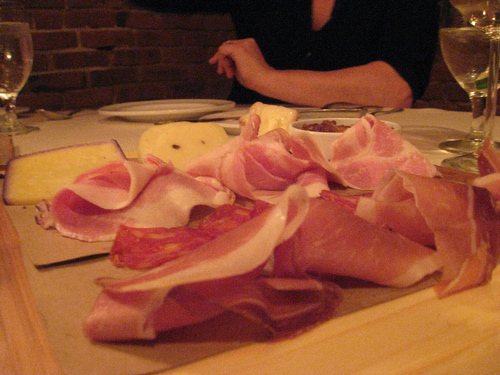 From the front to back, the meats were speck (smoked prosciutto) from Trentino-Alto Adige; soppressata from Puglia; porchetta (rosemary-infused ham) from Lazio.

The cheeses, from left to right, were Brillo Chianti, a sheepís milk from Tuscany thatís soaked in wine; Pecorino Boschetto, a cow and sheep mix from Tuscany with truffle; and a Brillat Savarin, a triple creme from Normandy.

We had two seafood appetizers. Vongole: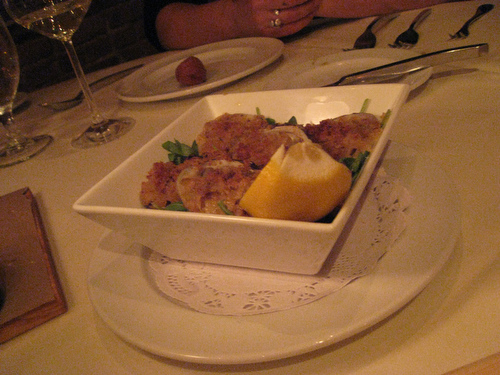 Wood roasted clams with leeks, pancetta and pangrattato (a breadcrumb topping).

And cozze: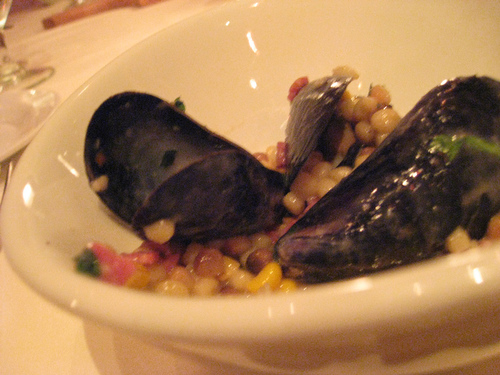 Mussels, fregula, hot soppressatta and corn. This was one of my favorite flavors of the night.

Dave came out and served it from the pot: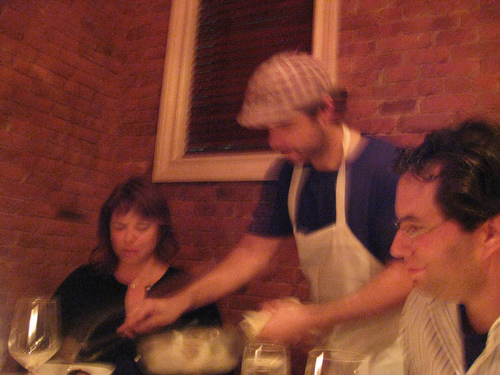 I adored the pizza: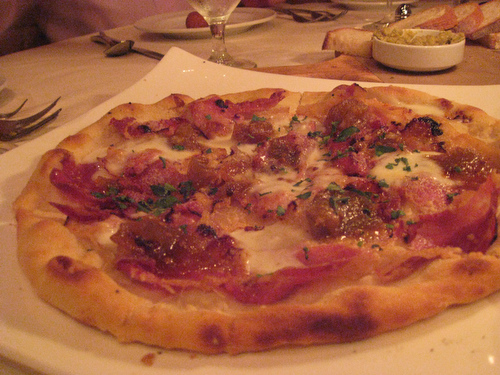 Speck, stracchino (a cowís milk cheese) and tomato jam.

A look around the table: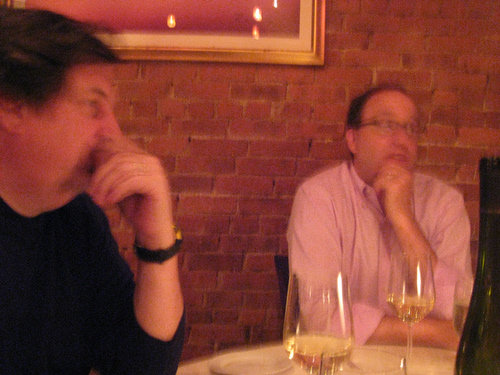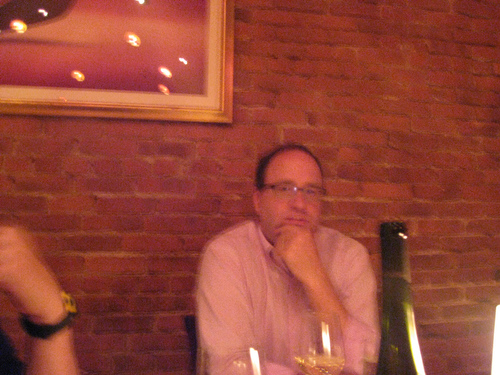 Salads.

Escarole with Jerusalem artichoke, orange, turnip oil and ricotta salata: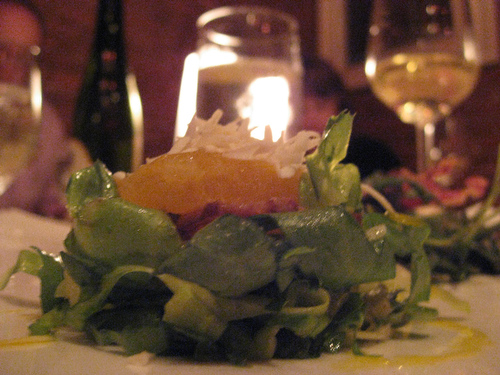 And smoked fig with arugula, caprino fresca (a goat cheese) and grilled pancetta: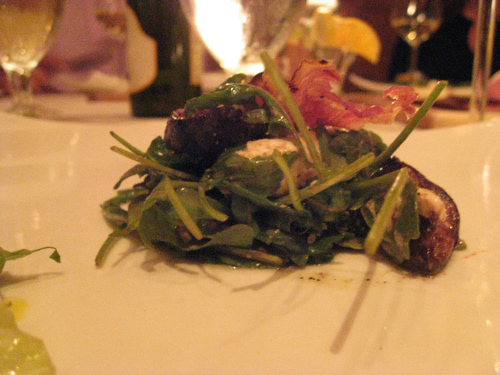 Yes, we were running out of room at this point. We tried a few bites of the pasta course and took a lot of it home.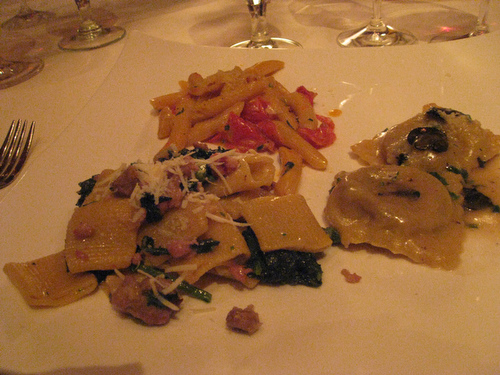 Clockwise from 3 p.m.: Ravioli with wild mushroom, sage butter and black truffle; rigatoni with broccoli rabe, berkshire sausage and ricotta salata; and penne alla grappa with pancetta, tomato and mascarpone.

Entrees:

Pork with pasta and date garnish: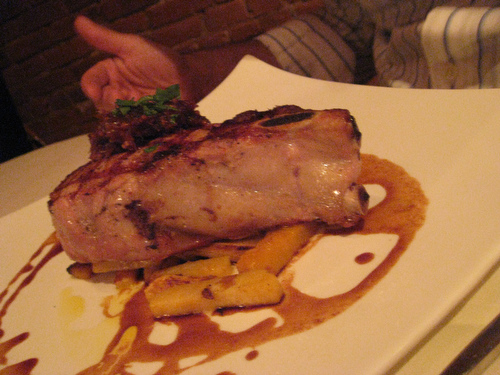 Branzino with cabbage, tomato, black currants, capers and pignoli: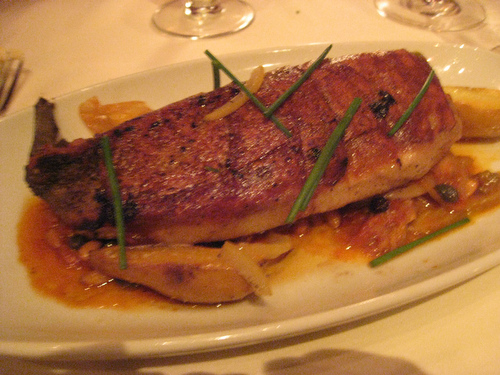 Chicken with Sicilian trade spices: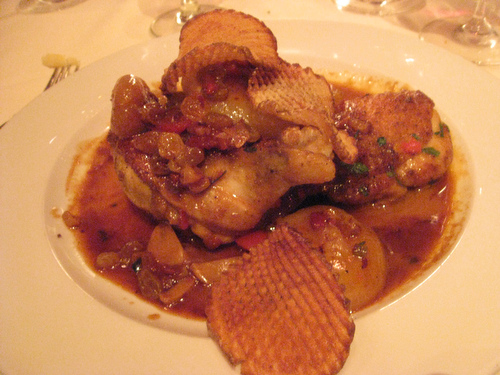 Short ribs with polenta and eggplant ďagro dolceĒ: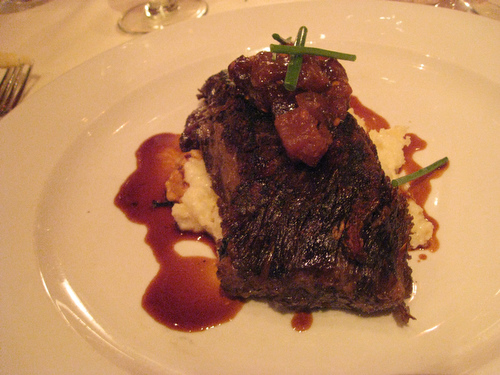 And the lamb, Patrickís favorite: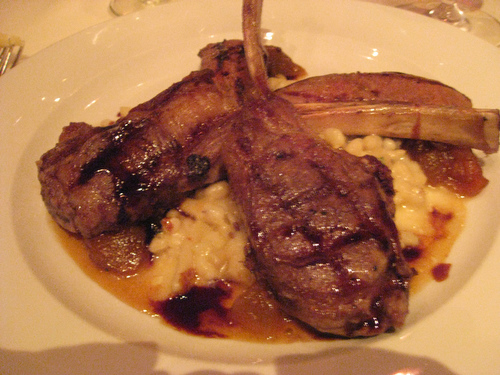 Dessert. Really?

Cassata, Sicilian ricotta cake with candied citrus and hazelnuts.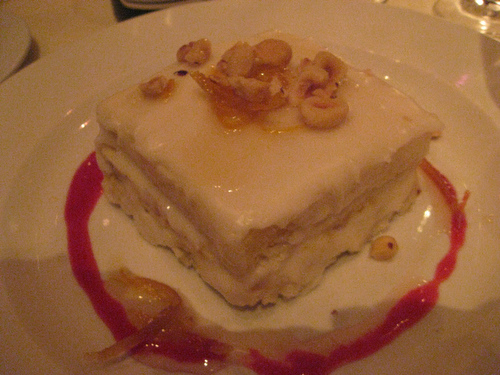 Pasta fritta, filled with nutella: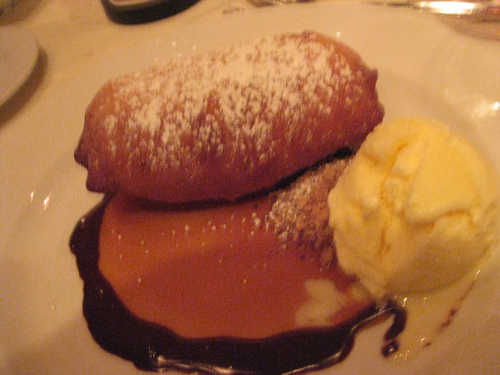 A Zuppa standard: bag of warm zeppole: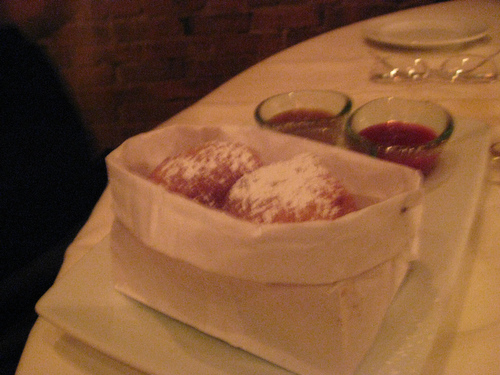 The two most interesting desserts of the night were the panna cotta ó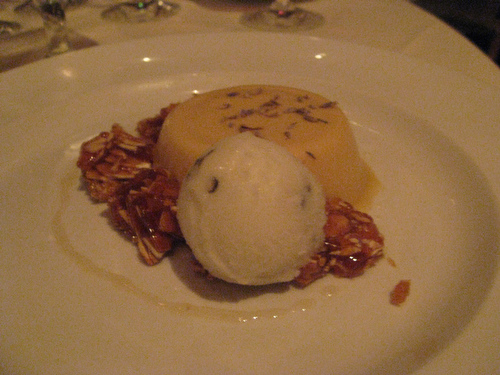 ó which was made with honey and lavender and came with an almond brittle and lemon-pepper sorbet.

And my favorite: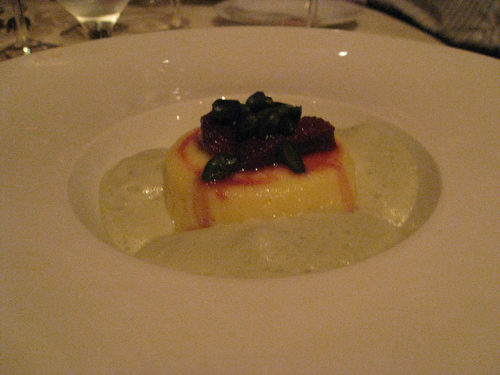 Warm mascarpone with sauteed strawberries and pistachio schiumma (or foam).

After dinner, Robert, the owner, brought over some wine. Apparently a collector had been in drinking some old bottles and didnít finish them. Robert thought we might like to taste them.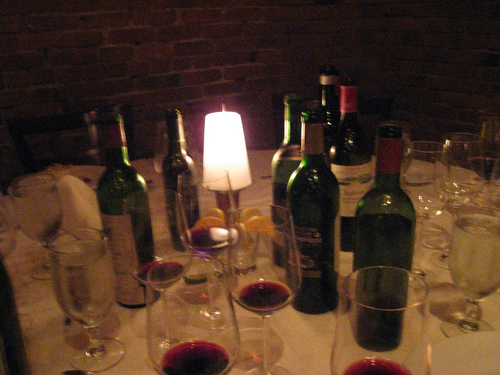 Dave: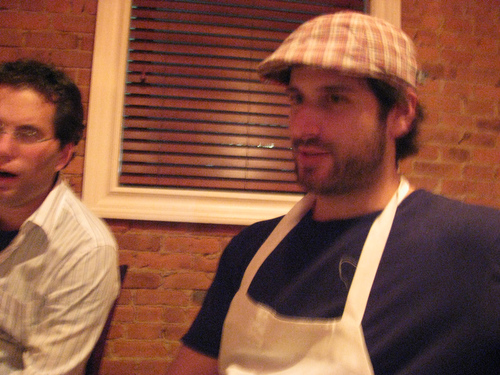 Rory and Dave: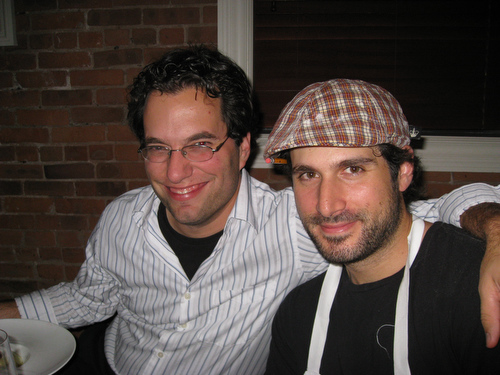 Everyone is very full.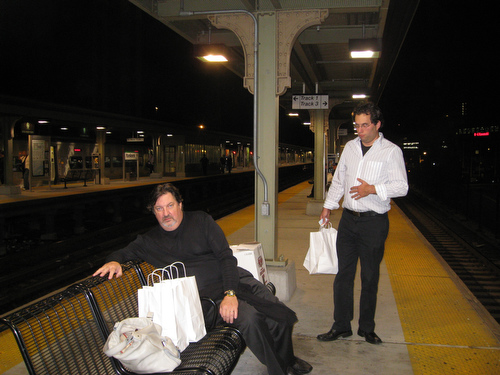 Yes, after that wine we were glad we took the train. Great meal.
Comments
Add Comments