Jump to navigation
Pie Crust That's Easy As Pie
SCF fans might remember a few years back I shared my recipe for a
No-Fail Pie Crust
. I still stand by it, but the other day, I didnít have cream chese in the house and I didnít feel like going to the store. So I tried a new recipe, one I found at
in the Nov. 2008 issue of Food & Wine.
Small Bites
fans have already seen it, but here it is again for home viewers.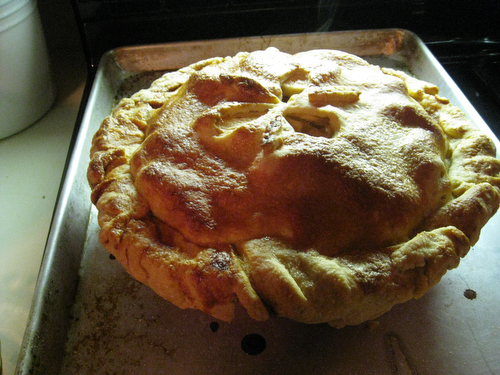 First, cut your butter ó 2 sticks ó into small pieces. Put the butter back in the fridge to stay cold.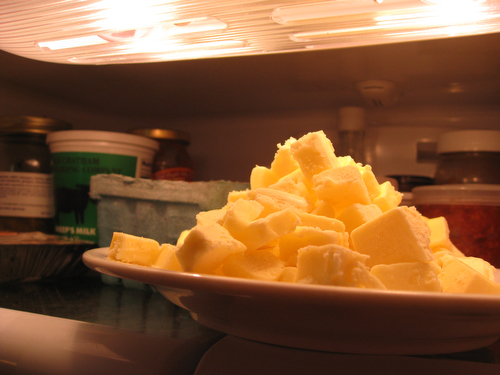 Next, measure your flour into the cup measure with a big spoon and level it off with a knife. That way you know you have the proper amount of flour: 2 1/2 cup. Put it in the food processor with 1/2 teaspoon salt. Pulse a couple times to mix them.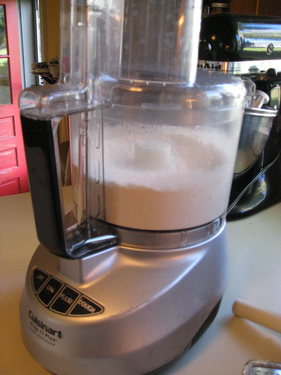 Dump in the butter and pulse a few times until the mixture looks like peas. Then slowly add up to 1/2 cup ice water. You may not need it all. You will know your dough is done if when you pinch it, it holds together like this: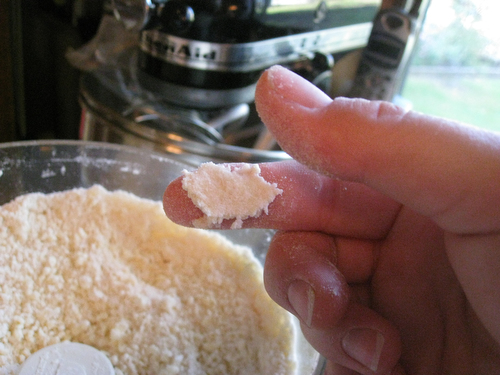 Toss the dough onto the counter. It will look like crumbs: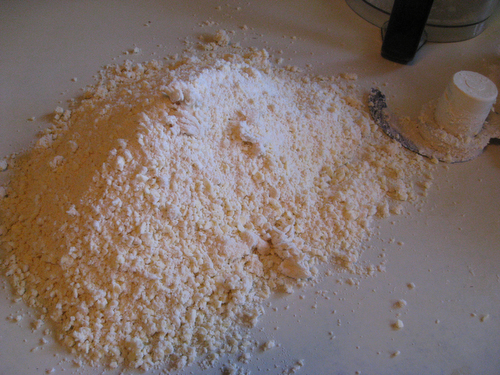 Sort of gather it together: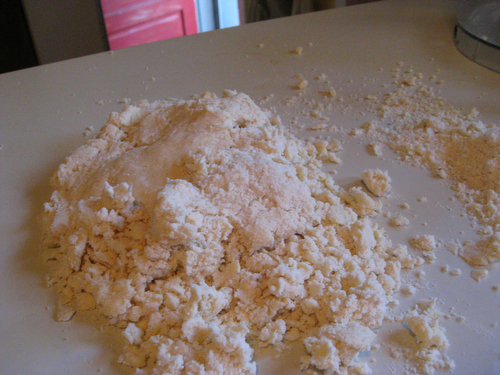 This recipe is for two crusts, so separate in about halves: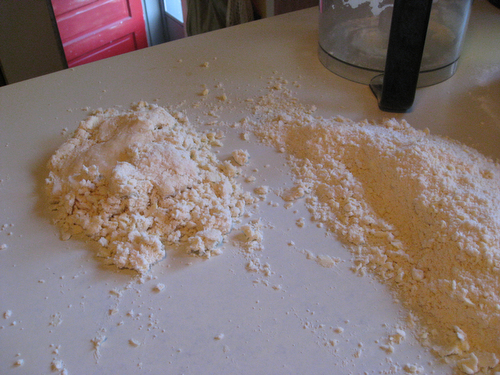 Before you make it into a ball, take the heel of your palm, and push the dough out across the counter: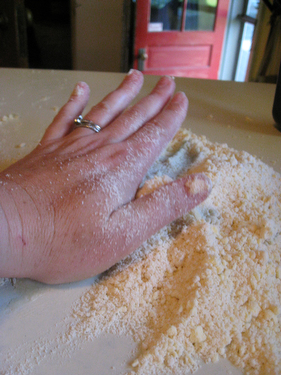 Gather it back together and do it again: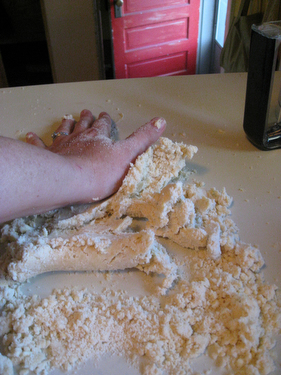 This helps to make streaks out of the butter and results in a flakier crust. Remember, donít touch the dough too much. Youíll bring out the gluten, which makes the pie crust denser and less flaky. Someone on Small Bites had a great suggestion: treat the dough as if itís too hot to handle.

Gather it in a ball: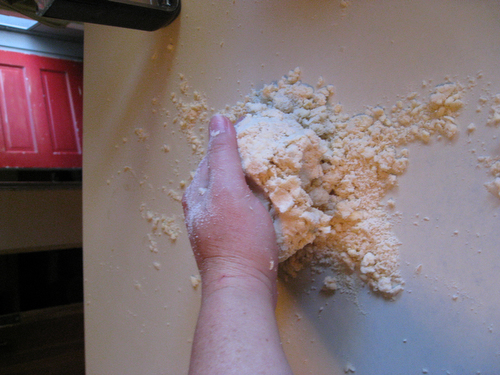 And flatten into a disc: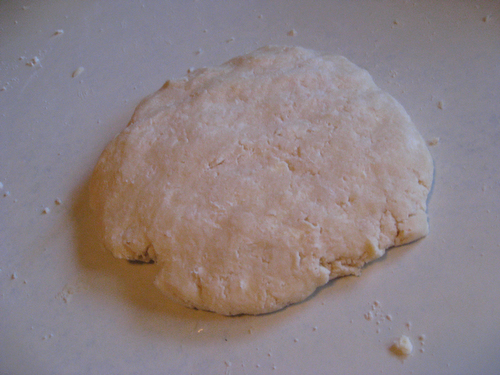 Wrap in plastic wrap and put it in the fridge for at least half an hour; an hour or more is better.

Throw down some flour and start rolling it out. Start from the center and work out toward the top edge, then turn it 1/4 turn and do that again.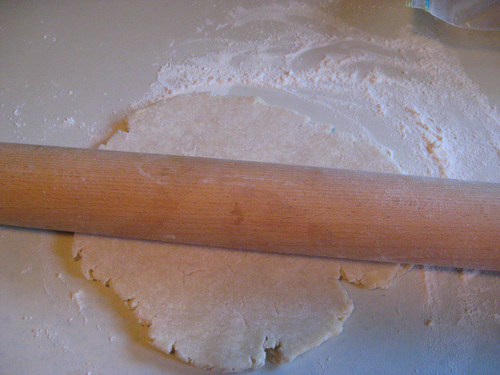 Keep going until it will fit your pie pan.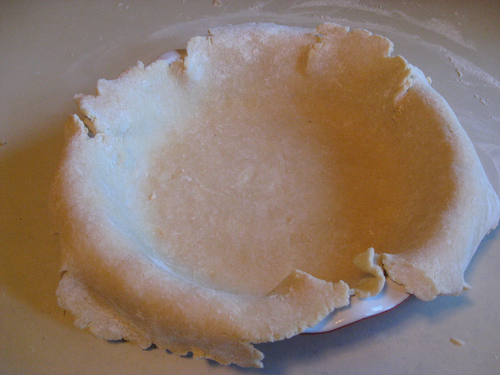 Sometimes it doesnít quite fit: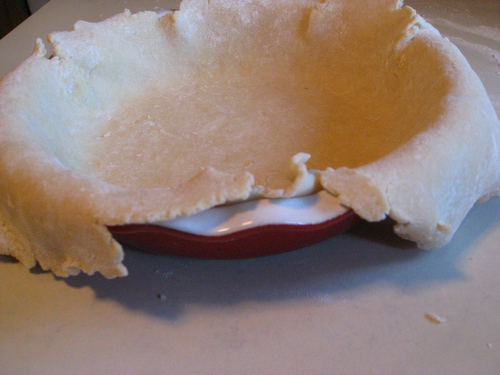 Thatís OK. Cut some from another spot where itís too long and cover it up by pinching them together: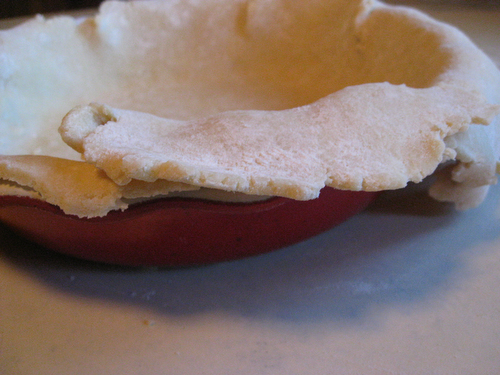 After youíve made your filling (Iíve got another post for that), roll out your second crust. Hereís a good way to move your crust from countertop to pie pan. Pick it up with your rolling pin: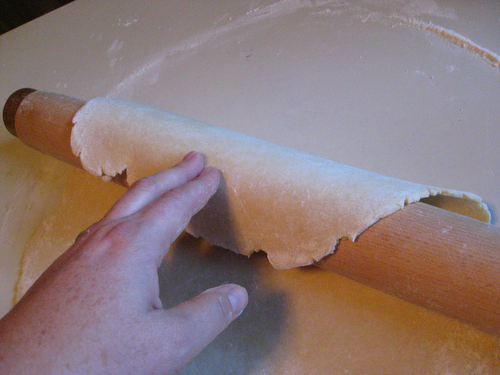 And drape it over the pie, releasing from bottom to top: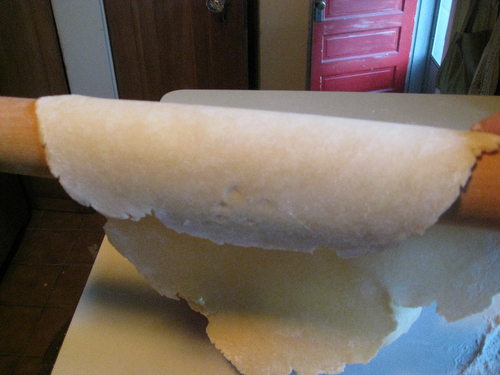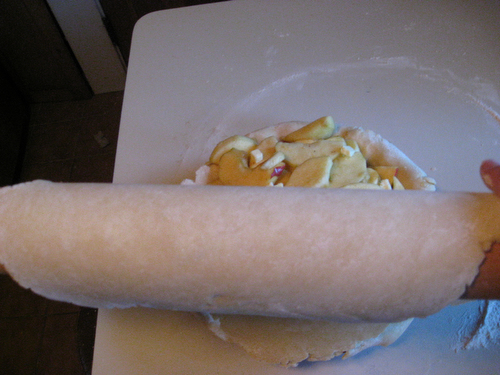 Voila: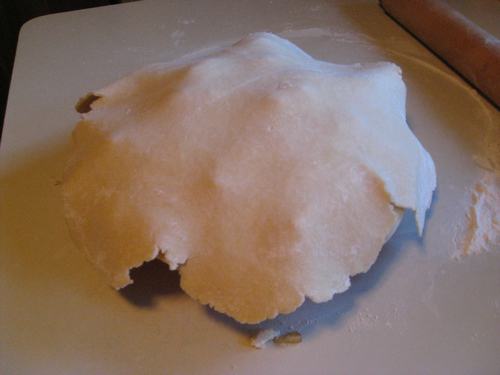 Iím THE WORST when it comes to pretty crimping. I usually have Greg do it. But this was for his birthday, so I didnít. I pressed the two crusts together and do the best I could. It looks more homemade that way, I guess: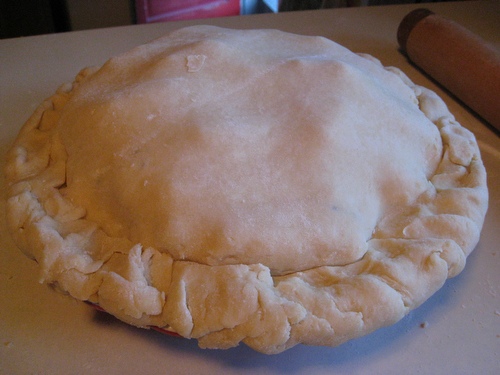 Be sure to cut steam holes. They can just be slits if you like. I decided to get a little fancy. I even drew little veins in my leaves, but you canít quite see that: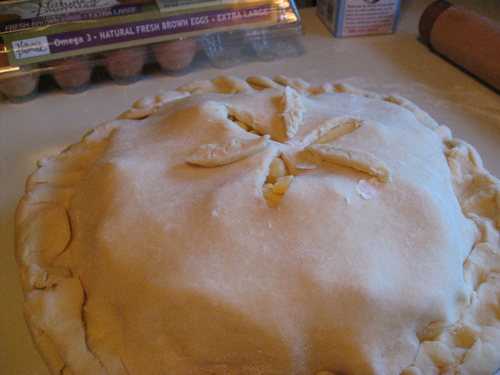 For a pretty brown crust, whisk an egg with a little milk and brush it over the crust before you bake: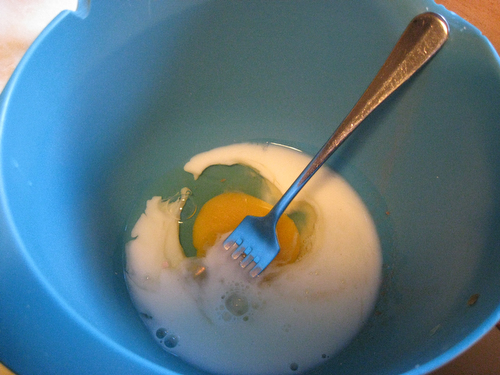 This baked at 375 for 1 hour and 10 minutes. It was delicious.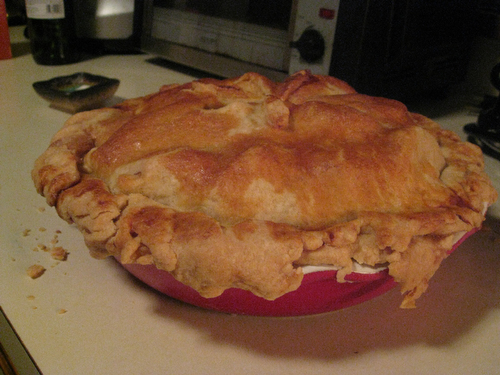 Double Crust Apple Pie
Adapted from Grace Parisi at Food & Wine

2 1/2 cups all-purpose flour, plus more for dusting
1/2 teaspoon salt
2 sticks butter, cubed
1/2 cup ice water

Cube the butter and put it back in the fridge. Measure the flour and salt. Pulse the flour and salt in a food processor, then add the butter and pulse until it is the size of peas. Drizzle on the ice water and pulse until evenly moistened crumbs form; they will stick together when you press the dough between your fingers. Turn out onto a surface and pull the dough together. Run the heel of your palm along the dough a couple three times. Form into two balls and flatten into discs. Wrap in plastic and refrigerate until firm, about an hour.

Yield: Enough dough for two crusts.
Comments
Add Comments