Jump to navigation
Duck Confit: An Experiment
With visions of a cassoulet in my head, I decided to make duck confit. I've never made it before. I was very excited, and frankly, a little nervous. But after poking around a little online, I found
Tom Colicchio's recipe on Epicurious.com
and thought — hey? How hard can it be?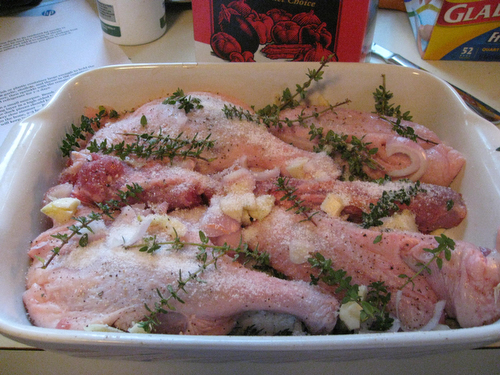 (Warning: if you don't want to see how to butcher a duck, don't click through.)
First, a brief interlude. It was a beautiful cold and windy weekend: perfect for a two-day project like duck confit.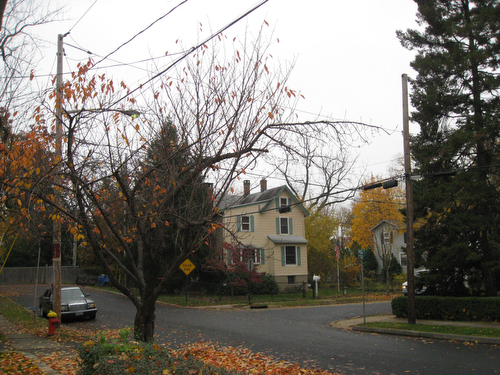 So you start with duck.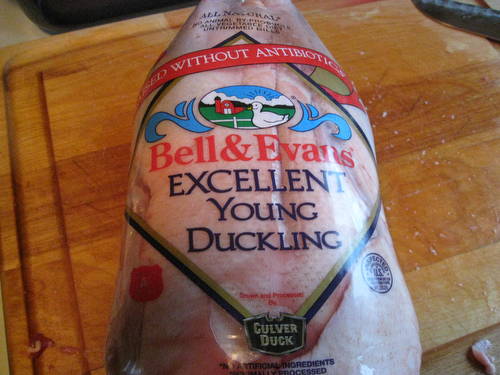 This is a Bell & Evans Pekin duck. These are smaller than the Moulard and Muscovy ducks. My suggestion next time is to order one of those from D'Artagnan.

So you take your duck neck and gizzards out of the duck.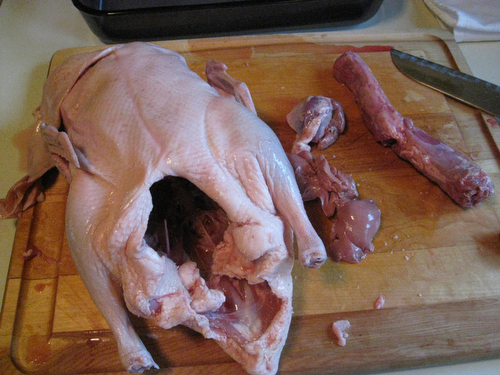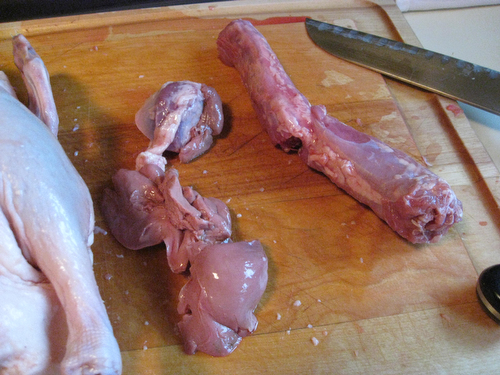 Set them aside. Then start trimming the duck. It's very fatty and you want the fat to make the confit. Take these neck fat pieces and cut them off.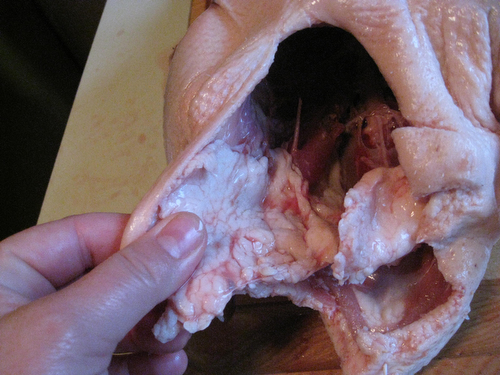 See if there's any more trimming you can do, then cut the wingtips off for stock.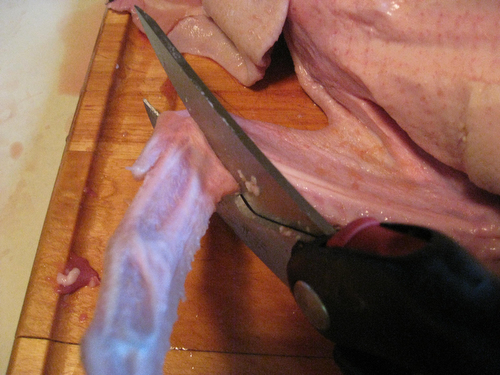 Then I butchered the wing.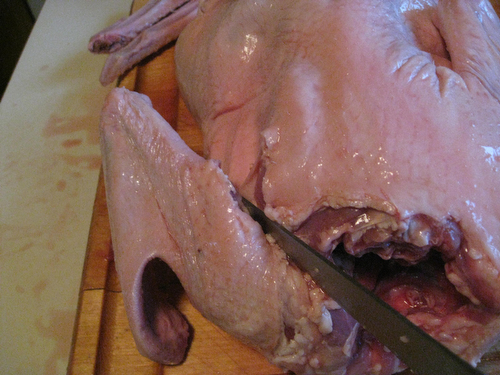 I've since learned that I did this wrong. I had two amazing resources — "The Cooking of Southwest France" by Paula Wolfert and "The Way to Cook" by Julia Child — both of which had step by step illustrations. I don't want to dilute their copyright, but let me just explain that the one thing I did wrong was not to remove the wishbone first.

That would have allowed me to take the drumstick along with the wing instead of just the flappy part.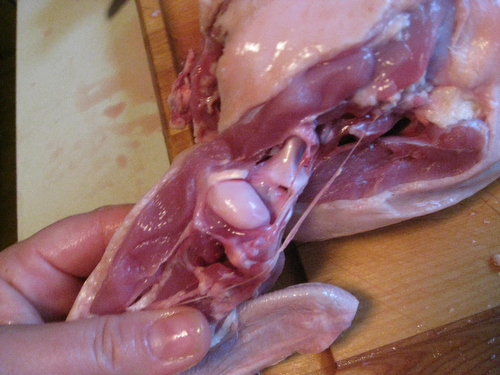 As you can see from above, the key to butchering any meat is to cut between the bones. No need to sever the bones... there are natural breaks. By the end of this process, having butchered 4 ducks, I can tell you that it's the easiest to use your sense of touch than your eyes. Just run your fingers along the joints. You can feel where you need to cut.

Next I did the legs. (This, apparently, also is wrong. You're supposed to do breasts next.)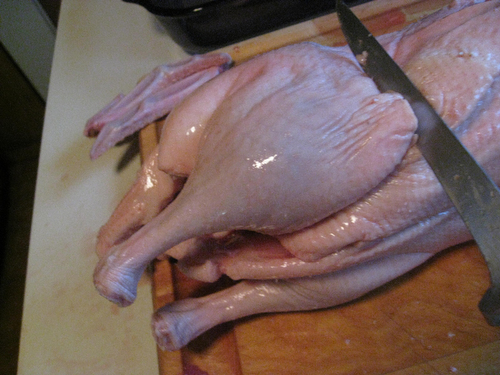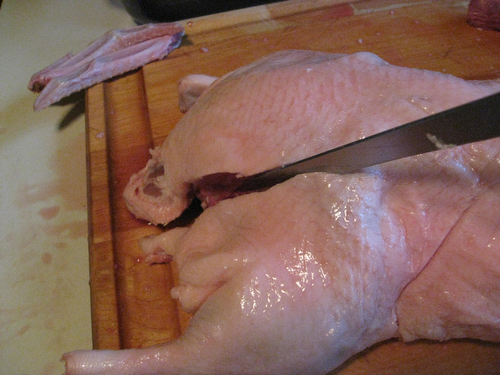 Same thing, just find the joint where ball meets socket and cut.

You want all the fat possible, so strip it off the back, too.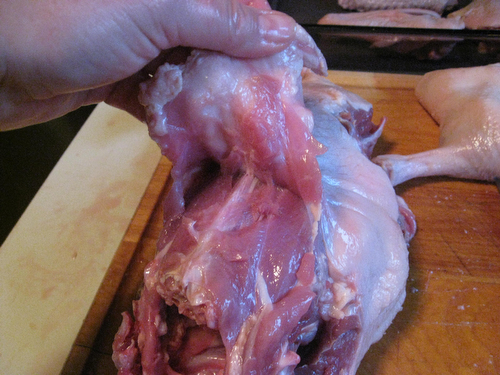 Then I did the breasts. I have come to know the true meaning of "butchering" a project. I did a real number on this.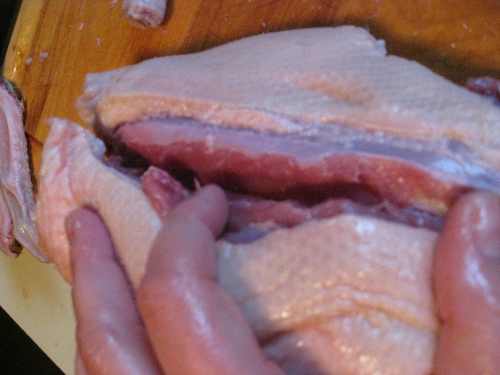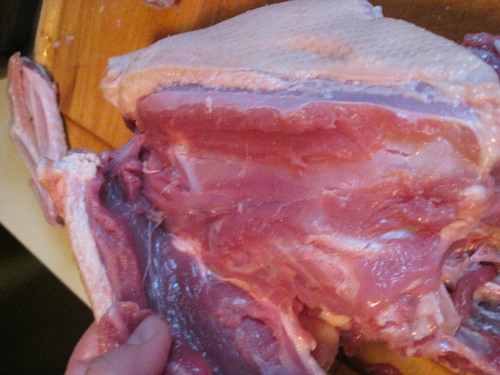 It's a miracle it came off in one piece.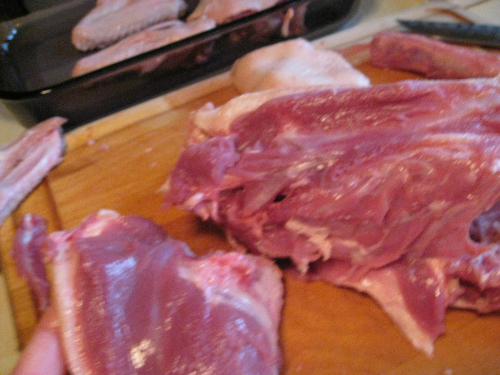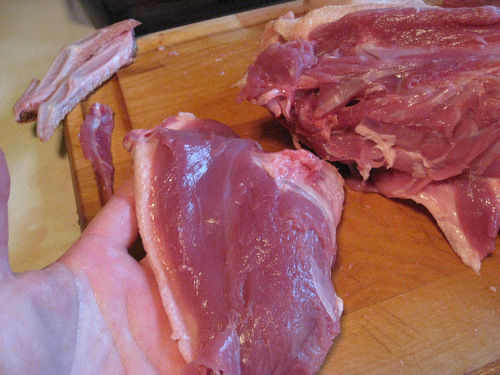 By the fourth duck I was much better: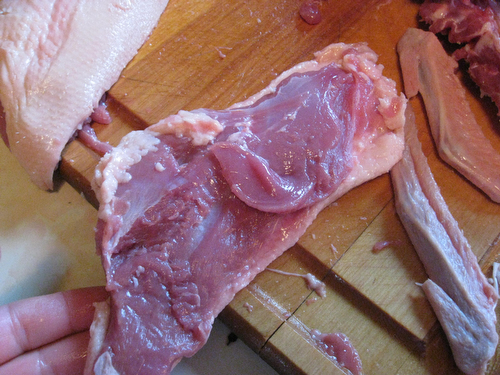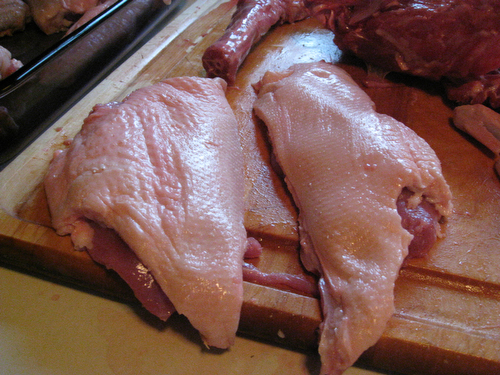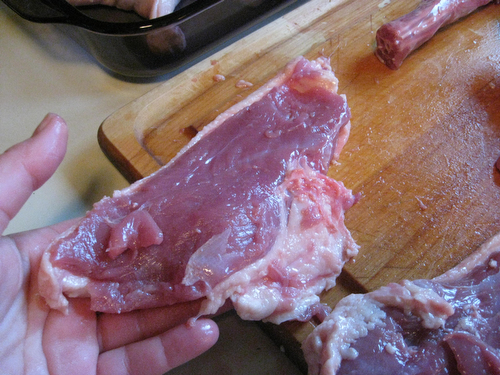 So now you have all your pieces and your carcass.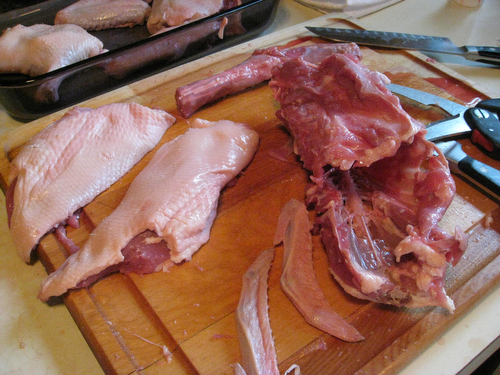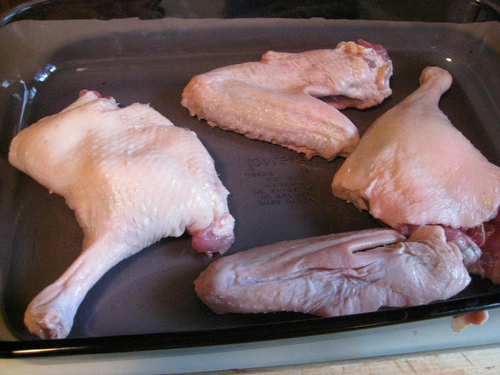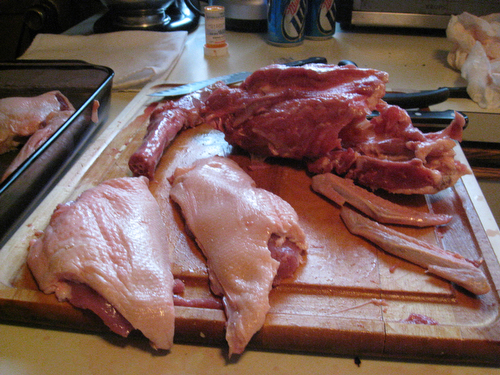 It's time to start making your confit. Now first, a little bit about confit. Before refrigeration, it was (well, it still is) a way to preserve the duck. You slowly cook all the water out of the meat and then seal it under fat so no bacteria can get to the meat. The first step to this is salt. Lots and lots of salt. This doesn't meant that the duck gets overly salty. It is simply a cure to preserve.

Just about every recipe I've seen calls for 2 teaspoons of salt for each pound of meat. (Paula says 22 grams or, for 5 pounds of duck, 3 tablespoons plus 1 teaspoon; Tom says 3 tablespoons for 4 duck legs and 4 duck wings.)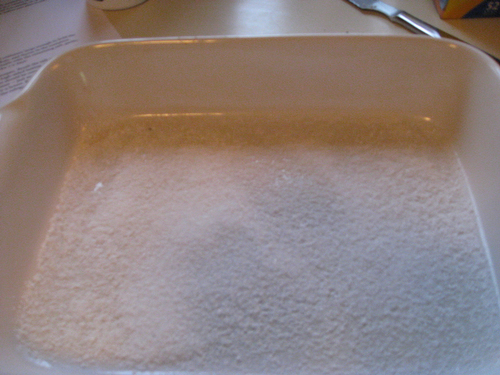 Spread it on the bottom of the pan and on top of the duck. Your other flavors can range from peppercorns and juniper berries to allspice to clove. This time I'm keeping it simple (and following Tom's advice): shallots, garlic and thyme.

I got the thyme from the garden. (Note the chilly temps are still here.):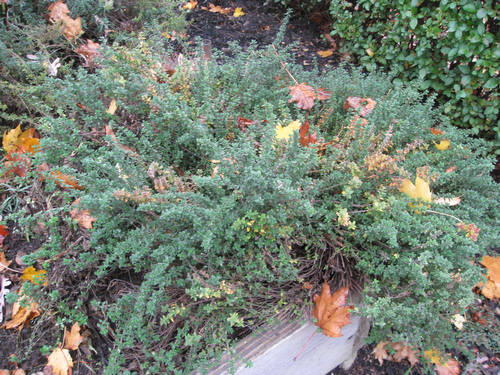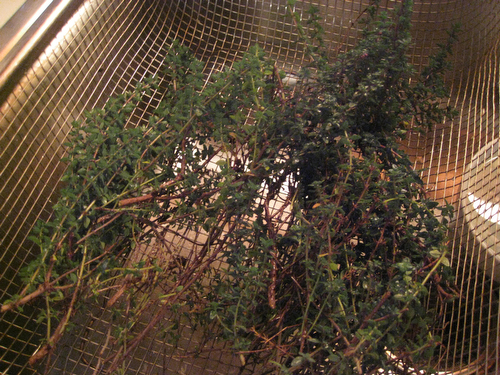 I got the shallots and garlic from the farmers market: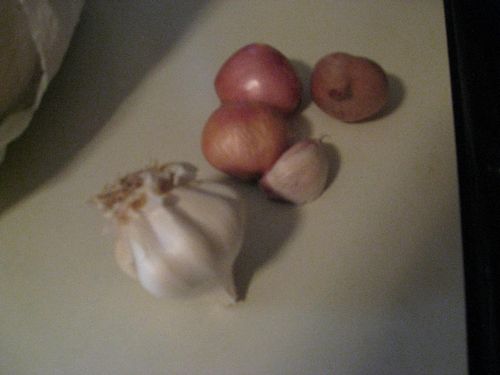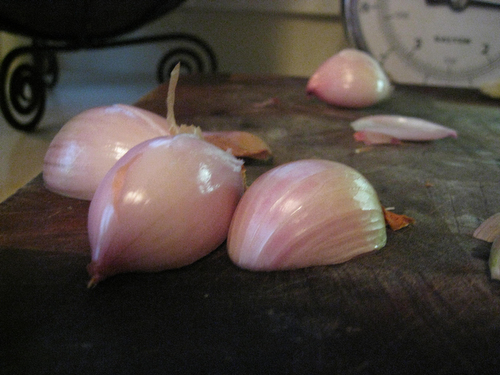 I used more thyme than Tom called for. But I always use more thyme than the recipe calls for. Put the flavorings both under and on top of the duck meat: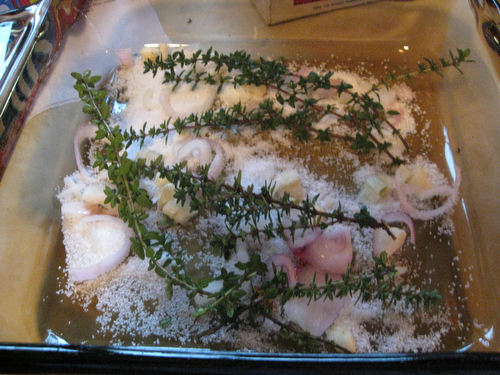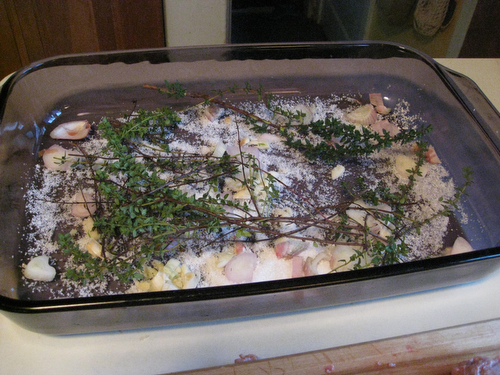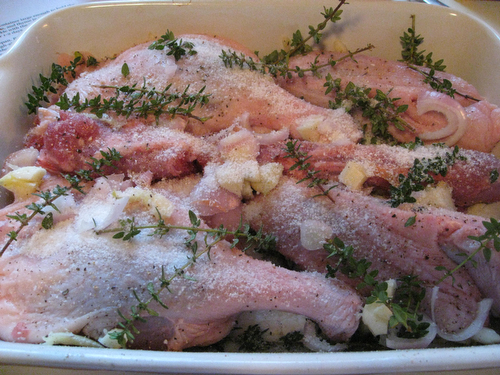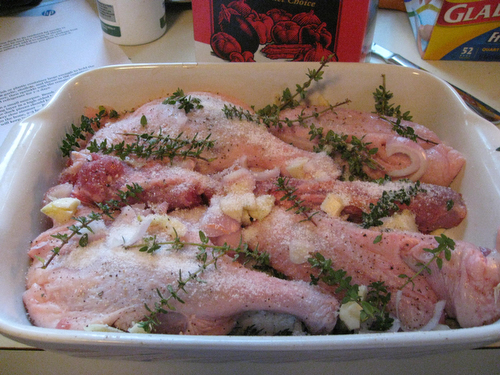 I am now ready to cure the duck. I cover it in plastic and refrigerate for 18 to 24 hours.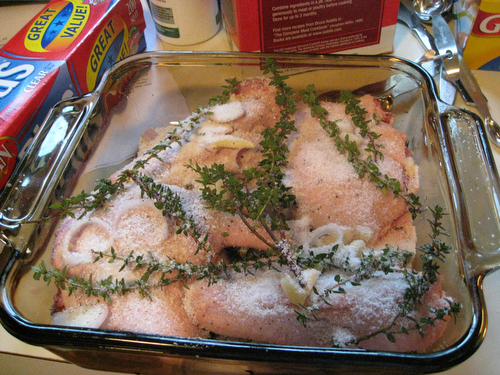 Now I'm ready to deal with the rest of the duck.

The most important part? The fat. Cut it into small pieces, about an inch or so.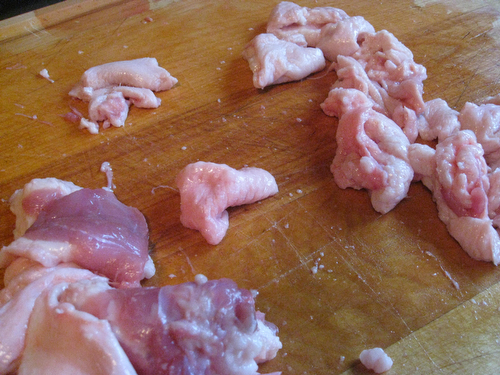 This is going to become your golden goodness.

But I had an couple errands to do, so I found it was a good time to quit for the time being. I wrapped all my duck parts in plastic and photographed them for you guys: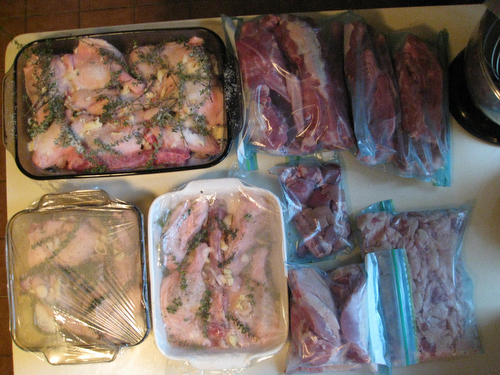 From 6 o'clock: Three pans of duck confit ready to cure; four duck carcases, necks and wingtips for stock; 3 1/2 pounds of duck fat; 8 duck breasts; and the livers and hearts.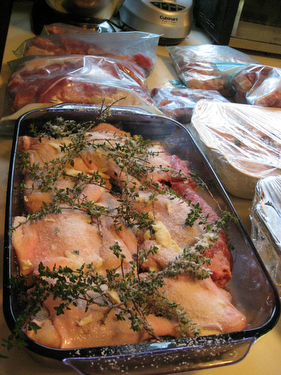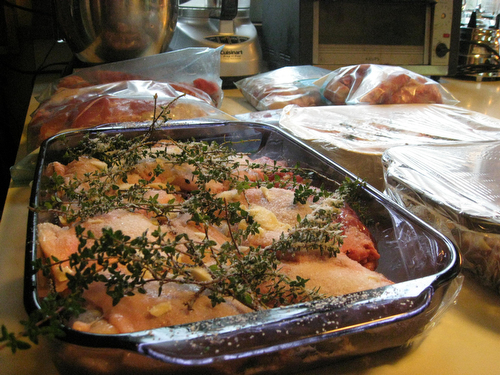 Later that evening, I started to render the fat. Every recipe I found said to add water. So I did that.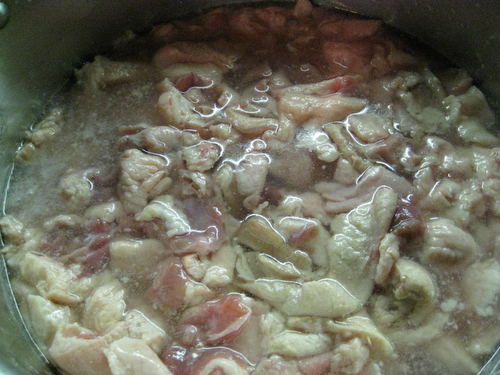 That night, I couldn't touch another piece of duck. So we had pizza by the fire.

I was expecting after 3 or 4 hours that the skin would be crispy and the fat would be golden and syrupy. It was midnight and I was exhausted and it was not that way. So I turned the heat way way down and went to bed.

I spent a sleepless night wondering whether I was burning my duck fat. Greg even went down in the wee hours to check. Even after 8 hours, still nothing. It looked the same: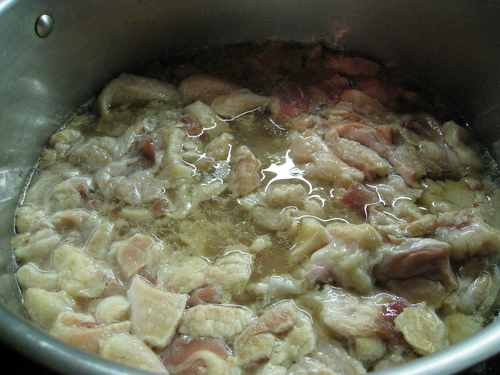 So I turned to eGullet.

Here's a link to what I asked those nice folks:


So I'm halfway through making duck confit. I cured the legs and wings yesterday and rendered the fat.

But I'm worried I've made mistakes.

Are you supposed to trim all the fat off the legs, too? I've seen recipes (and pictures) with the fat on and the fat off. (Mine is on. I'm curing legs, wings and neck with salt, thyme, garlic, shallots and pepper.)

I'm also having trouble with rendering the fat. I had about 3 1/2 pounds of fat from 4 ducks. I added 3 cups of water (that was likely too much) and simmered (ploop, ploop) on the low burner for 3 hours. I couldn't stay awake any longer so I turned the burner way way down and went to bed. It's been going for 11 hours now ... and the fat is still blubbery.

Does this mean I'm not getting all the fat? Why hasn't the skin turned to cracklins? I was afraid of high because I didn't want to ruin the fat.

I poured the liquid fat out and am waiting for it to separate from any water. I spread the solid fat/skin out on a half-sheet pan. I'm thinking low oven until they crisp? What temp? Will I get more fat?

Thanks!
I got a number of great answers. (Follow that link; you'll see.) In the end I poured the fat out: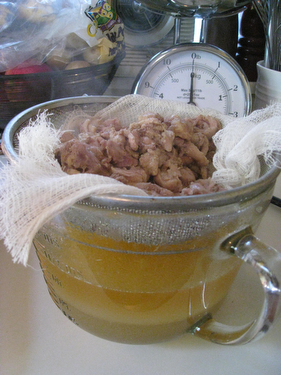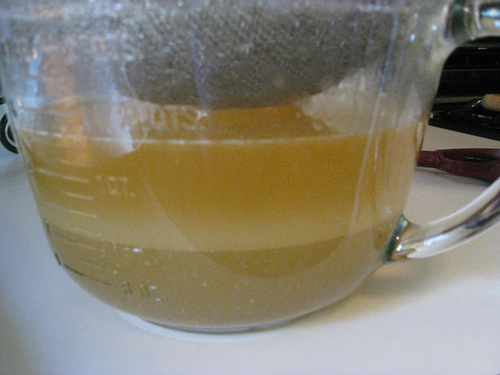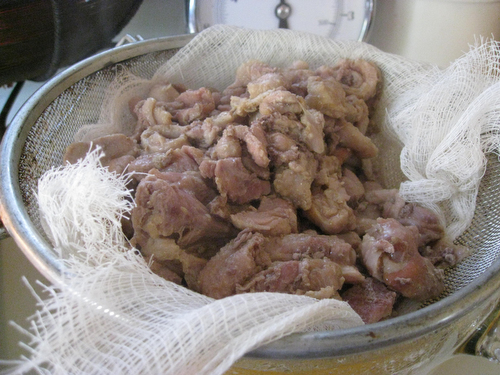 I put the skin on a sheet pan to crisp them up in the oven: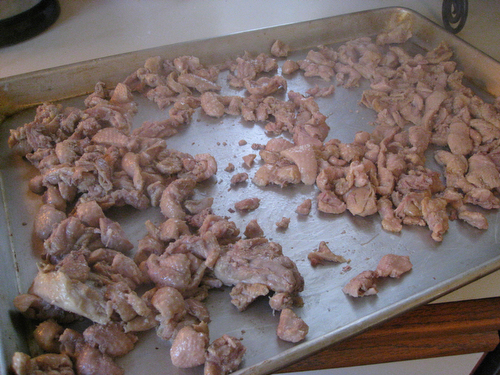 I was left with a little less than a quart of fat. The darker stuff underneath is duck "gelee." (I froze it. I STILL don't know what I'm going to do with that.)
Now. Finally. Time to confit my cured duck.
I rinsed the pieces off and put them in a single layer in two of my favorite pots: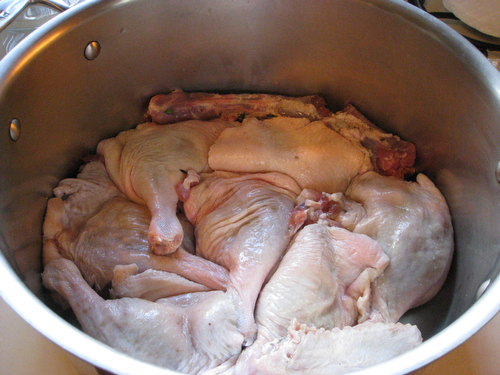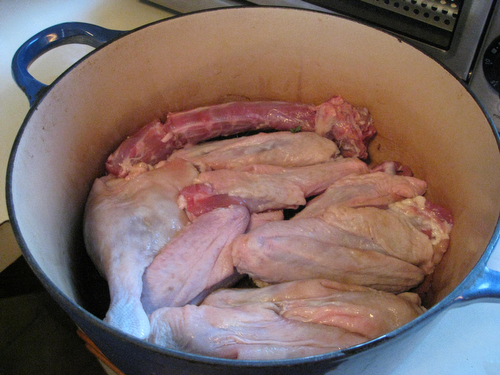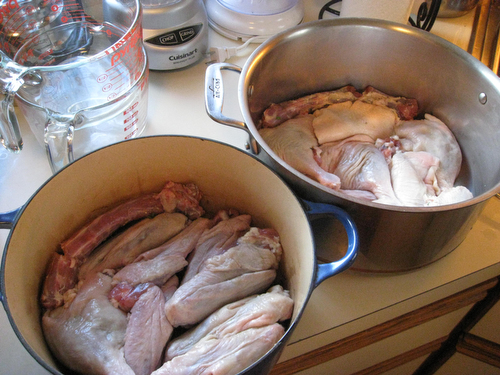 Made sure the fat was golden and melted to pour over it.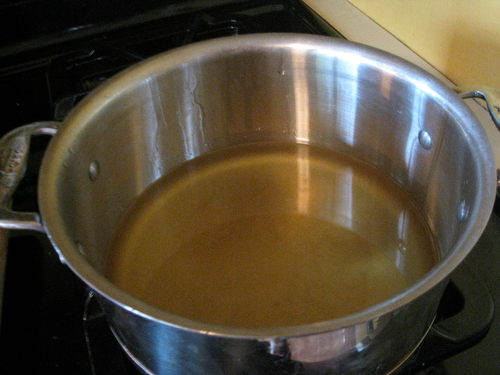 Freaked out again.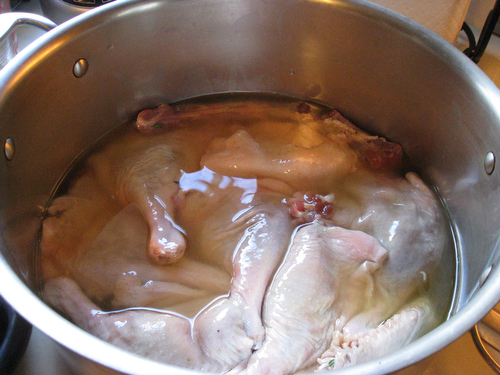 I didn't have enough fat. Check it out. It only comes to halfway up: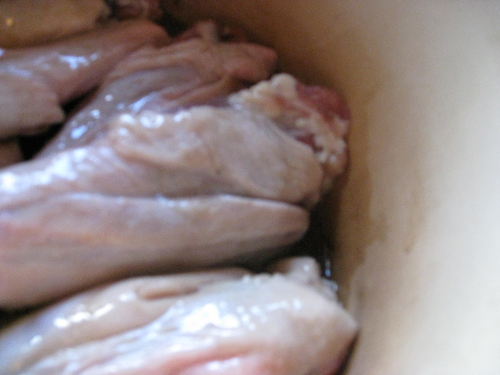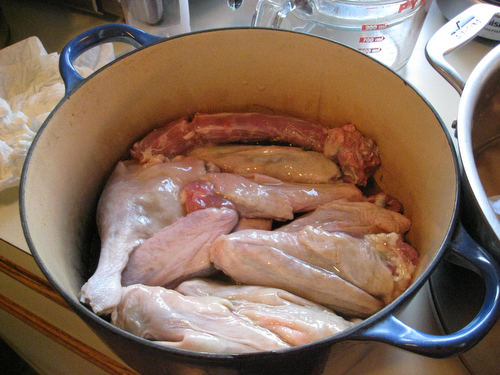 I turned back to eGullet.
They suggested canola oil.
In the end, I used olive oil. But I also ordered duck fat from Hudson Valley Foie Gras as a backup. You know, just in case. (This photos is from two weeks after):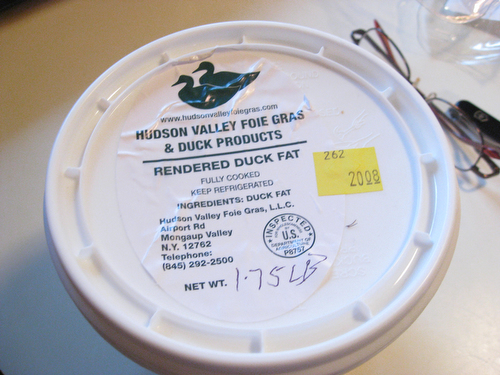 I filled the pots so the meat was covered, and cooked for about 3 1/2 hours.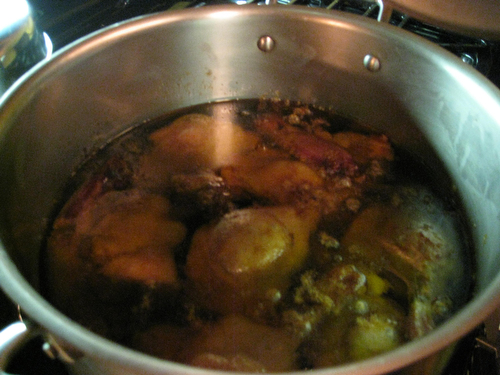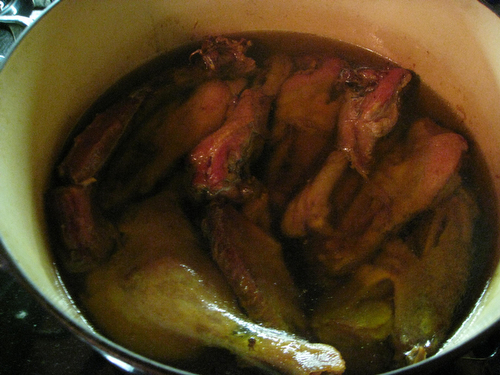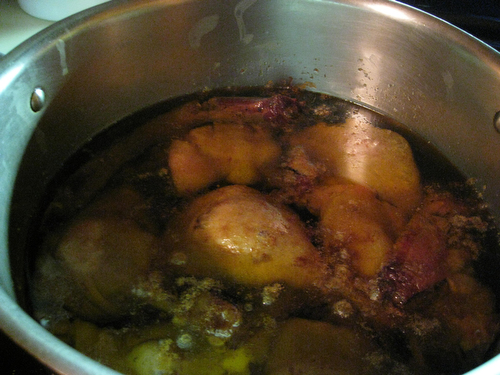 It looks fab, doesn't it?
I crisped the skin, too. But in the end, it didn't taste good. Chalk one up to another learning experience.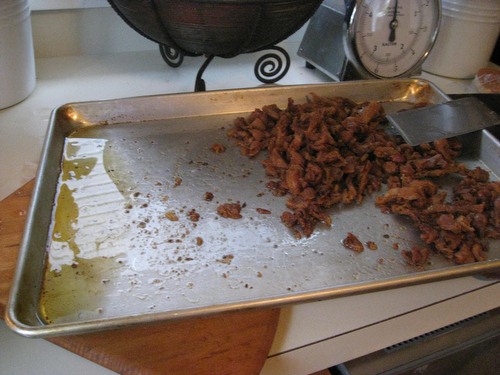 I made stock with the carcasses, too. No photos of that, sorry.
So after that, I put the pots in the downstairs fridge. I left them there, in the fat and oil, nervous about what to do next. I left them there for 10 days. I was wringing my hands again.
And then, as luck would have it, at work, we're doing a little feature where chefs come to my kitchen to make a dish, and we make a how-to video for readers.
The first chef on the list was Jon Pratt, who knows more about duck than just about anybody I know. I asked him to look at the confit.
He said it was doing great — olive oil and all. So after we were done with our video, I pried the duck legs out of the olive oil and fat and melted the new duck fat on the stove.
Jon took the confit off the wings, and we nestled the legs into a new tupperware. I poured the new fat over the legs, and Jon tapped the sides and the top to "burp" the dish. All the air bubbles came to the top.
Now I have a beautiful tub of duck confit.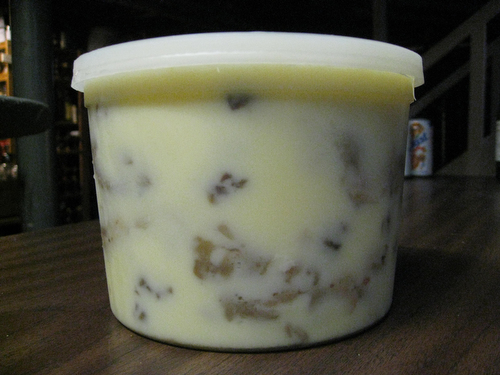 And a much better handle on how to do it next time.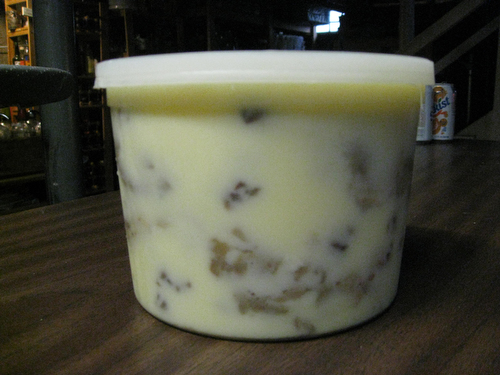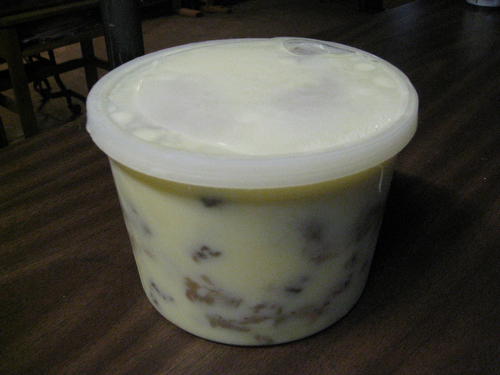 Comments
liz wrote:
Add Comments