Jump to navigation
Hoisin Pork Stir Fry
Originally published in the Chicago Tribune and the again in
The Journal News.
A delishy recipe.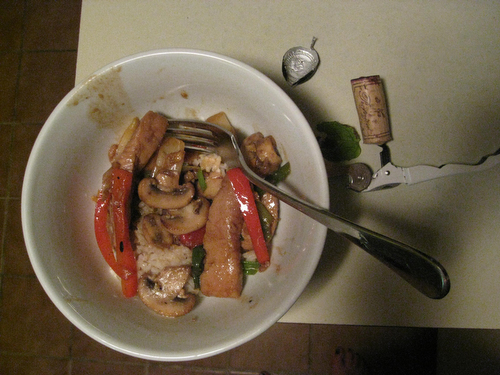 Hoisin Pork Stir-Fry

We tripled the recipe so we'd have leftovers, but I wouldn't recommend any more than doubling it. So much food slows the wok down; it can't stay as hot. If you like a spicier stir-fry, try adding Chinese chili paste, about 1/4 teaspoon or to taste.

Prep: 15 minutes
Cook: 12 minutes
Makes: 2 servings

1/2 pound boneless pork chops, trimmed, cut into thin strips
2 tablespoons hoisin sauce
1 teaspoon soy sauce
2 tablespoons vegetable oil
4 cloves garlic, minced
1 piece (1-inch long) ginger root, minced
1 bunch green onions, cut into 1/2 -inch lengths
1 red bell pepper, seeded, sliced
1 package (8 ounces) sliced mushrooms

Mix pork, hoisin and soy sauces in a medium bowl. Heat the oil in a wok or large skillet over high heat.
Add garlic and ginger; stir-fry 30 seconds. Add pork and sauces; stir-fry until almost cooked through, about 2 minutes.
Remove pork from wok with slotted spoon.
Add green onions and bell pepper to the wok; stir-fry until the vegetables begin to soften, about 2 minutes. Remove vegetables from wok; set aside.
Add the mushrooms to the wok; stir-fry until the mushrooms are browned, about 5 minutes. Return all ingredients to the pan; simmer 2 minutes.

Comments
Add Comments