Jump to navigation
BDoF: Txikito
For the final part of our BDoF, we headed around the corner from El Quinto Pino to
Txikito.
(Itís Basque. You pronounce it chee-KEE-toe, as in chiquito in Spanish.) Alex Raij, formerly the chef at both Tia Pol and El Quinto PIno, just opened a few weeks ago. That is why, if you read the post on
El Quinto Pino,
you might recognize this dish. Itís called arraultza, and is made with sofrito, chorizo, and ó you guessed it ó a quail egg.
So before we get to the food, the players. Still the same. Boo: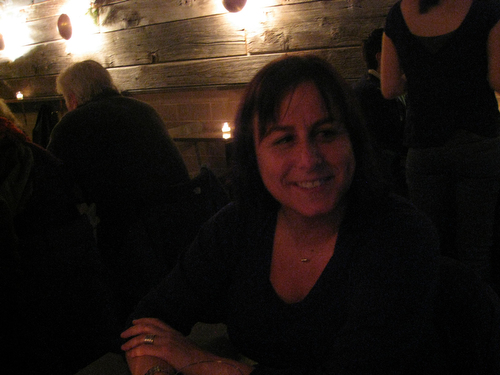 Max and J: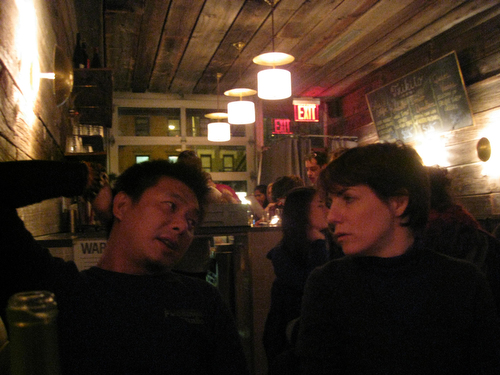 Les dorkages: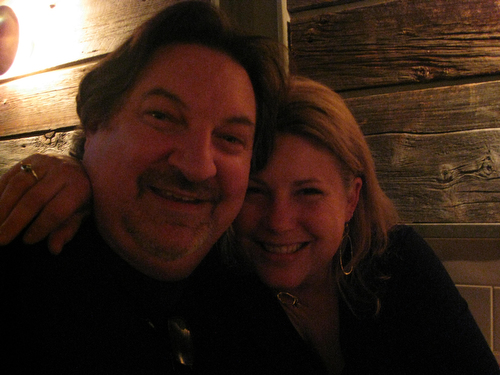 Also note in the background the cool weathered wood walls and ceiling. And note that while this place is small, itís definitely bigger than El Quinto Pino.

Whatís also cool is the little tray above the table. We noticed that everyone put their wine bottles on it:




We were super psyched to try the food, and also the wine. They had many choices of the farmís new favorite wine, Txakoli! Throughout our meal, we shared two different bottles: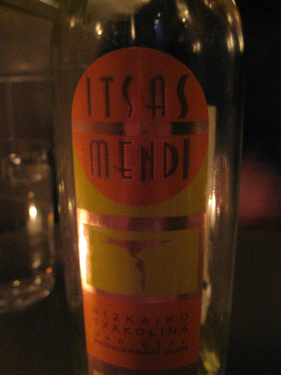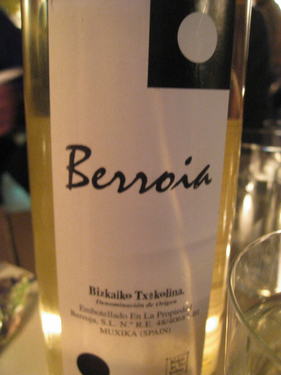 So now, on to the show.

Pulpo (octopus carpaccio, lemon oil, mayonnaise, Pimente díespilette):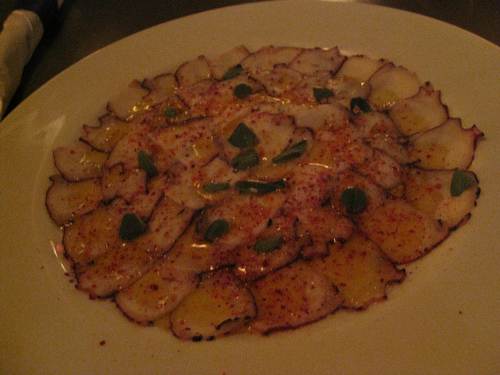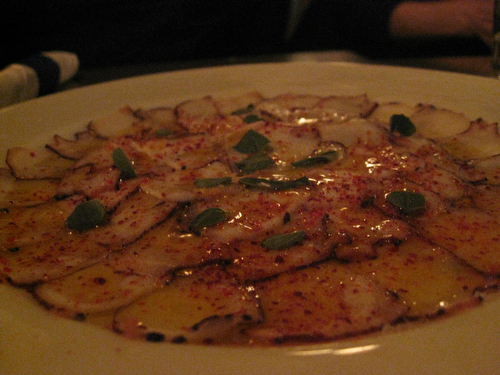 Fabulous.

Morcilla (crispy blood sausage filled bundles):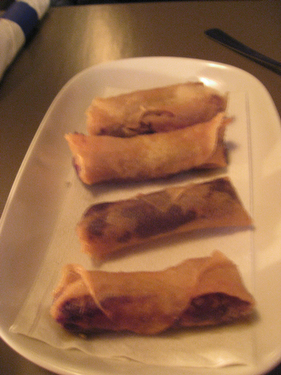 These were like blood sausage egg rolls. I like the taste, but itís so rich I could barely finish half of one.

Piperrak (blistered peppers with sea salt):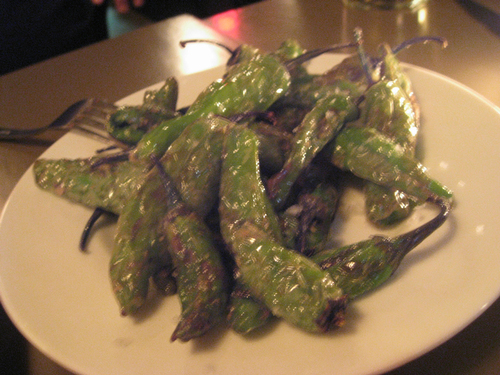 I donít remember ordering this, but it came to the table so we ate it. Theyíre fine. A little boring. Though there is one fun thing about them ó the Russian Roulette quality. You never know if youíre going to get one thatís super spicy. Max did. He was literally blown away.

Txiki Txanpi (mini mushroom and shrimp grilled cheese):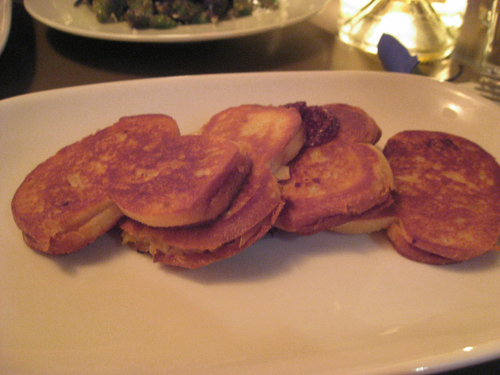 Though the idea here is adorable, I didnít detect much mushroom or shrimp. Mostly this was like a grilled cheese.

This, on the other hand, was rich and delicious: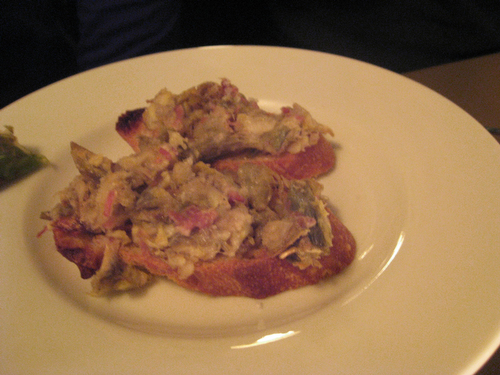 Tutera (gratin of artichoke, Rancal, jamon). Creamy, meaty, cheesey. Yum.

Then of course, there was the quail egg:




Also very very good. Though I must say I prefered the one at Quino Pino.

My favorite dish of the night was a special. Brussels Sprouts and cauliflower with an anchovy sauce:




Holy hannah that thing was amazing. Salty, sweet, bitter, creamy. I lapped it up.

We had the most friendly and energetic waitress.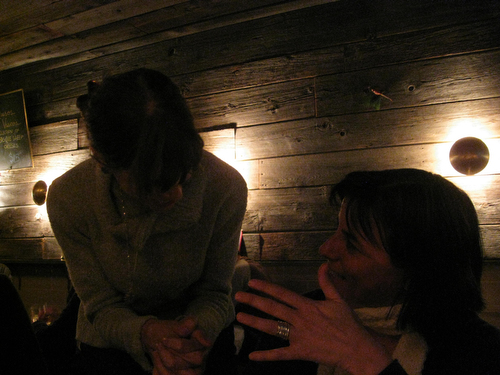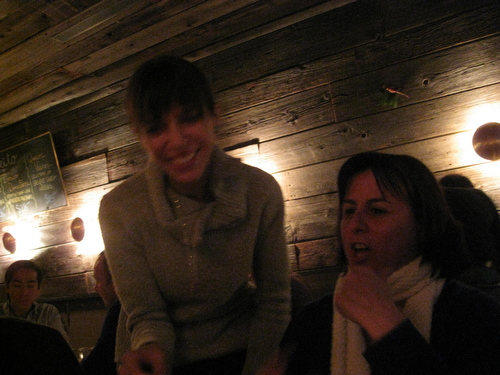 She really knew her stuff. When we saw this on the menu, we laughed and also questioned what it meant:

Extebarri Gulak (house smoked mock elvers).

She told us that elvers are a delicacy ó those little baby eels (which weíve had several times). Theyíre very difficult to get, so people make fake ones by making a fish sausage of sorts out of shrimp and scallops and such. Then they smoke them and serve them with a delishy sauce. Because we had been asking about them, the chef sent out a plate. So nice: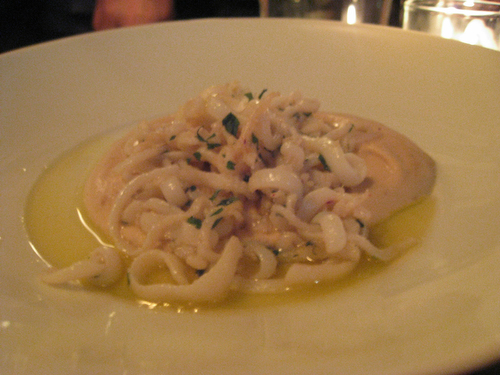 I think some people who are grossed out by the eel factor would actually like these better. Itís like a cross between pasta and calamari. I really enjoyed them.

Max and J: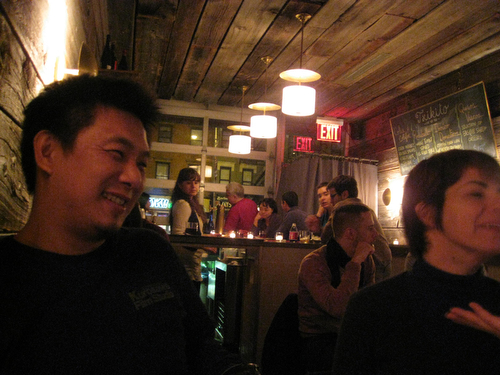 At this point, Boo and J got into some kind of huge laughing fit about a private joke: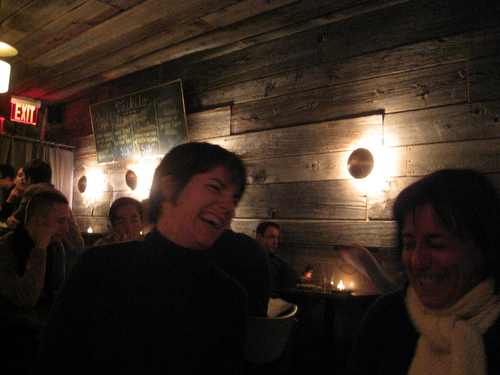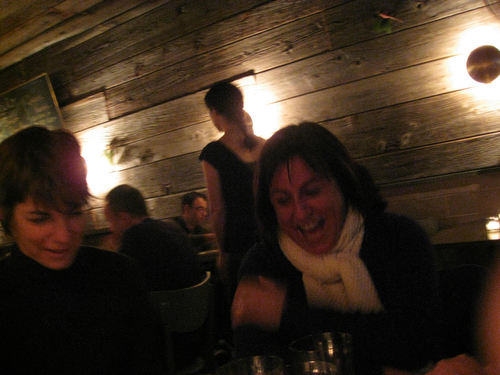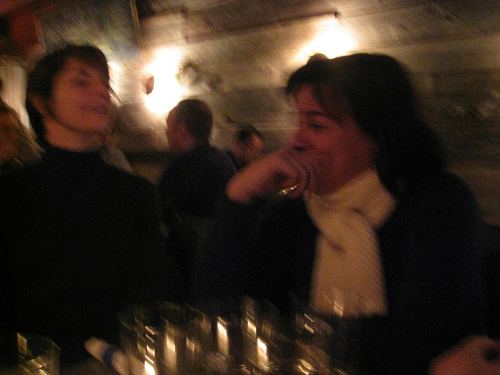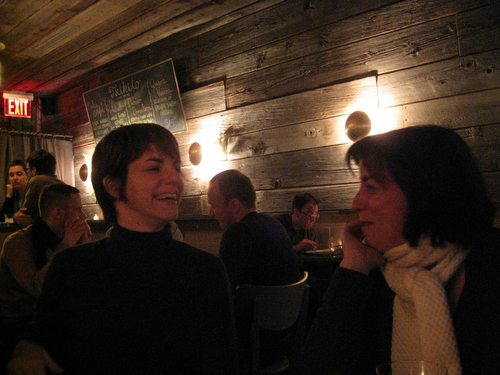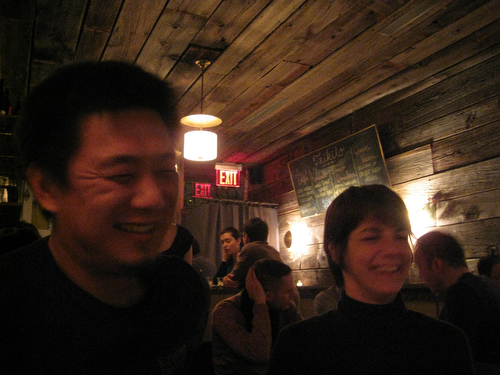 Seems like they were enjoying themselves.

A little more look around the room: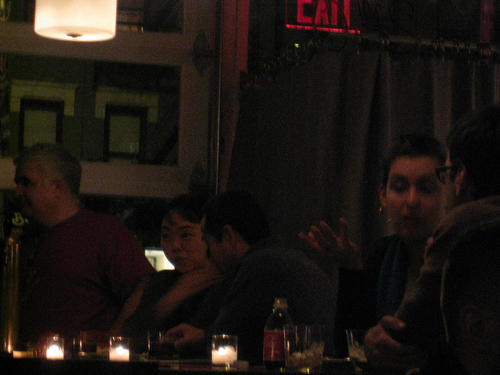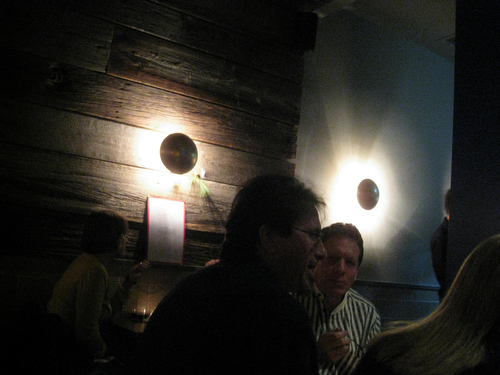 The back wall: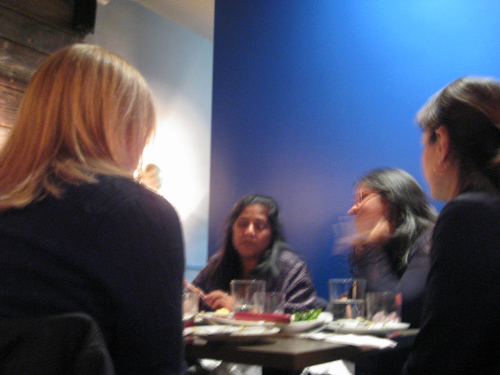 So now letís order dessert. OK Max?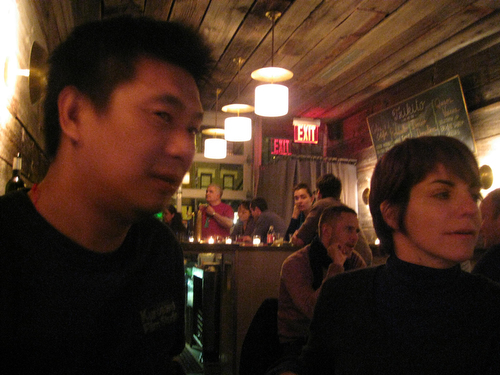 An apple custard tart: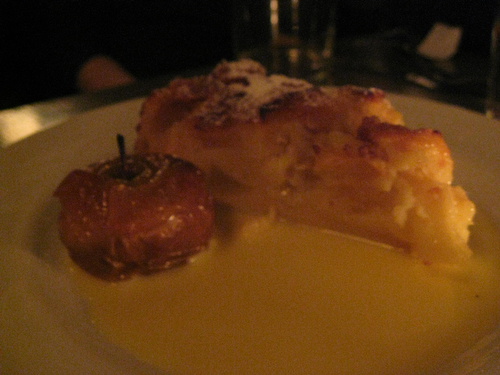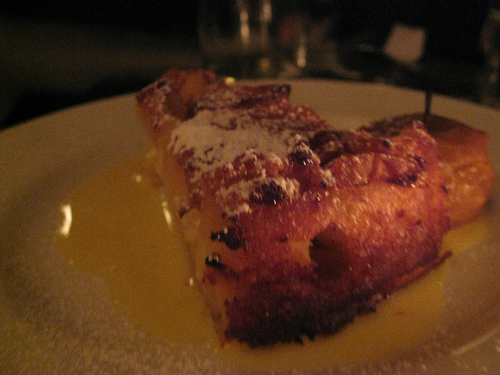 And a cheese plate. Half the cheese is from the French side of Basque country; half the cheese is from the Spanish. Very diplomatic: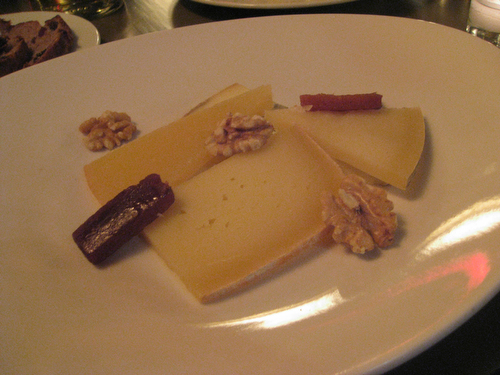 We sipped a moscatel: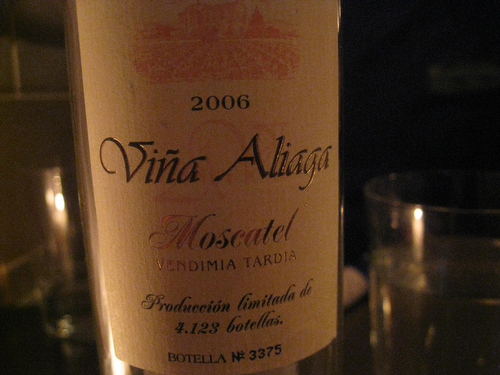 A fabulous way to end our BDoF.

The sign: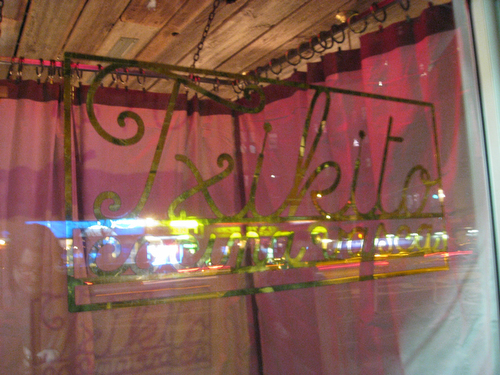 The ďstrip mallĒ where the restaurant is: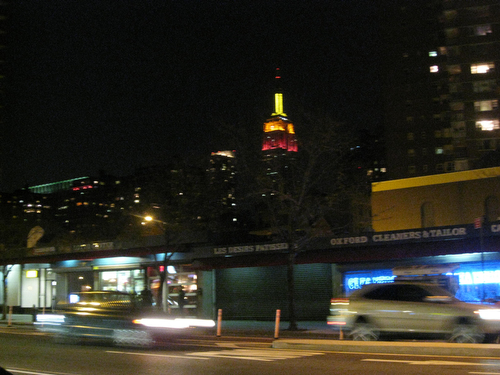 Good night Max, J and Boo!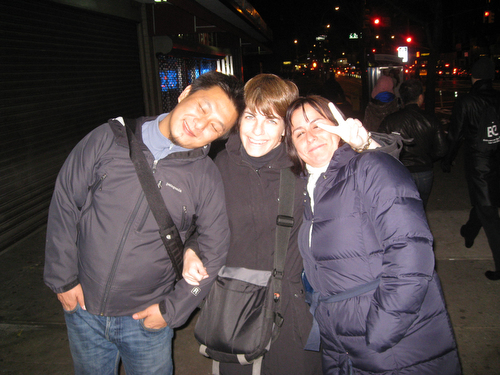 And good night Greg!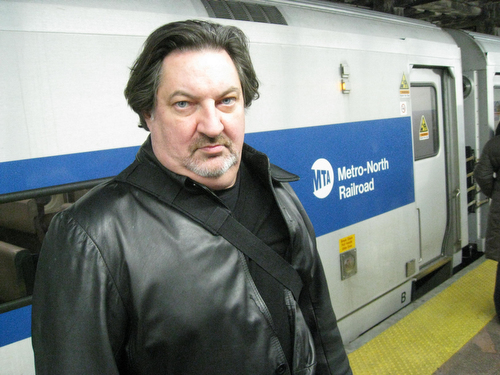 Comments
liz wrote:
Add Comments