Jump to navigation
The Last Dance ... If Only I Could Move
This is it. The meal to end my trip to Montreal. I'm a little surprised that I survived all this meat, but it was very well worth it.
This, my friends, is Au Pied de Cochon.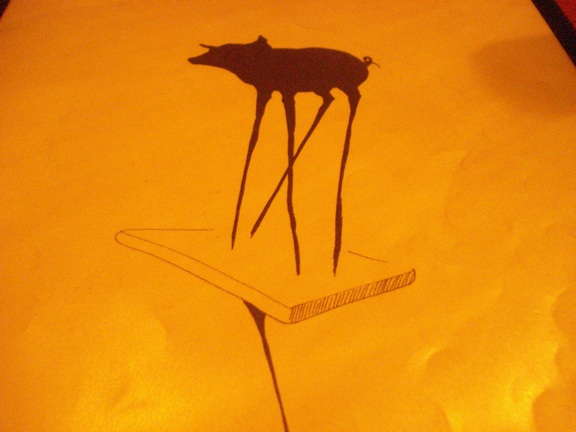 What a delight. I must say, I don't travel by myself very often, but I highly recommend it. For starters, people are really, really nice to you. I'm not sure if it's sympathy, which it shouldn't be, or if they just see themselves in your position and go out of their way to be really helpful and warm.

Also, it's nice to remind yourself sometimes that you're pretty good company. Take me, for instance. I like all the same things as me! We both like the same boutique style hotel. I lose steam at museums or "sites of interest" after about 90 minutes or so—just like me. We both like the same foods, and we're pretty funny sometimes. It's a happy, hilarious, easygoing travel experience, and we're happy to report that a good time was had by all.

But when you're dining at the likes of PDC, as it bills itself, it's nice to have some company. Fortunately, a very nice Quebecois named David sat next to me.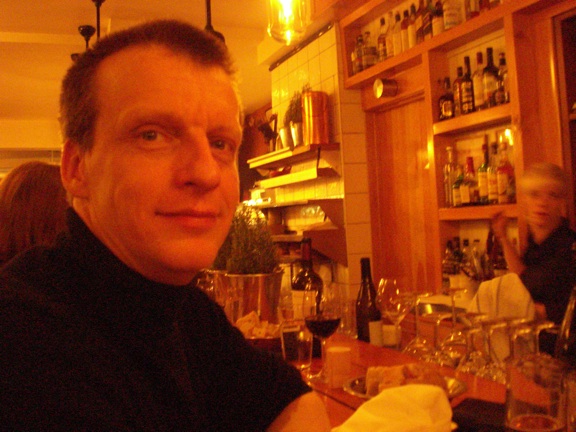 He was traveling back home after visiting with his wife's family near the city—for the holidays, which he calls the "Festival of Meat"—yet he still had it in him to eat some pig. His good friend had been a consultant at PDC, so David got some royal treatment, which yours truly benefitted from, as well. I think it helped that David was wearing a kilt, his family tartan.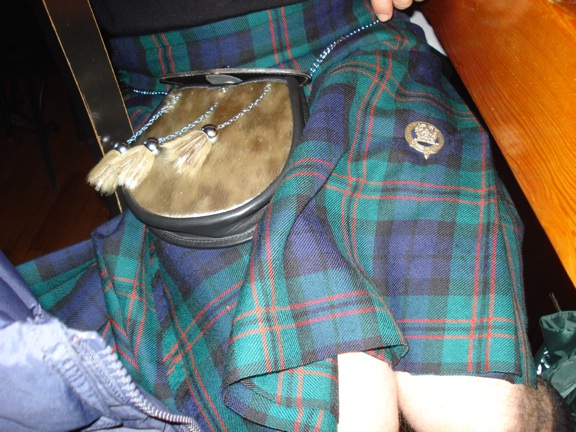 I had ordered before David arrived, and Simon, my server, was a great help. He talked me into the tripe appetizer, which was served in a wine and tomato sauce over a grilled baguette, with bacon and a fried egg on top. Seriously.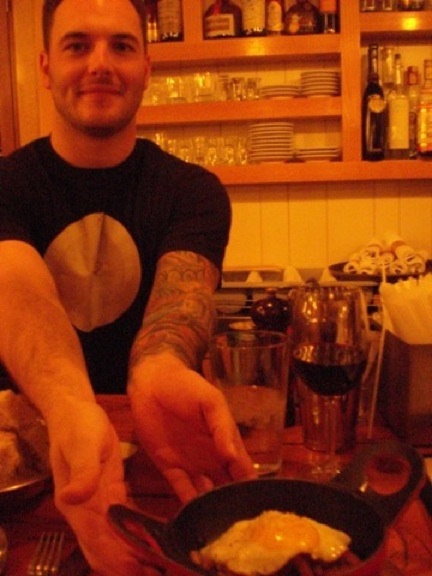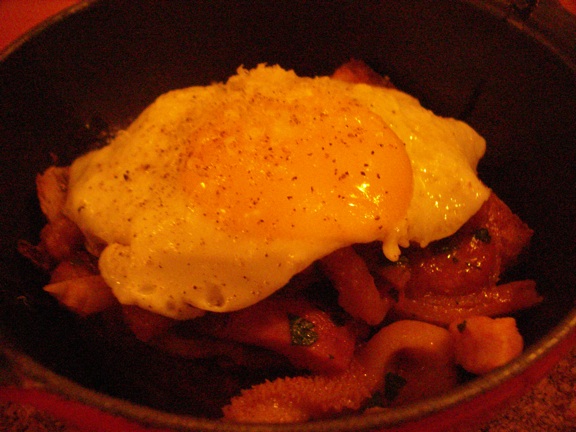 I didn't want to waste precious stomach space with a salad in a place like this, so whatever room I had was going to go to the pig. So, after the tripe, I ordered the "PDC Melting Pot" for my entree, replete with blood sausage and a pork filet, among other choice pig bits, served over mashed potatoes.

Lord.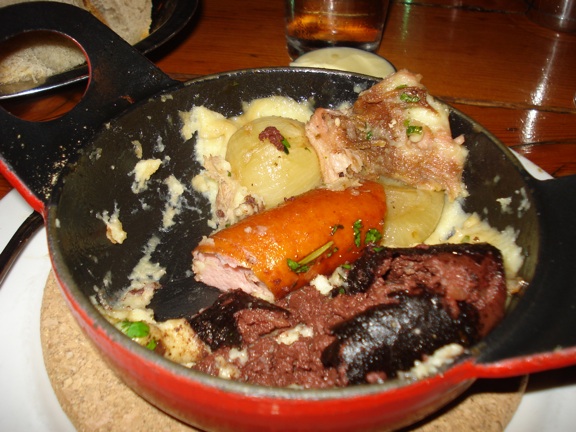 David was served a surprise foie appetizer, as well as some lovely wine, courtesy of his friend. Yours truly had a glass.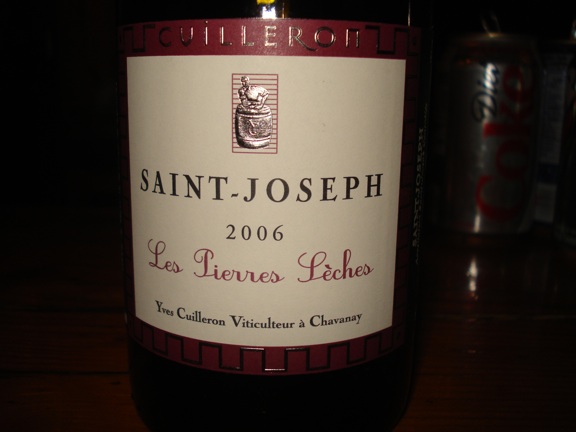 This was the foie: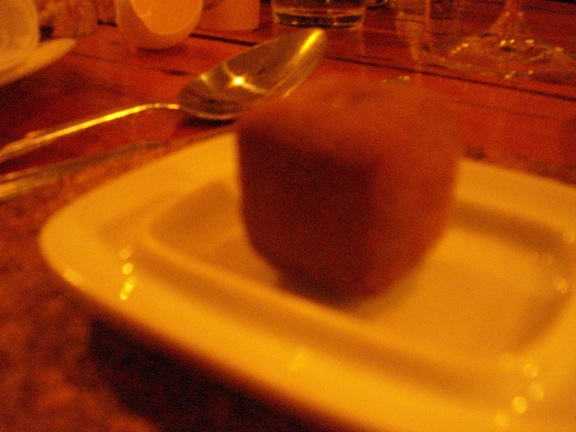 This was David's reaction.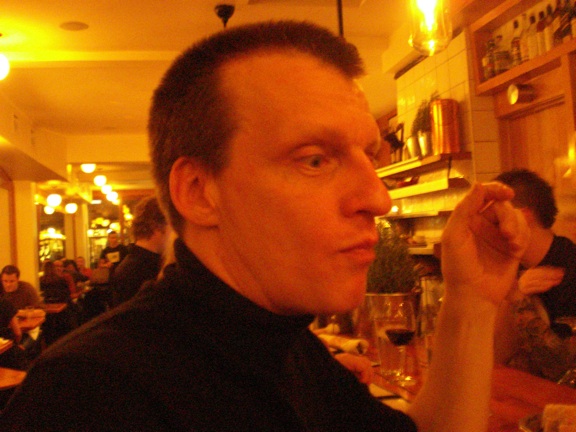 Simon is unphased. He's used to people crying, kicking and screaming over how good the food is.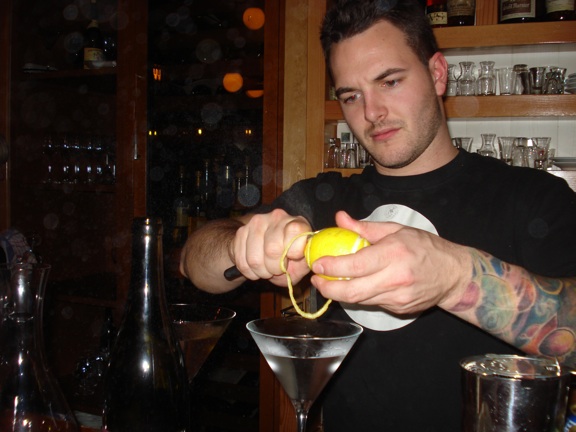 David ordered the bison stew for his entree. Would you believe he ate all of it?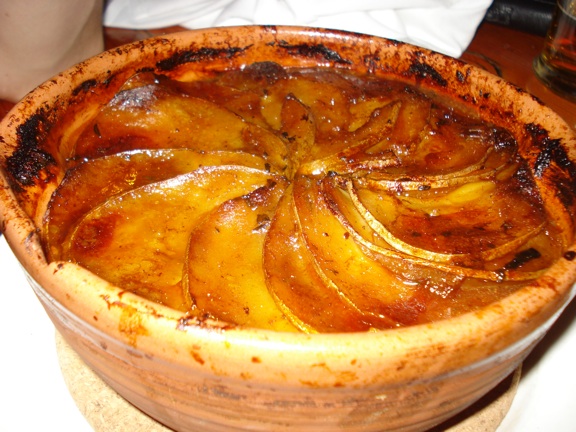 Look at the size of that thing!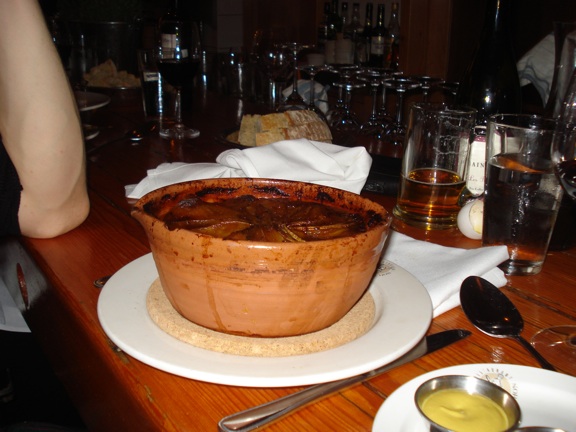 During dinner, David regaled me with tales of his wife's family, particularly her parents, who have old French names: Hugues and Lutgarde, which I had fun trying to pronounce correctly. He said the night before, during the weeks-long Festival of Meat, for which the saying is "All You Can Meat," the family ate reindeer. We talked about the pigeon that was on tonight's menu, which neither of us ordered. Simon said it was very good—"like duck." I suppose that's Quebec's answer to, "like chicken."

I said the tripe would do for tonight.

I gave David my blood sausage and leftovers—would you believe I just couldn't finish my entree?—and promptly ordered the creme brulee.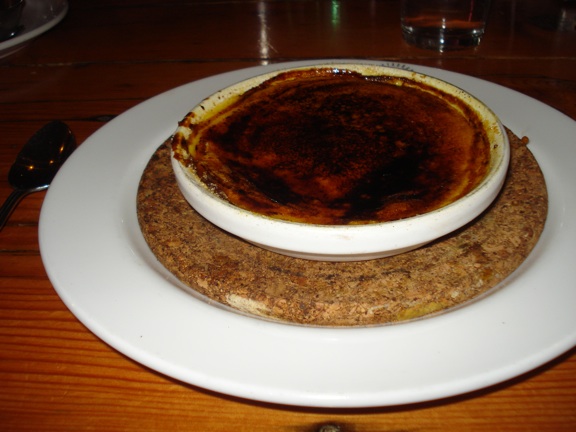 Simon served me a dessert wine, without my asking/ordering. I love Simon.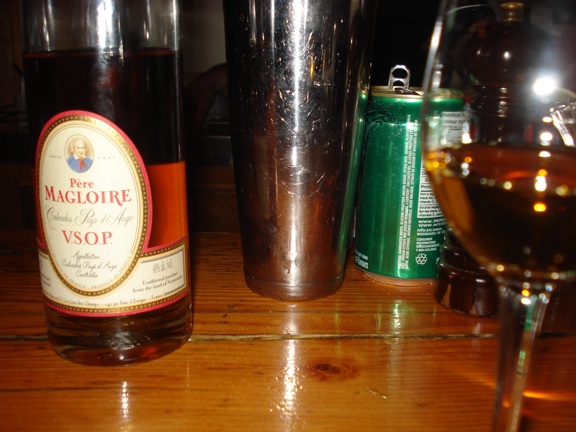 And I love Au Pied de Cochon, which is, apparently, a common feeling among the packed house. From what I gathered, it's always crowded, so make sure to make a reservation.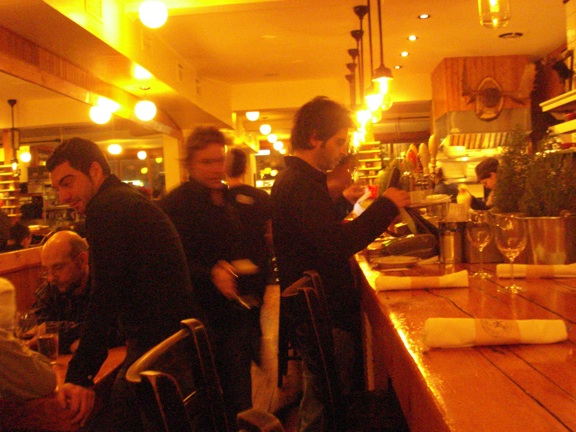 You know who else is happy there? Hockey-loving Canadians. They even have the Canadiens game on in the loo! (I forgot to mention huge screens in the subways, showing lots of hockey highlights.)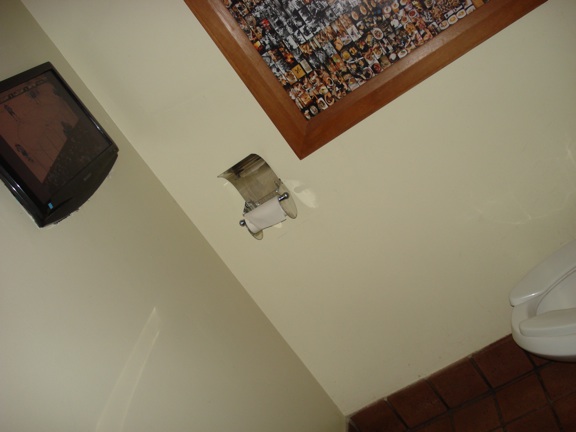 Nevertheless, I will remember PDC most fondly, as well as the lovely and hospitable city of Montreal.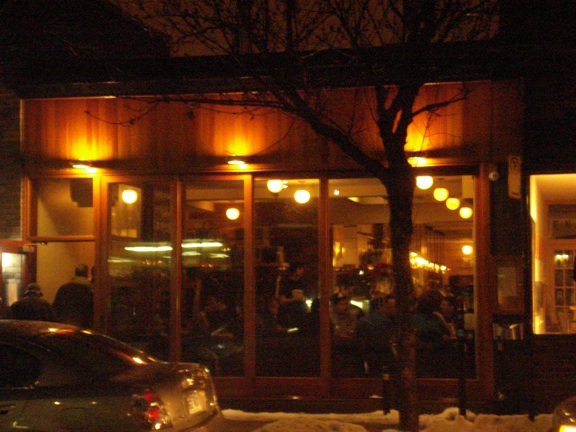 A bientot!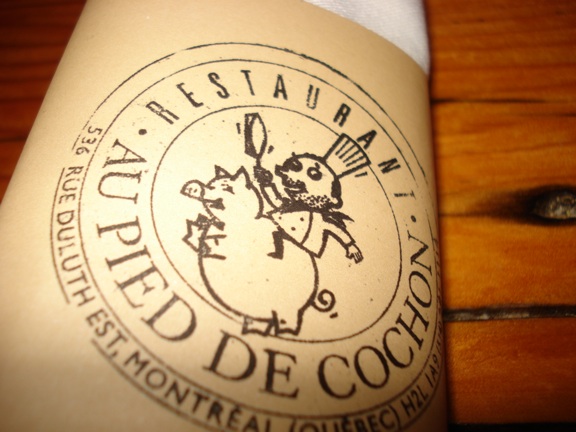 Comments
Add Comments