Jump to navigation
Sidecar
Greg used to say that the sidecar is thought to be the oldest cocktail. It's so old, he used to say, that Moses carried a thermos of them with him as he crossed the Red Sea. Well maybe not quite, but ..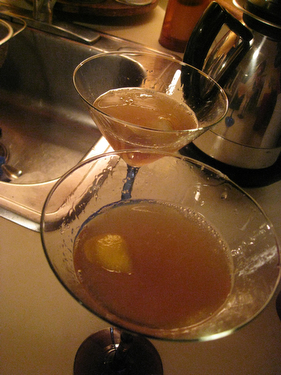 It's actually said to have been created at Harry's Bar in Paris after a World War I soldier came in to the bar cold after having ridden in a motorcycle side car. He needed something to warm him up, but it was considered improper to drink brandy before dinner. So the bartender shook him this up, instead.

Sidecars
8 ounces Cognac
4 ounces Cointreau
2 ounces lemon juice

Set ice and water in cocktail glasses to chill them. Combine ingredients in a small pitcher and stir. Pour some into a cocktail shaker filled with ice. Empty the water from the glasses. Shake vigorously and strain into the glasses. Garnish with a lemon twist. You may also rim the glass with sugar, but we donít usually bother.

Yield: 4 drinks.
Comments
Add Comments