Jump to navigation
Super Bowl Special: Wings Done Right, Korean Style
They crunch against the tooth (like a corn flake if a corn flake actually tasted this good).That is, once they cool down enough so you can even start biting. But it's hard to wait when you have drool running down your chin. So I start hacking the first few wings apart with chopsticks.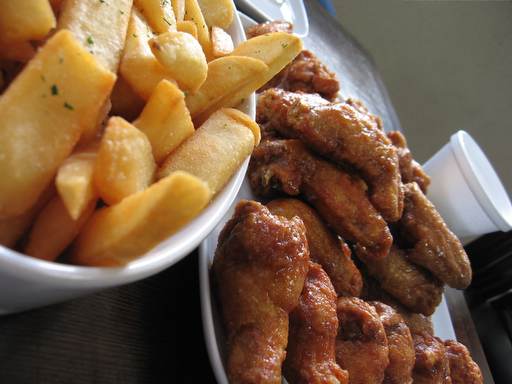 This is Bon Chon Chicken, in Fort Lee, New Jersey. Bon Chon is a chain that has been spreading around the country hawking an especially crunchy chicken wing (or chicken drumsticks, if you prefer). This franchise has been open two years, the owner, Mike, tells us.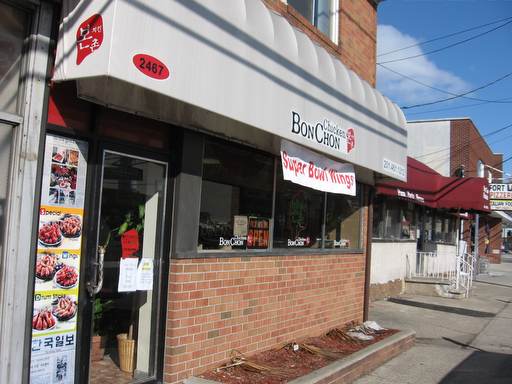 Mike's not missing the significance of wings and the Super Bowl either. Last year, it was a nut house, he said, with the Giants in the bowl. This year he's not sure what to expect. Although while we were there the day before, a guy came in and placed an order for 75 wings, to be picked up Sunday. Mike was going to hit him $60 for 75 wings.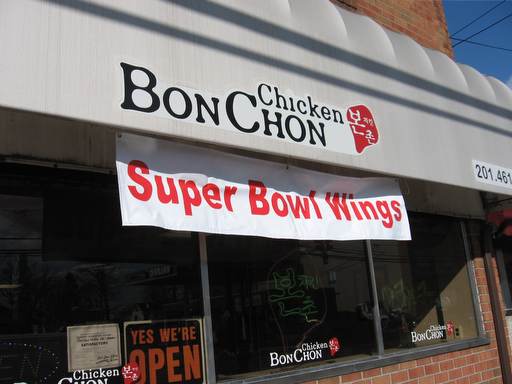 The menu at Bon Chon is bare bones, but who cares, you come for wings. They come two ways: soy garlic or hot. And you get french fries. But that's it. And that's enough. (You can get drumsticks, too, if you like.)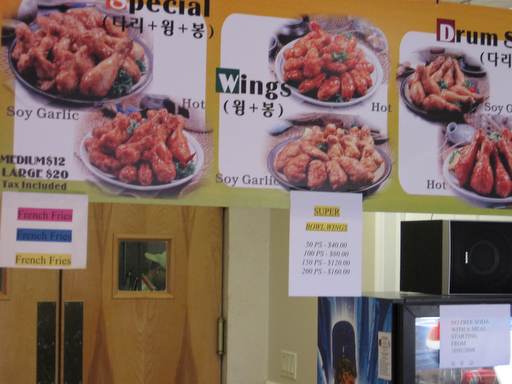 Bon Chon uses a special frying technology that takes time, as Mike says. The menu says 20 minutes and that was about right. We waited in the spare but pleasant dining room, decorated in one corner with a plant, right.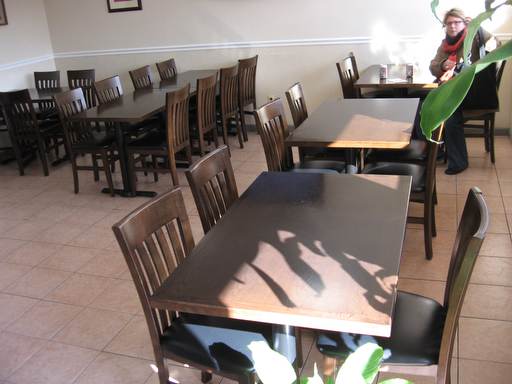 Your order comes with diced daikon radish submerged in a bath of vinegar, water, powdered sweetener, salt and pepper, Mike tells us. It's very refreshing between wings, especially the hot ones, and as a nice little amuse bouche while you wait.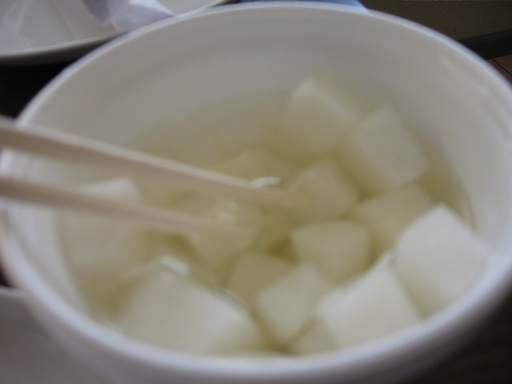 If you do not call ahead with your order, as Mike recommends, make sure to bring something to amuse yourself with while you wait. If you forget, the menu can fill in. In Korean and Kenglish, it lists the four benefits to Bon Chon chicken.
1. Uses a proprietary sauce that stays on the chicken, not on your fingers
2. Is fried in a unique method to create the delicate taste of chicken with minimized fat.
3. Is high in proten and low in calorie
4. Sauce Selection



Soy Garlic Sauce: Has the benefits of garlic


Hot Sauce: Uses hot sauce, which contains vitamins A and C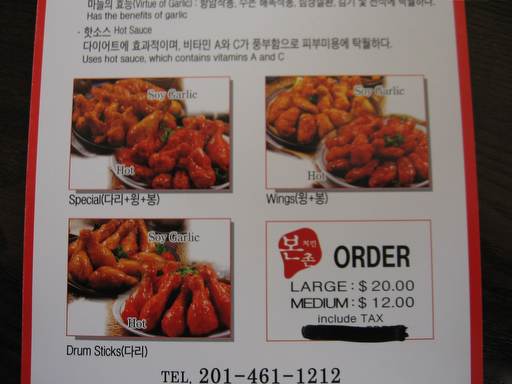 Ordering ahead is possibly the easiest of any restaurant in the history of the world. You could make your 5-your-old kid call in the order while you take off in the car to pick it up. All he has to say is large or small (24 wings or 12, $20 or $10) and soy garlic or hot (or half and half). For two people, get the large and go half and half, as seen here (hot in front). Send 'em back if they aren't exquisitely arranged on the platter. They'll give you blue cheese if you must, but these aren't the kind of wings you want to ruin with a dip, people.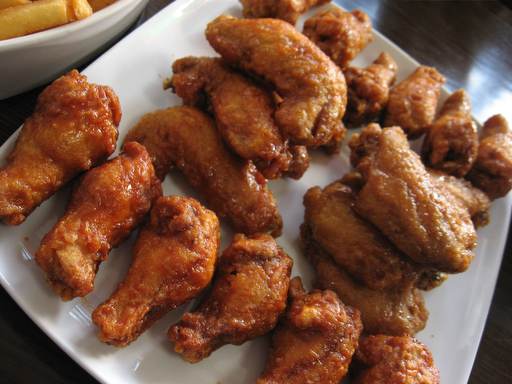 Are they good? Well, here's one customer after a breakfast of eight wings, fries, daikon radish and a can of Diet Coke. You tell me.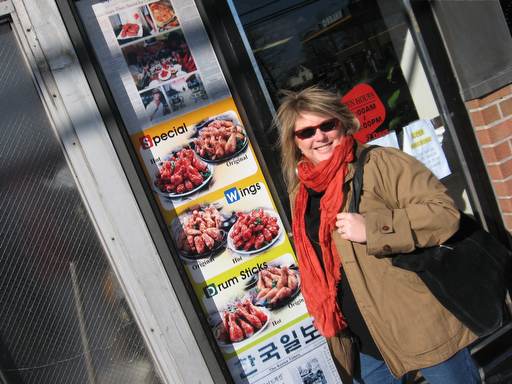 For further study



There's more than 50 outlets open so far around the country, mostly in the east but according to the Web site, even Austin, TX, Phoenix, AZ, Madison, WI, and St. Paul, MN, are serving. I couldn't get this link to work in Safari, only Firefox. And I couldn't actually find the Minnesota, Wisconsin and Texas outlets. Maybe those spots are opening soon. Good luck, far flung people.


The February issue of Esquire magazine has a entertaining wing article (by Scott Raab) that tips its hat to Bon Chon. I recommend going out and buying the magazine cuz there's a lot of other good stuff in there. But here's the electronic version.


The New York Times wrote about Bon Chon and a few of the other chains serving this style of chicken, which is based on a Chinese technique (paper-fried chicken) that renders out the fat in the skin to leave it thin and crispy.


The originator of the crunchy Korean-style chicken is said to be Kyochon, which has more than 1,000 outlets in South Korea and is opening like crazy in the United States. Here's somebody's blog post I found that pits Kyochon against Bon Chon.


And here's a round up of joints around New York and New Jersey from Jason Perlow at Off the Broiler. Lot's of brands out there and a good chance some of them will be spreading to other parts of the country, especially Bon Chon and Kyochon, it would seem.
Comments
squigs wrote:
Add Comments