Jump to navigation
Shrimp and Butter Lettuce Salad with Baby Arugula, Grapefruit, Avocados and Pecans
The recipe. Best if you use Gulf of Mexico Shrimp, Rio Grande Valley grapefruit, Mexican avocados and local Texas pecans.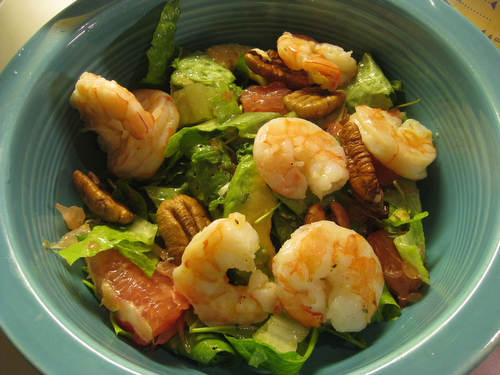 1 pound shrimp, cleaned and deveined
1/2 cup pecans, toasted
1 large grapefruit, sectioned, rind reserved for juice
1 avocado, cut in half, pit removed, sliced and peeled
3 scallions, chopped into 1-inch pieces
2 tablespoons mint, chopped
5 cups butter lettuce (about 1 head)
1 cup baby arugula (about 1/4 of a bunch or bag)
2 tablespoons grapefruit juice
1 tablespoon lemon juice, optional
1 teaspoon mustard
6 tablespoons olive oil, plus more for roasting shrimp
Salt and pepper

Preheat the oven to 400 degrees.
Peel and devien the shrimp and set aside to dry.
Toast pecans.
Section grapefruit and put a bowl. Cut avocado and toss with grapefruit so it won't discolor. Add scallions.
Place shrimp on a roasting pan and toss with olive oil, salt and pepper to coat. Cook for 8 to 10 minutes until pink through.
While shrimp is roasting, tear and wash butter lettuce and arugula.
Squeeze the leftover grapefruit juice from the rind into a bowl. Add lemon juice if desired. Whisk in the mustard, salt and pepper, then slowly whisk olive oil until it emulsifies.
Toss dressing with lettuces, then add pecans, grapefruit, avocado, scallions and mint and toss lightly. Add shrimp and toss lightly again. Sprinkle with salt and pepper and serve.
Makes 2 servings.
Comments
Add Comments