Jump to navigation
Irene's Birthday, Eggs in Purgatory and
the Story of a Little Man in a Wine Shop in Italy
Now I imagine most of you know by now that if I see a recipe called
Chestnut Polenta with Ragu alla Napoletana, Eggs, Ricotta Salata and Lardo,
that, as soon as I wipe the drool off my chin, I'm running to the store to get the fixin's for dinner. This dish, also known as Eggs in Purgatory, was a resounding success, and just about the most delicious thing I've put in my mouth in many a month.
It almost didn't happen. Greg was shocked shocked that I told him "I wasn't convinced" about his suggestion to make it. I admit I was a little nervous about the polenta. Thank God and Greyhound he prevailed. One of the reasons was this really great Tiny Kitchen how-to video here by Jill Santopietro. She's the one who told us — eh, if you can't find pork belly, don't worry about it! If you don't have chestnut flour, just chop up chestnuts! We took her advice.

We started with 2 pounds of pork shoulder. On Friday night, we cut it up, salted it with about 2 tablespoons of kosher salt, covered it in plastic wrap and stuck it in the fridge.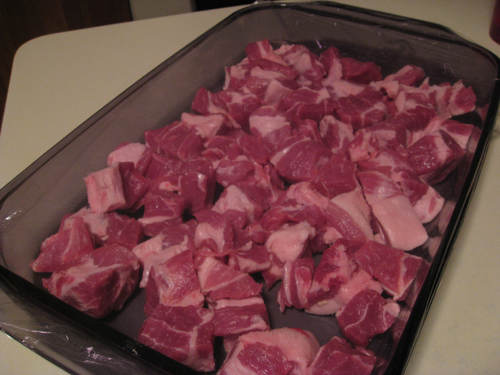 In the morning, we followed the recipe and cooked 1 red onion in 1/4 cup olive oil for about 15-20 minutes —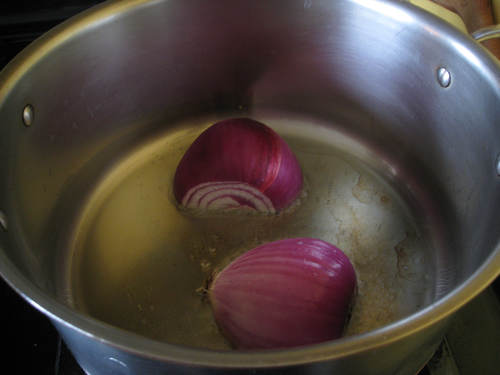 — until it was nice and browned: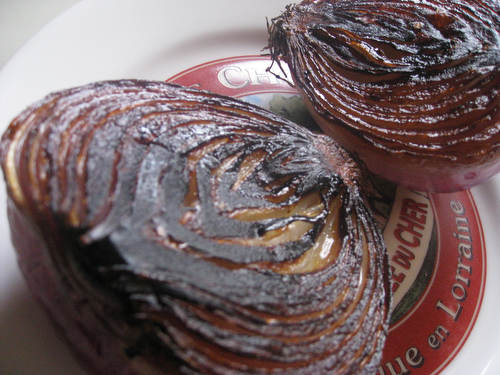 We stuck a pair of scissors into 2 (28-ounce) cans of San Marzano tomatoes and cut them up a little, the poured the tomatoes into a bowl.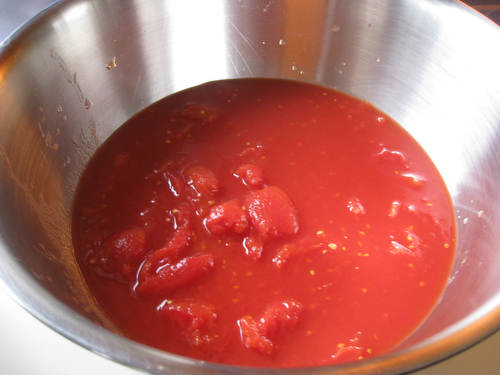 We seared the meat — including about 8 ounces of proscuitto taken from the ankel end of the ham — for a few minutes... literally about three to five minutes, and then added the tomatoes: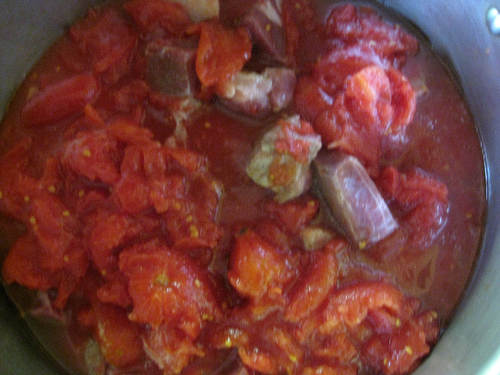 Then we left and went for a run around the lake and out for Vietnamese food for lunch. We came back and it had been cooking about 5 hours. It was way, way reduced, but not burned. We decided to add a 28-ounce can of diced tomatoes, because that's what we had.

It's supper time now. We made smoked salmon with fennel fronds, scallions, meyer lemon zest and juice and olive oil: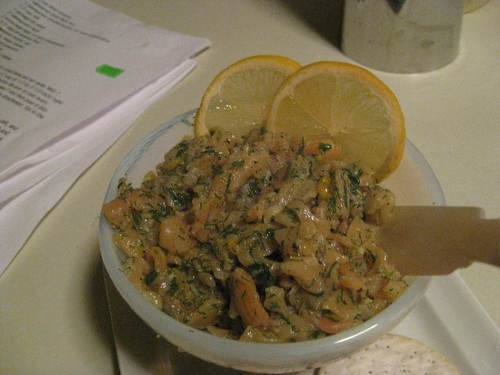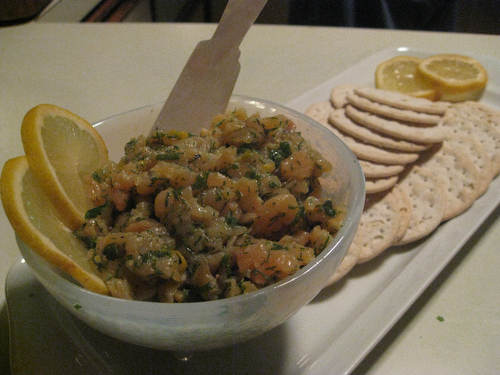 And a round of Salty Dogs (recipe here).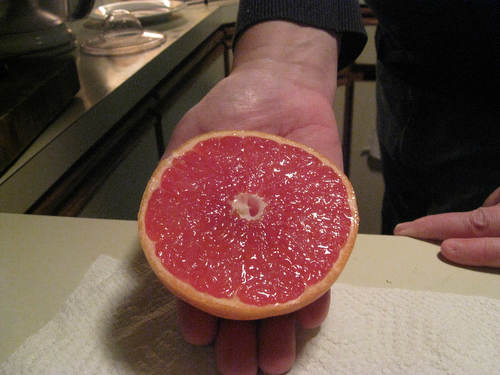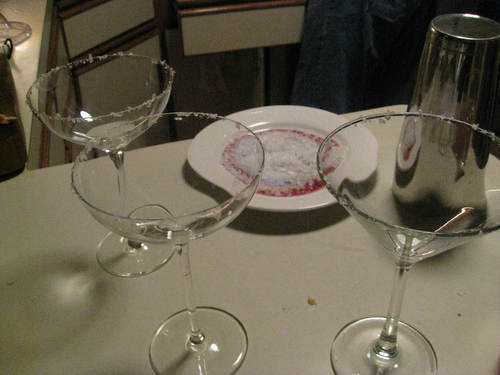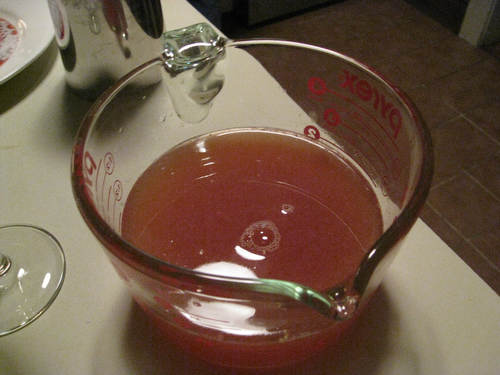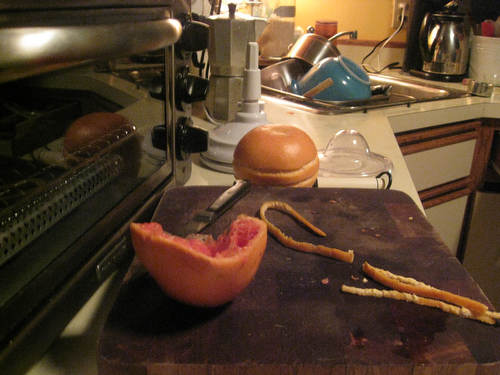 Irene's here!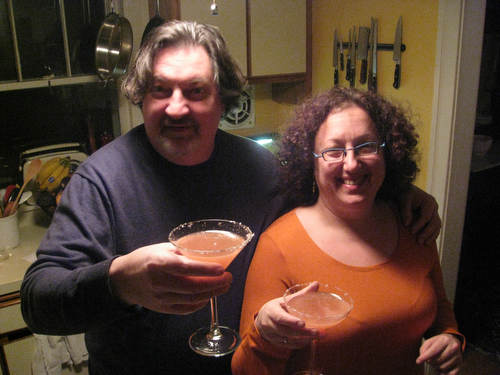 Happy birthday!

She brought over her present from Philippe and John —  eggs from their chickens! How perfect for the dish!

And look at the sweet message: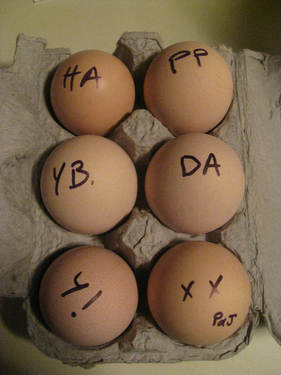 From P & J: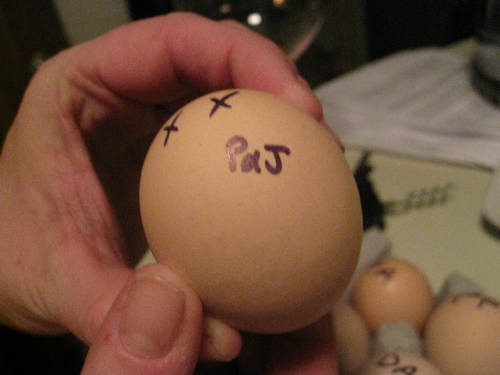 We sent Irene downstairs to pick out a bottle of wine. At first she said: "I like fat bastard!" We said, Oh, no, birthday girl... go down! Go down to the bottom rack. Pick something that you'll really like!
She came back with this: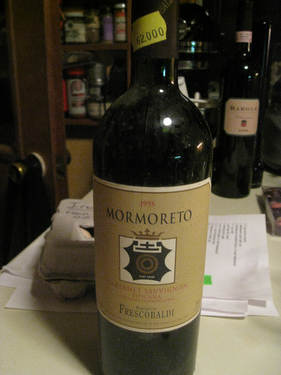 Which we brought back from Italy in 1999.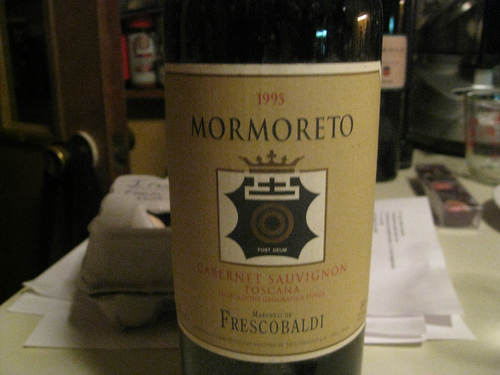 When they still had lire: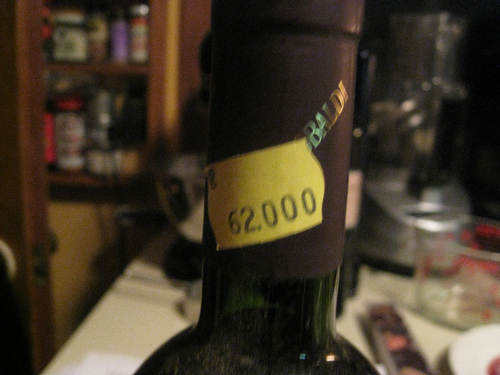 It was our last night in Rufino (not Ruffino), and as we were walking the sidewalk, we noticed a door ajar. It seemed like it was a shop, so we poked our way in. The front looked like a deli: cigarettes near the cash register, a glass-doored cooler with carbonated drinks, a few non perishable food items on the shelves. But as you walked further back, you realized this was like some sort of underground warehouse, filled with bottles and bottles of wine.

We later called the owner "the little man" because he was small, but not waif, and hurried slightly when he walked. He spoke no English, but encouraged us to poke around. We discoverd the olive oils and aged balsalmic vinegars, and he became very animated and enthusiastic. He held up his index finger and we understood that he wished us to wait. So we did. We poked around some more, looking at some of the local bottles and also some expensive French champagnes.

About 20 minutes passed. We were growing impatient and were just about to leave when he hurried back in holding a white paper bag. He walked purposefully over to the butcher block table where the glass bowls of oils and vinegars were displayed. He opened the white bag and removed a steaming hot piece of freshly baked focaccia bread.

He broke a piece off and dribbled a little olive oil over it, encouraing us to do the same. He did it again, but this time dribbled balsamic vinegar. Then he encouraged us to try different combinations of dipping olive oil, then vinegar; vinegar then olive oil; vinegar mixed with olive oil. Each one tasted different, depending on the order and the mixture. And each one was heavenly: the hot, fluffy bread had beautiful air pockets to capture the liquid, and the bite finished with the salt on the foccacia's crust.

We bought several bottles of the olive oil made closest to Rufino: Frescobaldi's Laudemio. When we got home we gave many out as gifts. We also bought several bottles of wine from the little man, including the Frescobaldi we drank on Feb. 14, 2009, nearly 10 years later.

When searching for the litttle man's web site, I came across this passage from "The Food & WIne Lover's Companion to Tuscany":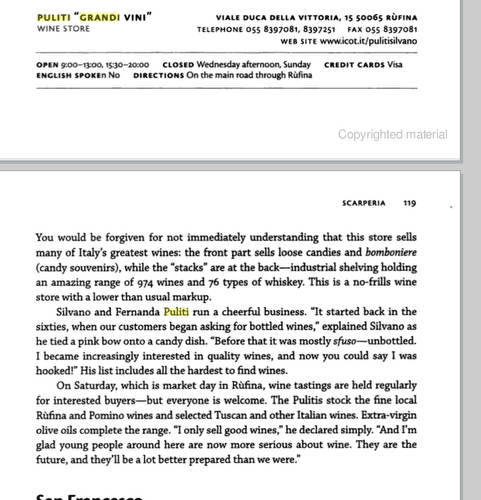 I think we'll still call him "the little man."

Our cork: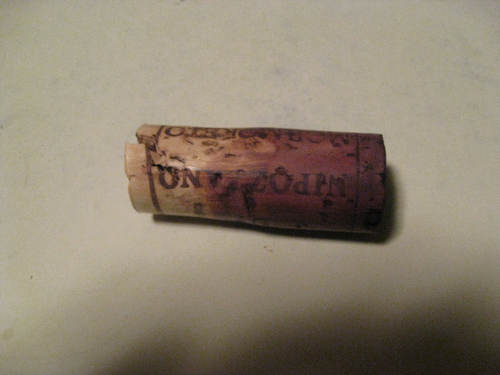 As a PS, the summer after, we got the Dean & Deluca catelogue. It proclaimed that after many years of searching, this Laudemio was the best-tasting olive oil they'd ever found. Well I'll be.

So back to our dinner. Very apropos, then, that we drink Italian wine. Greg is making the polenta. You simply put the corn meal and water in together and bring to a boil. We couldn't find chestnut flour so we did as Jill did in her video and substituted vacuum-packed chestnuts from a jar. She mashed them in a bag with the bottom of a saucepan. We pulverized them in the mini food processor. Here's the polenta cooking: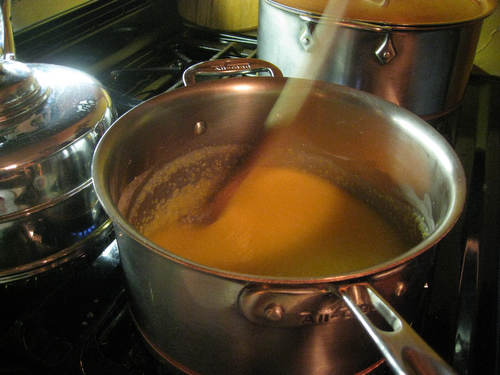 The baba au rhum birthday cake is out of the oven:




Sauce simmering on the stove: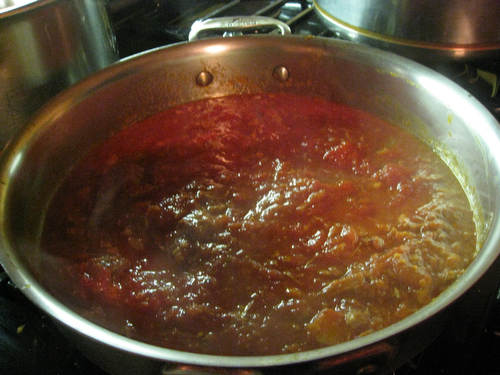 Time to crack the eggs. Once more with the cuteness: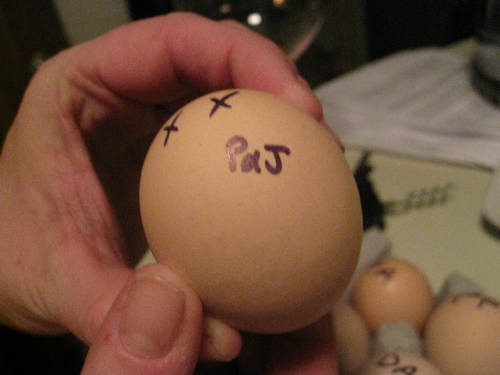 One egg in:




Two eggs in: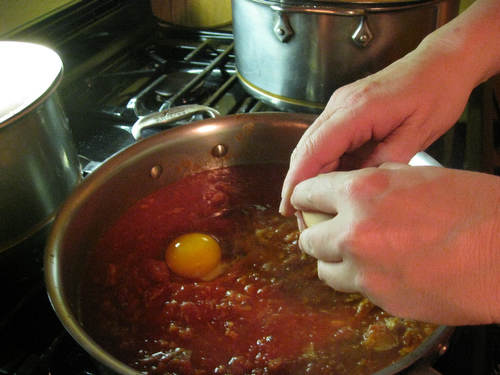 Three eggs in: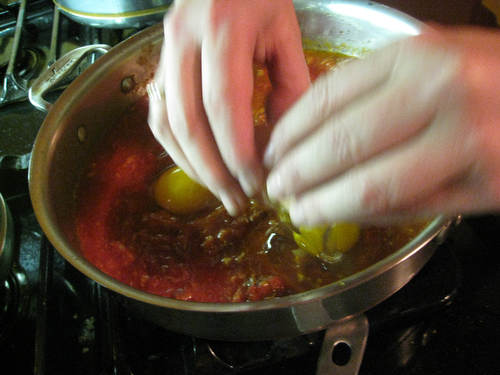 Eight minutes later:




I don't know what they're talking about purgatory. This is heaven.

A little chesntut polenta: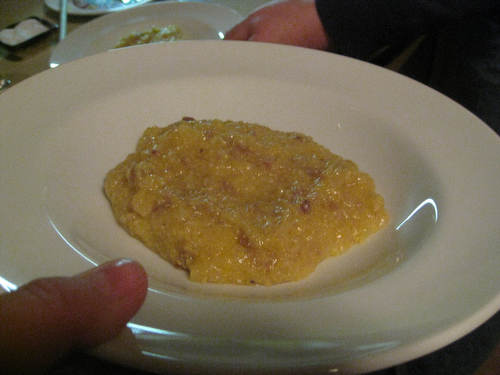 A little egg goodness: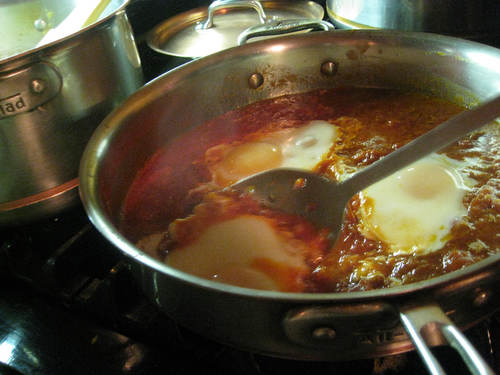 Polenta and egg: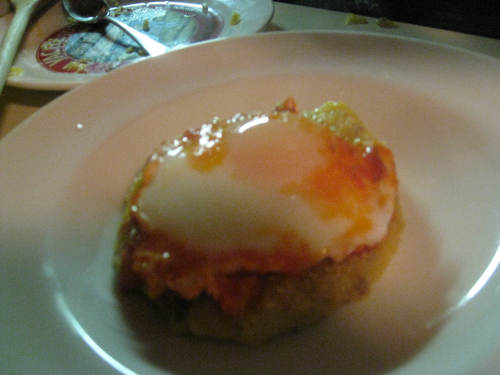 And a little more sauce: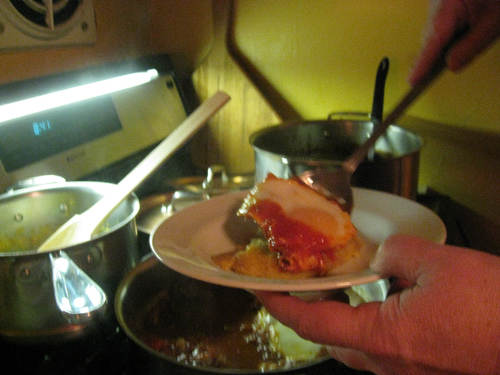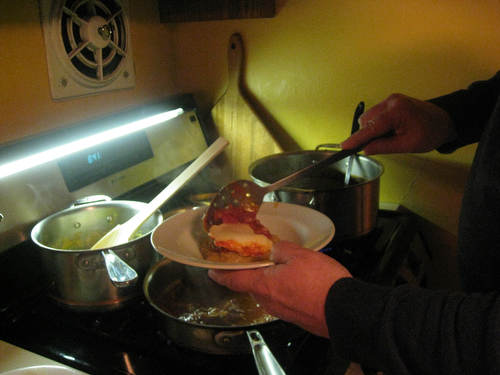 Lookin' good: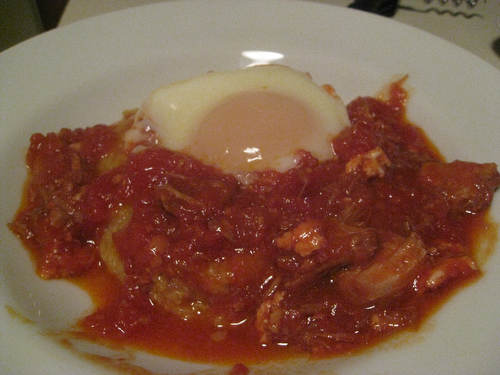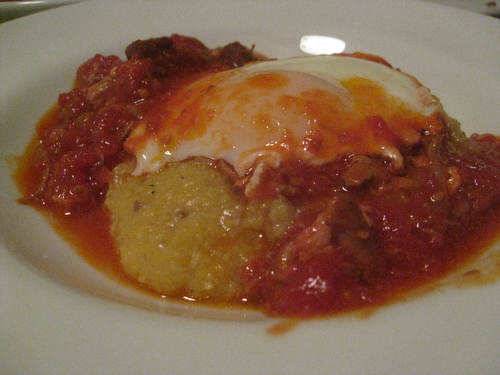 Garnish with ricotta salata: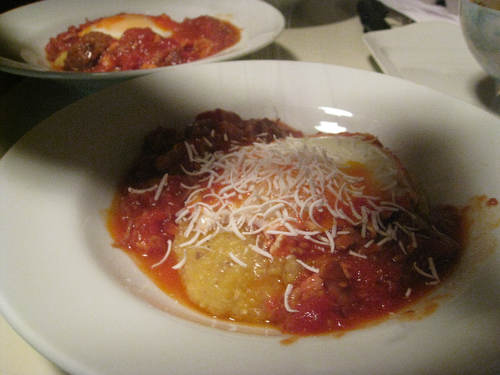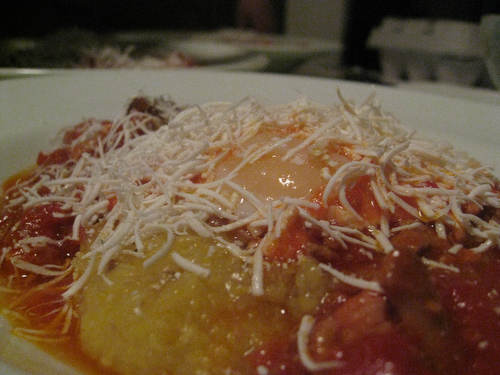 And supper. Wine needed to open up, but afterward was amazing.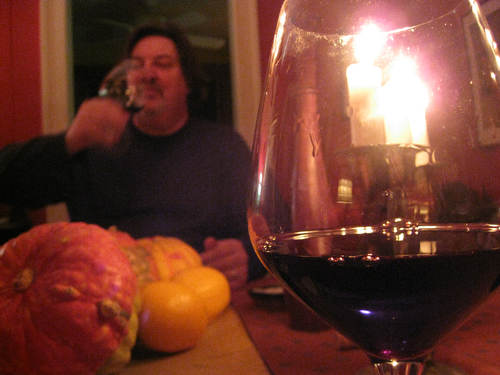 Irene also brought an amazing wine, which I forgot to snap. She can tell me what it is hopefully because I want to purchase some.




Happy birthday I!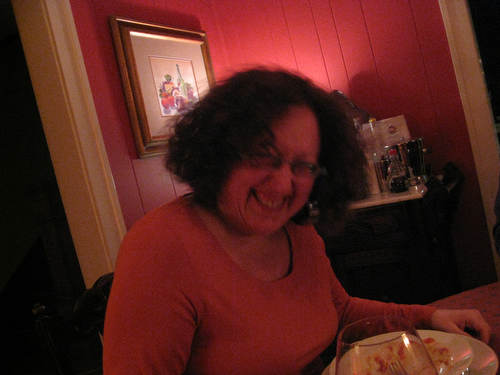 After supper the neighbors stopped by to help finish the delishy wines: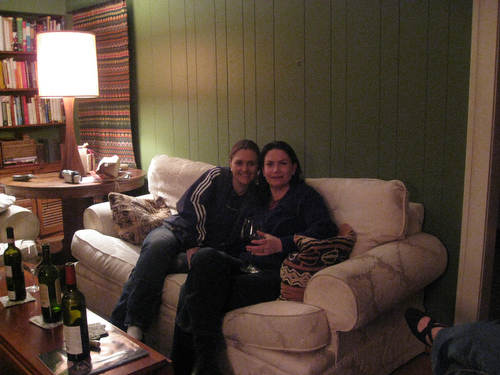 And we all sang happy birthday.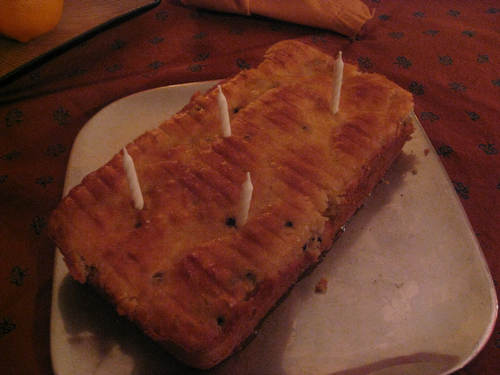 Purgatory? Hardly.

For those of you who want to make Chestnut Polenta with Ragu alla Napoletana, Eggs, Ricotta Salata and Lardo,, here's how we adapted it:

No pork belly. No lardo.
2 pounds of pork shoulder, cut into cubes, salted overnight. That and an 8-ounce piece of proscuitto, cut into chunks. Both simmered in 2 (28-ounce) cans of San Marzano tomatoes for 5 hours.Then we added another 28-ounce can of diced tomatoes and cooked another 2 hours. We removed as much meat as we could, but by then much of it had disintegrated.
We pulverized chestnuts in the food processor and then added 1/2 cup to the polenta at the same time you're supposed to add the flour.
We had super fresh amazing eggs from Philippe and John's chickens.
This is definitely going in our repertoire, so feel free to request it anytime.

Here's the recipe as it appeared in the New York Times on Feb. 1, 2009:

Eggs in Purgatory, aka Chestnut Polenta With Ragů alla Napoletana, Eggs, Ricotta Salata and Lardo

For the ragů:
1 pound boneless pork shoulder, cut into large chunks
8 ounces pork belly, cut into large chunks
Kosher salt
1/2 cup extra-virgin olive oil
1 red onion, peeled and halved
2 28-ounce cans San Marzano whole peeled tomatoes and their juices
8 ounces prosciutto, cut into large chunks (see notes)
For the polenta:
1 cup coarse-ground polenta
Kosher salt
1/4 cup chestnut flour (see notes)
Freshly ground black pepper
Handful of basil leaves
4 to 6 eggs
Extra-virgin olive oil
Chunk of ricotta salata

4 to 6 thin slices of lardo (optional) (see notes).

1. The day before, prepare the meats for the ragů: Sprinkle the pork shoulder and pork belly all over with salt and refrigerate overnight.

2. Make the ragů: Place the olive oil in a large, heavy pot over medium-low heat. Add the onion halves, cut-side down, and brown gently for about 20 minutes, moving them occasionally. Remove the onions.

3. Place the tomatoes and their juices in a bowl, season with a few pinches of salt and squeeze into chunks. Add the tomatoes and meats (including prosciutto) to the pot and bring to a boil, stirring frequently. Reduce heat and cook at a very low simmer for 4 hours. Remove from heat and let cool.

4. Remove the meats from the sauce and set aside for another use (added to leftover ragů, they're great over pasta). Season ragů to taste with salt.

5. Make the polenta: In a medium pot, combine the polenta, 4 cups water and 1 teaspoon salt. Bring to a boil and whisk continuously until the mixture comes together. Lower heat to a simmer and stir often with a wooden spoon until tender, about 30 minutes. Stir in the chestnut flour and cook for 3 minutes. Season with salt and pepper. Remove from heat and cover.

6. In a large sauté pan, combine 3 cups of the ragů, the basil and 1/2 cup water. Bring to a gentle boil over medium heat. Crack the eggs and distribute them evenly on top of the ragů. Give the pan a shake to ensure that the eggs do not stick to the bottom, cover with a lid and cook until the eggs have set, 5 to 10 minutes.

7. Divide the polenta among warm bowls. Scoop up an egg with some ragů and place on the polenta. Drizzle the eggs with olive oil, grate ricotta salata over the top and garnish with a slice of lardo, if using. Serve immediately. Serves 4 to 6. Adapted from "A16: Food + Wine," by Nate Appleman, Shelley Lindgren and Kate Leahy.

NOTES: To save money, ask your prosciutto purveyor for scraps. Chestnut flour is available at buonitalia.com. La Quercia Iowa White lardo is available at laquercia.us and at murrayscheese.com.


Comments
Add Comments