Jump to navigation
'Taco Truck"'Pickled Jalapenos and Carrots
With a taco recipe in mind, I made some beans and some quick refrigerator pickles from the new
Rancho Gordo Heirloom Beans
cookbook. Rancho Gordo — aka Steve Sando — grows and sells heirloom and hard-to-find varieties of beans on his ranch in Napa. He sells them mail order and at the Ferry Terminal Market in San Francisco. (Yes, I'm jealous.) As for the pickles, he calls them "Taco Truck" Pickled Jalapenos and Carrots — a name I adore. Meantime, since I was already sterlizing a couple jars, I decided to do my own pickled fennel and carrots to boot.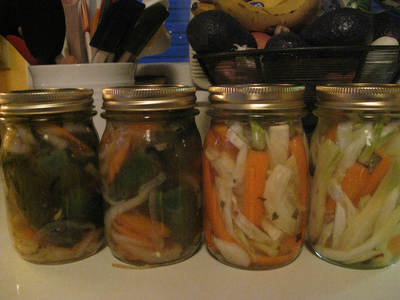 I started with the beans. Tepary beans are small, almost like lentils, but still require a long cooking time.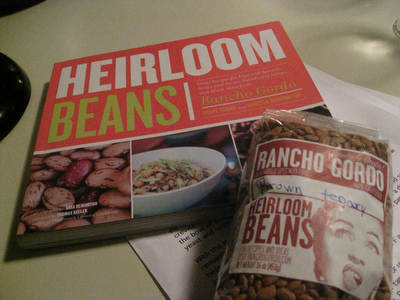 Here's Rancho Gordo's little description from his book.
"Teparies are a wonderful drough-tolerant crop, and the beans are higher in protein and fiber than most other beans. There are dozens of varieties, but hte most common is the brown tepary. Despite their small size, they still require slow, even cooking, like other beans. The cooked bean has a slightly sweet taste."

I had soaked them the day before, and did a simple beans-in-water with aromatics.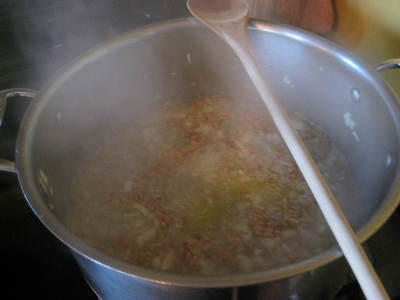 While they cooked, I did the pickles. Sterlize four jars by boiling for 10 minutes.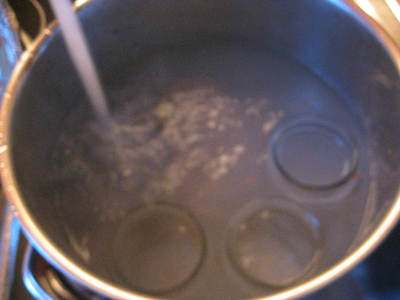 Thinly slice onions.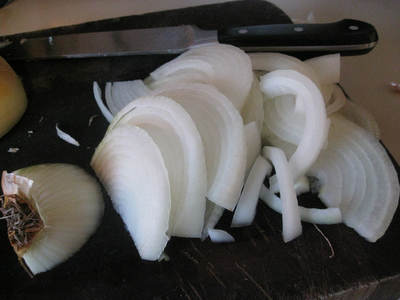 Peel carrots.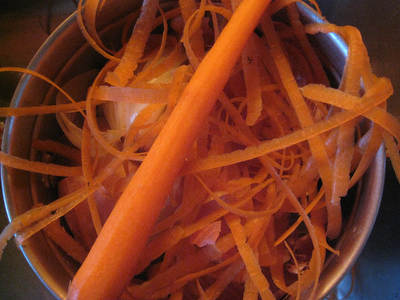 Make a slit down the jalapeno without cutting it in half: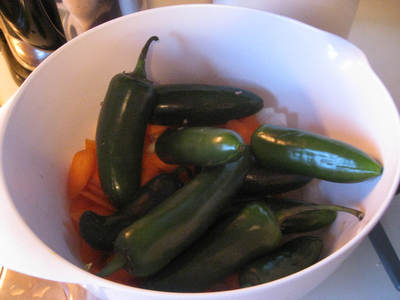 Boil vinegar and water to melt sugar and steep spices.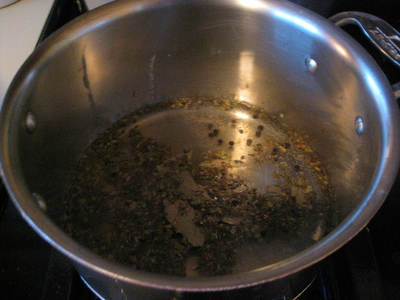 Fry peppers until they are brown all over and turn from bright green to dull green: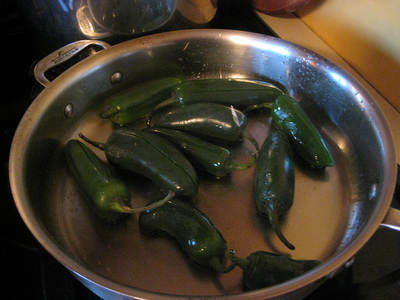 Add onions and carrots and saute:

Boil vinegar and water to melt sugar and steep spices.




Use tongs to put in the jar.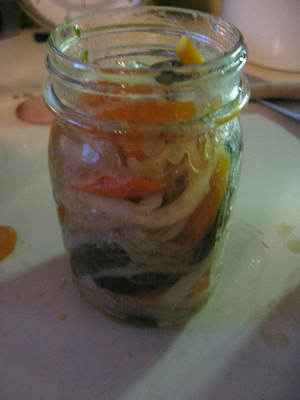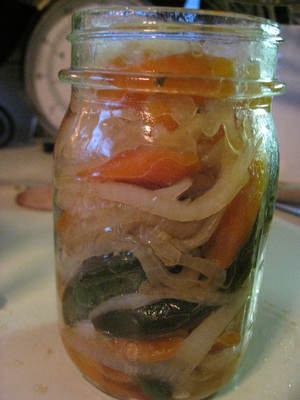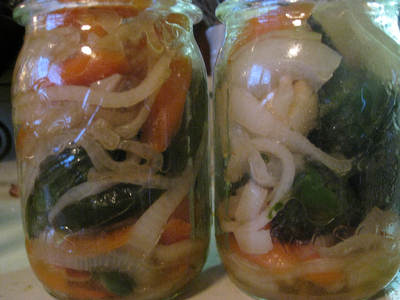 I was doing fennel and carrots, too. I did not saute those.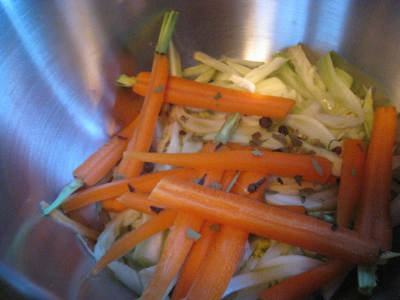 But they had their own pickling spices. Instead of Mexican flavors, these were Scandahoovian. LIke coriander, allspice, caraway: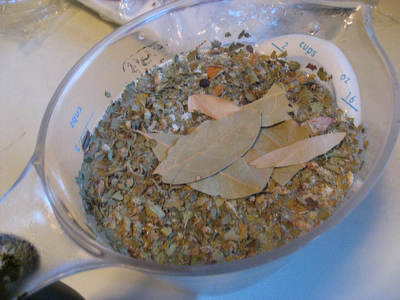 I loaded those up too.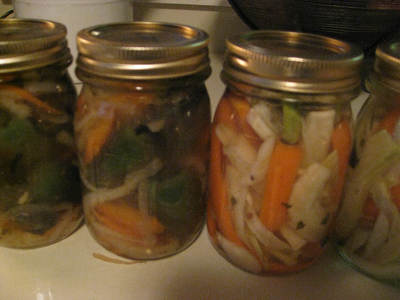 Et voila! Refrigerator pickles.




It took about 20 minutes. Really easy and really cool to have your own pickles.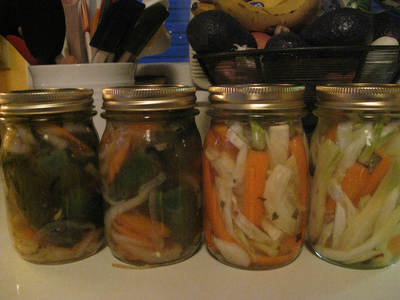 "Taco Truck" Pickled Jalapenos and Carrots

From Rancho Gordo Heirloom Beans

Steve and his co-author Vanessa Barrington co-opted this recipe from Dos Hermanos Taco Truck in Vallego, Calif., because of three reasons: they make great pickles; they put beans on their tacos; and because it was halfway between their houses and was a frequent stop while they were working on the book. I'm glad for all three.

10 jalapenos chiles
1/4 cup safflower or grapeseed oil (you must use this or another high-heat tolerant oil; the chiles fry very hot)
2 medium carrots, peeled and cut on the diagonal into 1/4-inch slices
1/4 cup thinly sliced white onion
2 garlic cloves
3/4 white vinegar
1 bay leaf
1 teaspoon dried Mexican oregano
5 peppercorns
1 teaspoon coarse salt
2 teaspoons sugar

Cut a slit down the length of each chile, leaving the stem intact. In a medium, heavy skillet over high heat, warm the safflower oil. Add the chiles and stir-fry until the skins are evenly blistered all over and they turn from bright green to dull green, about 8 minutes. Add the carrots, onions and garlic and stir-fry for 2 minutes. Remove from heat.

In a small saucepan over medium heat, combine the vinegar, bay leaf, oregano, peppercorns, salt and sugar. Bring to a boil, stirring to dissolve the salt and sugar. Remove from heat.

With a slotted spoon, remove the chiles and other vegetables from the skillet and pack into a sterlized 1-pint mason jar. (It took me two jars.) They should be packed tightly all the way to the top. Pour the vinegar to cover all the vegetables. Let cook and then refrigerate for up to 1 month.




Comments
liz wrote:
Add Comments