Jump to navigation
Tepary Bean Tacos with Buffalo and Bacon
You may remember a few posts back I made some
tepary beans and taco truck pickles
in preparation for a taco meal. The time for said taco meal has come. Te lo presento Tepary Bean Tacos with Buffalo and Bacon, served with Taco Truck Pickled Jalapenos and Carrots.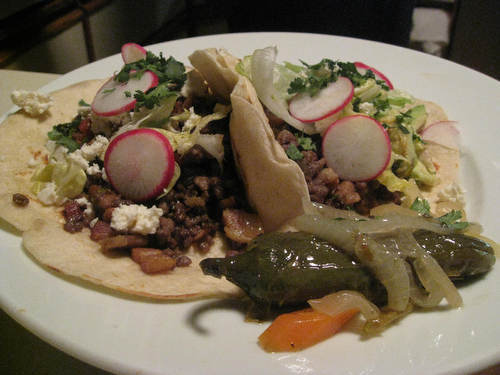 The recipe comes from Rancho Gordo's amazing new Heirloom Beans cookbook.

Like all good recipes, you start with bacon.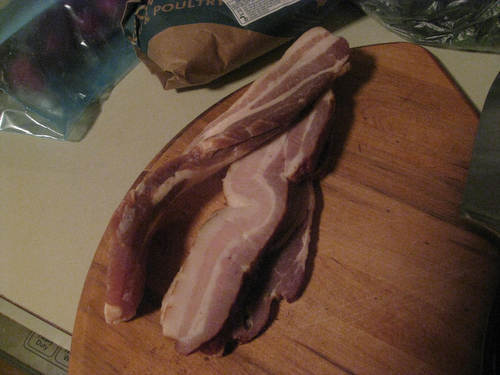 Thick bacon.

Also, buffalo meat.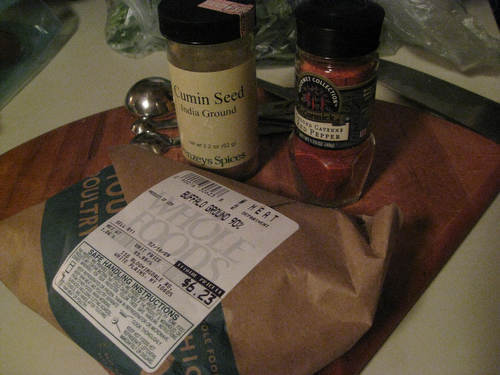 Mmk. Fry bacon.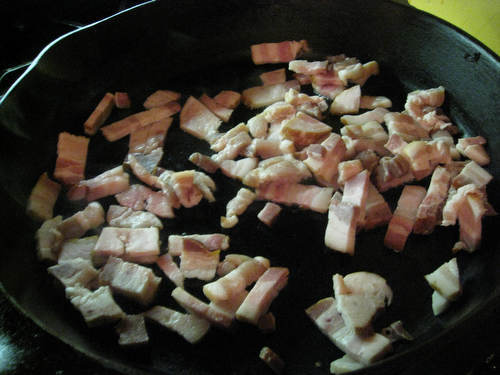 Saute onions.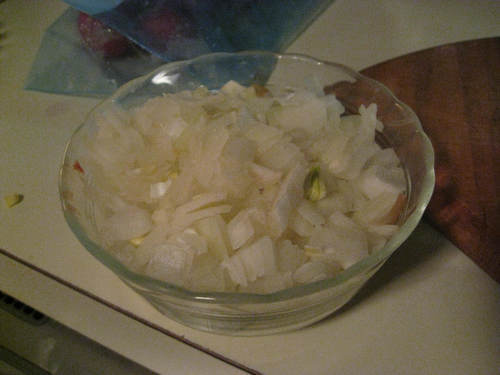 Add meat and spices.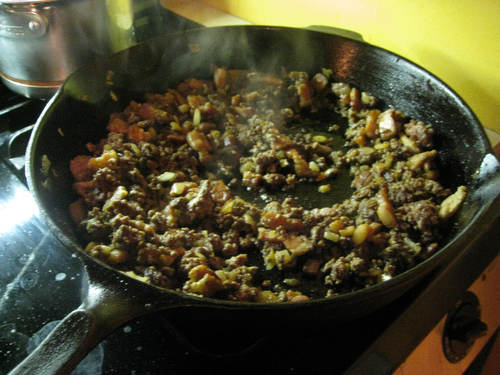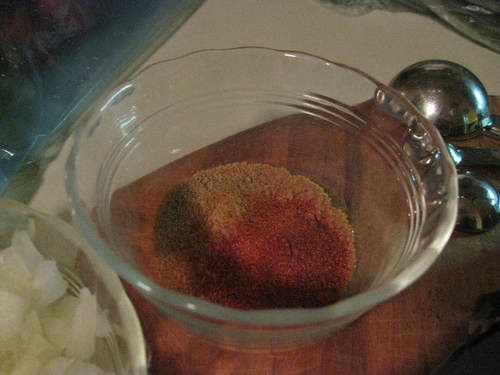 Warm up the beans you've already cooked.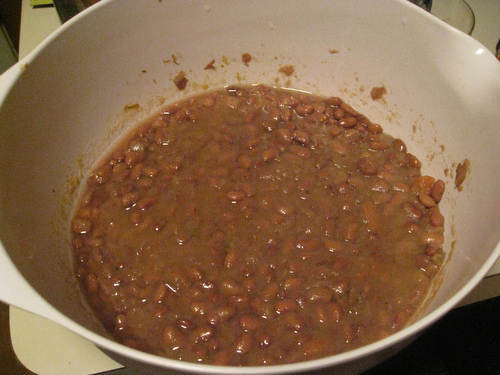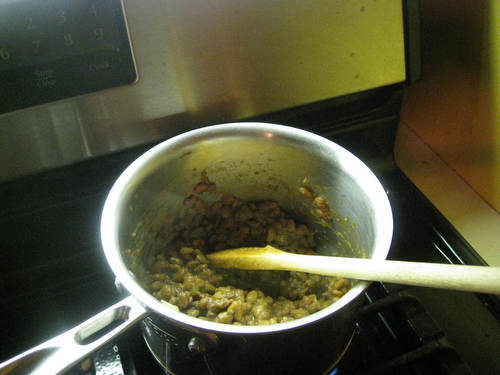 Prepare your garnishes.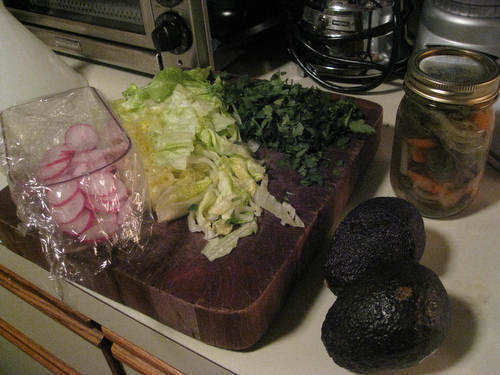 Then get ready to assemble. Heat comal and place tortilla on top.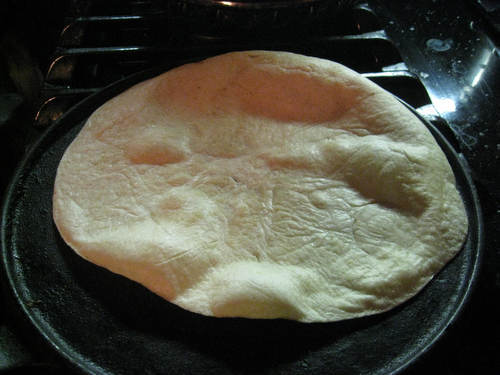 Watch as tortilla gets puffy and starts to smell really freakin' delicious.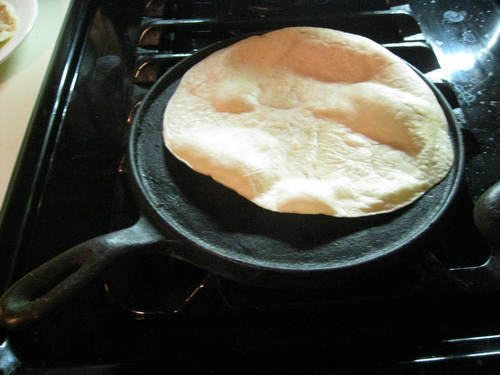 Flip tortilla over before it burns.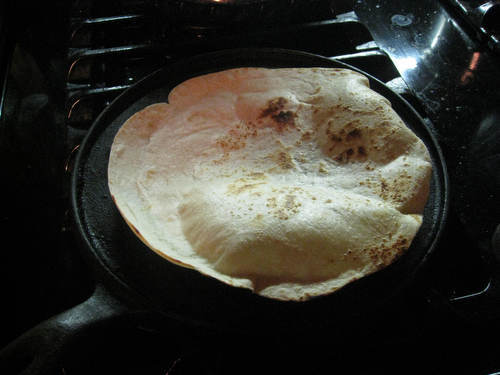 In your warm tortilla, place a spoonful of beans: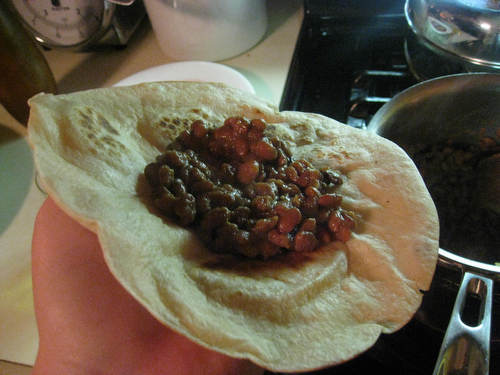 And some buffalo: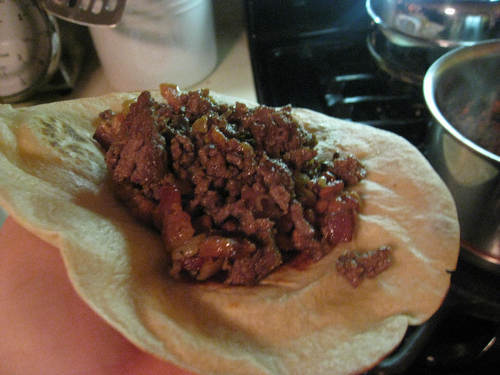 Nekked tacos: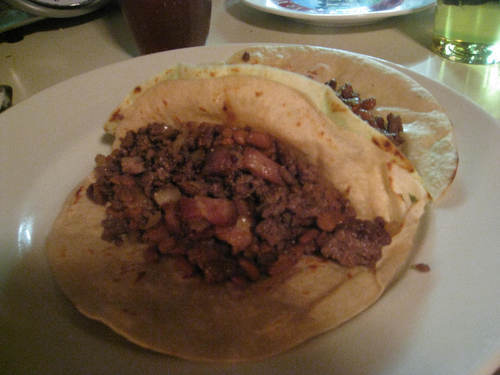 Dressed tacos: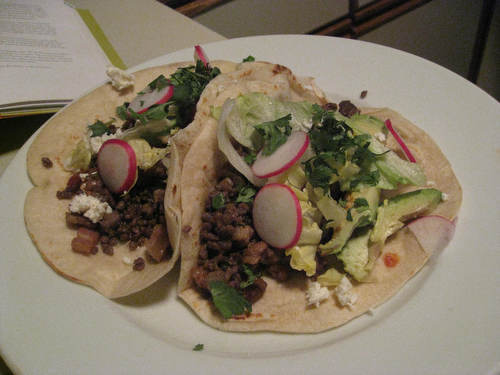 Tacos with accessories: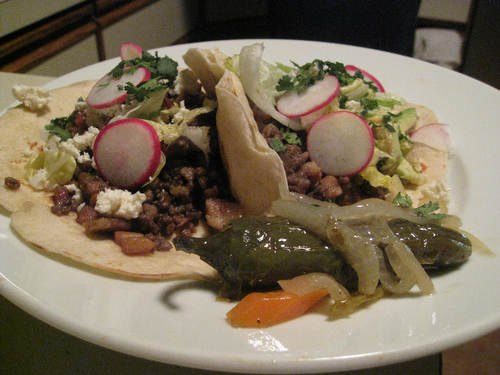 Man: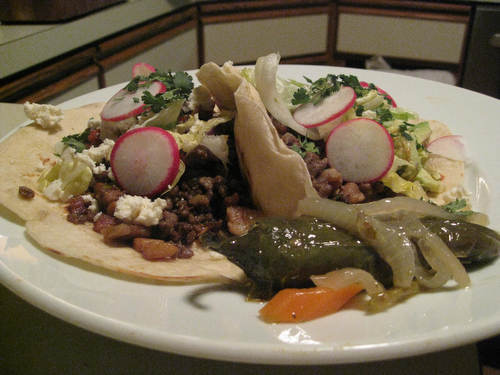 And for dessert, a lovely pecan tart purchased at GCT the day before.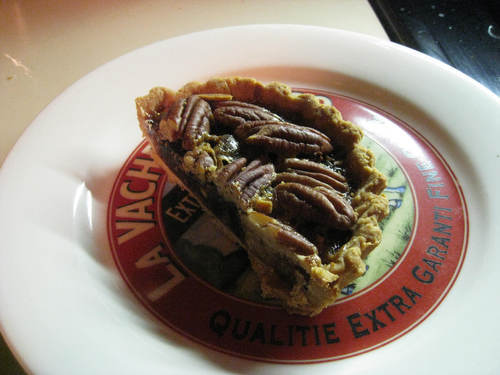 That's good eating.

Tepary Bean Tacos wiht Buffalo and Bacon
Says Rancho: Using buffalo meat and tepary beans would make this taco unrecognizable in Mexico. Still, these North American ingredients seem right at home stuffed in a corn tortilla. Buffalo is available ground in specialty grocery stores and is a reasonably priced, lower-fat alternative to ground beef. Bacon adds richness to buffalo's leanness. Serve this tacos with Taco Truck Pickled Jalapenos and Carrots.
The Farm also added radishes sliced on a mandolin and queso fresco to the garnish palette.

6 slices high-quality bacon, diced
1 small white or yellow onion, finely chopped
1 pound ground buffalo
2 teaspoons cumin seeds, toasted and ground (I skipped that)
1/2 teaspoon cayenne pepper
Salt and freshly ground pepper
Lard or sunflower oil, if needed
12 corn tortillas (I used flour)
1 1/2 cups drained, cooked tepary beans
About 1 1/2 cups salsa
2 avocadoes
1/2 cup fresh cilantro leaves
About 2 cups shredded lettuce

In a large heavy skillet over medium heat, saute the bacon until all the fat is rendered and the bacon is brown but not crisp, 8 to 10 minutes. Add the onion and saute until soft and fragrant, about 10 minutes. Add the buffalo, cumin, cayenne and salt and pepper to taste. Cook until the meat is no longer pink, breaking it up with a large spoon or spatula as it browns, adding a little vegetable oil or lard if the pan seems dry.

In a small, heavy skillet or comal over medium heat, warm each tortilla until soft. Spoon about 1/8 cup of beans and 1/4 cup of meat mixture onto each tortilla. top with about 2 tablespoons of the salsa, a few avocado slices, a pinch of cilantro leaves and some of the lettuce.

Alternatively, serve the tacos family style. Wrap the tortillas in a clean kitchen towel and place in a basket. Spoon the beans and meat into separate warmed bowls and put the lettuce, cilantro and avocado on a platter. Serve the salsa in a separate bowl and let diners assemble their own tacos at the table.

Substitute beans: Anasazi, Rio Zape or pinto.
Comments
Add Comments