Jump to navigation
A Dining Extravagaza at Gramercy Tavern
We had our biggest plans of the week on Sunday night: dinner at
Gramercy Tavern.
Weíve been to the Tavern room at the restaurant before, but never in the dining room proper. We were presented with an amazing feast by chef Michael Anthony, whom weíve known since before his days as a sous chef at
March.
The food was gorgeous to look at, and the dishes were elegant, earthy and delicate, with little pops and zings of flavor and texture. It was an outstanding evening.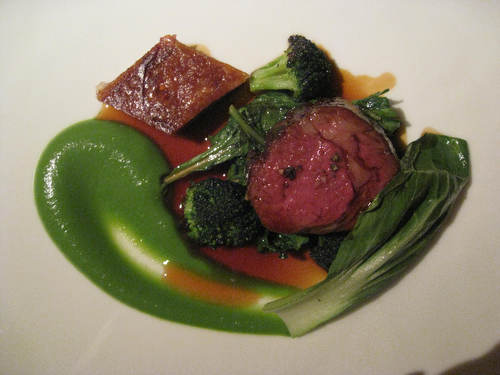 The restaurant itself is stunning. Somehow, though itís been open since 1994, it still feels modern and fresh. Perhaps its the classic tavern feel of the front, with dark wood beans and a mural behind the maghony bar.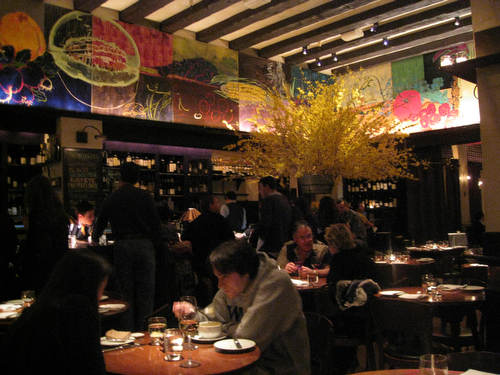 Or it could be the ever-changing seasonal arrangement of flowers and vegetables that greet you in the front vestibule: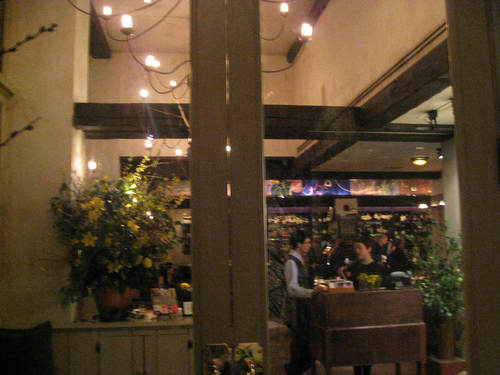 We went through the tavern to a corner table in the dining room.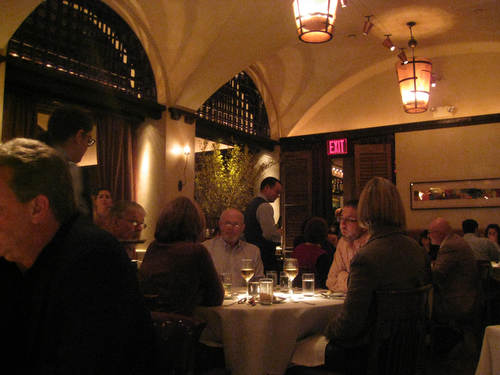 Gramercy has a terrific cocktail program: the drinks change seasonally and are made with fresh juices, homemade infusions and top-notch liquors.

Greg got a Mistral Martini, made with lavender-infused gin, dry vermouth and lavender syrup.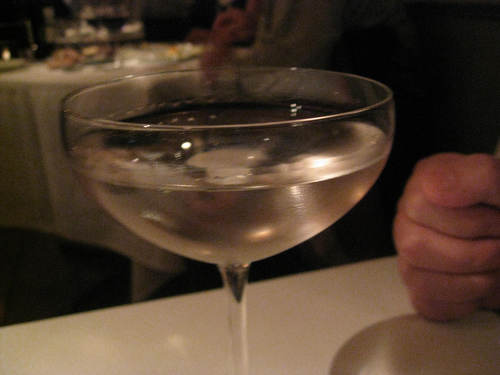 I got the Orange Blossom (Sparkling wine, St. Germain Elderflower Liqueur and Orange Bitters):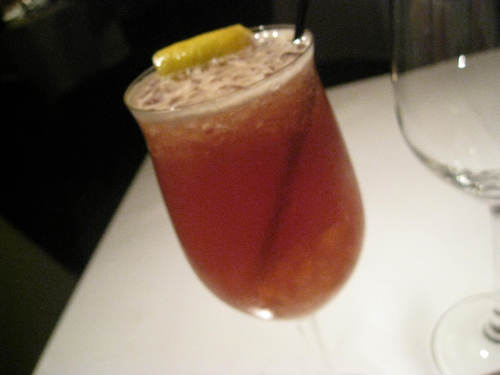 Very nice bitter flavor... great to open up the meal.

The china is gorgeous: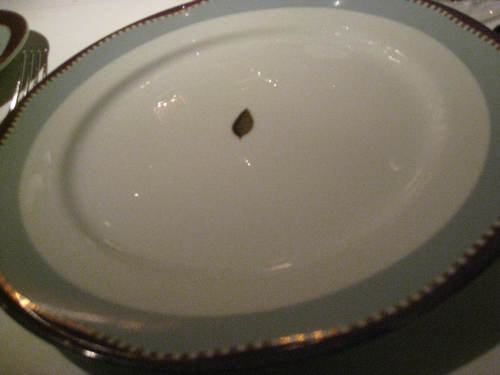 We started with bread: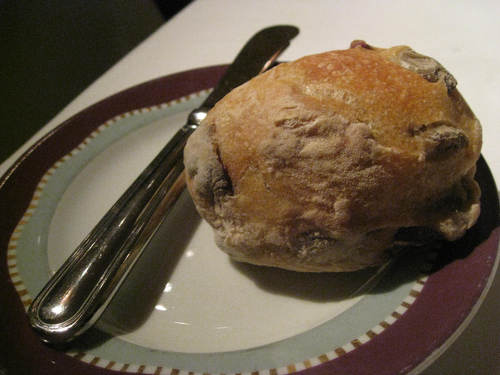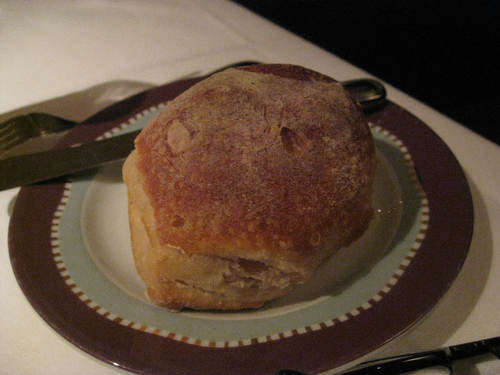 We looked at the menu, but Mike had offered to cook for us, so we took him up on that offer. When the first courses came out, I knew we were in for a treat. He was doing a 2-by tasting menu... one course for me and a separate one for Greg. It meant we got to taste nearly the entire menu.

First course was a trio of tastes: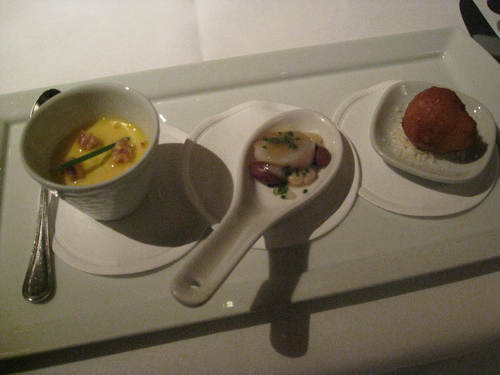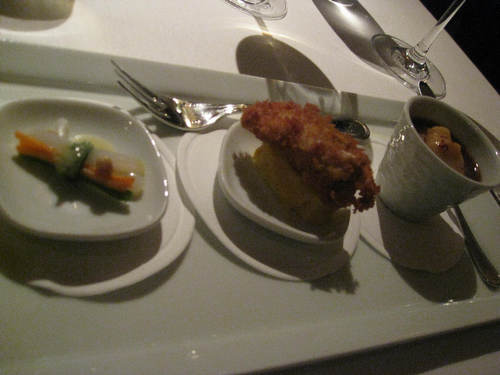 Butternut Squash Custard with toasted walnuts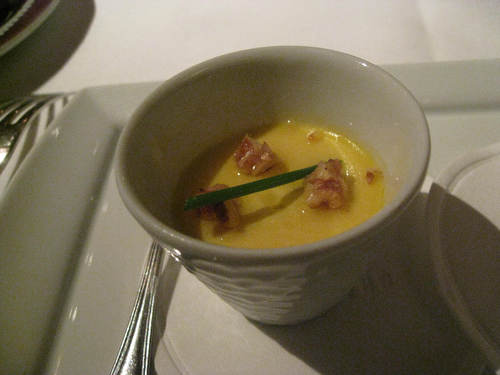 Sea Scallops with Cayuga Organic beans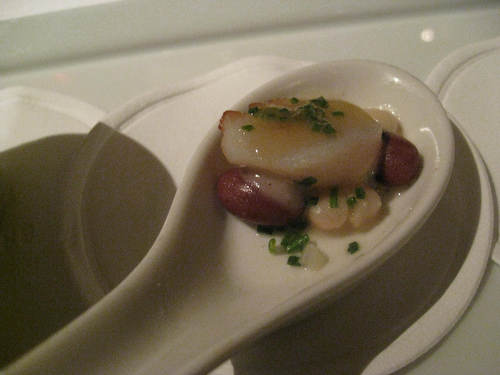 Souffled Potato with black olives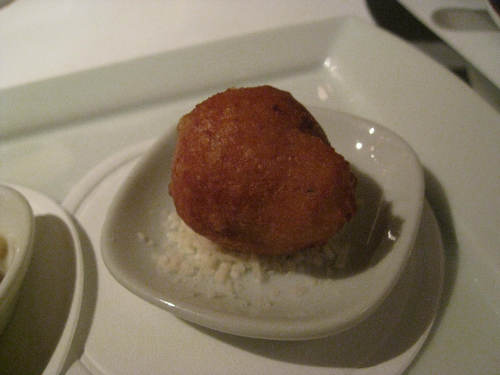 Grilled Calamari and Carrots with flying fish roe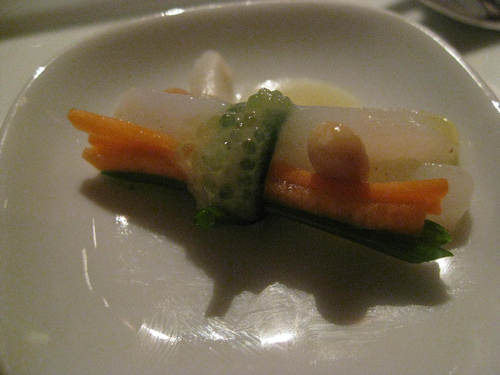 Crispy Fisher Island Oyster with Japanese omlette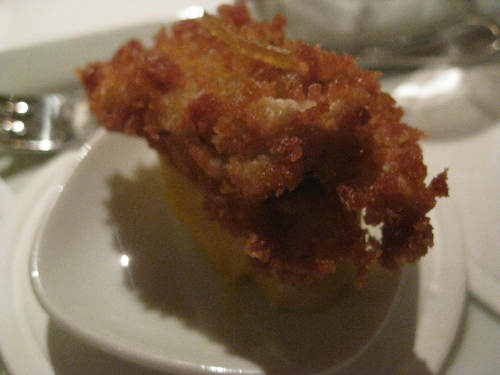 Foie Gras Custard and quince marmalade.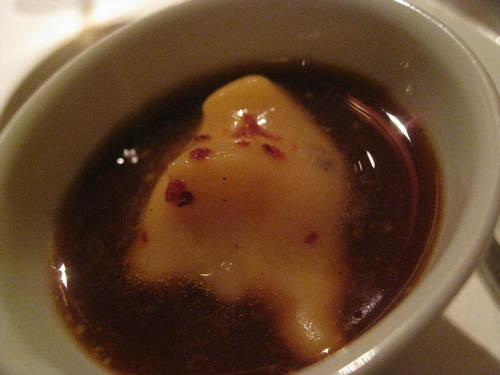 Our first course after the amuse were two salads.

Shrimp salad with celery root and grapefruit: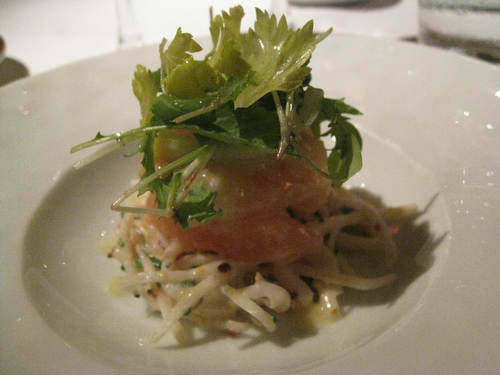 I remember the celery root taste very distinctly, and the pop of the shrimp. Look at the beautiful celery leaf garnish on top.

Warm salad of vegetables and farro.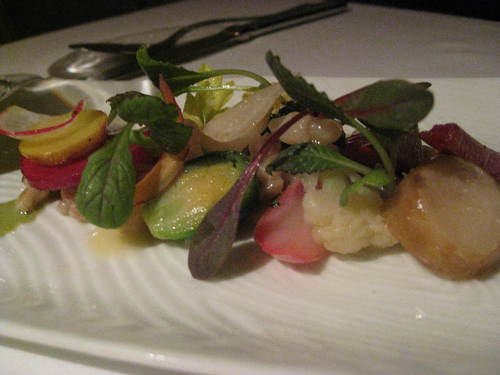 A stunning, stunning salad: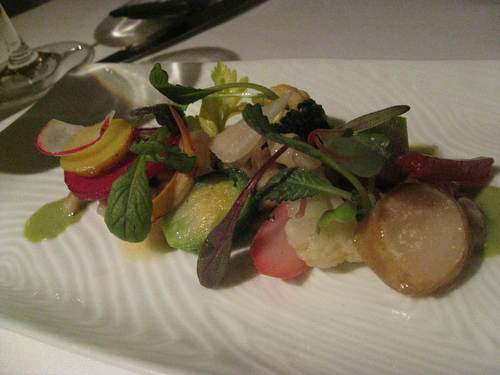 Beets, chard, cauliflower, fingerling potatoes, celery leaves, radishes. Amazing.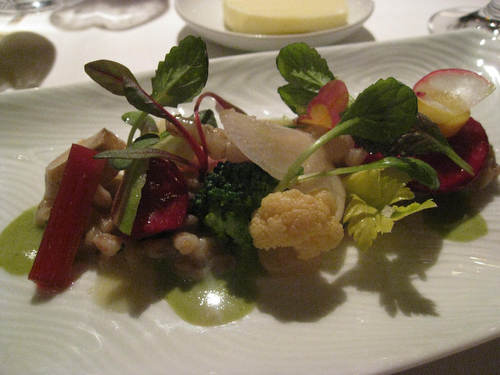 And the farro underneath was toasty and earthy.

Our first bottle of wine was a riesling from Alsace: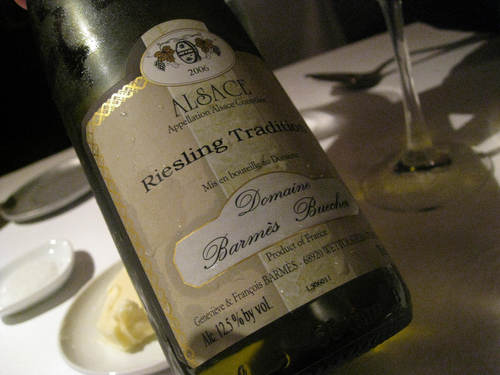 For our next course, we had soup.

Parsnip soup with Brussels sprouts and bay scallops: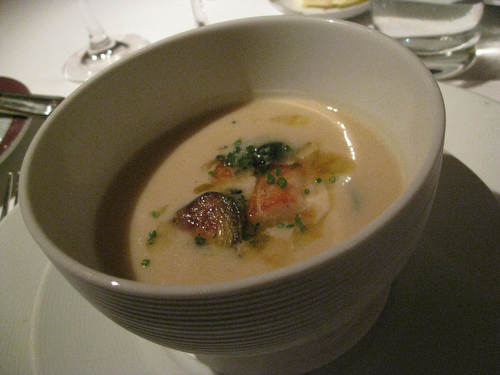 Pumpkin soup with Lobster and celery root: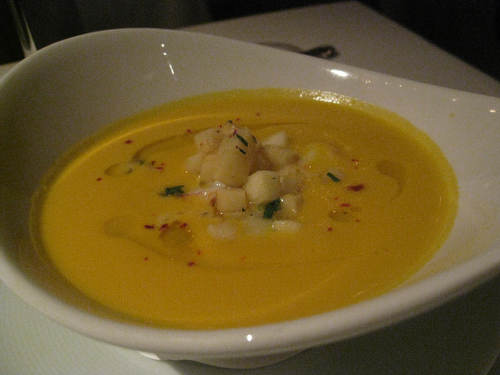 Both rich and creamy without being sweet or cloying. The sharp flavors of the sprouts and the celery root tempered the sweet root vegetable and squash, and the sweetness of the seafood layered above it all with some texture. So well thought out.

Another thing I want to mention: I donít know if Mike was thinking about this when he decided who was getting which dish (my guess is that he was, but I donít know for sure): I was always served a slightly lighter dish, so that my progression of tastes was even more nuanced. For example, the celery root salad, which I was served, was bright and lemony, and the farro with vegetables, which Greg was served, so I tasted second, had a little more depth of flavor. Maybe Iím reading too much into it, but I definitely noticed.

Moving on to the next course:

Smoked Trout with Cippollini Puree and Pickled Onion Vinaigrette: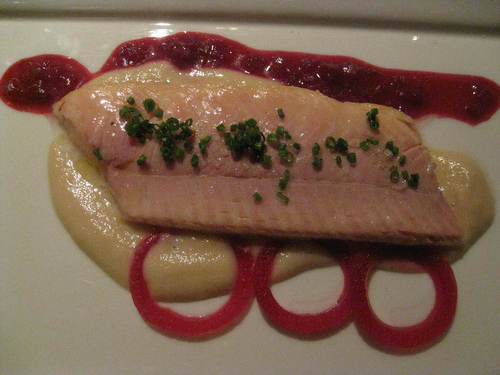 This is a signature dish for Michael.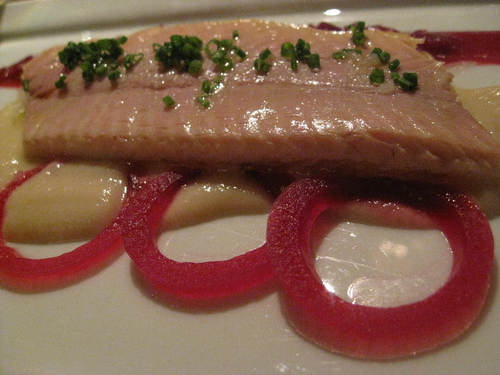 The trout is delicate and flaky and the onions and the puree are a sharp contrast. Lovely.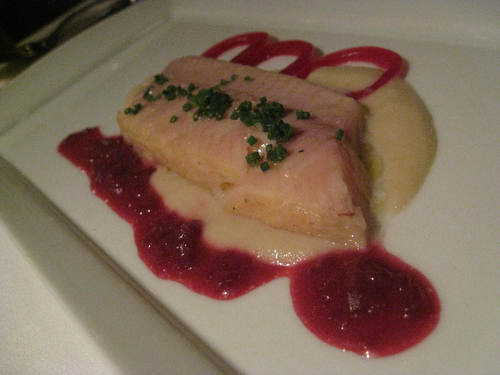 Haddock salad with Mache, Fingerlings and Pickled Ramp Dressing: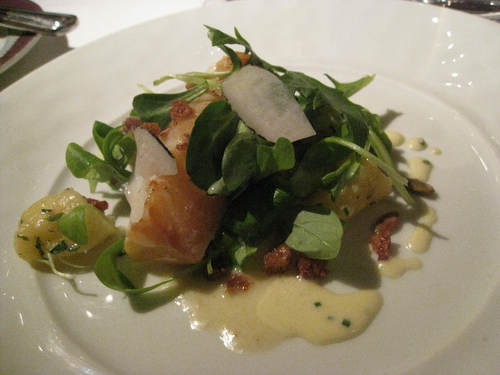 A closeup: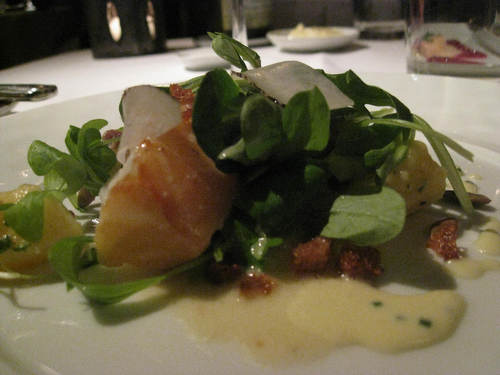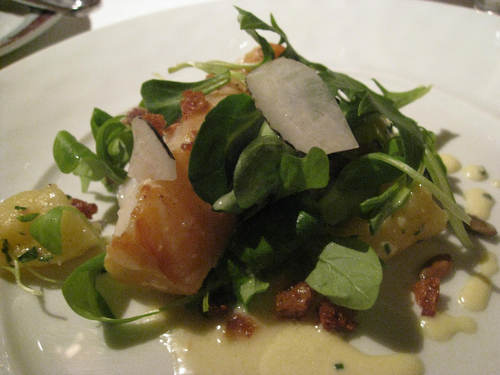 I loved how the big chunks of fish were in contrast to the delicate lettuce. Such great texture and the salad felt playful.

Now for fish.

Hailbut with Red Cabbage and Hazelnut Yogurt Sauce:




My mouth is watering still. The tart of the cabbage; the sweet of the fish.

And Seabass with Spaghetti Squash, Walnuts and Sherry Sauce: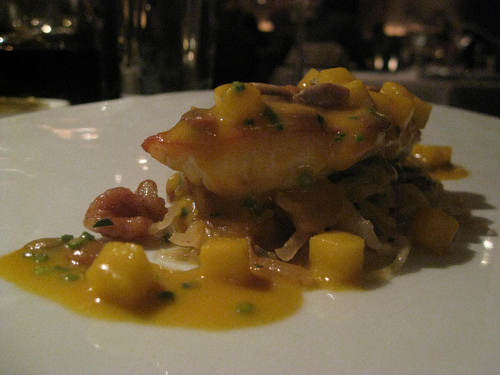 Getting richer here. And the nuts are genius.

For our second bottle of wine, we went to Spain. Iím searching for this wine again. I really want to drink it at home. I just loved it.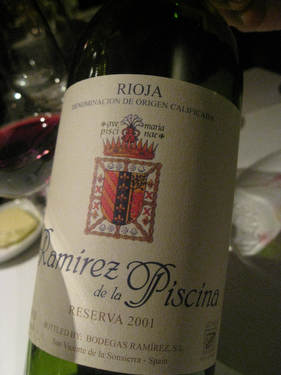 Itís a rioja called Ramirez de la Piscine 2001 Reserve.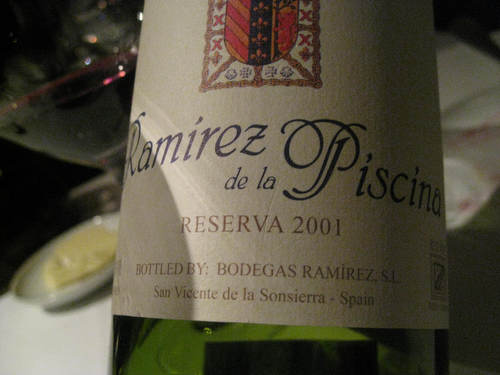 It went perfectly with our pastas:

Black Tagliatelle with Chorizo, Mussels and Calamari: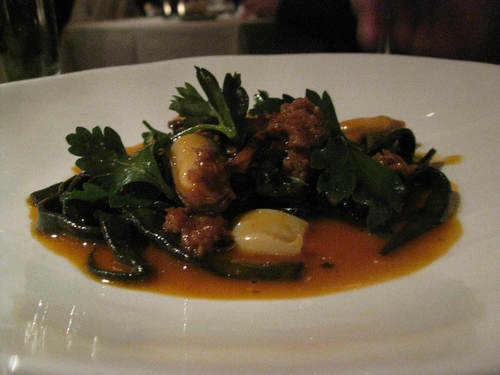 And Lamb Papardelle with Olives, Lemon Confit and Swiss Chard: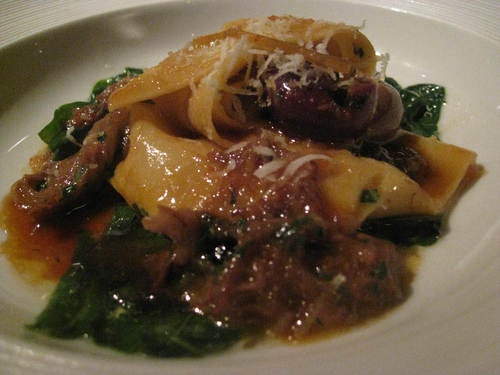 While I adored the tagliatelle ó and the chorizo and mussels were a brillant stroke of Spain and Italy together ó the papardelle was, I think, my favorite dish of the night: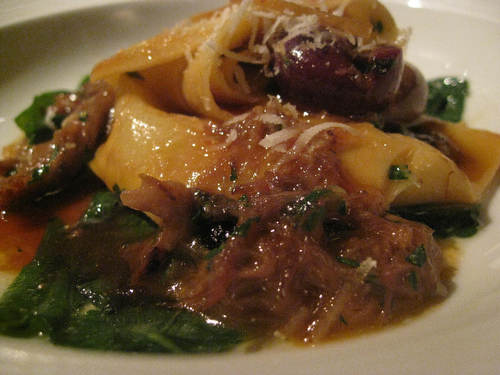 So earthy and rich and the sweet of the lemon and the pepper of the chard. So good with the wine, too.

Yes, weíre dying by now. But you canít expect a chef will end a tasting menu on pasta.

So our meats.

Rack of Veal and Braised Deckle with Rutabaga, Apple and Oyster Mushroom: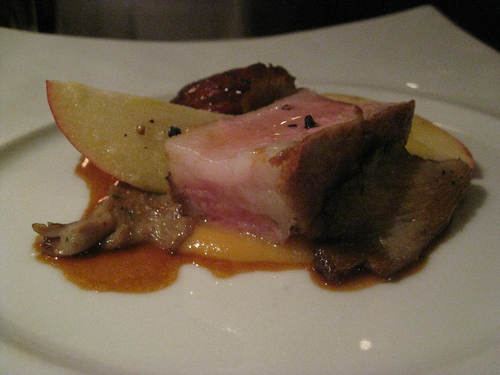 Rack of Lamb with Broccoli Puree and Bok Choy: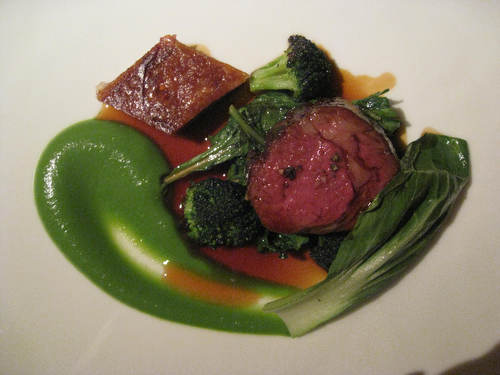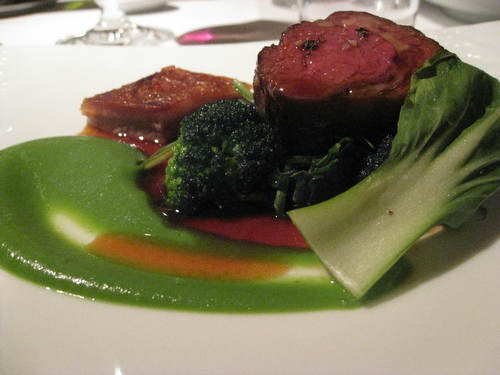 Iím sure you can imagine the depth and beauty of the flavor here. Absolutely to die for. We were so full by this point, it was difficult to appreciate, but... we did.

A scoop of passionfruit sorbet: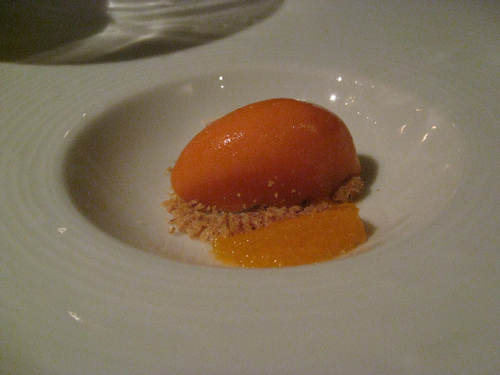 And then two desserts. You know thereís a separate area for desserts, right?

Mango Lime Cheesecake with Salted Macadamia Crumble: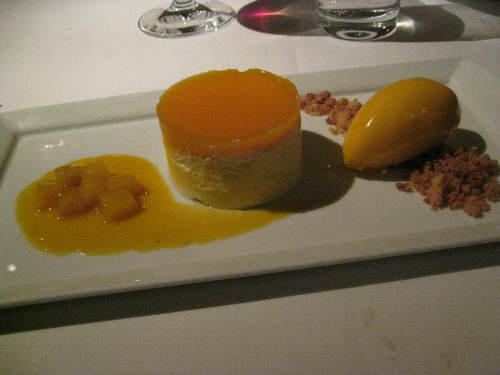 Melted in your mouth.

Housemade Peanut Butter Semifreddo with Chocolate Macaroon: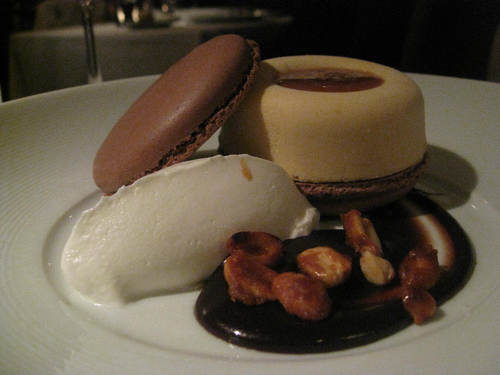 This was like eating a candy bar, but for adults. It was absolutely my favorite chocolate dessert. Ever.

And of course, petit fours.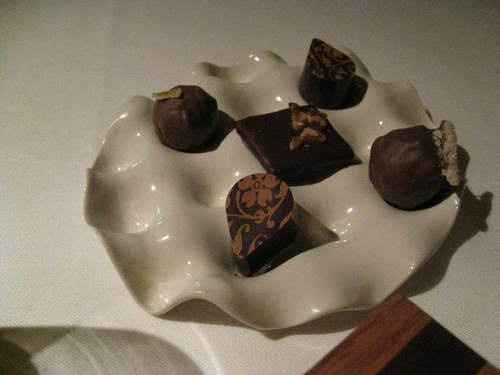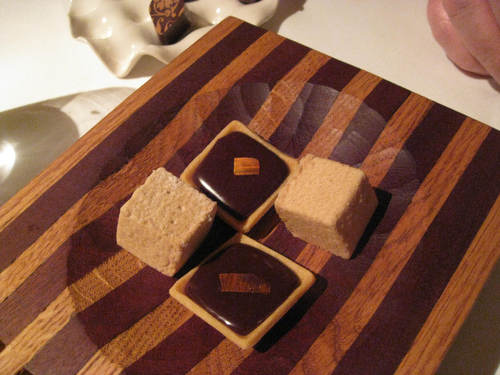 Happy and (over)sated diners: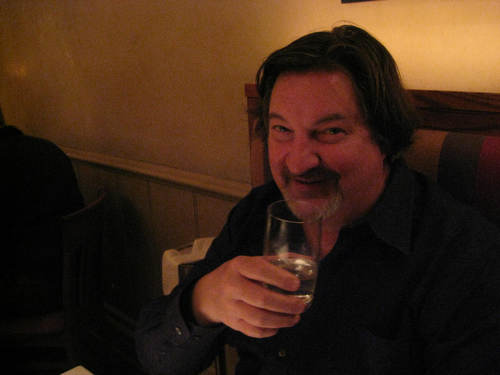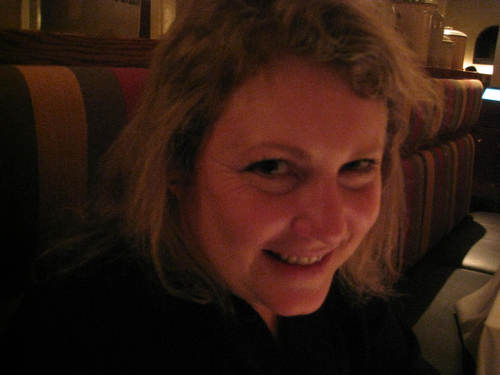 A little cognac and a little calvados for some digestif: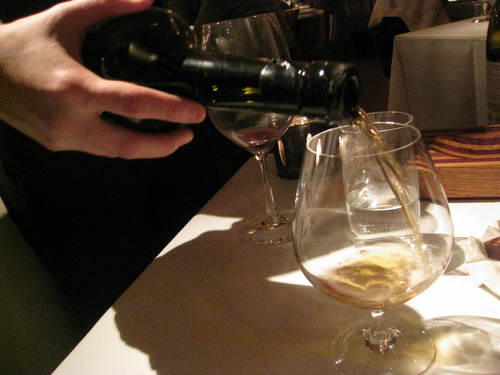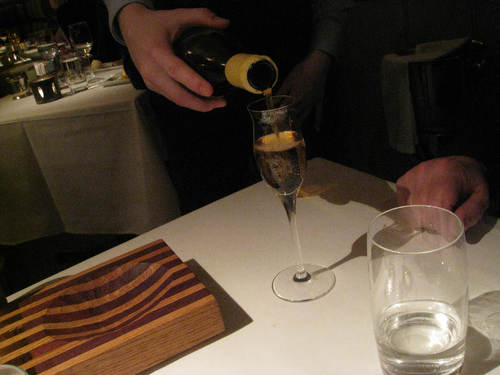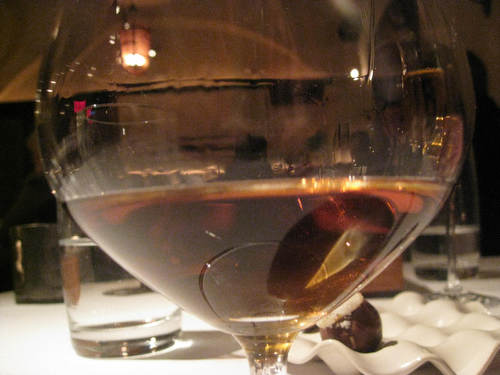 And a little chatting after dinner.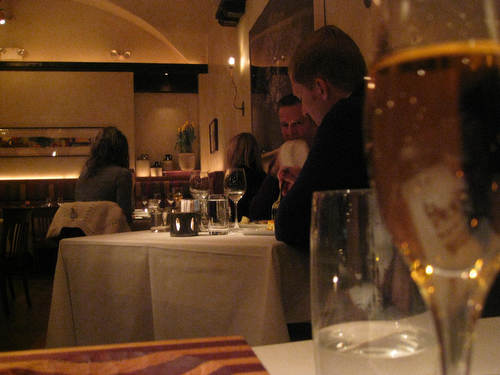 Michael came by, we were so intent on thanking him, and catching up, that I forgot to snap his photo.

Thereís been a lot of talk about restaurants going more casual lately: throwing out their tasting menus, making room for more bar space and serving sliders and lobster rolls. But to me, Gramercy has always struck that beautiful balance between the two.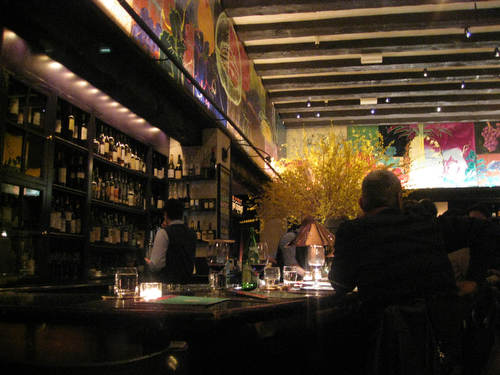 Itís warm and welcoming. Itís never intimidating. Thereís an open, airy feeling in the tavern, but in the more formal dining room, the space feels cozy and comfortable.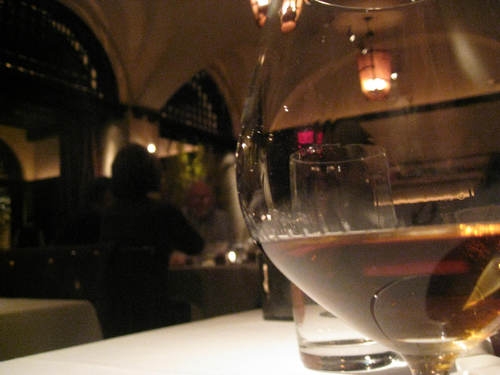 Thereís also a feeling of transparency. Nobodyís trying to hide anything: You can walk right by the wood-fired oven to the dining room, and the staff are gracious and amiable without being intrusive.

I could never tire of going there. Mike is an amazing chef, and it truly is one of the greatest restaurants on earth.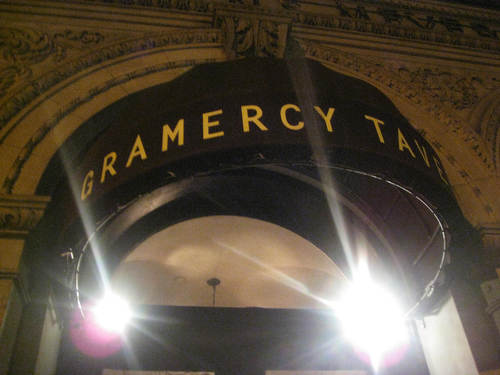 Comments
Add Comments