Jump to navigation
For Mark Taylor, My Friend, My Brother Golfer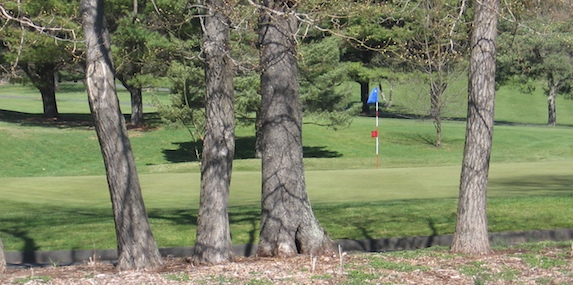 The sun was shining clear, not a cloud in the sky, the air crisp like it is these spring mornings on the golf course, when it's everybody's first time out this season and spirits are running high and fresh from a winter's layoff. I went alone to the course, like I usually do, like I did the day I met Mark Taylor, more than 15 years ago, paired up then as today with three strangers who, more often than not, become three friends four hours later, on the other side of 18 holes.

Most of these new friends you never see again. But with Mark, it wasn't more than a couple of weeks after we played together that first time at Blue Hill Golf Course, his home course and mine, his home and mine, that he was leaving a message on my answering machine wondering if I was free this or then because he had a foursome reserved at Blue Hill and a spot open.

And so I got to know Mark better than I get to know most of my brother golfers, from time to time playing, sometimes by accident when the pro shop threw us together unaware of our acquaintance. And I got to know the man with a funny twitch and engaging wit, the man who would converse with anyone and treated everyone like someone worthy of engagement and conversation. The man who was always prepared with bagels, sandwiches and candy bars in his golf bag for the possibility that some event could possibly occur, who can foresee these things, to require a person to stay on the course and live and play day after day, by accident or maybe by preference. It was home, after all.

"Nick and I could live out here for a week," he once said to me pulling the wrapper off a Snickers bar, maybe it was, and referring to his son, who was a constant partner and eventually my good friend and partner as well. A week? I didn't doubt it, seeing the endless provisions he could pull from the bag, a magician with a foil-wrapped parcel instead of a rabbit. And I didn't doubt his expectation that something someday would actually happen to require his detention on the course. For Mark loved the game of golf and loved Blue Hill. A week's stay out there, living under trees by night, swinging clubs by day, would hardly be a hardship.

That isn't to say he was a great golfer. He was, like most of us, a decent golfer with more passion than aptitude. Hack our way through, surviving on the belief that somehow, some way, we're going to improve. His love of the game exceeded his accomplishments, and his love of competition exceeded all. Always a match on, and always the striving to hit a good shot, make a rare par, a rarer birdie, when the other guy wasn't. Yeah, like most of us. A decent man first, a decent golfer after that, we can only hope.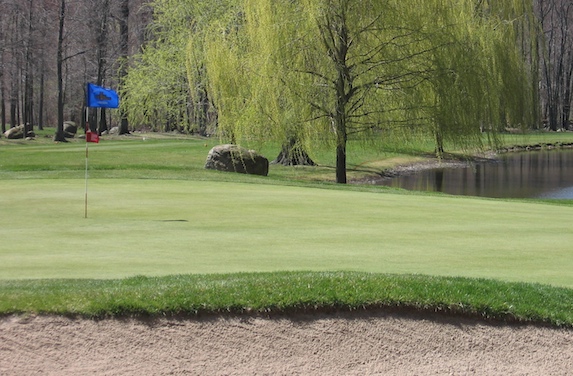 At 10:15 this morning, the three guys and I started out on the Lakeside course, strangers all to me, though they were three friends. I had Mark on my mind from the moment I left the house this morning and did not pack bagels, sandwiches and candy bars. I had decided to dedicate this round of golf, my first this year, a special one to be sure, to Mark, having just heard last night of his sudden death the night before. And I wanted to tell my partners why this round was very special to me, about Mark, about his love for golf, especially at this time of year when everything's all fresh and we're rusty but starting to limber up.

I finally found the right moment on No. 17, a par three. The group ahead of us was on the green so we had to wait anyway, and I asked them, would they do me the honor of posing for a picture. My friend died Tuesday, I told them, a golfer, who loved this course. I'm dedicating this round today to his memory. And I'd like to remember you three, who were part of it.

They were enthusiastic, once the sudden oddness of my request wore off. Right away, then, they lined up, ready for the shot. I raised the camera, and one guy asked, Caps off? Well, I said, yeah, seeing that all three had already done it and held their caps low, instinctively respecting the moment. Yeah, I said, that's nice, with the caps off. That's nice. Decent men, first. Decent golfers, after that.

Bill from Piermont. Simm from Tappan. Hank from Upper Saddle River. These are the kind of guys Mark would have loved. By the end of the round, three new friends.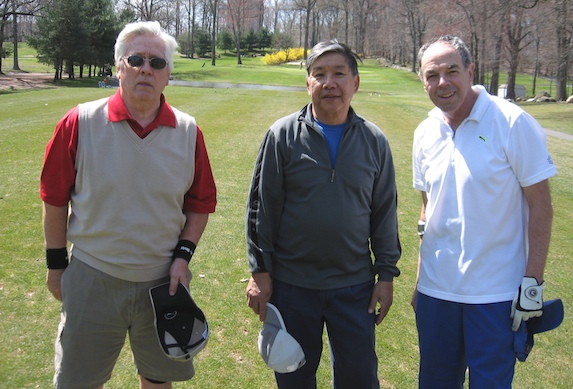 Comments
Add Comments