Jump to navigation
Dry Rub for Pork or Chicken Barbecue
Chef Paul Kirk, a barbecue king from Kansas City, says one should balance the sugar and salt in a rub and add paprika for color, chili powder for flavor and a touch of mustard "just because." From there, itís up to you. This is Kirk's master recipe, as published in Saveur magazine, May/June 1998, but by this point, I always mess with it, depending on my mood. And I usually double it for leftovers.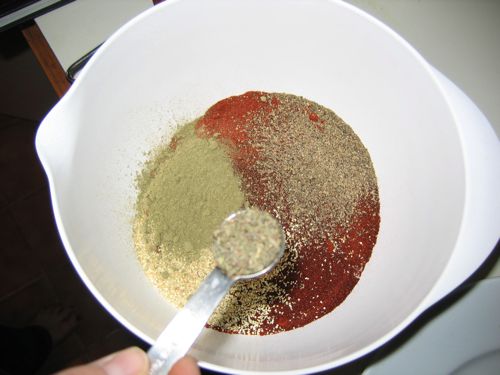 1 cup sugar
1/4 cup Lawry's seasoned salt
1/4 cup garlic salt
1/4 cup celery salt
1/4 cup onion salt
1/2 cup paprika
3 tablespoons chili powder
2 tablespoons freshly ground pepper
1 tablespoon lemon pepper
2 teaspoons ground sage
1 teaspoon dry mustard
1/2 teaspoon ground thyme
1/2 teaspoon cayenne

Sift together sugar, Lawry's salt, garlic salt, celery salt, onion salt, paprika, chili powder, black pepper, lemon pepper, sage, mustard, thyme and cayenne into a bowl. Store in a jar all summer.
Sprinkle, don't rub, onto meat.

Yield: About 3 cups.
Comments
Add Comments