Jump to navigation
Dinosaur Bar-B-Que Beans
Naturally a lot of our barbecue recipes come from John Stage. He and Abigail Doyle — his partner and manager extraordinaire — made our wedding one damn amazing party. Sometimes we want to curse this cookbook, "Dinosaur Bar-B-Que: An American Roadhouse," which John wrote with Nancy Radke, because it's constantly refering to other recipes: Mutha Sauce, Creole Seasoning, etc. etc. But just make a big-assed bunch of those condiments in the beginning of the summer and you'll be set for many a party.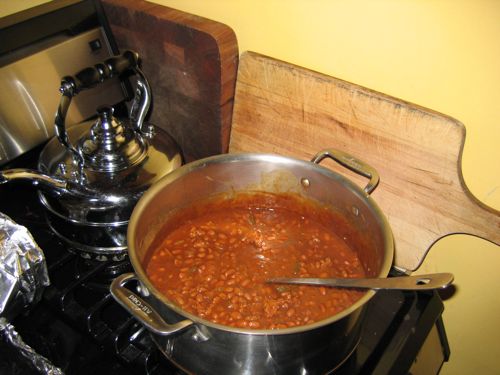 2 tablespoons olive oil
1/2 large onion, chopped
3/4 cup chopped green pepper
Pinch of kosher salt and black pepper
3 large cloves garlic, chopped
8 ounces hot Italian sausage, removed from casing
2 cans (28 ounces each) baked beans, preferably Bush's
3/4 cup Mutha Sauce (or any other barbecue sauce, like Kansas City Barbecue Sauce )
1 tablespoons Creole mustard or spicy brown mustard
1 tablespoon cider vinegar
1/2 teaspoon Creole seasoning (or Lawry's Seasoned Salt or any Paul Kirk's Dry Rub or Dinosaur Rub
1 tablespoon molasses

Heat the olive oil in a large saucepan over medium-high heat. Add the onions and peppers and cook until soft, adding a pinch of salt and pepper. Toss in he garlic and cook for 1 minute more.
Crumble the sausage into the vegetables and cook, chopping to break the meat into small pieces. Cook until the pink disappears. Drain off some of the bean liquid in each can so that it's at the same height as the beans; then mix the contents of both cans into the pot.
Turn the heat down to medium-low and add all the rest of the ingredients. Simmer for 5 minutes. Serve immediately, or cool and reheat before serving (letting the flavors blend a while never hurts).

Yield; 10 to 12 servings.
Comments
Add Comments