Jump to navigation
Spicy Smoked Ribs
Memphis-Style Barbecue Ribs from Jack Bar-B-Que in Nashville, Tenn. The recipe from
ďAmerica's Best BBQ: 100 Recipes from America's Best Smokehouses, Pits, Shacks, Rib Joints, Roadhouses, and Restaurants.Ē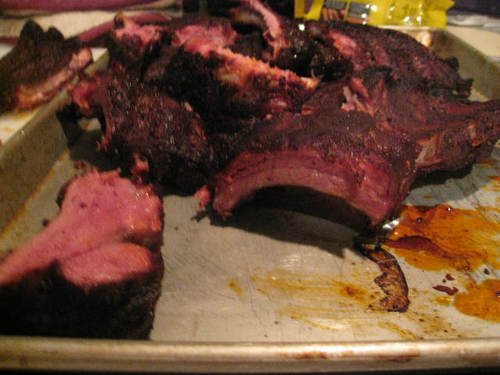 We thought the recipe in the book called for too much black pepper, so Iím cutting it down by 1/3. The recipe originally calls for 1/4 cup, but Iím taking it down to 3 tablespoons. Wouldnít hurt my feelings if you swiped another tablespoon off the top neither.

2 tablepsoons salt
1 tablespoons sugar
1/4 cup chili powder
1 tablespoon cayenne
3 tablespoons black pepper

Combine the ingredients and mix well. Generously rub the mixture into the ribs. Smoke the ribs at 250 over hickory for about 4 hours.
Comments
Add Comments