Jump to navigation
Dominick's on Arthur Avenue
We've been to Arthur Avenue a few times.
(Check out this link to our Big Day of Fun in '07.)
But we'd never been to Dominick's. Dominick's is a restaurant of legend. There are only tables for 10 (making it a good place go with a group), the portions are enormous and there is no menu. It's Italian-American, old school.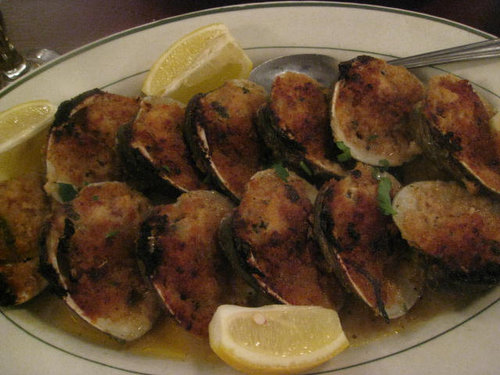 On the street....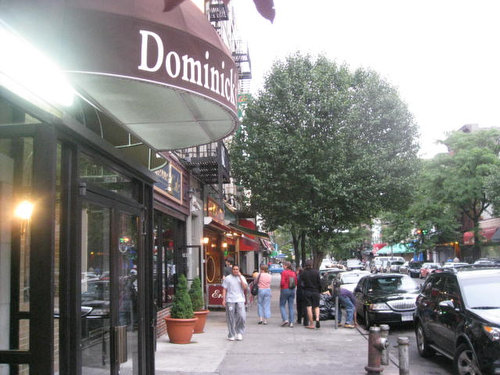 And inside: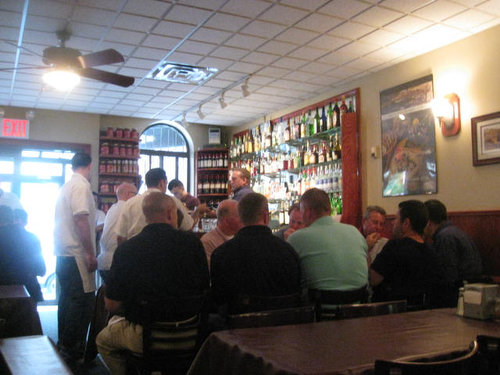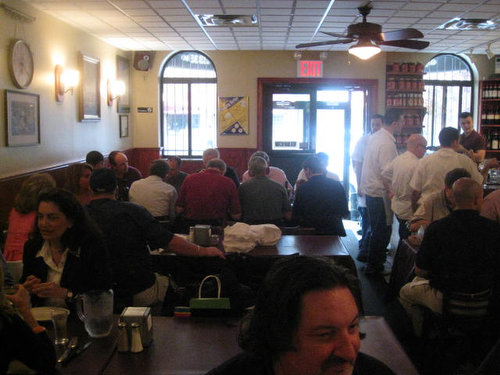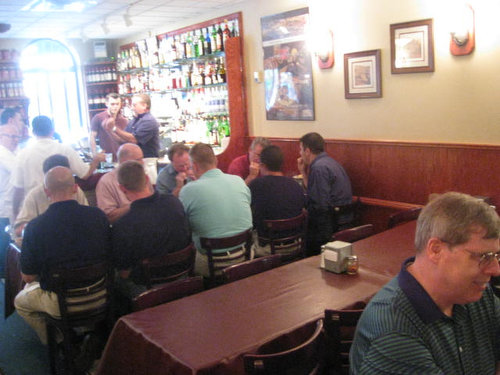 We took the two end spots on a table that had only two other diners.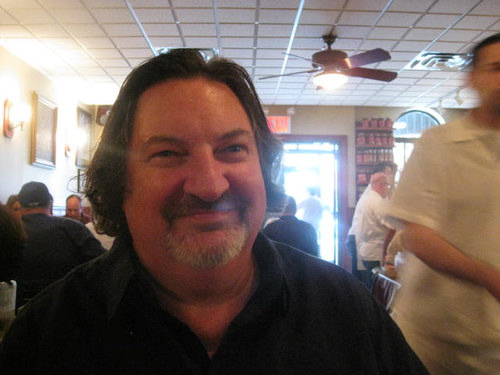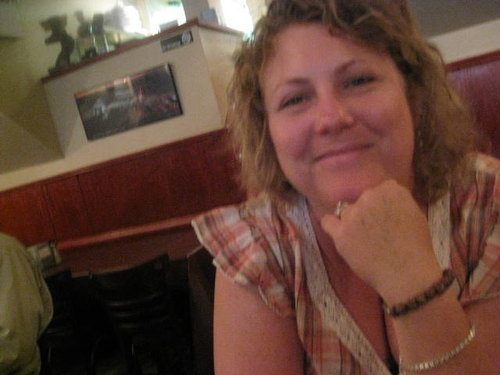 The waiter came immediately over and started telling us what was available for appetizers: artichokes, clams, mussels. We asked, naturally, for him to bring us a bottle of wine.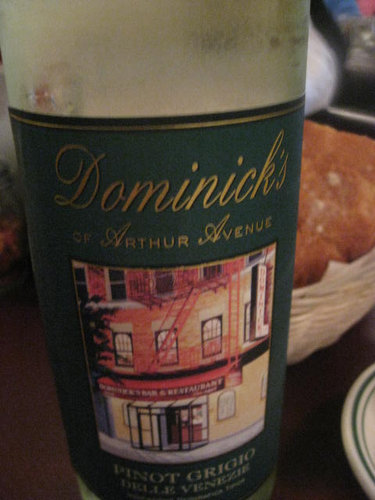 After he brought it, we ordered the artichokes and the clams.

Then he came back and said they were out of the artichoke. I was very sad. That is, until the clams showed up.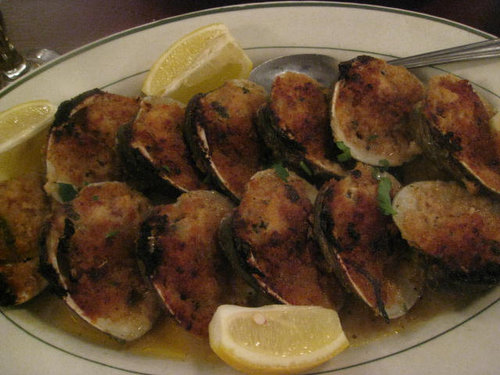 Breaded with lemon and herbs. So great.

The the waiter comes over to tell us about the pasta course. We could have petty much any type of pasta with any type of sauce: lingiune, penne, marinara, carbonara, you name it. We decide on linguine with calamari.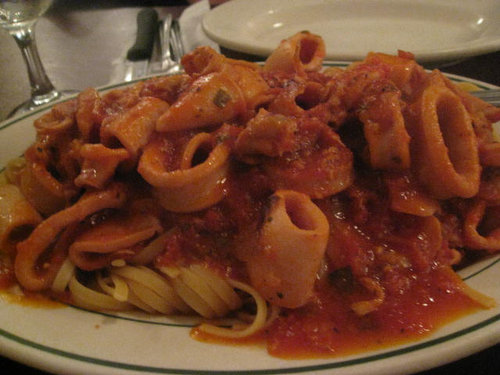 This, unfortunately, was a big bust. The linguine stuck together and the calamari was chewy, like it had been frozen. We thought we were in for big trouble.

We took a few bites and pushed it aside. When the waiter came over, we decided to save face and asked for it to be wrapped. He laughed and told us he couldn't wrap it because they didn't have any containers. But I was welcome to walk down the street to pick up some tupperware. I said, nah... that's OK.

What's for the next course? We looked over at our neighbors, two guys who seemed like politicans. One of them also seemed like he'd been coming to Dominick's forever. They had veal francese on their plate. We coveted it. Greg doesn't usually eat veal, so we went for the chicken francese instead: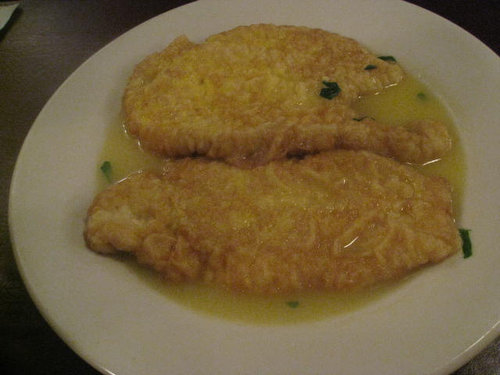 Fabulous. Juicy, lemony, nice crust. Dominick's is back in the black.

While we were eating, Greg pointed toward the entrance of the kitchen in the back of the restaurant. Up a couple of stairs and on top of the coffee station: tons and tons of aluminum takeout containters with plastic tops. We laughed. Our waiter was just pulling our leg.

The other dish, a stuffed pepper. I know it doesn't look pretty, but really: a revelation.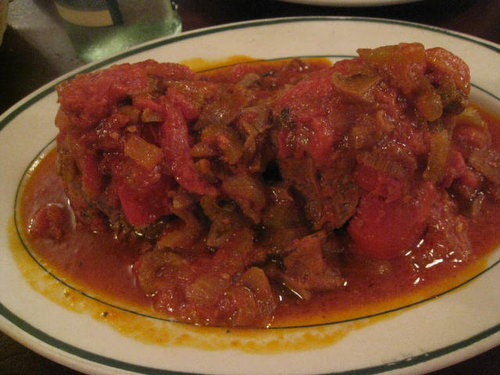 Ground beef and mushrooms with just the right heat and sweet.

While we were eating, we started talking to the neighbors. The one guy had been coming here since the '70s. It hasn't changed much at all, he said. He told us about how a bunch of chefs came through here and then started opening restaurants in Westchester. Valentino's in Yonkers, for example. We'll have to investigate that for sure! The waiter came to the neighbors and told them how much it was — in Italian. The other neighbor... not the one we'd been talking to .... didn't understand. I jumped in and translated for him: 70 dollars. The oldtimer paid the waiter in cash.




When it came time for us to settle, he told us our bill, too. 75 dollars. For all that food and two bottles of wine. Plus, the entertainment of the waiter rattling off the menu, the joking around about the takeout containers — yes, we called his bluff — and the history lesson from the neighbors.

We'd heard so much about Dominick's over the years, and though it wasn't quite exactly as we expected it — for some reason, we imagined it more spacious and open, with old, wooden tables rather than brown, plastic tablecloths — it certainly was fun. And the food was great. We'll be back.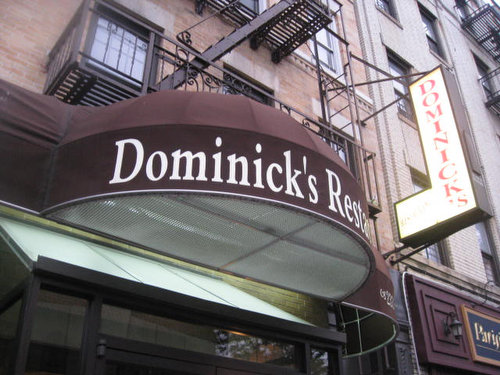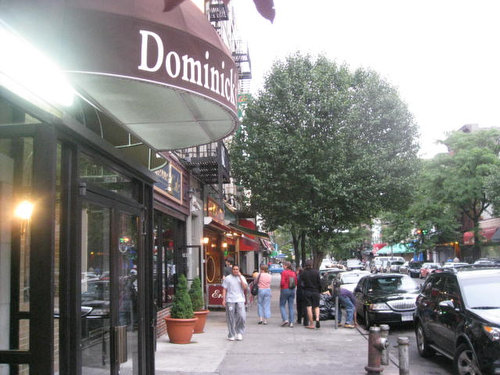 Comments
lbabs wrote:
Add Comments