Jump to navigation
Gin Gin Mule
Memorial Day weekend was good to Sour Cherry Farm. More reports to come, but in the meantime, I leave you with this, a cocktail created by Audrey Saunders, our (and so many people's) libation goddess.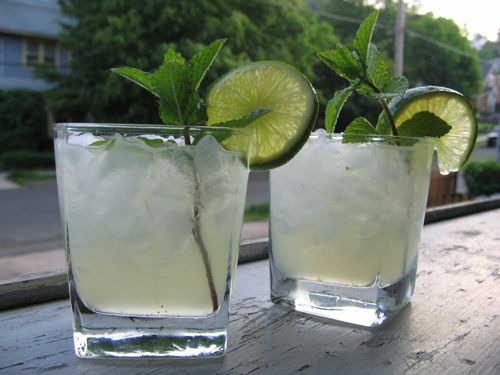 1 1/2 ounces lime juice
1 ounce simple syrup (1:1 or use superfine sugar)
About a dozen mint sprigs, the tops of two reserved for garnish
3 ounces gin
1 to 2 ounces ginger beer

In a pitcher, muddle the mint with the lime juice and the simple syrup. Add the gin. Strain into a cocktail shaker filled with ice. Shake well and strain into 2 lowball glasses filled with ice (crushed, if you have it). Top off with ginger beer and garnish with a mint sprig and lime wheel.
Yield: 2 drinks.
Comments
liz wrote:
Add Comments