Jump to navigation
Great Sausage and an Old Fashioned Baked Alaska at Daniel's New Hot Spot
Sarah and Wilson decided to spend one of their nights at a hotel in the city. They also wanted one good dinner. We wanted to try
DBGB,
Daniel Boulud's new restaurant on the Lower East Side. This here is the Beaujolaise sausage, a pork, mushrooms, onion, bacon and red wine link with lentils du puy: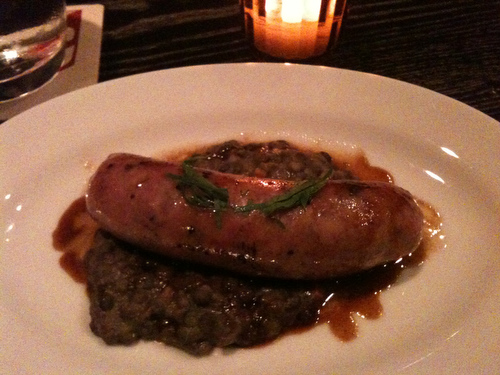 The plan was to stay over at Boo's, so we took the train in:

Here we are, les dorkages on a train: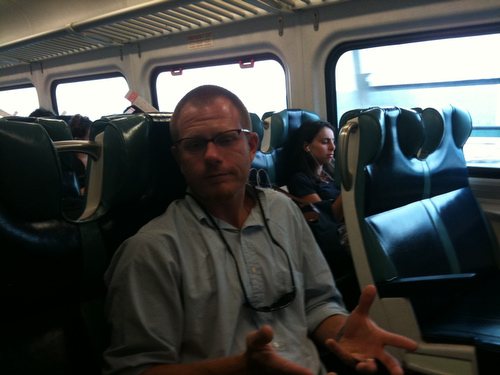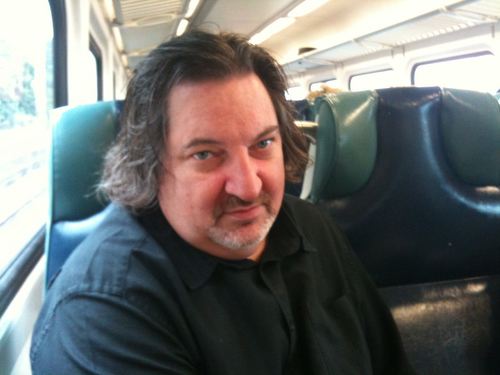 W&S in the subway:




One photo from our trip to MoMa: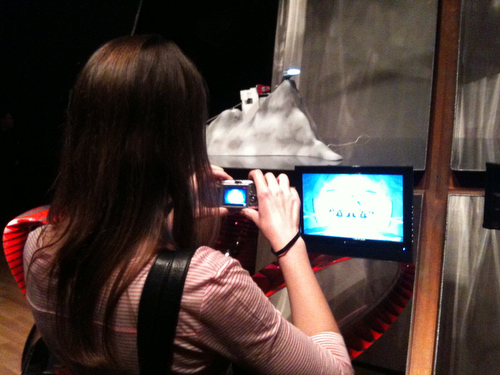 Now we're down at the restaurant. Hunna at the bar: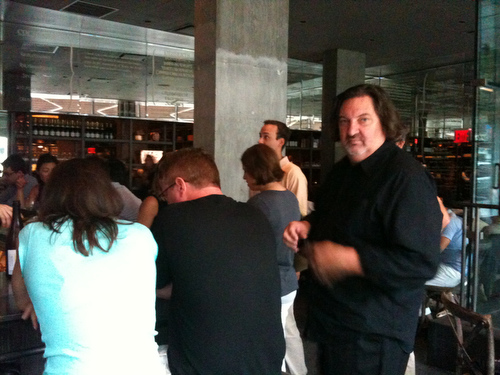 Boo at the bar:




The lounge: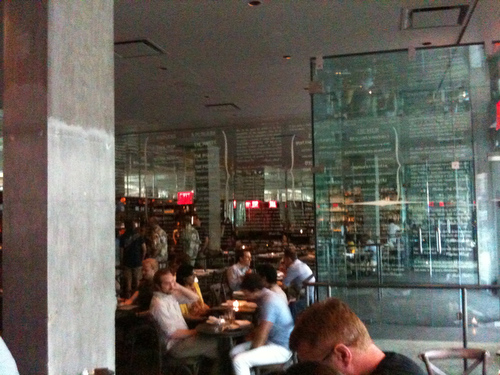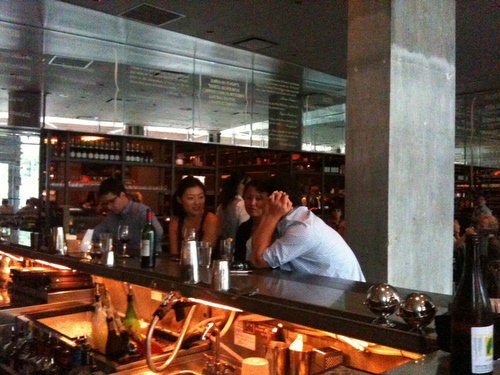 We order cocktails: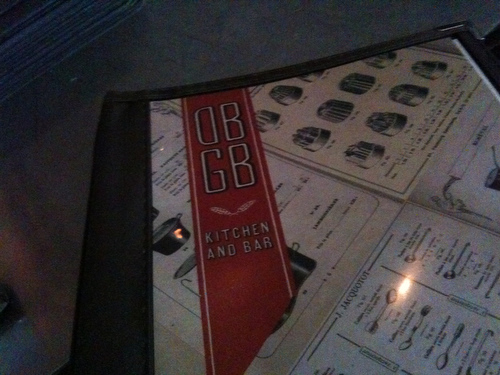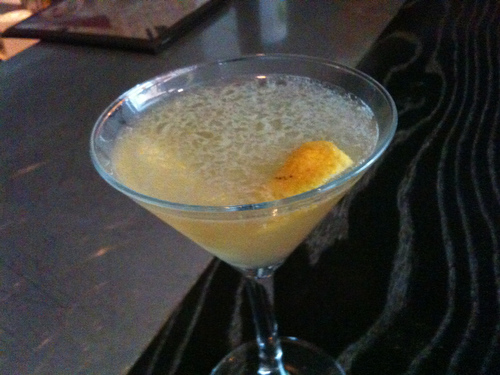 Sarah and Wilson outside.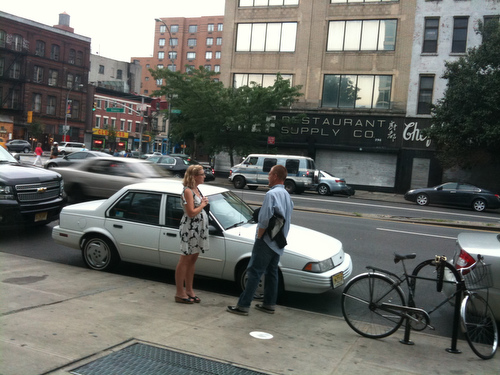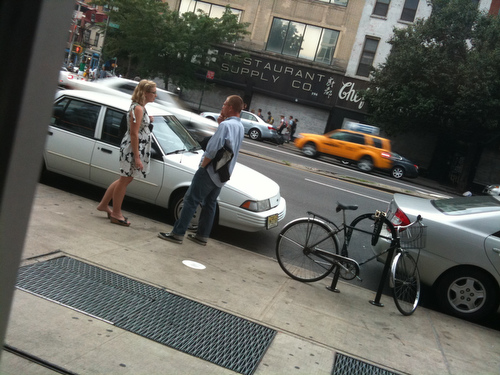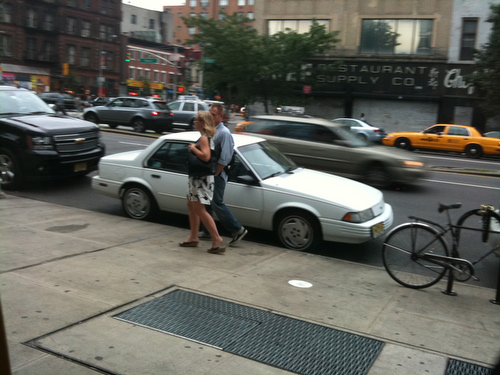 Now we take our seats. There are booths along one side of the dining room. Copper pots from other chefs decorate the walls: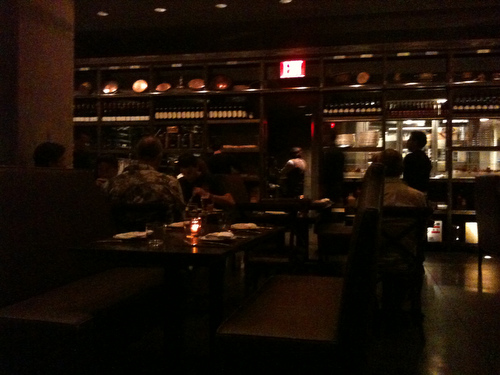 My photos are superdark because I only had the iPhone.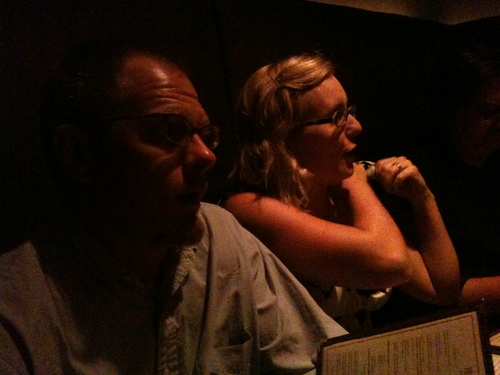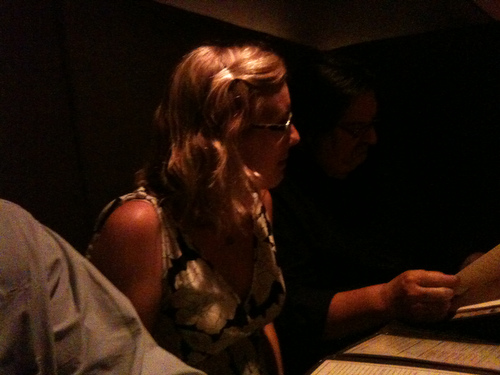 First we order a bunch of sausages to share. The aforementioned Beaujoliase: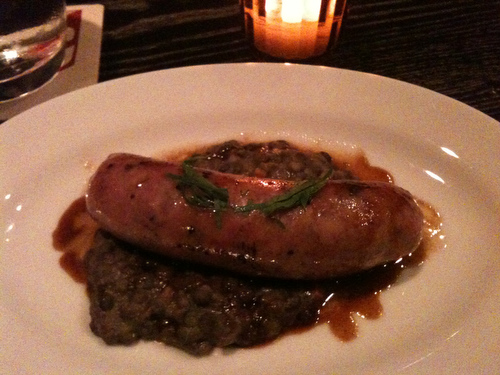 The Toulouse (pork, duck gizzard & garlic link, cassoulet beans):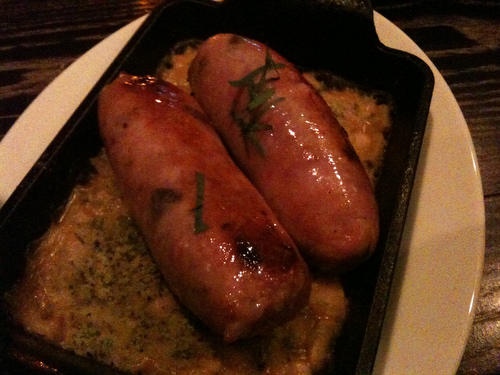 Tunisienne (lamb & mint merguez with harissa, lemon braised spinach & chickpeas):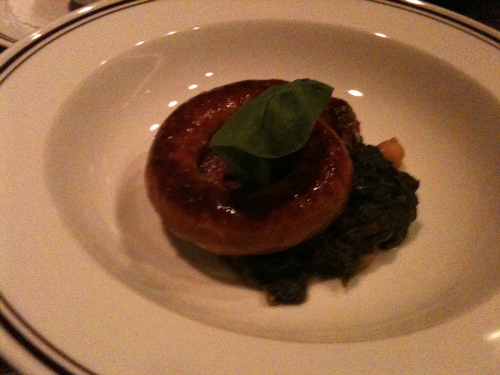 All the sausages were terrific. So flavorful and bold.

Then we had appetizers. The tomato bisque: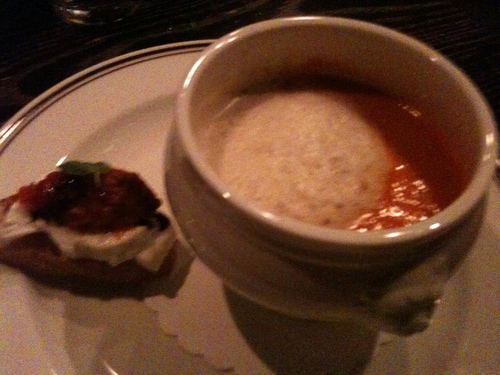 Asparagus and fried egg with duck prosciutto & cracklins, mustard-egg dressing: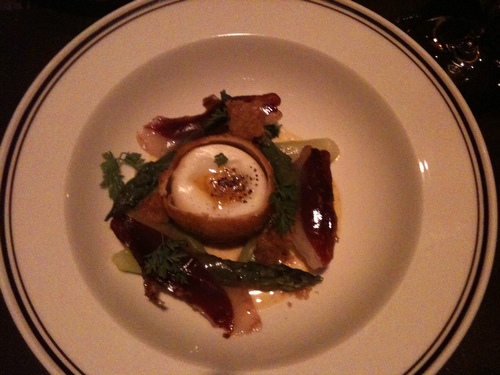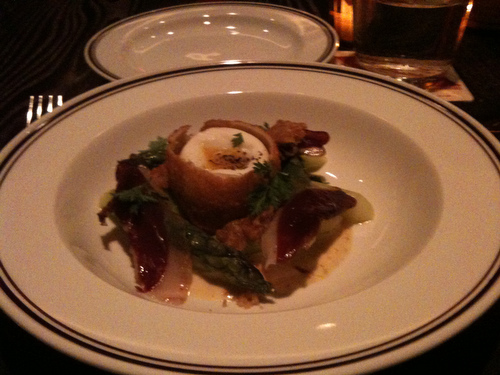 Matzo ball soup.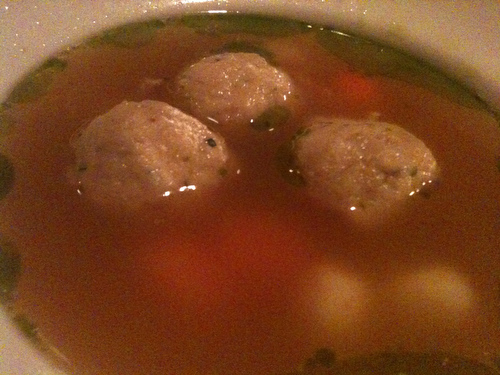 The soup was good but not great. The egg dish was great. The mazto ball soup was incredible. I can't even believe those were matzo balls. I swear they were made of puffed rice...without the crunch.

A look at the dining room: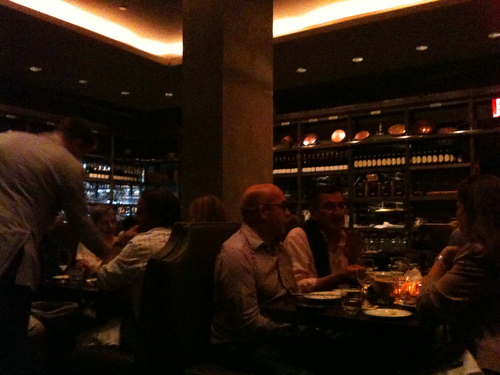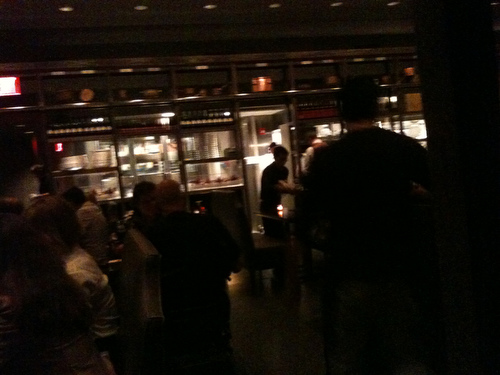 Now for entrees. The skate au pistou with artichokes, tarbais beans, tomato, nicoise olive & basil broth: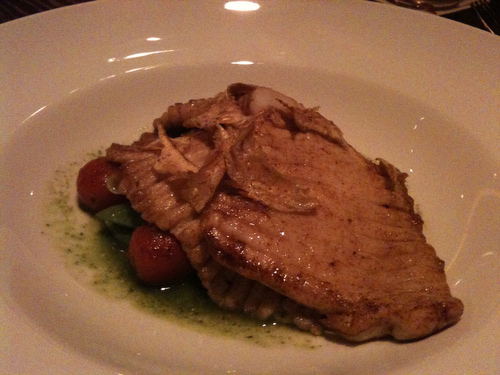 The crispy fried pig's foot: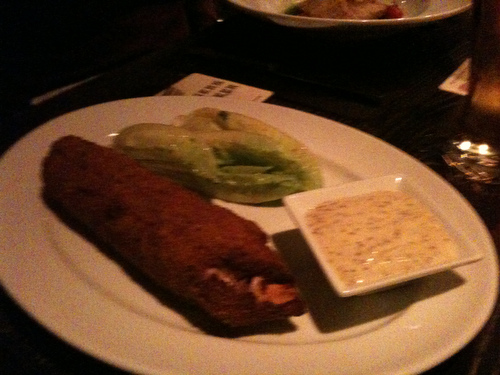 The Yankee burger with iceberg, tomato & vidalia onion on a sesame bun, essex st. pickle, fries: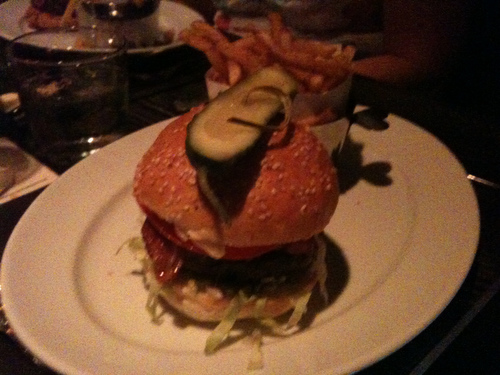 The Piggie burger topped with daisy mays bbq pulled pork, jalapeno mayonnaise & boston lettuce on a cheddar-cornbread bun with mustard-vinegar slaw, fries: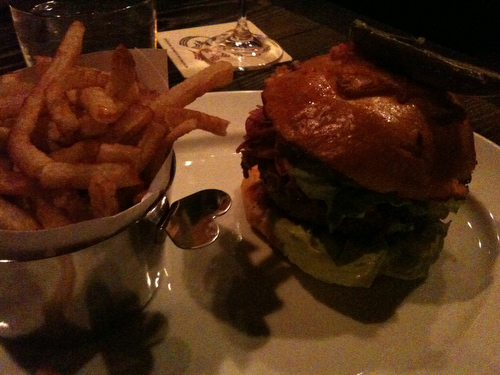 And a side of corn salad: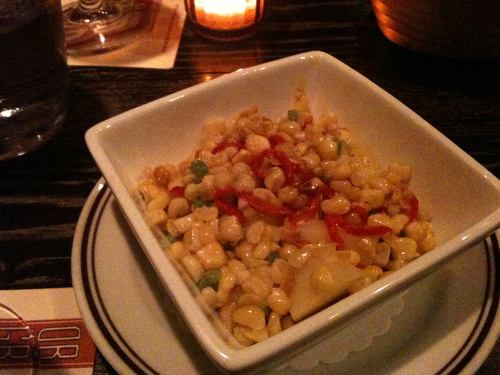 Sarah and Wilson are happy: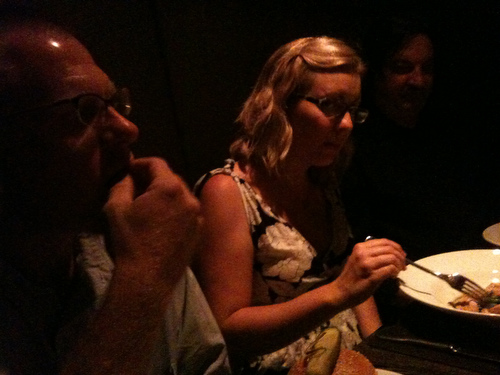 Drinkies: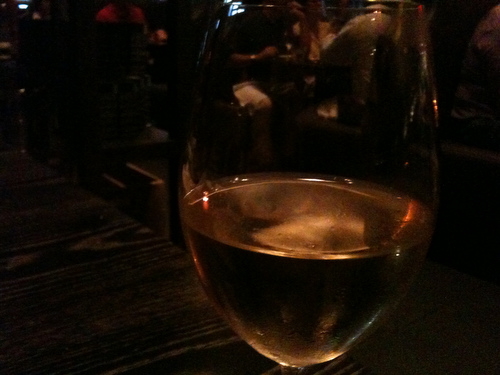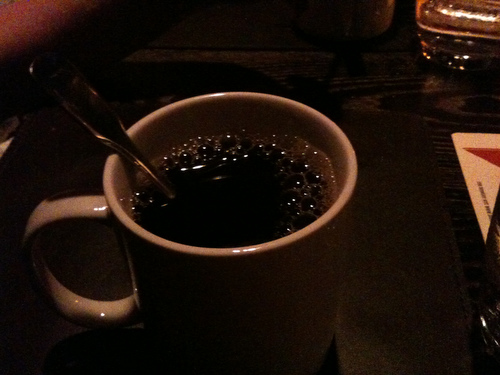 More scene: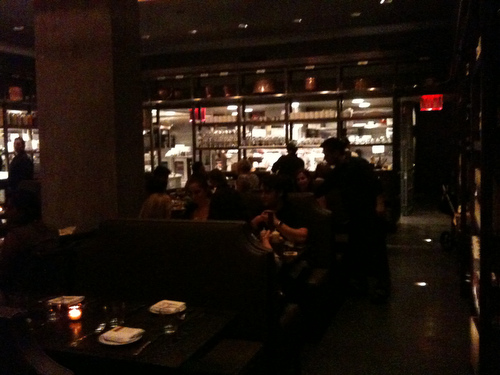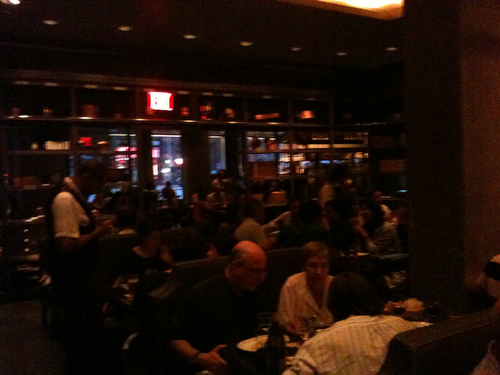 Our booth: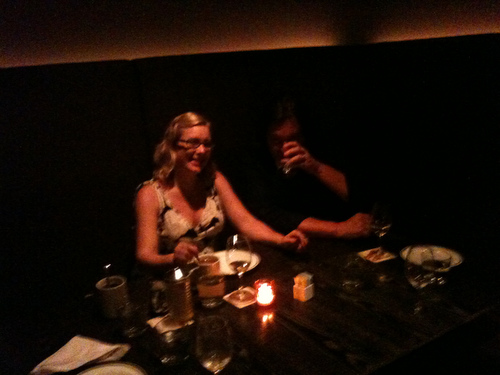 We got some dessert, too. The hunna had cheese: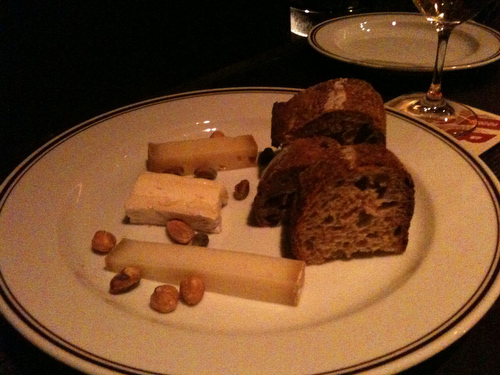 Wilson had chocolate: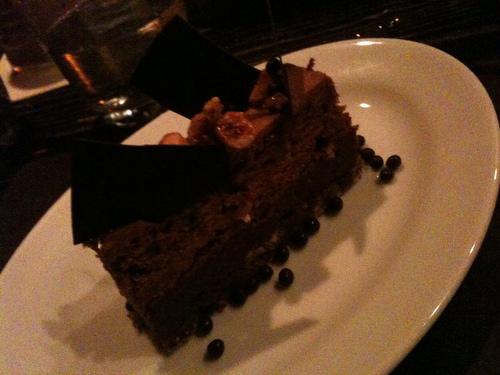 And I, researching old fashioned foods, had to try the Baked Alaska: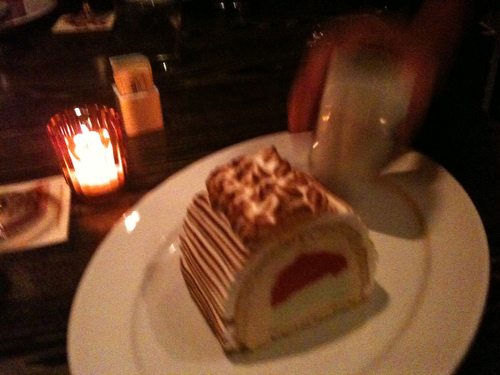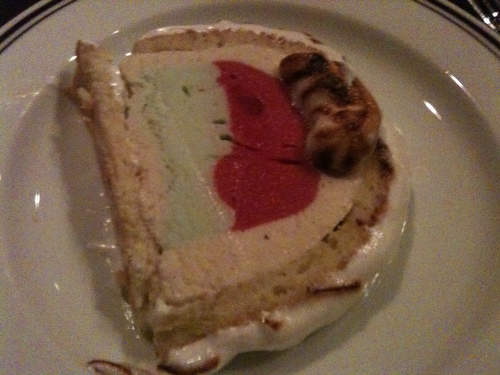 A lovely meal. I can't wait to go back. We ended with a nightcap on Boo's roof deck: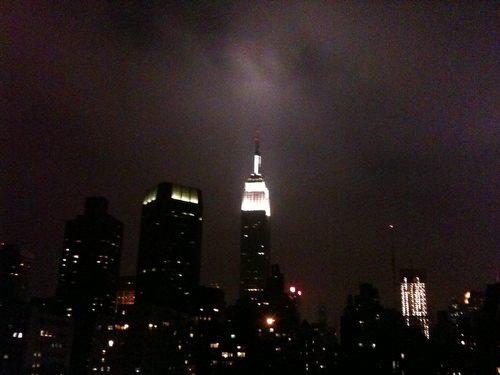 Comments
Add Comments