Jump to navigation
Recipe: Cold Pink Borscht in a Glass
As regular SCF readers know, sometimes I get on a jag with a certain cookbook and keep turning to it over and over. I have a feeling that next one might be
A Platter of Figs and Other Recipes
by David Tanis. I found this terrific recipe — and a ton of others, too.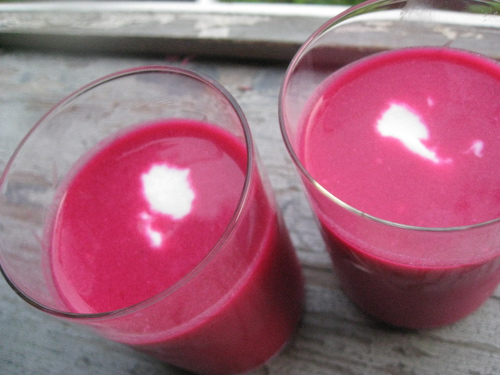 1 1/2 pounds beets
8 cups water
2 garlic cloves, sliced
2 large shallots, sliced
1 bay leaf
1 teaspoon coriander seeds
2 or 3 cloves
1/2 teaspoon cayenne, or to taste
1 tablespon sugar
2 teaspoons red wine vinegar, or to taste
1 tablespoon olive oil
Salt and pepper
1 cup whole milk yogurt
Chopped dill or chives, optiona.

Peel and slice the beets, and put them in a large saucepan. Cover with the water and add the garlic, shallots, bay leaf, coriander, cloves, cayenne, sugar, vinegar and olive oil. Add a good spoonful of salt. Bring to a boil, then reduce to a simmer and cook for 15 minutes or until the beets are tender. Check the seasoning of the broth — it should be distinctly sweet-sour, peppery and flavorful. Correct the seasoning, adding salt and cayenne if neccessary and freshly ground pepper.
Puree the soup well in a blender, then strain into a large bowl. Chill in the refrigerator or over ice.
Just before serving, whisk in the yogurt. Taste and adjust the seasoning, adding a splash of vinegar if neccessary. Thin with a little water to achieve the correct thickness — like a thin milkshake.
To serve, pour into small water glasses. Garnish with freshly ground pepper and, if desired, fresh dill or chives.
Comments
Add Comments