Jump to navigation
Homemade Pie Crust: It's Not That Hard
I can't bake. Really. I screw it up all the time. But this pie dough recipe, which comes from Saveur magazine in the June 2004 issue, finally helped me turn the corner. It's easy enough and forgiving enough that any idiot can do it. Even me.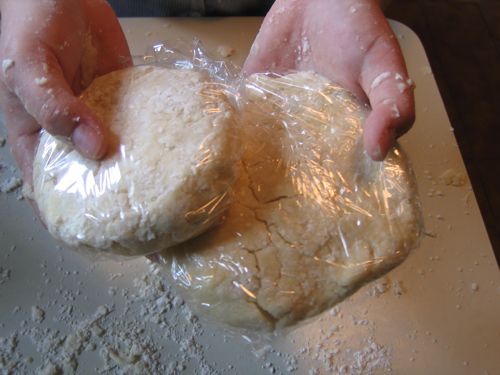 I think the key is the cream cheese. Binding and all that. Start by getting all your ingredients out. This is important in all cooking, but especially baking.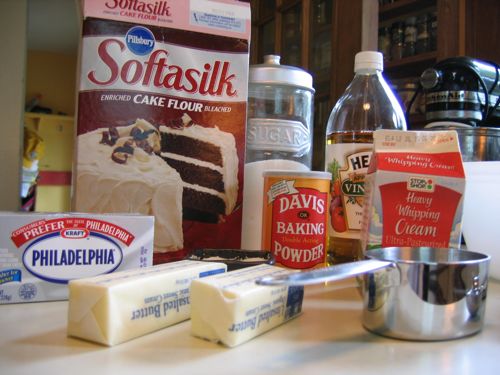 After that, deal with your butter. You should always see what baking instructions say about butter before you begin. Sometimes they want it cold. Sometimes they want it room temperature. Either way, it's going to take a little time.

This recipe calls for 12 tablespoons (a stick and a half) of cold butter, cut into pieces. So I did that and put it back into the fridge to get cold again. Those 98.6-degree hands melt butter quickly, don't they?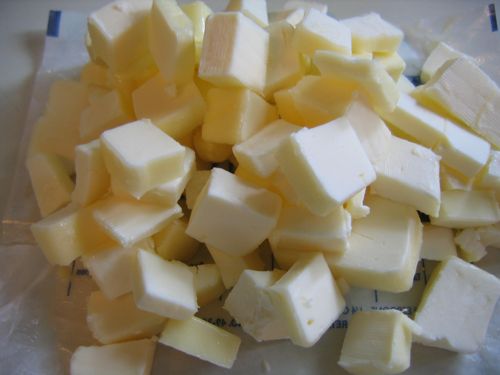 The recipe also wants 9 tablespoons (4 1/2 ounces) of cold cream cheese. So I put that back in the fridge next to the butter.

Then you measure the dry ingredients. I need 2 cups plus 3 tablespoons pastry flour.

If you're not measuring by weight, the best way to make sure you have the right amount of flour is to spoon it into the cup. I use one of those big hostess serving spoons that came with my silverware.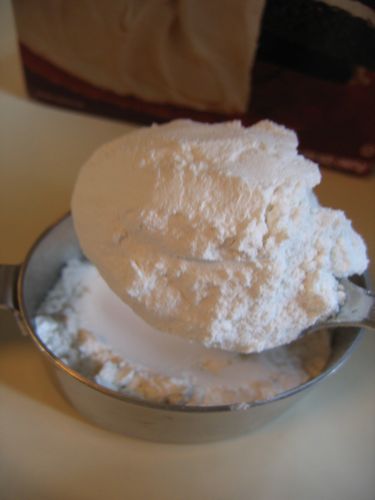 Then take the back of the knife and just knock it along the top of the measuring cup, to make sure the flour falls evenly inside and fills up any air holes. Then take the back of the knife and smooth it out.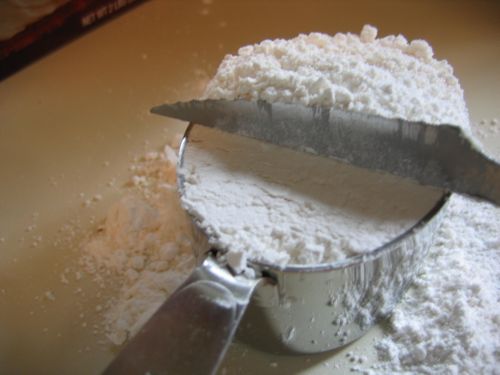 Put the flour in a bowl and measure in your other ingredients: 1/4 teaspoon salt and 1/4 teaspoon baking powder: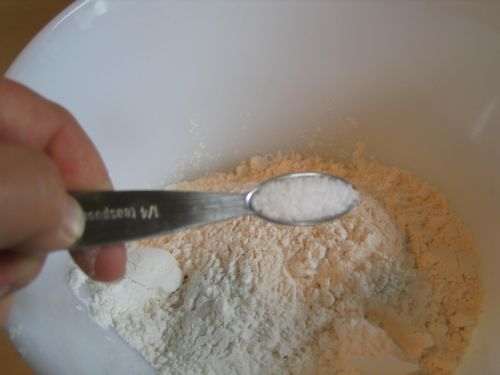 Whisk the dry ingredients together.




Then drop little pieces of cream cheese into the flour mixture.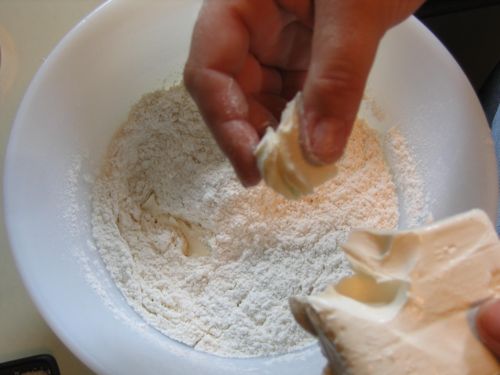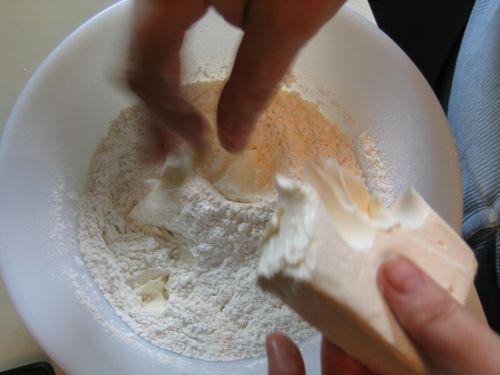 And use your hands to work it into the mixture until it looks like coarse meal. (Frankly it could have been a little better mixed in than this.)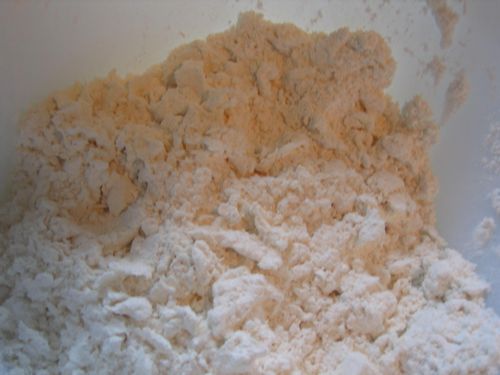 Add the butter —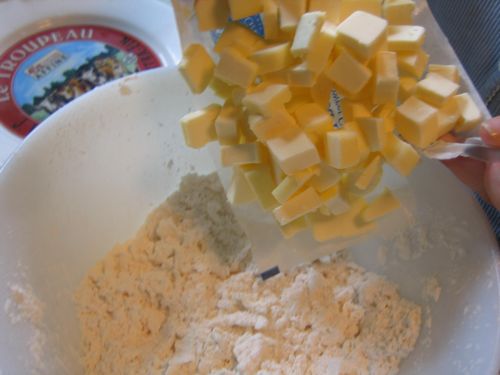 — and use two knives to work it into the mixture until it is "flecked with pea-sized pieces of butter." They're still a little big here: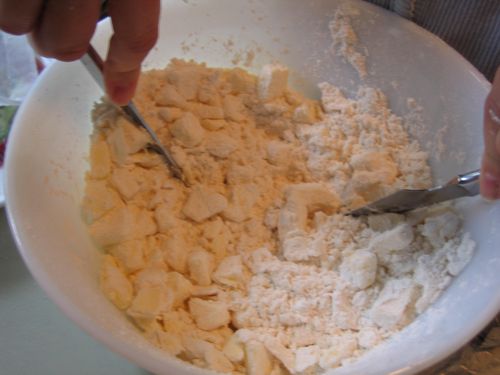 Sprinkle 1 tablespoon cider vinegar and 2 tablespoons ice water and "toss lightly with a rubber spatula."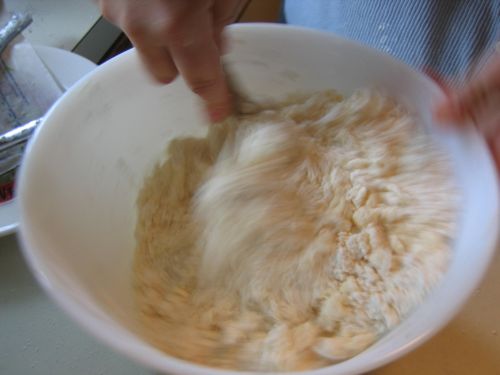 Empty the bowl onto a lightly floured surface. The dough will not yet be together.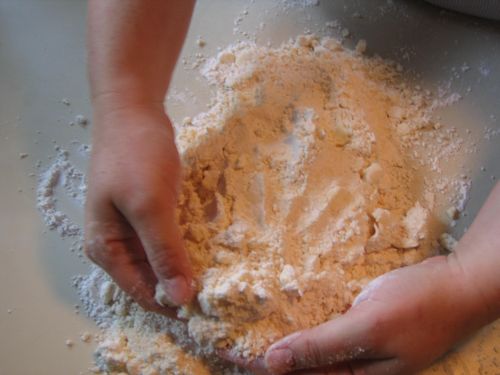 Knead it a couple of times —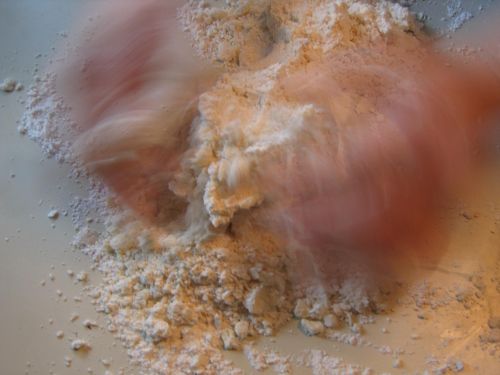 — and divide into two balls, one a little bigger than the other. Flatten them each into a disc and wrap in plastic wrap.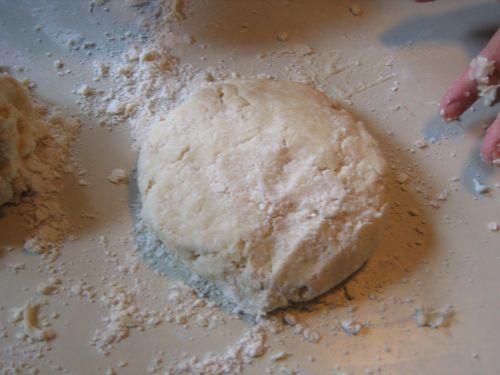 Refrigerate for 1 hour. (If you go longer than that, you'll have to let it warm up a bit before you start rolling.)

Now. For the rolling. This is the tricky part.

Lightly flour a surface and unwrap the dough. Place it on the surface and put your pin in the middle: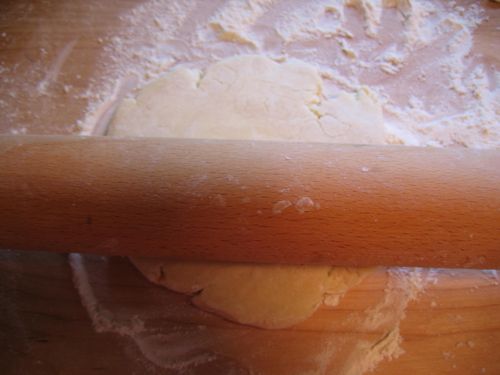 With a light touch — don't press too hard! — roll up from the equator to the top edge. Pick up the pin, put it back on the equator and roll down to the South Pole. Turn the dough a quarter turn and repeat until the dough is the size you want. See my fingerprints from having turned the dough?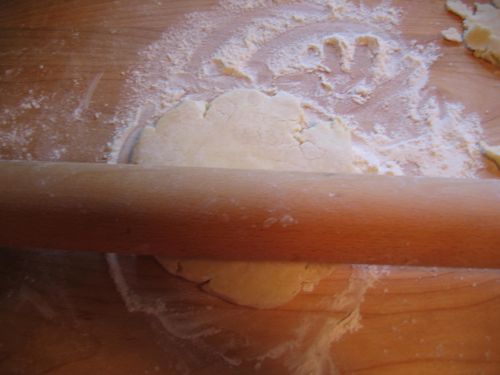 If it gets hard to turn, pick one edge up with the rolling pin and toss some more flour underneath so it won't stick. You should be fine. If it doesn't come out to be even — I recently heard someone complain that instead of a circle, their dough always looks like the state of Georgia — just pick up some dough from an end that's too big and put it where you need it. Don't try to push the crease of a crack together... the dough'll stretch too much.

OK so you've got your dough rolled out. To put it in the pie plate, roll about half of the dough around the pin and slide the plate underneath. Then slowly unfurl the dough on top to cover the dish.

Of course I don't have a photo of this. Sorry. I do have it once it's in though: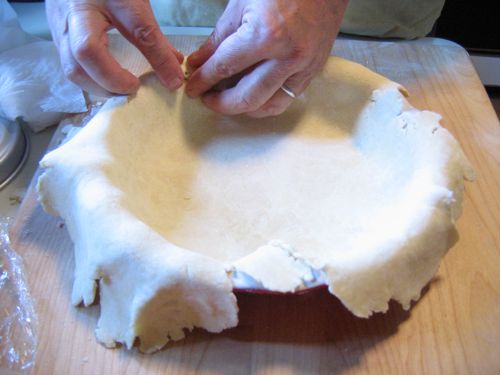 Greg is pinching the edges here. A good idea, especially because you want a thick edge. (Here's another chance to steal from one too-big part to help out a spot that's not covered.)

Fill your pie. (In this case, our filling was banana-rhubarb.)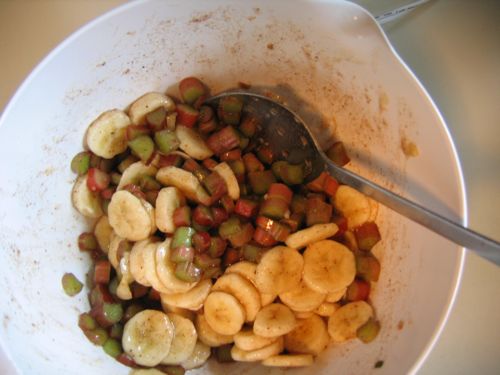 Repeat with the second disc for your top crust. Pinch them both together.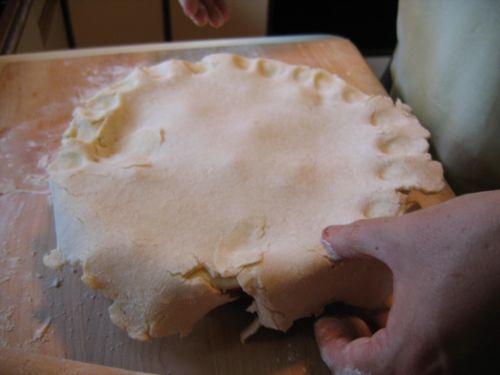 Slice off the extra along the edge, and cut steam holes in the top of the pie. (This always reminds me of the nursery rhyme and I think the pie is full of four and twenty blackbirds.)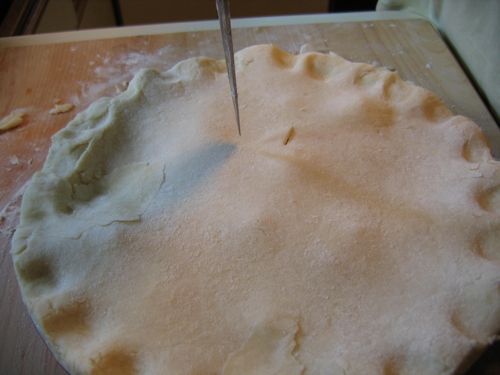 Brush the crust with heavy cream —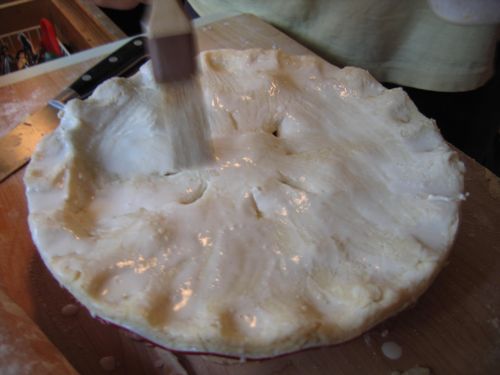 — and sprinkle with sugar.

Bake for as long as your recipe says. We always go a little extra. Make sure the pie filling is bubbling and the top crust is brown.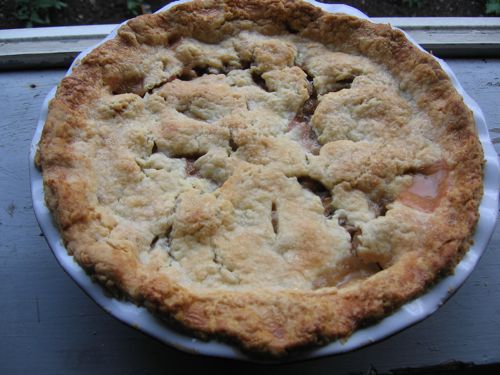 Pie Crust
Saveur says it was their adaptation of a pie from Rose Levy Beranbaum's "The Pie and Pastry Bible" (Scribner, 1998).
2 cups plus 3 tablespoons pastry flour
1/4 teaspoon salt
1/4 teaspoon baking powder
9 tablespoons cold cream cheese
12 tablespoons unsalted cold butter, cut into pieces
1 tablespoon cider vinegar
2 tablespoons ice water
1 tablespoon heavy cream
1 tablespoons sugar

Cut butter and put in the fridge. Whisk flour, salt and baking powder together in a large bowl. Use your fingers to work cream cheese into flour mixture until mixture begins to resemble coarse meal. Use 2 table knives to work in butter until mixture is flecked with pea-sized pieces of butter. Sprinkle in vinegar and ice water, tossing lightly with a rubber spatula, then turn out onto a lightly floured surface. Quickly knead dough until smooth. Divide dough into 2 balls, one slightly larger than the other, flatten each into a disk and wrap each in plastic wrap. Refrigerate 1 hour.

Roll larger dish onto a lightly floured surface into an 11-inch round, then ease into a 9-inch pie pan. Stir filling, then transfer to pastry. Roll remaining dough out into a 10-inch round. You may either cut into lattice or bake as a top crust. Brush with cream and sprinkle with sugar. Bake for 40 to 50 minutes until crust is golden brown.







Comments
Bob wrote:
liz wrote:
Add Comments