Jump to navigation
Recipe: Halibut with Summer Vegetable Stew
OK ó also not the most beautiful dish. Maybe I need to do a little better at food styling! But this was a triumph... so good.. so fresh and so good for you. We pan-seared halilbut and served it over Rancho Gordoís New World Tepary Bean and Summer Vegetable Stew. SCF fans know Iíve been
cooking with this book since February,
and everything has been delicious. No exception here.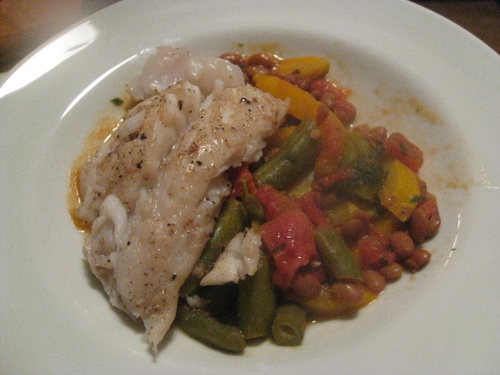 As you know, I made the beans on Saturday night. Thatís the one thing about this cookbook, you almost always have to plan ahead and make your beans the day before.

So I started by roasting a pepper.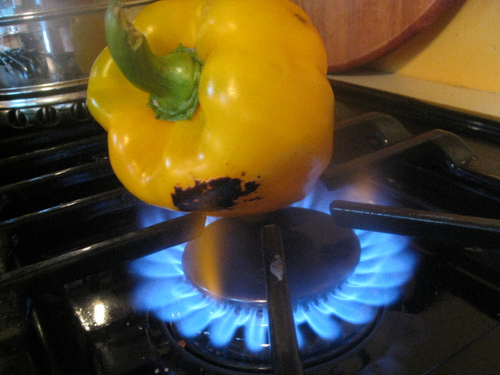 Then I chopped up some zucchini: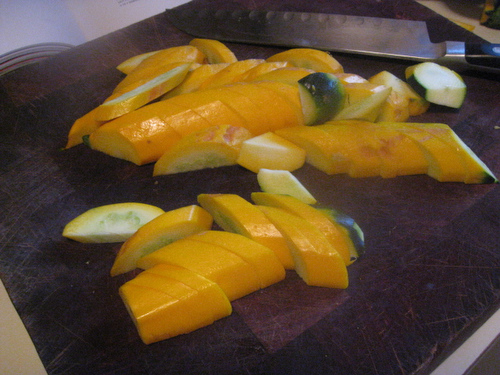 Really beautiful zucchini from Yaniís Farm.

Then green beans. Trimmed and cut into 1-inch pieces: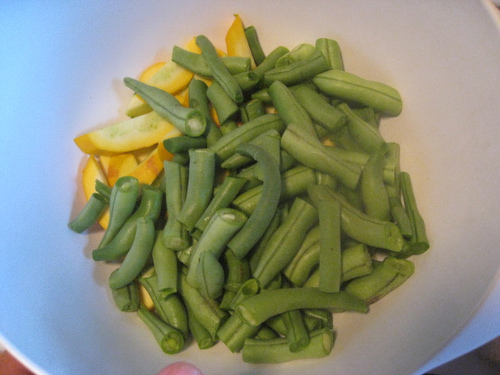 Then the pepper. Cut into strips: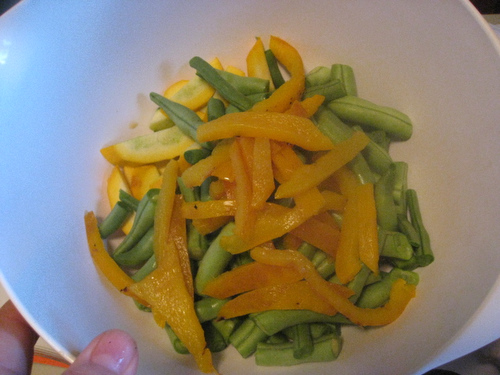 Then some gorgeous heirloom tomatoes from Yaniís farm: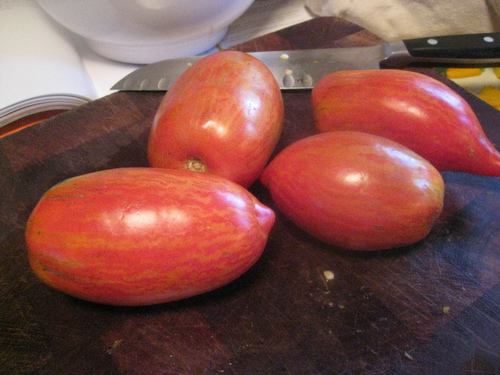 Steveís recipe calls for thyme. I didnít have that, I had chervil: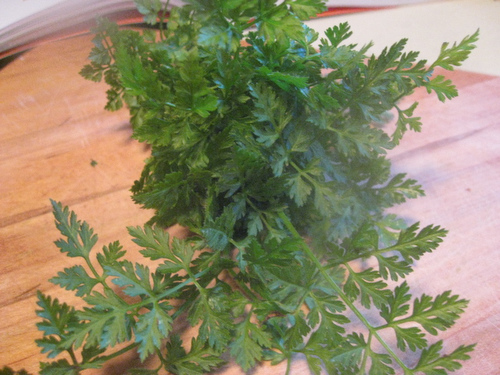 Stew it all up with the beans, pan-sear some fish, et voila, supper: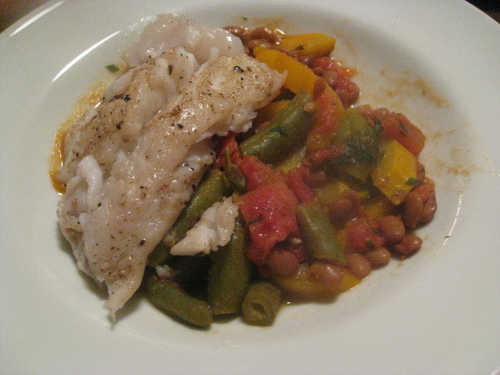 New World Tepary Bean and Summer Vegetable Stew
1/2 pound tepary beans, cooked, in their broth
1 medium red or yellow pepper, roasted and cut into strips
2 small zucchini, cut in half lengthwise and then on the diagonal into 1/4 inch slices
About 1/3 pound green beans, trimmed and cut into 1-inch lengths
4 or 5 plum tomatoes, coarsely chopped
2 teaspoons fresh thyme leaves
Salt and freshly ground pepper
3 to 4 ounces feta cheese (I did not use this with the fish. I didnít think it would go.)

In a soup pot over low heat, gently warm the beans, stirring occasionally. Add a little water if they appear too thick, starting wiht about 1/2 cup. Donít think the beans too much, as the vegetables will release their liquid.
Add the bell pepper, the zucchini, green beans, tomatoes and thyme. Season to taste with salt and pepper. Simmer gently, stirring occasionally, until the vegetables are tender, about 20 minutes.
Ladle the stew into warmed shallow bowls and garnish with the feta.
Comments
Add Comments