Jump to navigation
Farmers Market Loot, June 1
Here's the take-home on June 1.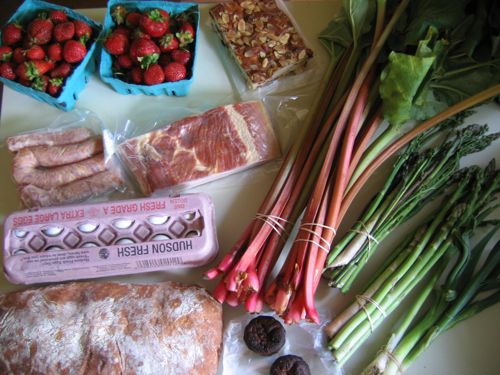 How much do you think it cost?
From Concklinís Farm
Strawberries: $4.50 a quart: $9.
From Dines Farm
Eggs: $3.
Sausage: $6
Slab bacon: $8
From The Bakerís Wife
Ciabatta $3
Cherry-almond pastry: $2.50
Canneles: $2 each: $4
From Blooming Grove
Rhubarb $3 per bunch: $6
Asparagus $5 per bunch: $10
Leeks: $3

Total: $54.50.

I may be a little off on some of the prices. But: Expensive? Not? I know farmers work so hard, and itís important to me to buy local and organic when possible. But if other people are going to join the bandwagon, should the prices be more competitive?

What do you think?
Comments
KKO wrote:
wrote:
wrote:
wrote:
wrote:
wrote:
wrote:
wrote:
wrote:
wrote:
wrote:
wrote:
Add Comments