Jump to navigation
Monday Lunch? Lobster Rolls, Of Course
After the seafood extravaganza, I made a bunch of lobster stock with the shells. And, we had just enough meat leftover for Boo and I to have a lobster roll lunch. The recipe, after the jump.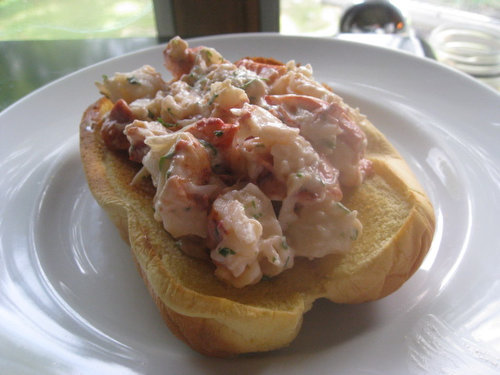 My recipe:
The cooked meat of 2 lobsters, cut into big chunks
1 1/2 tablespoons mayonnaise
2 teaspoons lemon juice
1 teaspoon fresh tarragon, chopped fine
Salt and pepper
Melted butter
Hot dog rolls, toasted

Combine the lobster, mayonnaise, lemon juice, tarragon, salt and pepper in a bowl and mix gently. Brush the melted butter over the toasted hot dog buns. Pile the lobster salad inside. Serve with salt and vinegar potatoes, if possible.

If i don't have tarragon, sometimes I use chives. I also love it with chervil.
Comments
Add Comments