Jump to navigation
White Lines on a Mirrored Plate at 42 in White Plains
You never know when youíre going to come across a cool story. If you
follow me on Twitter,
you might have seen I was at 42 in White Plains the other night. I thought I was just going to meet Kelli for a drink and a bite.
Turns out, I found a great story: like chef Grant Achatz at Alinea, chef Anthony Goncalves is designing and commissioning his own serving pieces. Imagine the surprise when your octopus dish comes out and it looks like this: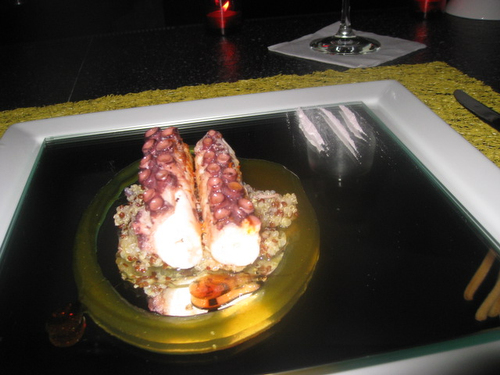 Yes, those are three white lines in the top right corner. Theyíre dehydrated vingear, turned to dust, and youíre meant to drag your octopus through them. There are other serving dishes to come, including one that uses the entire table for a dessert course. Iím writing a story for the paper, so Iíll let you know more after that publishes. But for now, hereís a look at the meal we had Wednesday.

Forgive the photos. I really didnít think I was going to report on this or blog it ó and it was so dark I had to use flash. We started with gin and tonic: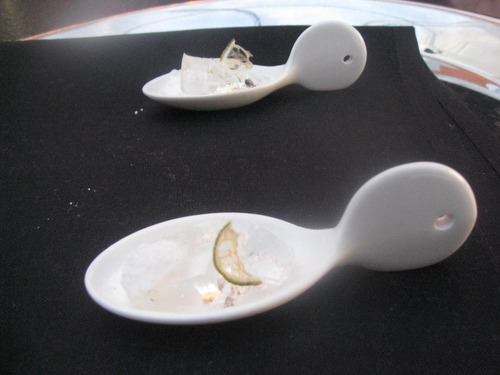 Gin gelee with a fizz powder and dehydrated lime.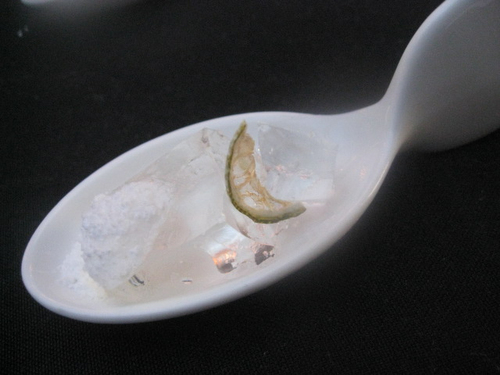 When you put it in your mouth it melts, and then you get hit with the quinine fizz and the pucker of lime.

Tuna cru. The Portuguese way of saying crudo.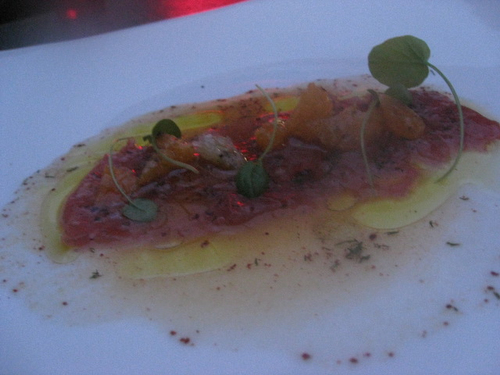 Bluefin tuna with smoked serrano, dehydrated olives, fried capers and chile threads. Served with fermented limes and oranges.

The texture of tuna with the smoke of ham and the zing of citrus. Your eye sees it like a painting. Your mouth tastes tuna with olives and limes.

Braised octopus.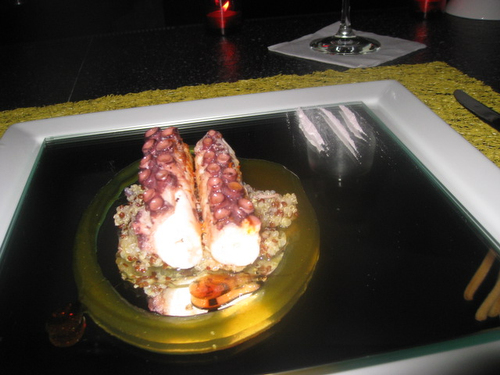 Quinoa, green mango, citrus gastrique, verjus and dehydrated red vinegar thatís been turned to dust. Earthy and meaty.

Foie gras ďstrawberry short cakeĒ with carbonated sugar. Corn bread with a dressing of honey, red vinegar, poppy seeds and sesame seeds and toasted almonds. Also deyhydrated. Champagne jel on the side.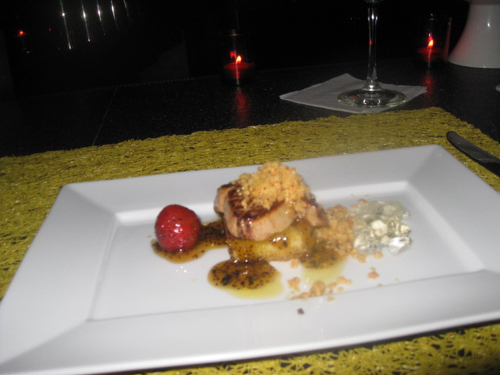 The carbonated sugar is like pop rocks. It explodes on your tongue.

Lamb shank. Braised and served over polenta. A few crisp end-of-summer vegetables. And a dehydreated pesto. A pesto powder, if you will.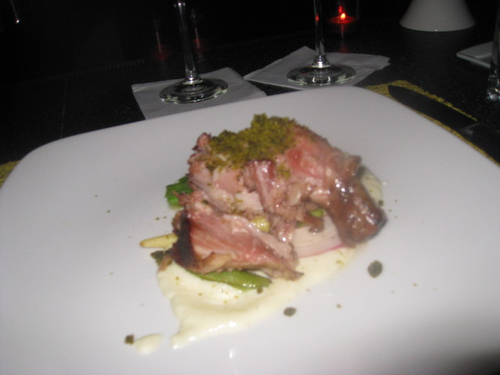 Succulent lamb. Creamy polenta. Crunchy beans.

White chocolate ice cream and chocoalte ice cream. Orange gastrique. Chocolate sauce with cayenne.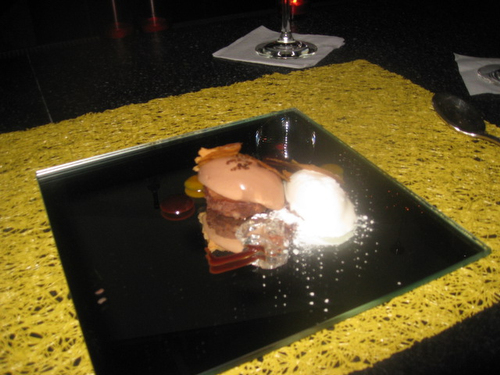 This is a different mirror. Thereís a malt taste in the dessert, which went so well with the tinge of spice.

Does the food seem weird? Because itís not. It may look complicated, but itís deceptively simple. I mean, thatís really just a braised octopus. Or a braised lamb shank. Or a scoop of ice cream. Hereís one quote Anthony gave me that I plan to use in the story:


I use all the techniques of molecular gastronomy and they have to work. They canít just sit there to say ĎOh my God, look what heís doing.í It has to make sense.

I use the pop rocks to cut through the fat in the foie ó and it does. I use the fizz powder to make you feel like youíre having a gin and tonic.

I use the red vinegar as the vinegar on the plate with the octopus. So now youíre getting different textures.

Itís a weird thing to be told to cut your octopus and dab it on the vinegar, but once you do it, itís not weird at all.
No. Itís not. Itís actually a lot of fun.
Look for the story coming soon.
Comments
Add Comments