Jump to navigation
Farmers Market Loot, June 8
The take-home on June 8.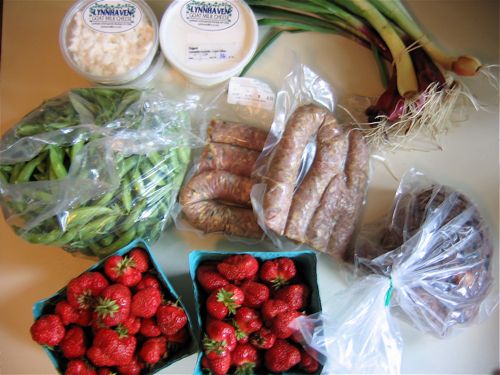 Last weekís loot
generated
such a lively discussion,
I thought Iíd make the farmers market photo a regular feature. Iíll show you what we bought each week, and Iíll include the cost. We can talk about whatís in season when throughout the summer, and readers can give us suggestions on recipes to use over the weekend.
June 8 total: $63.25.
The Bakerís Wife: $7.75
$5.00 half a walnut-raisin loaf
$2.25 chocolate croissant (split with Kelli at the market)
The Orchards of Concklin: $9.50
$9.50 2 quarts strawberries at 4.50 each (yes, he overcharged me, but I didnít say anything)
Blooming Hill Farm: $16
$2.50 (per bunch) spring onions
$5 per pound sugar snap peas
Lynnhaven Goat Farm: $16
$6 pint of yogurt
$5 feta
$5 herb-rolled cheese
Dines Farm: $14
$7 spinach and mozzarella sausage
$7 garlic and sage sausage

The sausage is great because you throw it in the freezer and when you donít have anything else for dinner, you just put it straight from the freezer into the pan (or onto the grill). Pick some lettuce from the garden and youíve got supper.

I made strawberry ice cream last weekend. What should I make this weekend? And how should we use the spring onions?

I think the goat cheese raised our total significantly this week. But I think itís a fair price. Do you?
Comments
liz wrote:
lexapro wrote:
Add Comments