Jump to navigation
Recipe: Pimento Cheese Sandwiches
My grandmother Rosamond used to always have pimento cheese in her fridge in Victoria, Texas. She never made it herself, but the brand she bought was so creamy, spicy and gooey. I craved it always. On thin white bread. With the crusts cut off. When I moved north, I never had it. So when I came across a pimento pepper plant in the nursery this spring, I started dreaming of the day I would make pimento cheese. The day has come.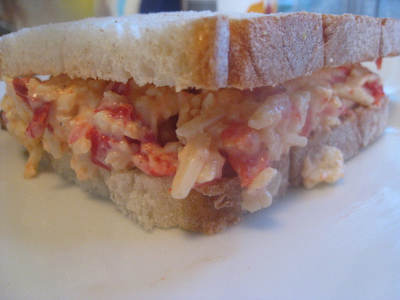 I got the recipe from Rachel Wharton, a food writer you might remember from such posts as Seder at Irene's, 2008. On Twitter — follow me at twitter.com/small_bites — she mentioned eating a bad pimento cheese in the South and said her recipe was better. So I asked for her recipe. Here's what she said, in 140 characters or less:

rachelwharton @small_bites pimento cheese: 1 block white Cracker Barrel VT cheddar; 1 jar pimentos; 2 clvs grated garlic; Hellman's, s+p, Tabasco to taste

And then she added:

rachelwharton@small_bites and sometimes I put the cheese and pimentos through a meat grinder instead of grating, or use Rick's Pick's Pepi-Pep Peps

Instead, I roasted the peppers from the garden. Put them on a sheet pan and broil, turning until they blister but don't burn through. Then put them in a plastic bag and steam them: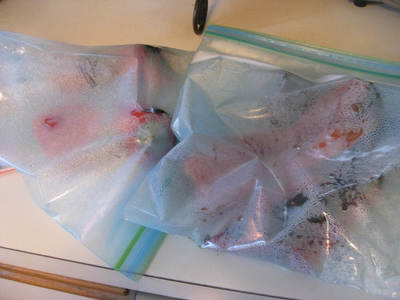 When they're cool enough to handle —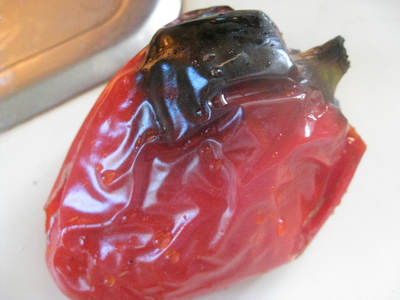 — pull the skin off: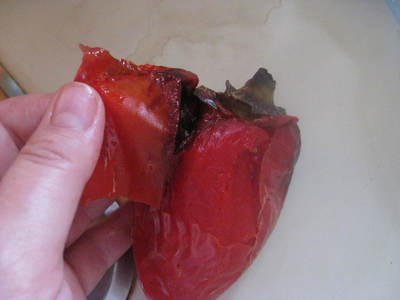 Then cut the ribs out and remove the seeds.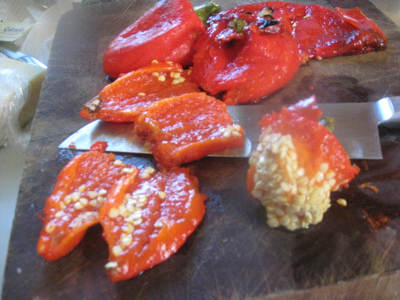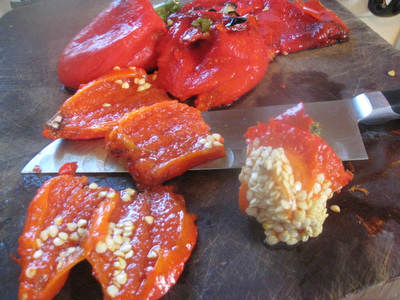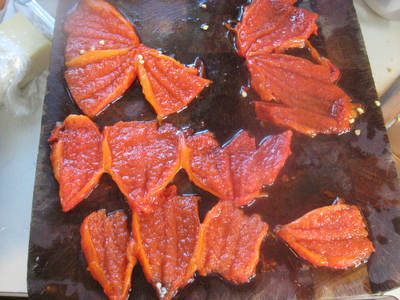 Chop into small dice: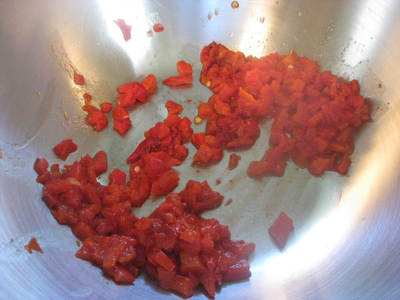 Then chop the garlic.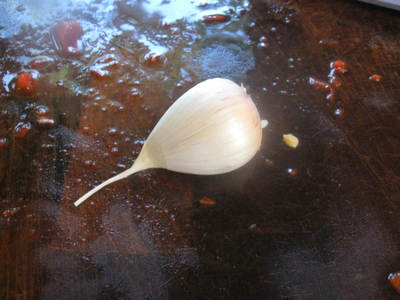 I went almost to a paste with it: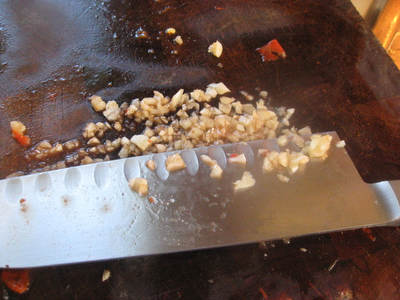 Now the cheese: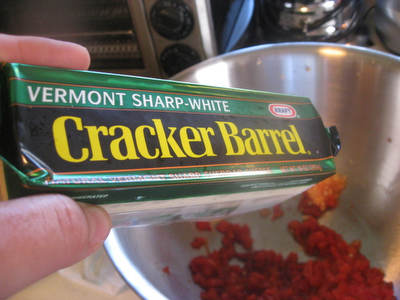 I couldn't find my box grater so I used the food processor: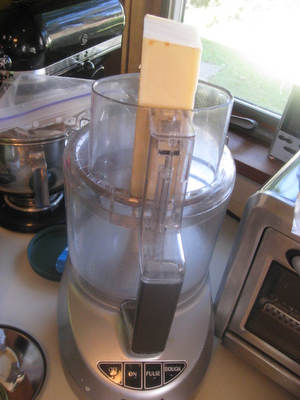 Then chopped it up more: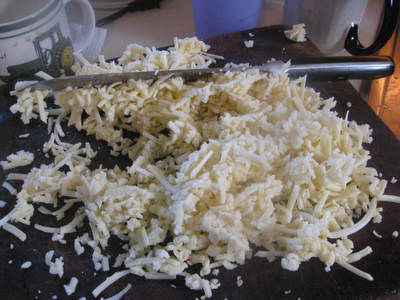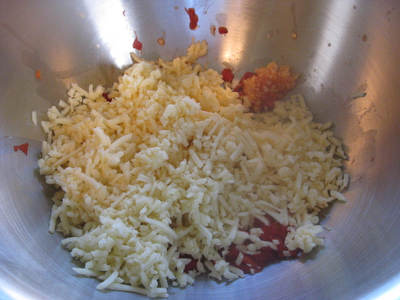 Add mayo: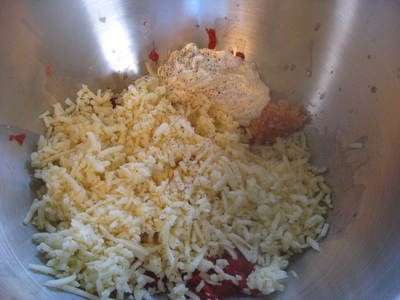 Stir.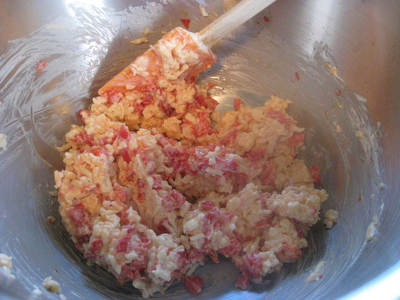 Taste and add hot sauce: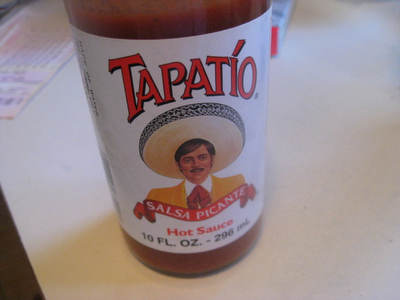 Spread on bread. This is Peasant Bread from Bread Alone: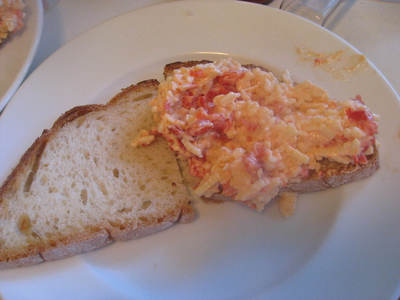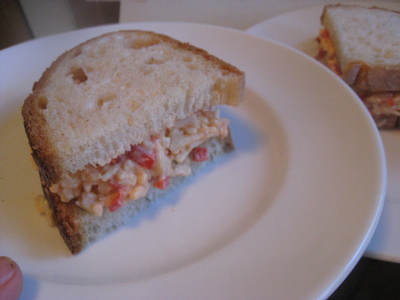 Mmm.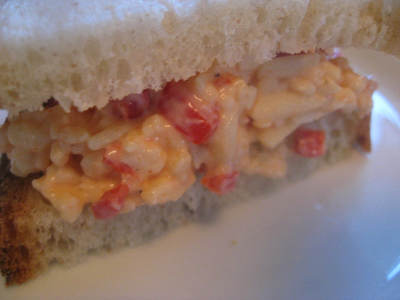 Thank you Rachel! Best sandwich I've had since I was 7. And it was better than I remember from my grandmother's fridge.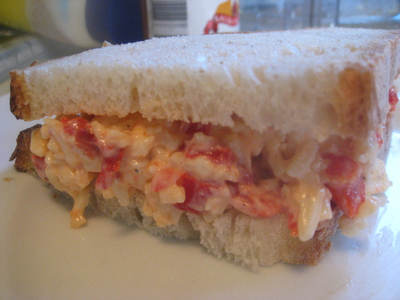 Comments
Add Comments