Jump to navigation
Many Plates at Plates
I stumbled onto a wonderful dinner last night. I meant to meet a friend for drinks and apps at
Plates,
a restaurant in Larchmont. But my friend knew the chef, and she told him we'd be coming. Suddenly, this was no longer a simple meal. That's OK: I'd always heard good things about the restaurant, and even featured the chef in the paper, but I'd never been. So it was a pleasure to find considerable talent and elegant flavors.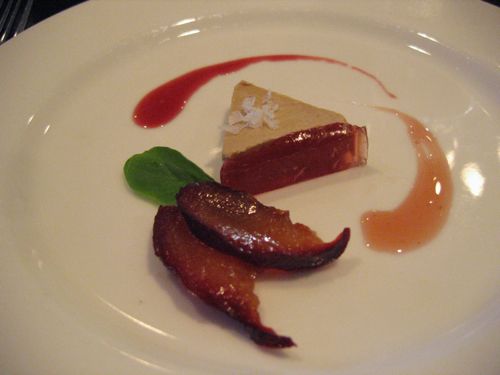 That was our third course: foie gras terrine with strawberry jam. So unctuous. As soon as the terrine melts on your tongue you get a tinglely wave of happiness, kind of like feeling a very gradual loss of gravity.
But I'm getting ahead of myself. We started with cocktails — especially since we thought we were meeting for drinks and apps. My friend had some sort of cactus flower martini, I think (I didn't taste it) and I ordered a Lynchburg lemonade (a bit sweet for me, but that's how people like 'em).

After our first course came out, I was glad I'd ordered a glass of muscadet in the meantime. We had a tuna sashimi with apple, rosemary, fennel, horseradish and ponzu sauce. It also had a "wasabi cloud" and a potato chip. A clean, crisp starter that woke your mouth up with a gentle nudge.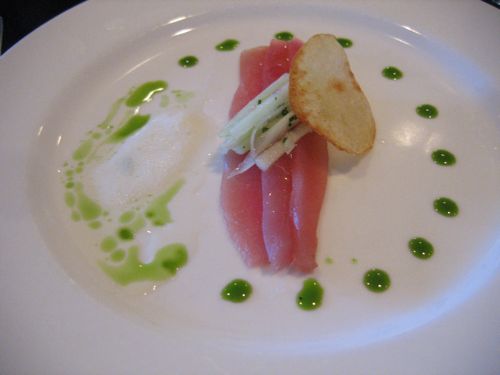 Next up: fried oyster over chive, daikon and Napa cabbage, with a Vietnamese-style migonette with garlic, mint, carrot and sesame. (Yes, I asked.) One for each of us.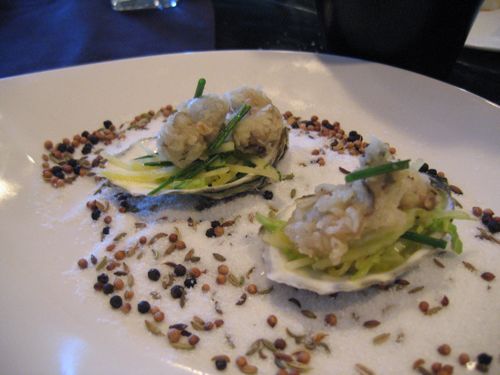 There was some sort of tropical flavor under the julienned vegetables the oy ster was nestled on, but we couldn't make out if it was mango or passionfruit. Didn't matter — it worked. I also love that the oyster were bite-sized. There's nothing I hate more than wrestling with a fried oyster so that when you bite into it, the juice runs over and ruins the texture of the breading. What was really cool about the flavor and texture here was the salt, fennel seeds and peppercorns on the plate. They stuck to the bottom of the oyster shell, so when you cupped it to your mouth you got a shower of salt on your tongue. Fun.

I'll break now to show you a couple photos from the restaurant. It's charming: A little white building next to a public park. It's got a light and airy feel — white wainscoting, black trim — but the atmosphere is still cozy and homey. There are personal touches throughout, like the old cookbooks stacked on the shelves the bathroom and a the collection of food-themed New Yorker cartoons in a flip photo album on the bar. I had always thought the theme of the restaurant — plates — was a little over the top: The owners, Matthew and Wendy Karp, collected plates from restaurants they ate in or he cooked in. I always imagined they'd be a little back-of-Reader's Digest-looking — like collector's plates, hanging on picture wire - but it isn't intrusive at all.

This here is the corner by the bar: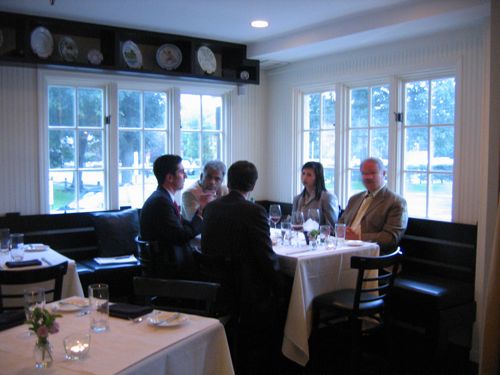 And the rest of the restaurant: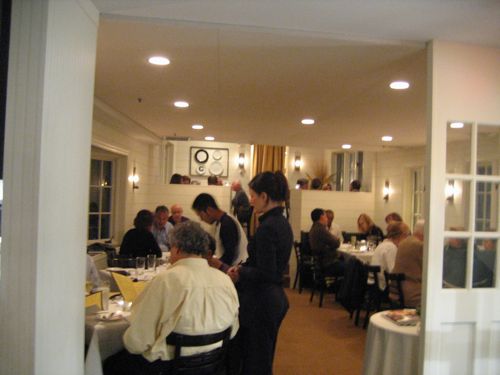 My one glass of muscadet lasted two courses.

We also got a sip of muscat with our foie, which I will show you now again, just because it was so damn good.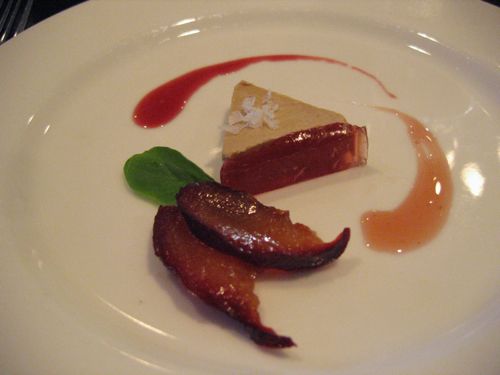 I'd wished I'd had just a sip of chardonnay to go along with the next course instead of the glass of Masi Campofiorin I ordered.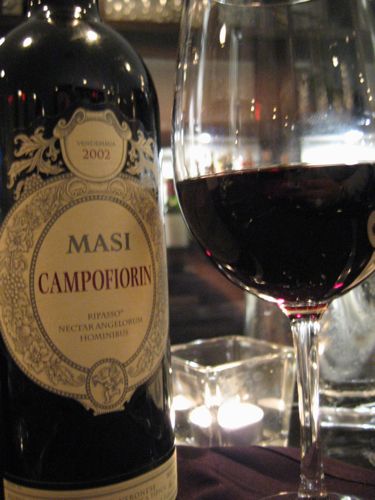 It was fine — but a little raisiny, especially for the next two courses, including the star of the night...

May I present:

Scallops with corn puree, fingerling potatoes, chorizo and jalapeno foam.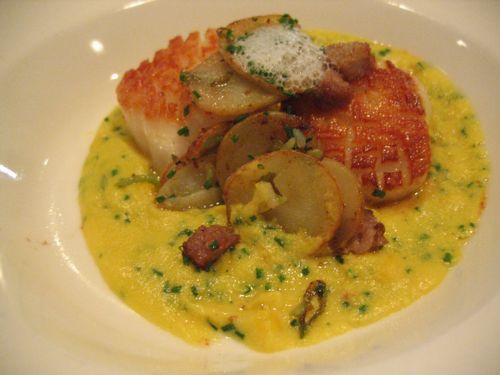 Oh. My. God.
One tiny spoonful of corn puree was like eating an entire bushel of sweet corn right in the field. And the chorizo was the perfect salt match to the sweet of the scallops. The jalapeno didn't taste spicy — it just brought all the components of the dish to the back of the throat.

After that showing, the next course was a little disappointing. Not because it wasn't well-made or delicious. (I especially admire the work that went in to the presentation. I mean: look at that zucchini! It looks like a French pastry!) But after the wow-factor of the scallop dish, the black sea bass and the shrimp risotto were too subtle. It needed some zing.
If the order had been reversed (or even if the bass came before the foie), I think we wouldn't have felt that way. But it is a lovely, light dish for a hot summer night. When it's 95 and your air conditioning is broken and you can't possibly bear to cook, come here and eat this: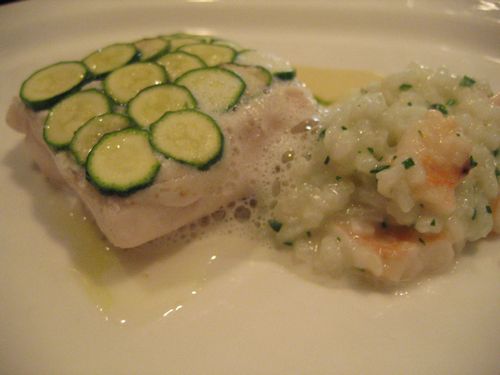 Yes, we were getting full by now. The chef came out and said his staff was mad that he forgot to send out a course, and would we possibly have room? We had to say no, and we didn't want to ask what it was, for fear it'd change our minds. But we did get one last dish.

Hazelnut- and olive-crusted lamb served over latkes with red pepper sauce and basil sauce. Those are shiitake mushrooms on top and eggplant puree off to the side.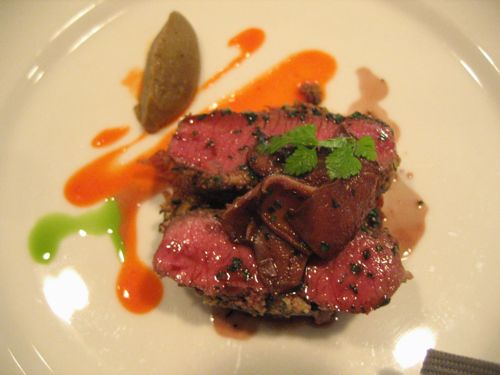 The tapenade crust was a real high point, even though my taste buds were waning by this point. The lamb, which had enough flavor without being gamy, was cooked just right.

When I interviewed the chef a while back, I asked him to tell me the one dish that most exemplified his cooking. He chose the doughnut, because he said it's what he likes to do: Take dishes from his childhood and elevate them without getting too fancy about it. So even though we were filled to the gills, when the bartender insisted we have dessert, I couldn't resist the doughnut, which was inspired Schultz Cider Mill, an orchard in Armonk that we lost to a development a few years ago: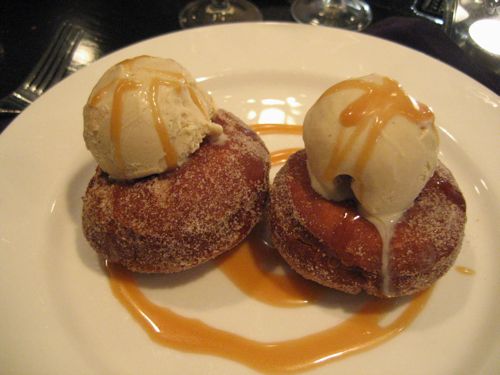 The outside was crunchy and the inside was flaky - just like a doughnut should be, except of course, with cinnamon ice cream and caramel sauce. And I love the presentation. Subtle, but very funny.


Comments
Add Comments