Jump to navigation
Recipe: David Tanis' Apple Tart
It's fall and Greg keeps buying apples. This easy recipe for a beautiful tart — from
David Tanis' "A Platter of Figs"
— was a great way to use them. I love the recipe for two reasons. One, it looks so fancy but it's actually really easy to make. And also because the pastry is easy to remember with a ratio: 2-2 and 1/2. Two cups of flour, two sticks of butter and a half a cup of egg-water. Just crack the egg into a measuring cup, stir, and fill the rest with water. He says the pastry is good for just about anything: savory or sweet. I believe him.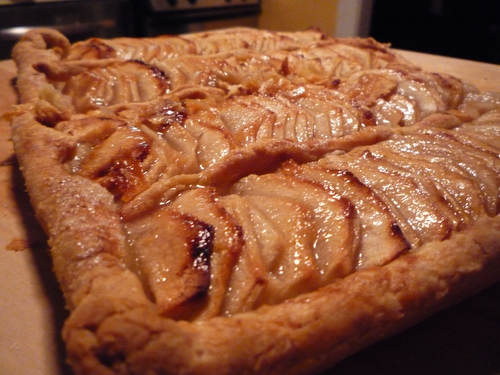 Two cups of flour.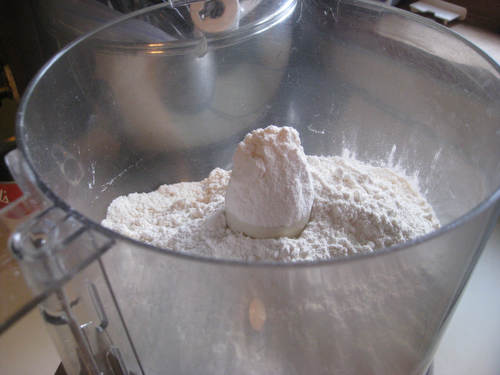 Two sticks of butter.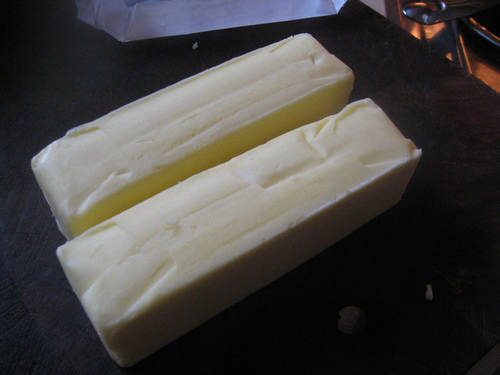 I sliced them into thin pieces before putting them in the food processor. (David tells you to cut the butter in by hand. I don't feel like doing that.)

Pulse until you see pea-sized flecks, then add the egg-water.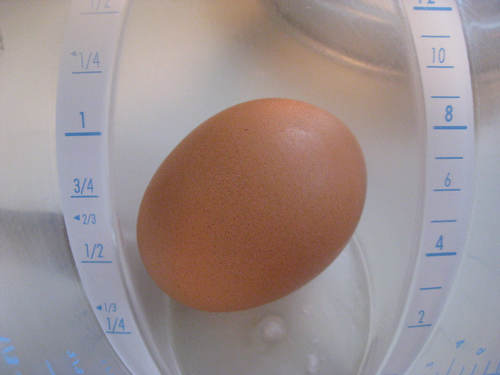 Do the dump-out: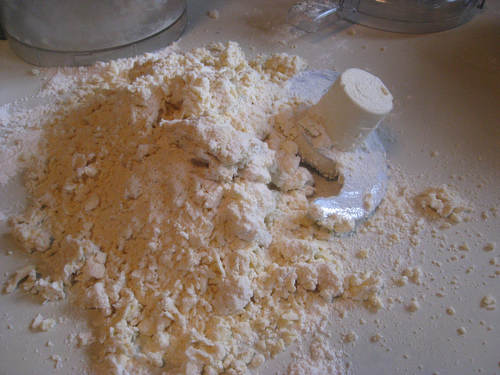 Gather quickly and knead to bring it together. A tip I once heard: pretend like the dough is hot enough to burn you. You don't want to touch it much.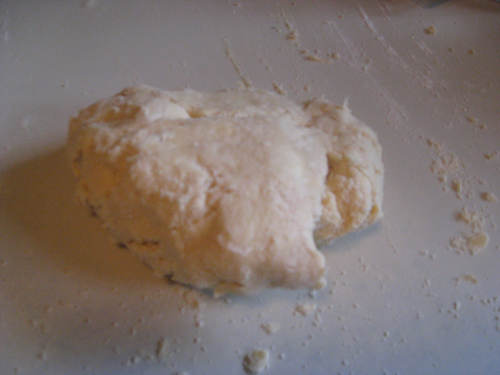 The dough is stickier than most. That's OK. Shape into a rectangle and cut in half. Freeze one if you like.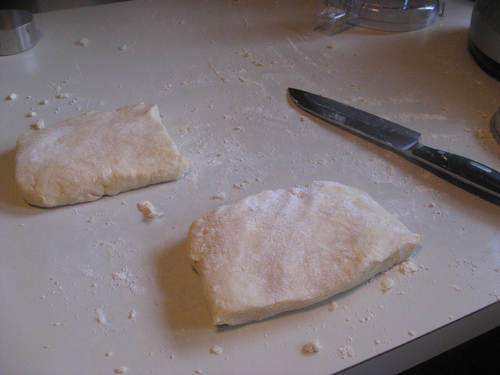 Refrigerate the dough for at least an hour. Then roll it out into a rectangle. This is a baking sheet that's about 11 by 9. This recipe will be a little too small for a regular cookie sheet.

Peel and core 3 pounds of apples. About 8 medium, he says. (We used 6.) These are honeycrisp. Cut the apples into quarters and slice them thin. It helps if you keep the quarters together because you want to stand the apple slices almost vertically on the dough.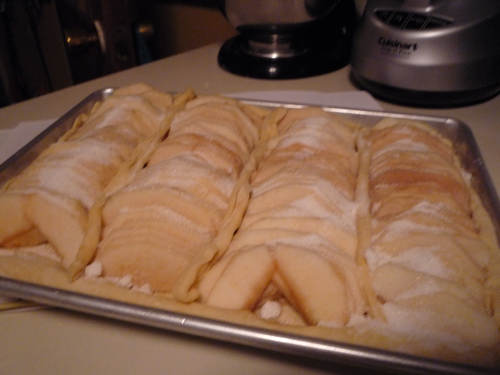 To make a glaze, you're supposed to save the cores and cook them with 1 cup water and 1 cup sugar to make a glaze. The hunna forgot to save them so we cut up a few apples that were on their way south and cooked them with the sugar water.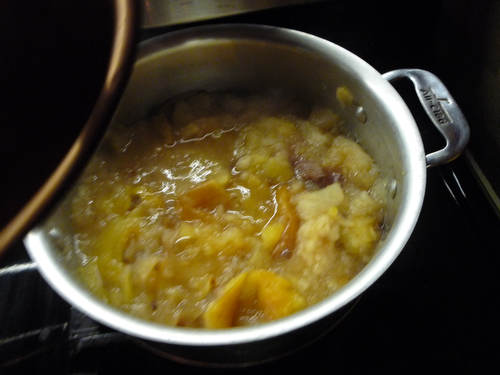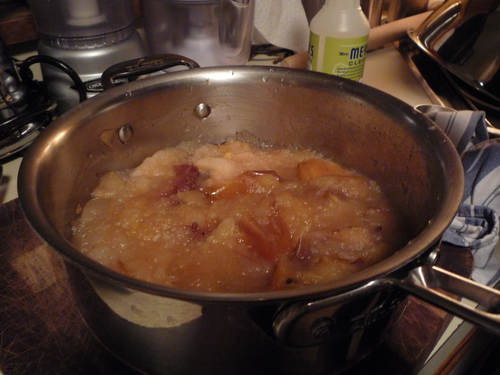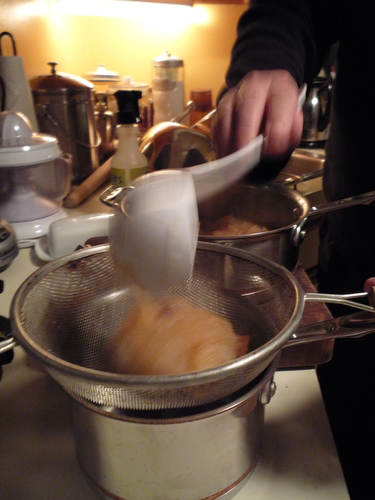 You don't have to do this. You can just put some apricot jam or some honey in the microwave for about 15 seconds.

Sprinkle the apples with about 1/4 cup sugar: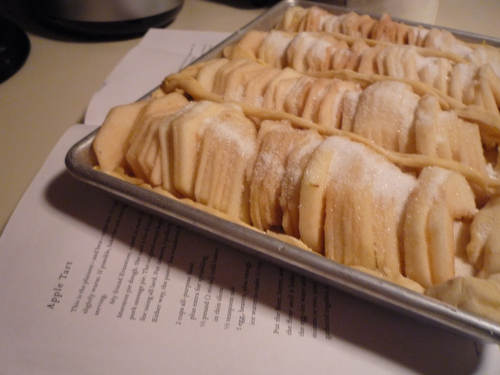 Bake at 375 for about 45 minutes until the crust is cooked and the apples are golden brown.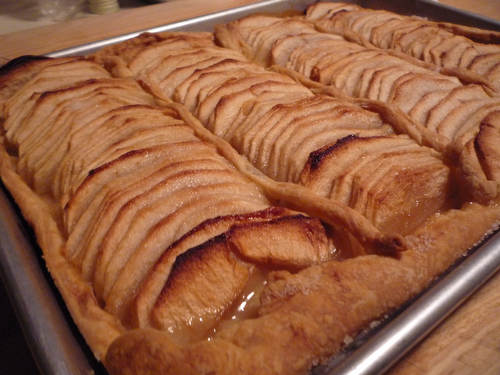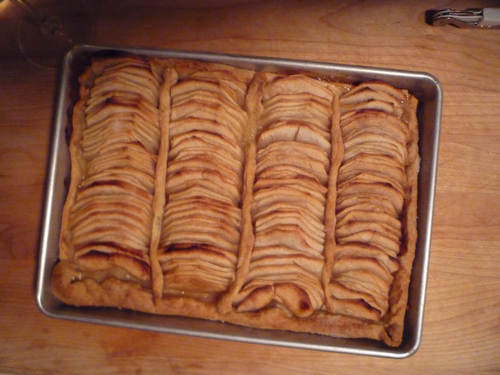 Brush with the glaze.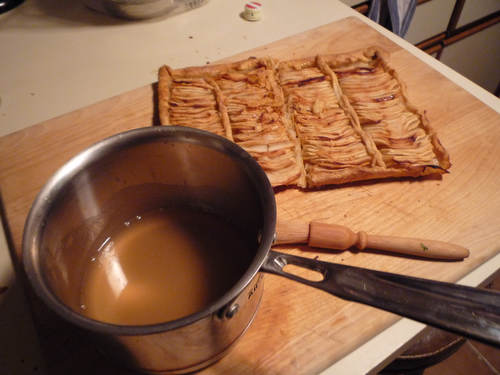 Delicious.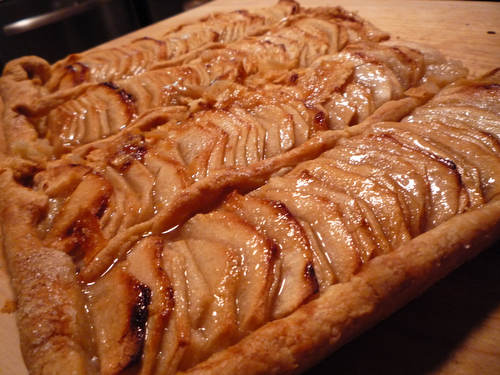 Apple Tart
Adapted from David Tanis' "A Platter of Figs"
David Tanis writes that he got this recipe from his friend Ernestine, who was raised in rural Idaho. She called the dough "Mormon pie dough," and used it for fruit pies and for a memorable sauerkraut and pork sausage pie. The original recipe began "First stir up an egg…," and it calls for using all lard. For desserts, David (and I) prefer butter. For a savory pie, he uses lard. (It would depend for me what's in the filling.) His original recipe calls for mixing the butter in by hand. I prefer to use the food processor.

2 cups all-purpose flour, plus extra for sprinkling
2 sticks (1/2 pound) cold butter, in thin slices
1/2 teaspoon salt
1 egg, beaten, plus enough ice water to make 1/2 cup
6 to 8 medium crisp apples, about 3 pounds
1 cup sugar for the glaze, plus extra for sprinkling on the apples
1 cup water

Slice the butter into very thin slivers. Put it back in the refrigerator.
Put the flour and salt in the bowl of a processor. Pulse once to mix. Add the butter and pulse 5 or 6 times to bring the dough slightly together, until it looks mealy and there are large flecks of butter still remaining. Pour the egg-water mixture into the bowl and pulse a few more times.

Dump the dough out onto a floured surface. It will be crumbly but wet. Quickly — as if the dough is too hot — knead it a few times to bring it together. It will be soft and sticky.

Sprinkle the dough with a little flour and pat into a rectangle about 1 inch thick. Wrap and refrigerate for at least an hour, or overnight.

Divide the pastry in half (there will be enough for two tarts, you can freeze one for later). Roll out the pastry into a rectangle, an inch or two wider and longer than your baking sheet. (Mine was 13 by 9 1/2).

By rolling the first quarter of the dough onto a rolling pin, carefully lift the dough from the surface and transfer it to the baking sheet. Let it relax, then trim the edges to fit the pan with a little going up slightly on the sides. Cover with plastic wrap and refrigerate.

Peel the apples and cut into quarters. (It's OK if they turn brown.)

Remove the cores and use to make a glaze as follows: Combine the 1 cup sugar and 1 cup water with the cores. Stir at first to dissolve the sugar, then simmer to a thick syrup. Strain and reserve. (Or use honey or a good apricot jam, heated and thinned for a glaze.)

Slice the apples as thin as possible and try to keep the quarters together as it makes filling the tart easier. Arrange the apple slices in 4 or 5 rows, overlapping them like cards in solitare. Try to keep them standing pretty upright. At this point the tart can be covered with plastic wrap and refrigerated for up to 8 hours. (Then the apples will really darken. That's OK too.)

Preheat the oven to 375. Sprinkle the sugar generously over the apples (I used about 1/4 cup) and bake until they are beautifully browned and the pastry is crisp, about 45 minutes. Cool on a rack.

Just before serving, reheat the glaze. Slide the tart from the pan (I used a really big spatula) onto a cutting board. Paint the apples with the warmed glaze. Slice into small rectangles to serve.

Makes 8 to 10 servings.
Comments
Add Comments