Jump to navigation
Catching Up Over a Great Meal at Oceana
It's because of Oceana and other restaurants owned by the Livanos family, such as Cafe Meze and City LImits Diner, that, way back when, I first met my friend Stephanie. At the time, she was doing the restaurant's PR. We hadn't see each other in eons, so when we wanted to catch up, we decided: what better place than the new Oceana? It recently moved into a much bigger — and much grander — space. The sausage-stuffed calamari was excellent.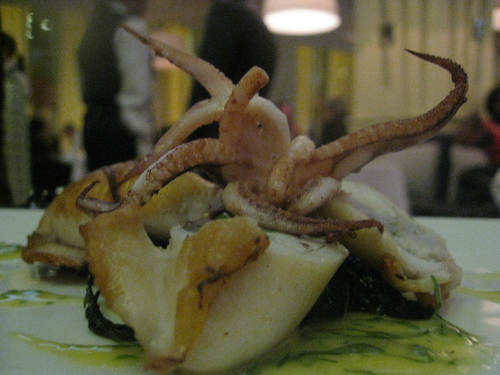 You walk in and are greeted with a small lounge and three blackboards listings oysters and other specials.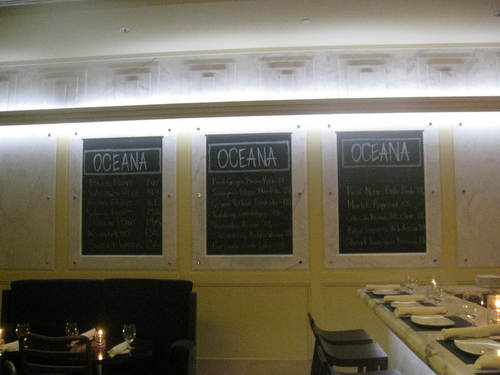 There's a marble raw bar —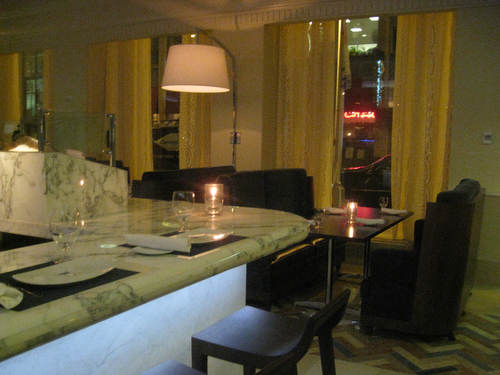 — with a beautiful display of fish:




Moving in to the restaurant, you step down a level to the bar: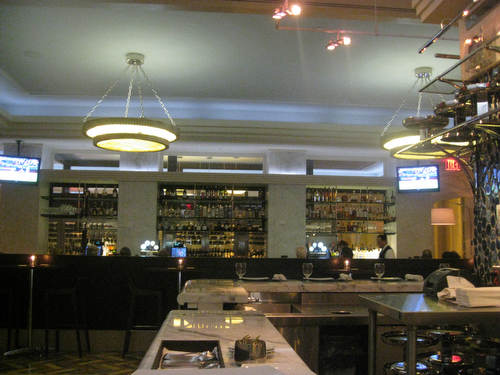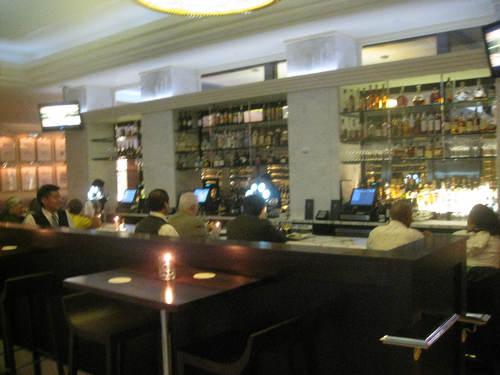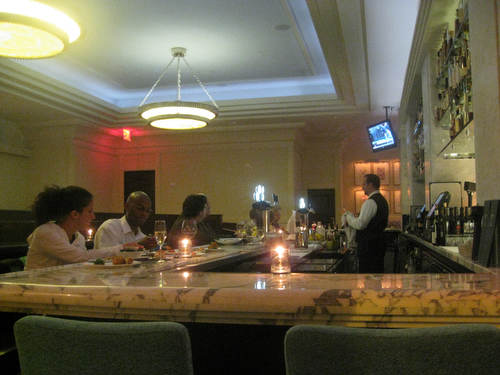 The dining room is cavernous and opulent.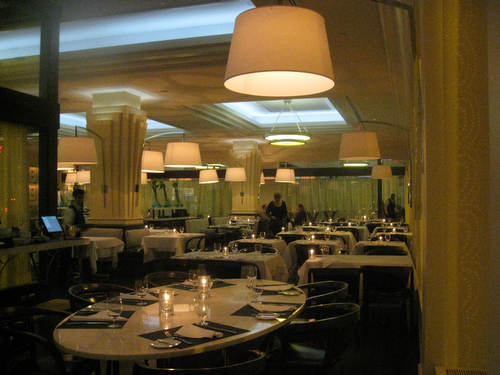 There's a lot of space between the tables: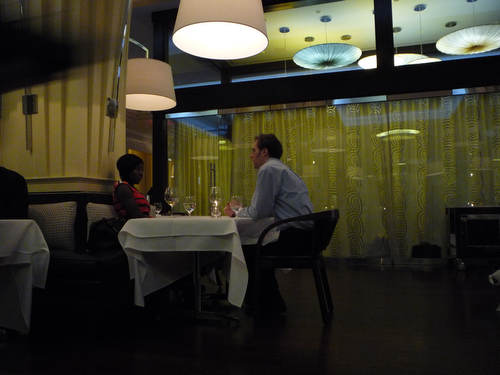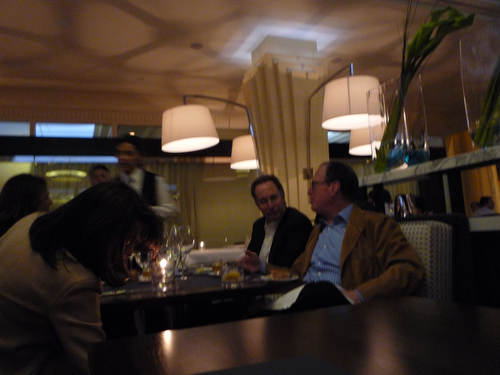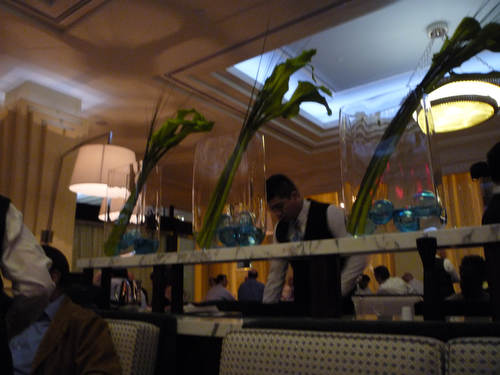 We started with an amuse of lobster bisque: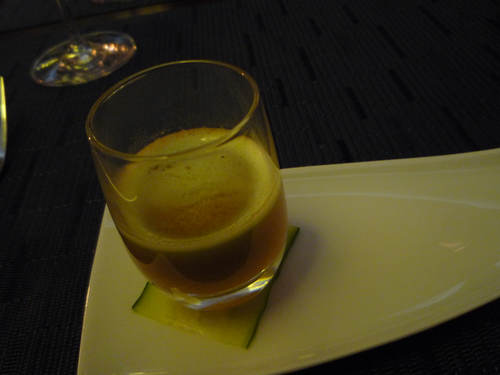 Here is the poke trio. It's tuna, hamachi and salmon tartare, done in the Hawaiian style of poke, which is like a tartare but with soy sauce and other seasonings: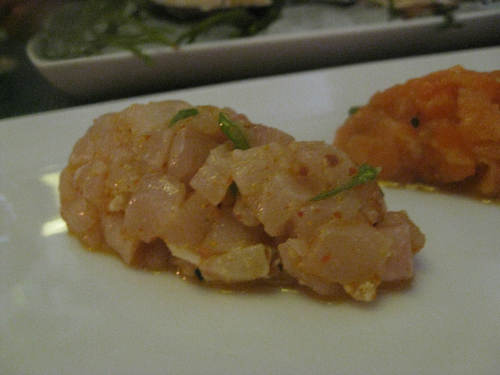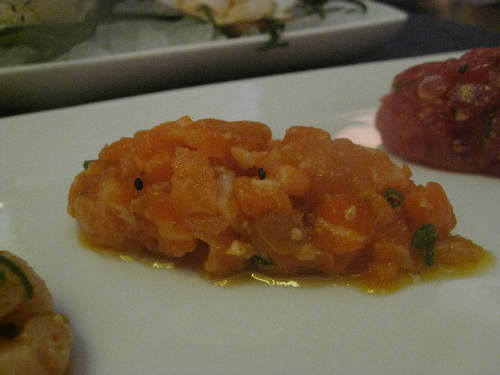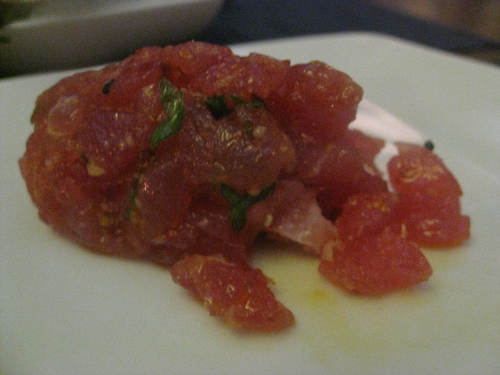 Light and elegant with a little kick.

The scallop sashimi with shoyu and togarashi might have been my favorite dish all night.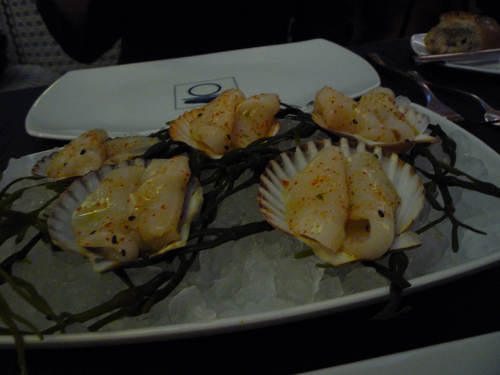 Ethereal.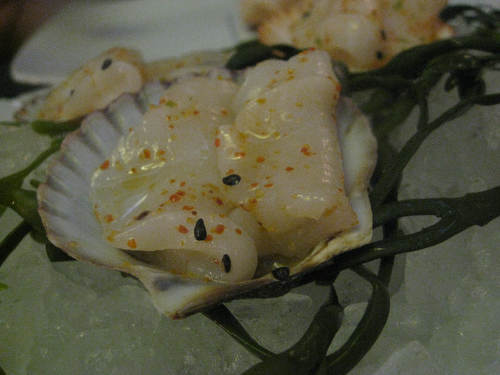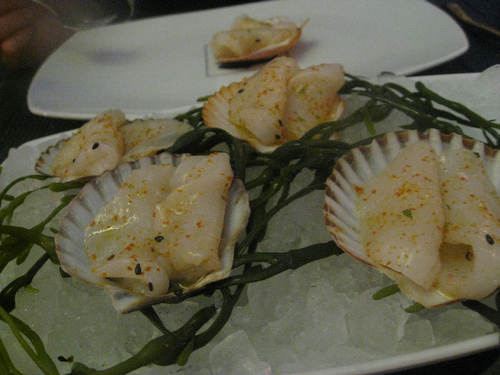 This beautiful little number is the fluke tatare with cashews, mango and coconut: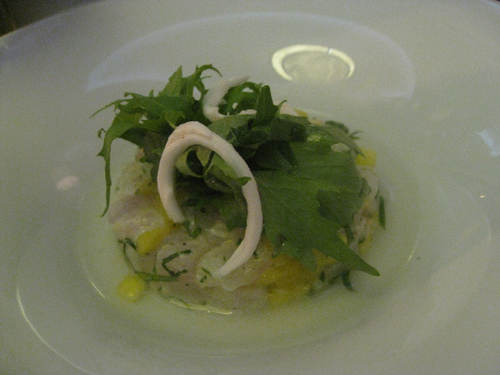 Also stunning.

Seafood-sausage stuffed calamari: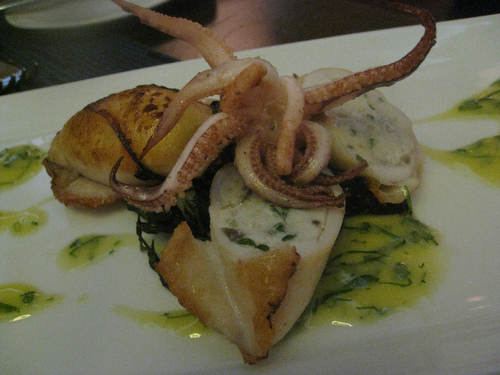 Terrific.

Then entrees. There are two kinds, the "composed" entrees and the "simply prepared" ones.

The halibut saltimbocca with proscuitto, tomato confit and ricotta is "composed."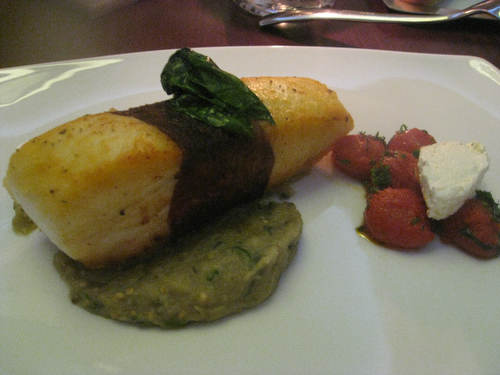 This grilled Hawiian opah is "simply prepared."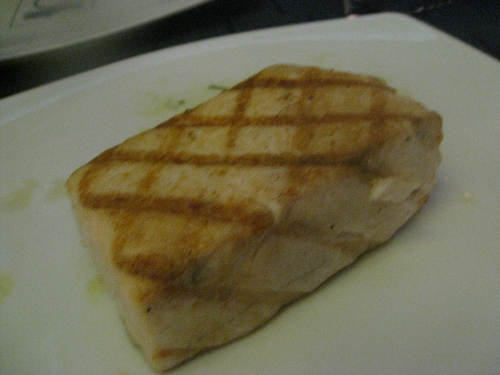 It came with two sauces. One is this tomatillo-based one —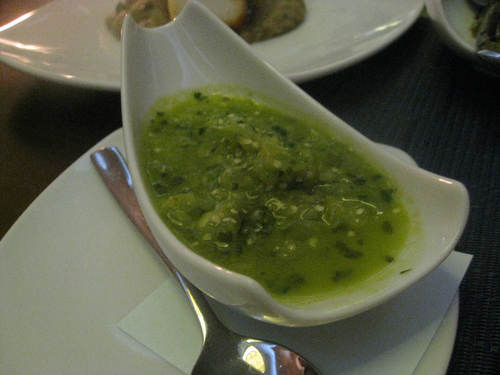 — and the other was a romanesco that was out of this world. I forgot to take a photo of it, though.

Like at a steakhouse, we got a couple of sides with the "simply prepared" fish.

Brussels sprouts: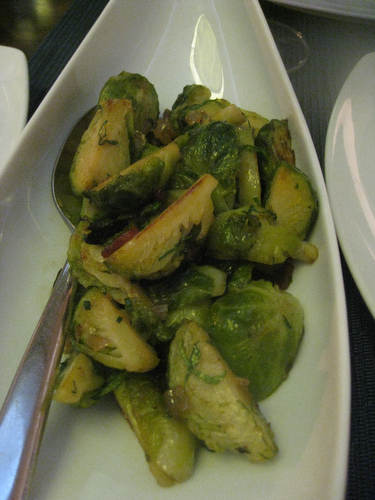 And risotto with apple: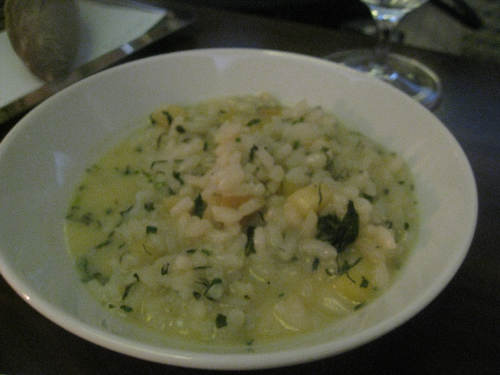 I liked the opah with romesco best.

Dessert is seriously great.

Each of these is a different doughnut, made with a different flour or yeast and flavored or stuffed with different sweets.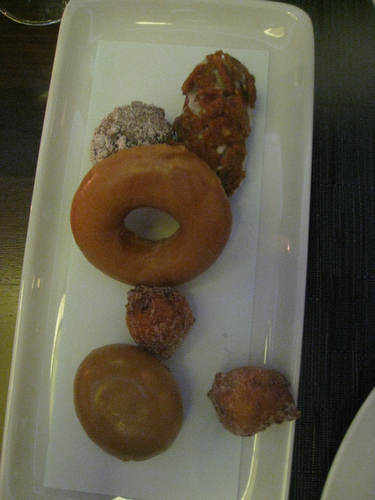 Yeast: Earl Grey Tea Glazed; Cake: Pumpkin Spiced; Filled: Salty Caramel Custard; Fritter: Sour Green Apple; Hole: Chocolate Cocoa Nb.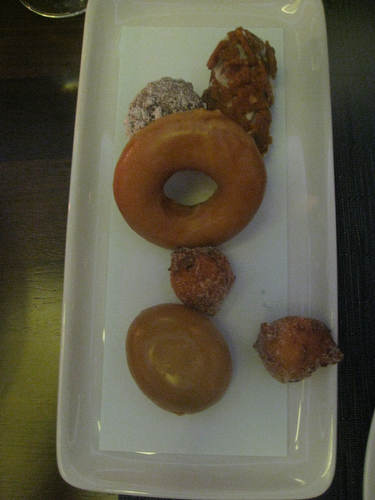 Frozen Pear Chibouts with Yogurt Lemongrass Soup and Angel Food Cake Croutons: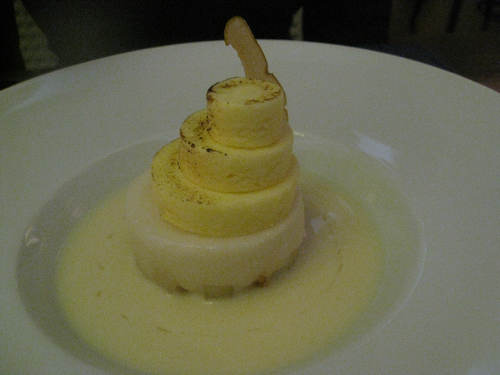 Kadota Fig Almon Tart with Black Pepper Mascarpone Cream and Black Mission Fig Sorbet: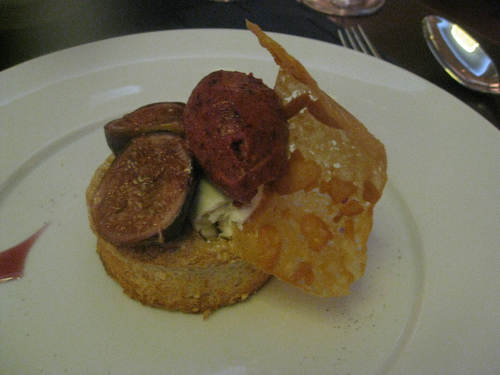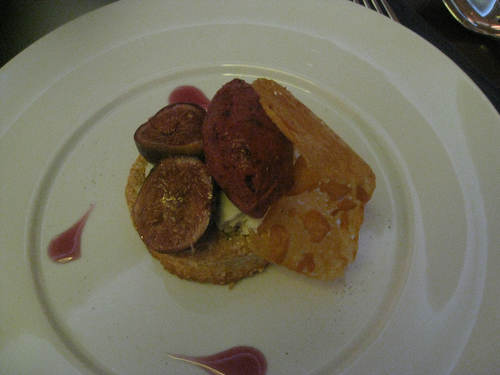 What a great meal. And so nice to Stephanie again after all this time: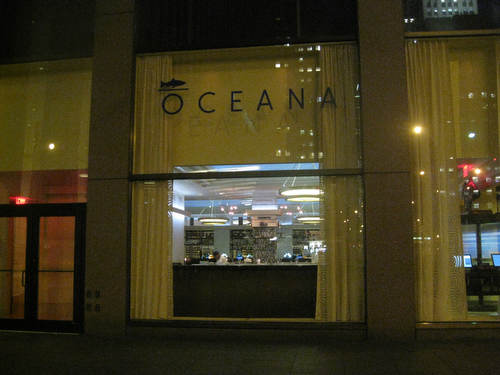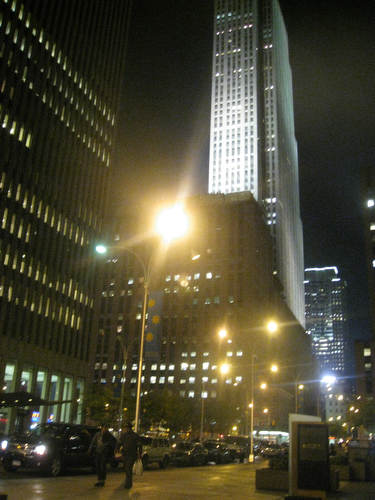 Comments
Add Comments