Jump to navigation
Fried Chicken Dinner at Momofuku Noodle Bar
Fried chicken has become quite the sport in the New York City restaurant world of late. And as the king of all things new and trendy, David Chang, the chef-owner of the many
Momofukus,
is right there leading the way. At his Momofuku Noodle Bar, we tore into a big plate — 2 1/2 chickens — with all the accoutrements, lettuce wraps, crepes, vegetables and four dipping sauces.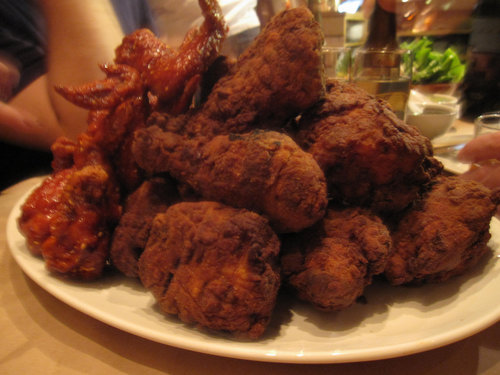 Here's the deal with the Fried Chicken Dinner at Momofuku: There are only a few reservations each day, and you can only get them online. Normally they're snapped up fast, but I found if you go to the website just before 10 a.m. Saturdays, it's a little easier. I couldn't get the early seatings — 530 and 6 p.m. — but snagged the first late one: 10 p.m.

We started with one of the most delicious things on the planet: Pork Buns: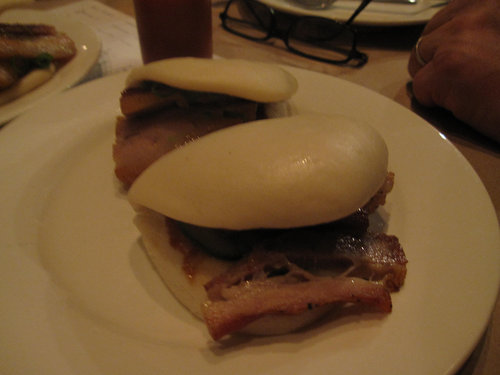 Pork belly. Pickles. Soft bun. Hoisin.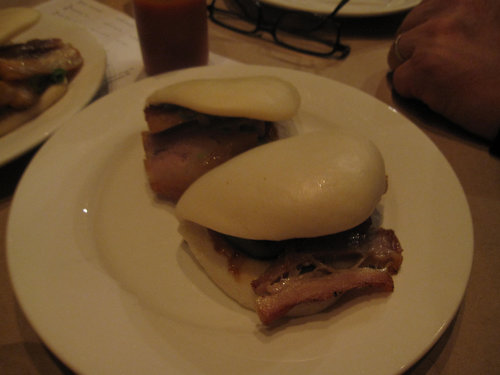 Irene says yes to pork buns.

Our waiter Miguel Ochocinco — seen here on Esquire's trip to Fried Chicken Dinner (yes, that's how I know his name) — was funny, super friendly and very professional. Here, Dave and Greg consider their beverage order: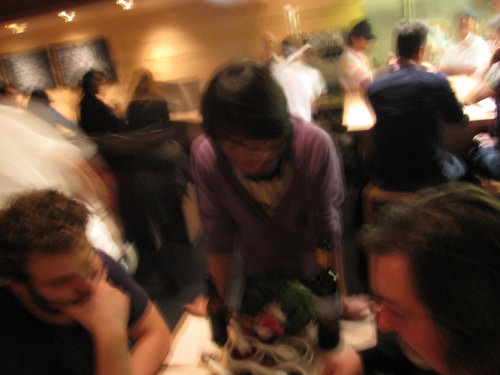 The dipping sauces for the chicken arrive.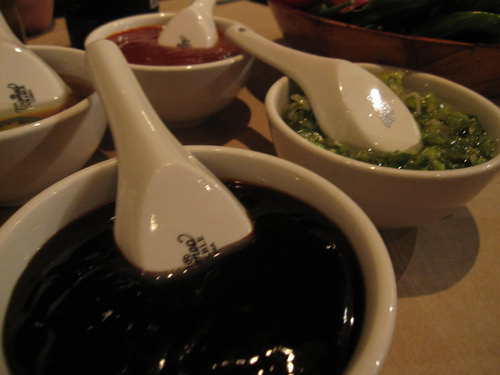 Soy-garlic jalapeno, hoisin, bibim sauce, and soy-ginger scallion.

Chicken accoutrements: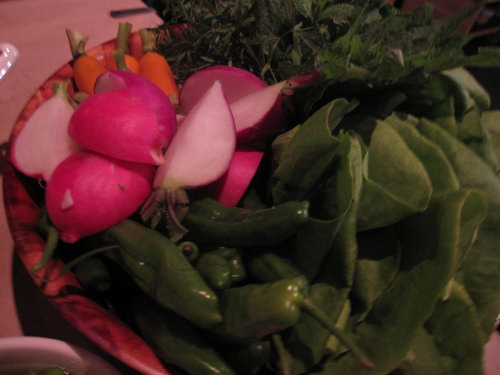 Mu shu pancakes come with it, too.

Here's our friend Dave: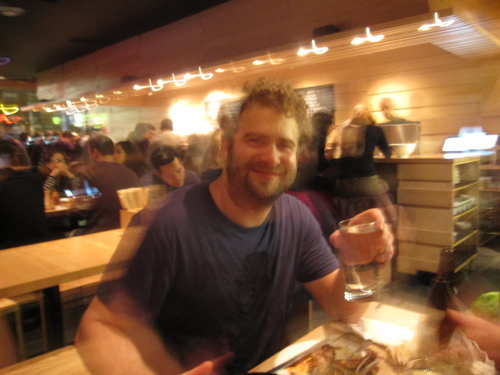 OK folks. Chicken time.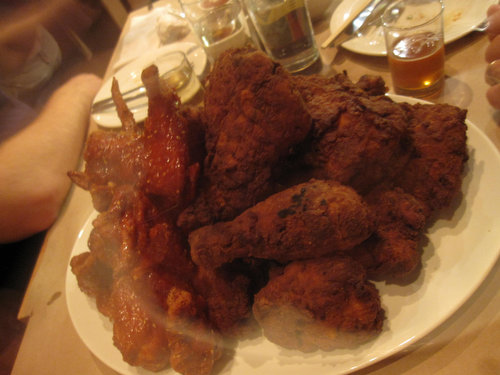 It's 2 1/2 chickens, half Korean-style, which means with a chili paste sauce and sesame seeds, and the other half American-style. There's definitey some Old Bay in that American one, with a nice dose of celery seed. I liked the Korean-style better.

The feast: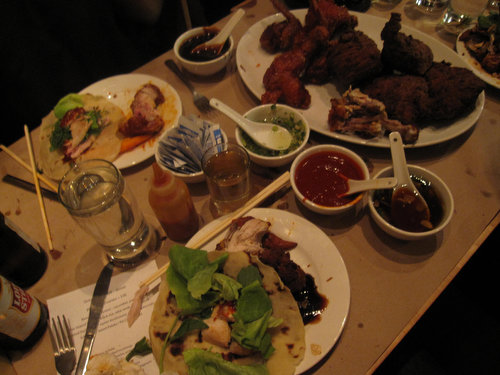 As you can see, you can make different combinations of chicken wraps, or just eat the chicken straight up. I ended up really liking chicken in butter lettuce with radishes, carrots, jalapenos and the green sauce.

More FP: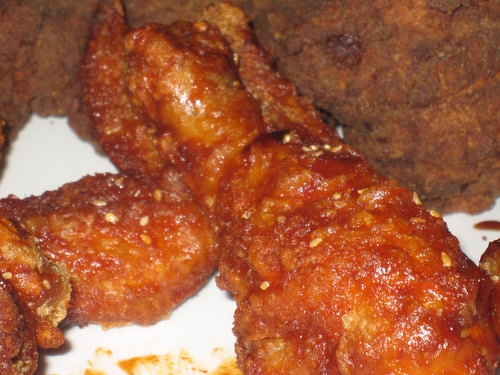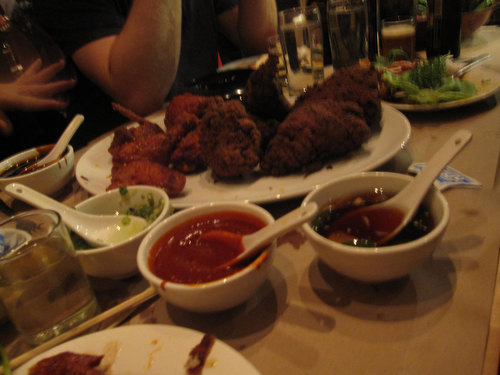 Guess what beer they had?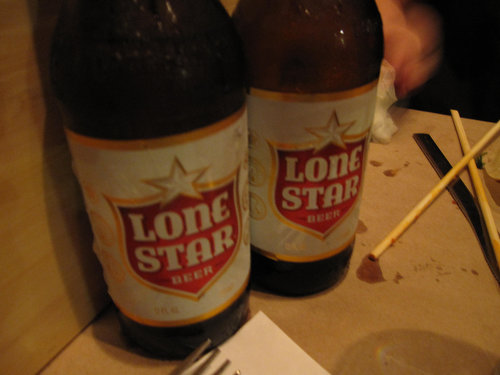 The Fried Chicken Dinner was a lot of fun — and very, very filling. You could take 8 people no problem. Yes, even on 2 1/2 chickens. Get your self a pork bun or two and you'll be just fine.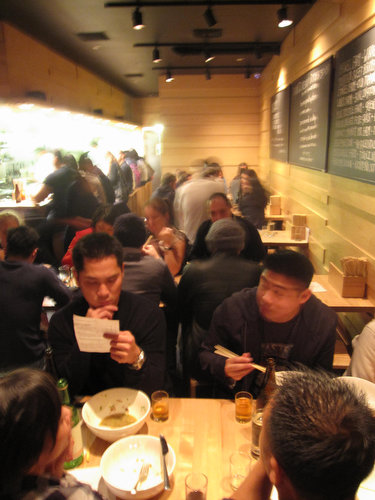 We were the only ones eating the chicken dinner and everyone at other tables was staring at us, asking if it was good — if it was worth it.

That's a big yes. When are we going again?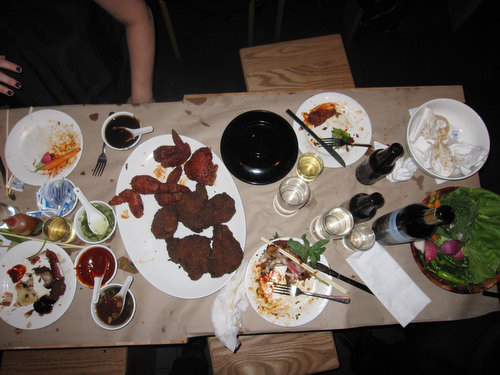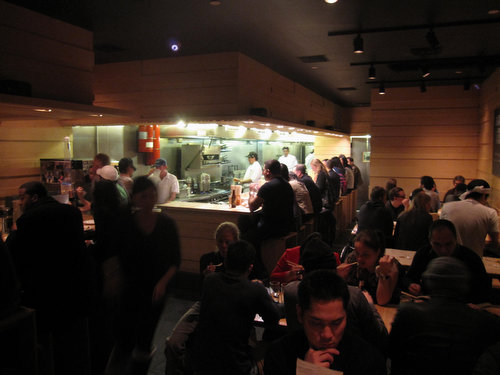 Comments
Add Comments