Jump to navigation
Brining: Do It and Youíll Always Have Delicious Chicken
We grilled two chickens on Sunday night. We never fail at making them delicious because of one reason: brining. You can do the same.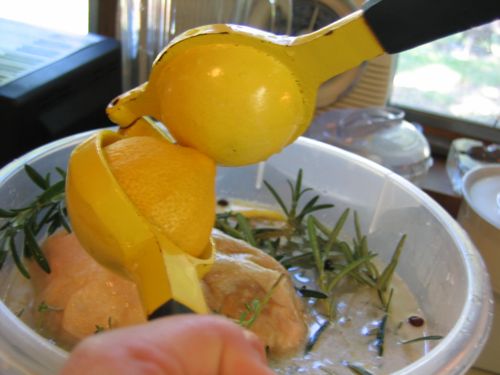 The brining recipe was one of the first posted on sourcherryfarm.com. It has been a trusted old friend, so Iíll give it another boost.

I gave the beginning measure as 2 quarts because that is the size of my biggest measuring cup. (Itís a measuring pitcher, really...)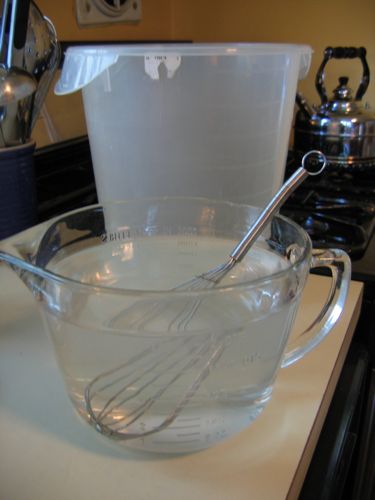 What I do first is measure the 2/3 cup salt and 1/3 cup sugar into the bottom of the dry pitcher.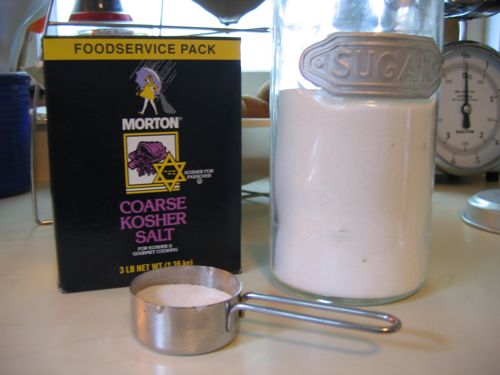 Then I get out my whisk, put the pitcher in the sink, and turn the water on to fill the pitcher. As itís filling, I whisk. That way it gets double the amont of agitation, and makes the salt and sugar dissolve quickly. (Many recipes say for you to heat the water to dissolve the salt and sugar. Then you have to let it cool before you can pour it over your chicken ó else itíll cook it. I donít have time for that crap.)

After youíve made your salt-sugar-water mixture, you can add any other liquid flavorings to the water. Today, I zested some lemon rind into it, and then squeezed the juice.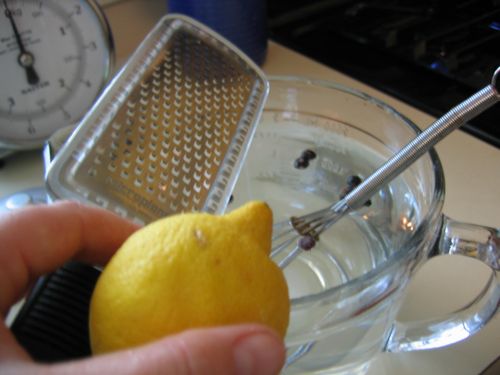 I also added juniper berries to the brine, and rosemary and thyme from the garden, but in layers.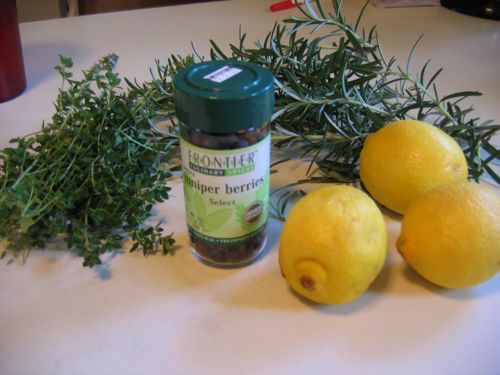 I put half the herbs down in the bottom of the brining bucket, then put the chicken on top of them.




(Did you see how the chicken was frozen? Federal guidelines might not agree, but I find itís a good way to defrost the chicken and keep the brine cold at the same time. By supper, the chickens are defrosted and brined.)

Then I added the other chicken, then I filled the bucket with the brine. I put the other half of the herbs on top, and squeezed a bit more lemon juice on top.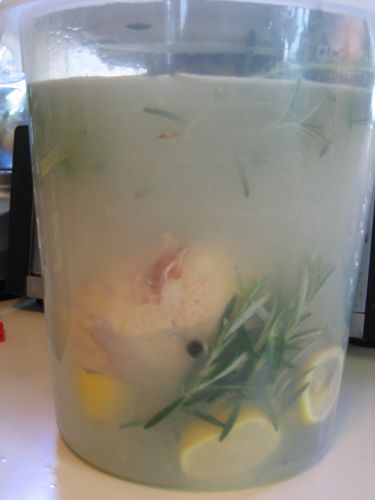 Weight with a plate, cover and wait. You will have truly delicious chicken. Every single time.


Brine for chicken, pork, turkey or whatever
This always works and is flexible enough to allow for innovation.

2 quarts water
2/3 cup kosher salt
1/3 cup sugar
herbs or whatever else to your pleasure.

Add lime or lemon juice or whatever herbs from the garden that seem appropriate, like tarragon, rosemary, sage, thyme. Suit yourself. Marinate chicken for 4 to 8 hours. But pork, we've found, can get oversalty if left in the brine more than, say, 2 to 4 hours. Chicken left 24 hours will also be oversalty.

Comments
liz wrote:
Add Comments