Jump to navigation
Fried (or Roasted) Brussels Sprouts with Fish Sauce Vinaigrette
This recipes comes from the
Momofuku cookbook,
which originally calls for cauliflower. Iím sure that would be just as delicious. David Chang and Peter Meehan call for doing everything a la minute ó or at the last minute. I prefer to have things ready to go when entertaining at home, so I toasted the rice, set it aside to cool, then heated the oil in the same pan to fry the cilantro leaves. I left those on paper towels to drain and stay crisp while the sprouts roasted in the oven. One pan. Fewer dishes. Just as delicious.
Here is another version of the recipe from Epicurious.com.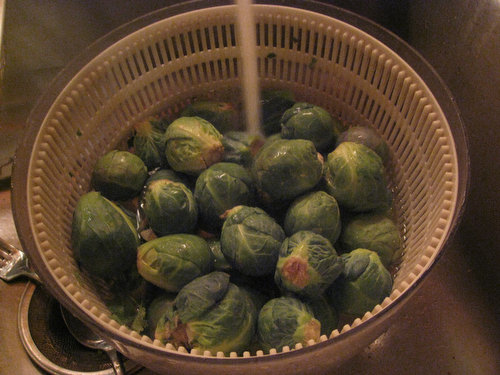 For the Fish Sauce Vinaigrette
You can use this to brighten up any dish, really.
1/2 cup fish sauce
1/4 cup water
2 tablespoons rice wine vinegar
Juice of 1 lime
1/4 cup sugar
1 garlic clove, minced
1 to 3 red birdís-eye chilies, thinly sliced, seeds intact (or use red pepper chili flakes)

Combine the fish sauce, water, vinegar, lime juice, sugar, garlic and chilies in a jar. This vinaigrette will keep for up to a week in the refrigerator.

For the Brussels dish:

Fish Sauce Vinaigrette
2 tablespoons very thinly sliced cilantro stems, plus 1/2 cup cilantro laves
3 tablespoons chopped mint
Grapeseed or other neutral oil, as needed
2 pounds Brussel sprouts
1/2 cup puffed rice tossed with 1/2 teaspoon grapeseed oil and 1/2 teaspoon shichimi togarashi

Combine the vinaigrette, cilantro stems and mint in a bowl and set aside.

Trim the hard, discolored or loose leaves from the outside of the Brussels sprouts and cut them in half.

To fry the Brussels sprouts:
Heat 1 1/2 inches of oil in a wide skillet over medium high heat until a thermometer registers 375. Line a plate with paper towels. Fry the sprouts in batches that donít crowd the pan for 4 to 5 minutes each, until they are golden and dotted with spots of brown. Drain on paper towels.

To roast the Brussels sprouts:
Heat the oven to 400 degrees. In a half sheet pan, toss the Brussels sprouts with grapeseed oil and salt. Roast for about 20 minutes until the cut faces are brown and the sprouts and tender but not soft.

Fry the cilantro leaves. If you fried the sprouts, you are all set up. Make sure the leaves are dry and fry them by the handful, droppig them into the 375 degree oil and agitating them with a slotted spoon or spider so they donít clump together. Give them 5 to 10 seconds to crisp, then drain on paper towels. If you roasted the sprouts, heat about 1 cup of oil in a small saute pan or skillet ó the oil should be about 1/2 inch deep ó over medium high heat until a thermometer registers 375 degrees. Fry, stir and drain the leaves as directed.

Toast puffed rice: Heat a small skillet over medium high heat for 1 minute or so, until itís hot, and then add the puffed rice. Toast, stirring occasionally, until itís aromatic and perhaps a shade darker than it was when you added it to the pan. Remove the pan from the heat.

Divide the sprouts among four bowls, or serve them in one big bowl, top with the dressing and toss once or twice to coat. Sprinkle with fried cliantro and puffed rice all over, and serve.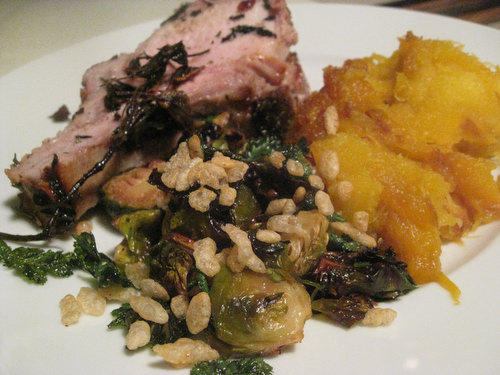 If you want to cook caulflower instead, the frying instructions are the same. To roast, you might need to spread the florets out over two sheet pans. You donít want to crowd them or else they steam rather than roast.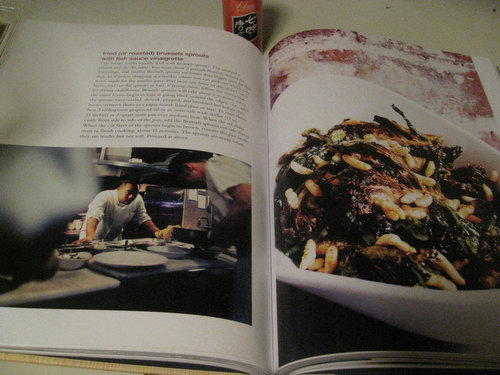 Comments
Add Comments