Jump to navigation
Peter Kelly's Roast Rack of Pork
You may remember this
dish from last Christmas,
when Peter and several other chefs came to SCF to prepare some of their holiday favorites. Then Greg and I made it for
Christmas dinner that year.
Well, the link to the recipe expired, so I'm reprinting it here. A how-to video, too, after the jump.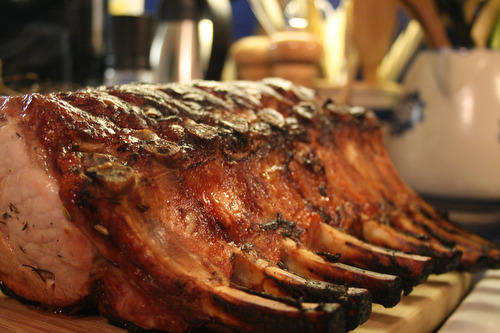 Roast Rack of Pork

Yield: 6 to 8 servings.

For the brine:
1 gallon water
1 1/3 cups kosher salt
1 1/2 cups sugar
6 tablespoons soy sauce
6-8 tablespoons black peppercorns
2-inch piece peeled ginger
8 pieces star anise
6 pieces bay leaf

For the pork:

1 (8-chop) rack of pork, trimmed and frenched
Olive oil
Thyme
Sage

In a large non-reactive bowl place all brine ingredients and stir till sugar and salt dissolve. Submerge pork in brine and leave in refrigerator for 6-8 hours (no more).

Remove pork from brine and let dry and come to room temperature for at least an hour before cooking.

Preheat oven to 375 degrees.

Sprinkle pork with salt and pepper. In an ovenproof skillet large enough to hold the pork, heat 1 tablespoon oil to very hot. Super hot. Really really hot.

Carefully place pork in skillet and sear on all sides. You want a nice color. Place skillet in oven, pork bones facing up. Roast for approximately 45 minutes to 1 hour (depending on size) or until juices run clear. We cook til 135 degrees. Remove from oven and let rest 15 to 20 minutes.

Slice roast into chops and serve.
Comments
Add Comments