Jump to navigation
Spicy Passionfruit Martini
I first had a simliar drink at
Cafe Atlantico
in D.C. It took me several weeks to figure out how to make it just right. I like to break out the recipe each summer.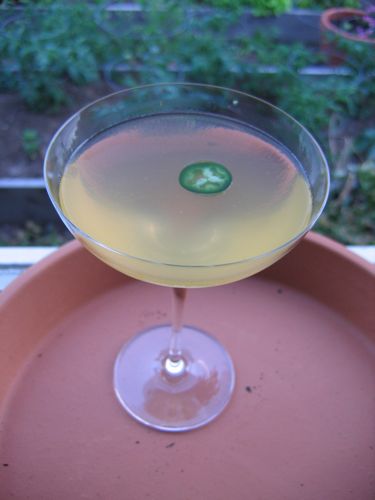 This version is a little simpler than what I put in the paper, but it works just fine.

1 bottle Bacardi O (or any orange-flavored rum)
1/2 large ginger root, chopped roughly but not peeled
2 jalapenos, cut in half (with seeds if you like it hot)
Simple syrup (1:1)
Passionfruit juice

Pour a bottle of rum into a plastic or glass container with a lid and add chopped ginger root and sliced jalapenos. (Save the bottle.) Put in a dark place for 24 hours, shaking occasionally. Strain back into the bottle.

3 ounces infused rum
2 ounces simple syrup
2 ounces passionfruit juice

Combine in a shaker with ice. Shake vigorously and strain into a chilled cocktail glass. Garnish with a jalapeno round.

Yield: 1 drink.
Comments
Add Comments