Jump to navigation
Farmers Market Loot, June 15
A new cheese guy arrived this week.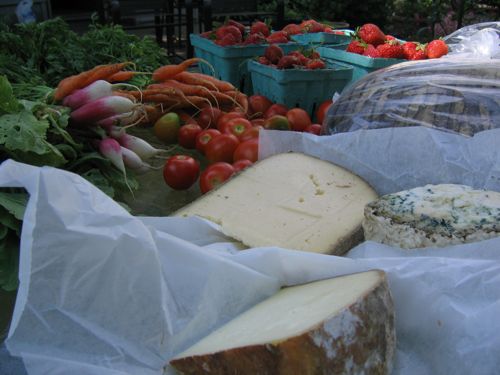 The creamery's name is called Valley Shepherd (cute, huh?) and they had about 10 different cheeses for sale.

From Valley Shepherd: $29.
3 sheeps milk cheeses. In the center of the photo is Winter Shepherd: 100 percent sheep's milk in a Manchego-style. In the back, we have Califon Tomme, made from sheep and cow milk from their neighbor's brown cows. They describe it as "Creamy, tangy with an unforgetfull finish. Some of us are eating this all day long… On sandwiches, for snacks, on melts etc etc Aged 5-8 months in our cave." On the right is a cheese called Ba-Ba-Bloo. (Now that's funny.) It's 100 percent sheep's milk and cave-ripened for 90 days.

From Orchards of Concklin: $16
3 quarts strawberries $13.
1 pint cherry tomatoes: $3

From Blooming Hill: $12
1 bunch radishes: $3
2 bunches carrots: $3 each
1 pint strawberries: $3

From Dines Farm:
1 chicken: $9

From Baker's Wife: $9.50
1 half-loaf walnut raisin bread
1 loaf whole wheat sandwich bread

Today's total: $75.50.

For past Farmer's Market Loots click here: June 8. June 1.
Comments
liz wrote:
liz wrote:
Add Comments