Jump to navigation
Aldea: In a Sleek Room, Bold Flavors and Fun on the Plate
If you're a big food person, you've probably already heard of
Aldea
, the modern Portuguese and Spanish restaurant in the Flatiron district. If you haven't, you probably will soon. The chef, George Mendes, opened the resaturant this summer after working at for two years at Toqueville, and studying, working and staging for big names like David Bouley, Alain Ducasse, Alain Passard and Kurt Gutenbrunner. Like many avant garde, modern chefs, he also studied in Spain.
But enough about his background, let's get to the food. The dish everyone is raving about — and for very good reason — is the Arroz de Patio, with duck confit, chorizo, olives and duck cracklings. It's one of those you can't stop thinking about: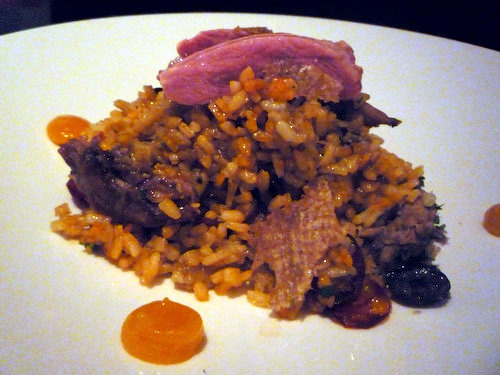 The restaurant is sleek and spare, without much in the way to distract you from what's on the plate: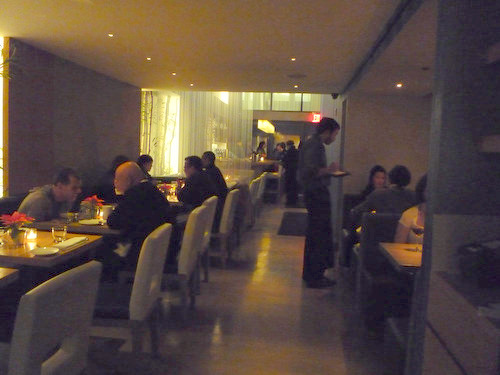 Except, if you're sitting the back at the bar overlooking the kitchen: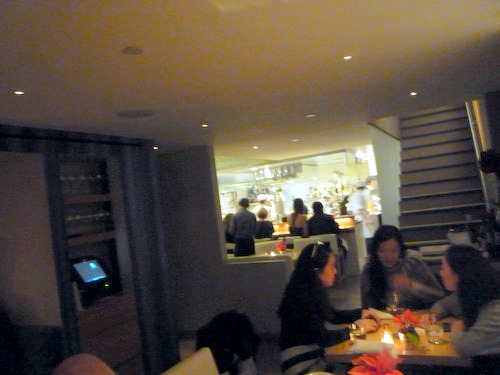 I started with a cocktail called the Harvester, which is made with Calvados, Chai-infused Vermouth and Apple Cider foam.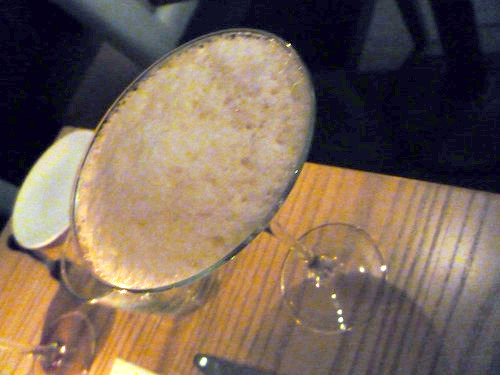 It was delicious and started the night out just right.

Boo, excited for dinner: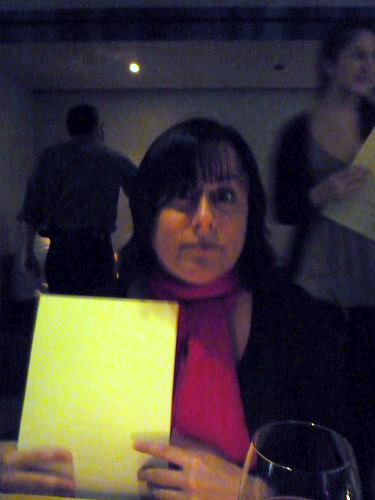 We shared three courses. We started with the sea urchin toast: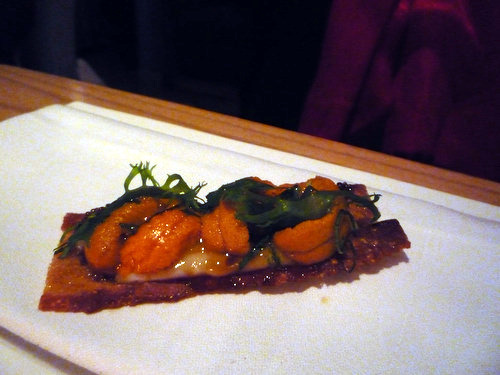 A thin, cracker-like bread, spread with cauliflower cream, sea beans and lime and topped with globes of sea urchin. Earth, sea — and may a little wind and fire — all at once.

We also tried the Shrimp Alhinho: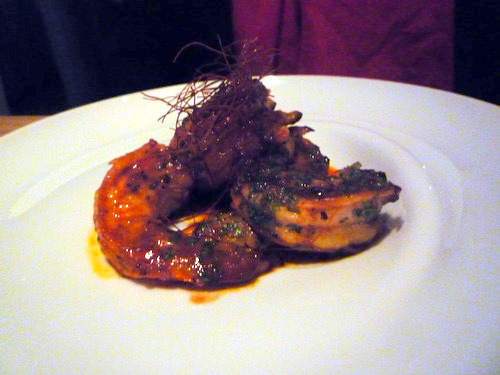 With garlic, coriander, pimenton and pressed jus. The forceful "I'm here" smoke from the pimenton was a main flavor, but the others blended nicely and left you wanting more.

Then we each tried a soup. Mine was the Matsutake Mushroom Broth with slow-poached egg, chorizo and pine.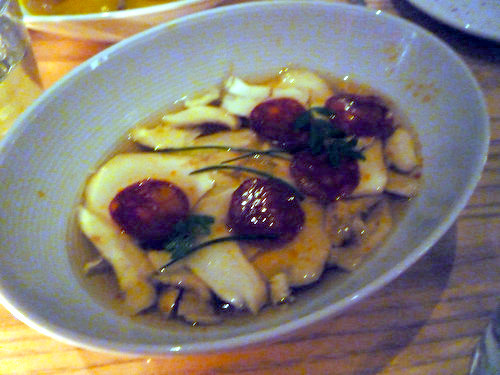 It was earthy, as you'd expect, but a little thin, except when you spooned up a piece of chrorizo.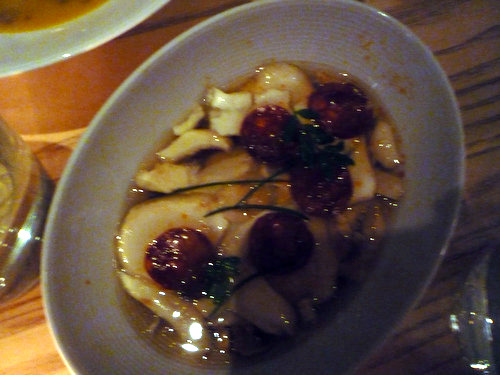 Boo's Butternut and Kabocha Squash Soup with smoked jamon, Concord grape and chanterelles was much more interesting and complex. The waiter brings you the soup with three "ravioli" of jamon in the bowl.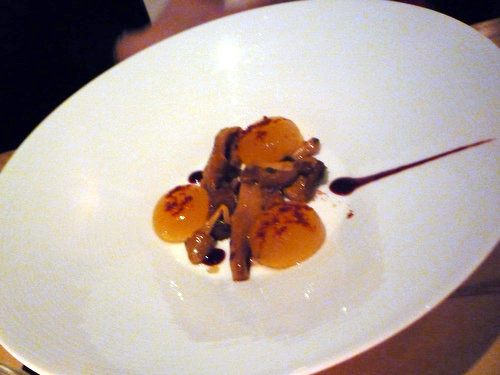 These are actually liquid orbs of serrano, surrounded by a thin skin, so they burst when you put them in your mouth.

They pour the soup on top: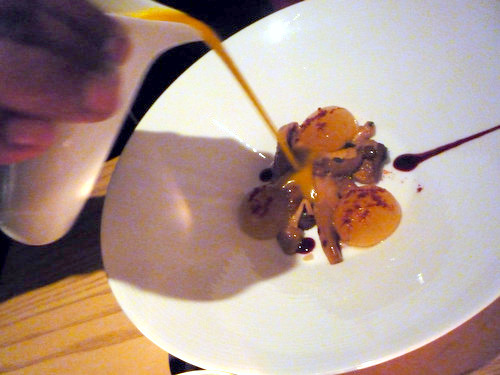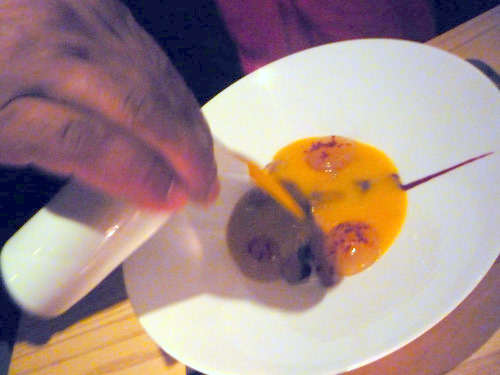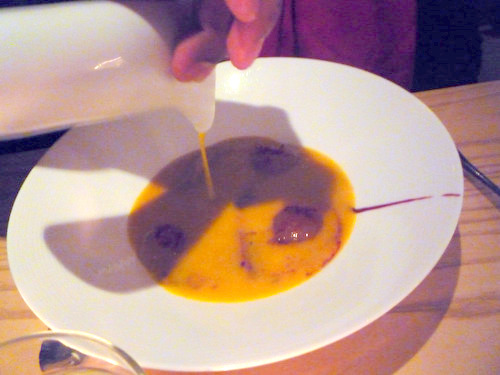 This was a winner. Be sure to hold a ravioli on your tongue before biting down... if you just have it in the soup it all kind of gets mixed in together and you miss the little fun trick he's playing.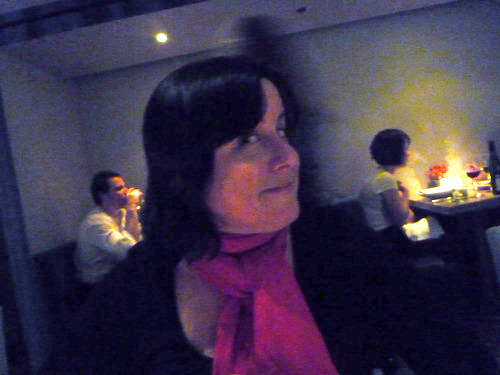 We got to know our neighbors a little bit. Best friends who met when the wife of this man —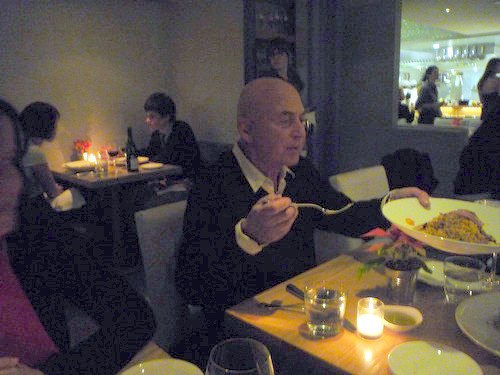 — passed away. The man decided to take up with the personal trainer his wife had been employing, mostly because he felt bad the guy was going to lose a client. He and the personal trainer (who was sitting next to me) became the best of friends.

They also got the duck.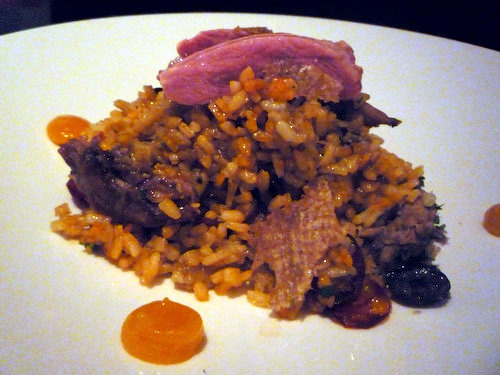 This was completely amazing. It's a circus of flavors and textures: crisp duck skin, smooth and silky duck meat, candied olives that stick to your molars, perfect little grains of rice slicked in an earthy, unctous sauce, and the spice and pork of chorizo thrown in for good measure.

My dish, the Sea-Salted Chatham Cod with braised cranberry beans and shellfish-parsley sauce —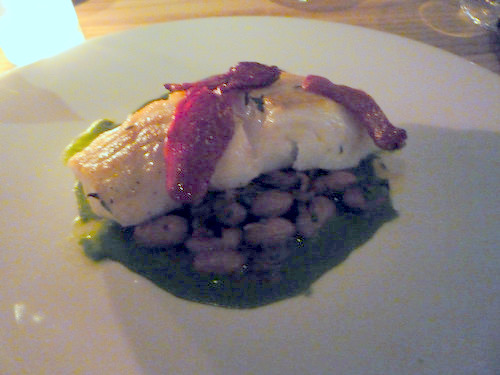 — was also very, very good: cooked perfectly, beans popped and revealed soft flesh inside, the sauce brought some acid to the dish. But the duck wins for best in show.

We decided to skip dessert, but were brought these little mingardises: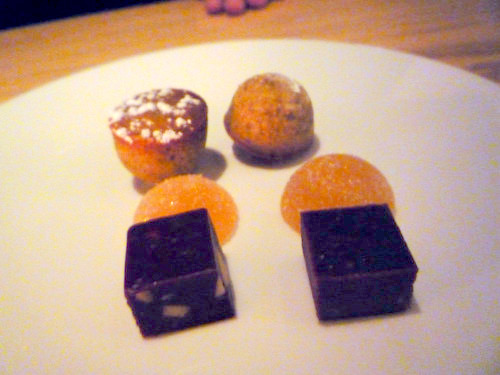 While Boo was waiting for me to finish up in the loo, she ended up speaking with one of the managers, who told her we — quite by acccident — ended up ordering a sort of "greatest hits' of the menu.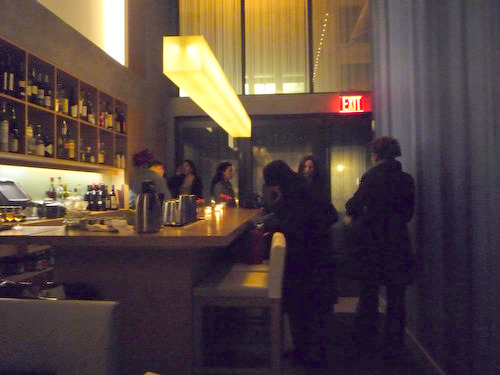 That means we've already tasted the tried and true, and there will be plenty more to explore the next time we're back.

And next time, I'll ask for reservations at the kitchen bar: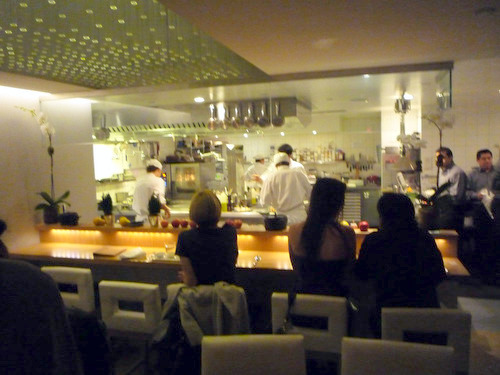 Comments
Add Comments