Jump to navigation
Pork and Mushroom Stuffed Squid with Vietnamese Dipping Sauce
Greg, keen on making a feast of fishes, found this recipe on
Chow.com.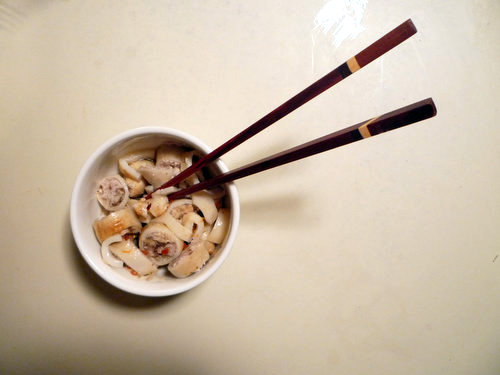 8 small squid, heads and tentacles removed, cleaned, cuttle bone removed, and patted dry
6 large dried Chinese mushrooms, soaked in warm water to soften, stems removed, and caps chopped
1 ounce (30 g) bean thread cellophane noodles, soaked in warm water 30 minutes, drained, and chopped
1 pound (450 g) ground pork
6 shallots, diced
4 garlic cloves, minced
1 tablespoon (15 mL) fish sauce (nuoc mam)
1/2 teaspoon (3 mL) sugar
1/2 teaspoon (3 mL) salt
Freshly ground black pepper
1/2 cup (120 mL) vegetable oil
1 cup (240 mL) nuoc cham sauce (recipe below, for dipping


All advance preparation may be found in the ingredient list. (Be sure to read carefully!)

Mince the squid tentacles. Combine the tentacles, mushrooms, noodles, ground pork, shallots, garlic, fish sauce, sugar, salt, and pepper. Mix well.

Stuff the mixture into the cavity of the squid bodies, filling them three-fourths full with a pastry bag fitted with a large plain tip. (Greg used a spoon. Be careful not to fill them all the way; they expand.) Secure the ends with toothpicks.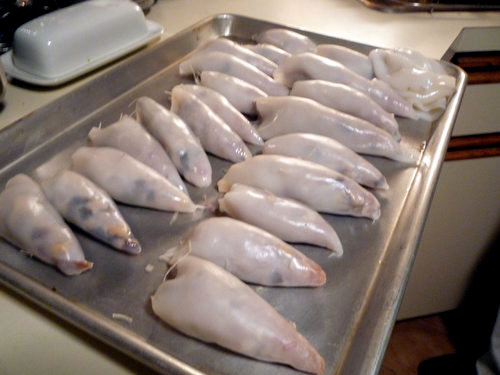 Heat the oil in a large skillet over medium heat. Add the stuffed squid and cook for 5 to 7 minutes, turning to brown all sides.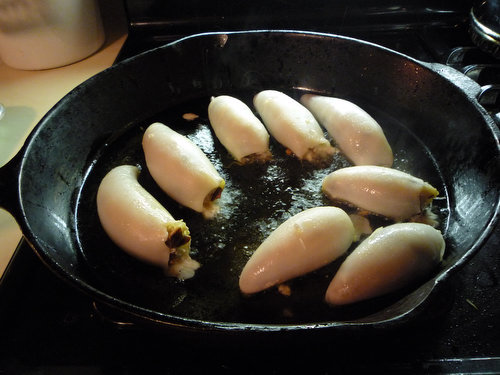 Using a long-handled fork or skewer, carefully pierce each squid (watch for spattering) to release any liquid trapped inside. Continue cooking for 10 minutes, turning occasionally.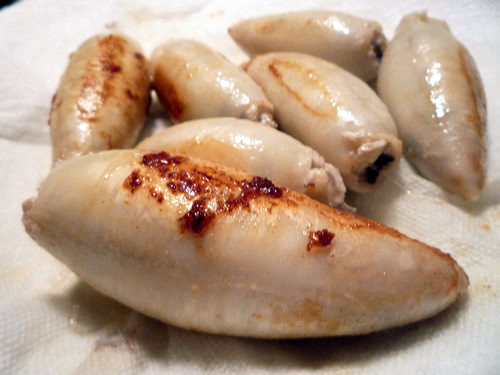 Place the squid on a cutting board and remove the toothpicks. Slice each squid on the diagonal and arrange slices on a plate. Serve with nuoc cham sauce on the side.

Vietnamese Dipping Sauce (Nuoc Cham)
From Viet World Kitchen.

Makes 3/4 cup.

3 tablespoons lime juice
2 tablespoons sugar
1/2 cup water
2 1/2 tablespoons fish sauce
Optional: 1 small garlic clove, finely minced
Optional: 1 or 2 Thai chiles or 1 teaspoon chili garlic sauce

Make limeaid. Combine the lime juice, sugar and water and taste. Adjust the flavors to achieve a balance of sweet and sour.

Add the fish sauce and any optional ingredients. Taste again and adjust, remembering it needs to be bold to fllavor flavor herbs and unsalted lettuce used for wrapping.


Comments
Add Comments