Jump to navigation
Recipe: Anne's Goat Cheese Gratin
Here's a sophisticated and delicious alternative to hot dips made with sour cream: a goat cheese gratin. It tastes sort of like a goat cheese pizza, and that's a good thing. The recipe comes from one of my favorite cookbooks,
"Patricia Wells at Home in Provence,"
and it would be easy to make your own, by using different herbs or adding vegetables, such as zucchini, or garnishes, such as scallions.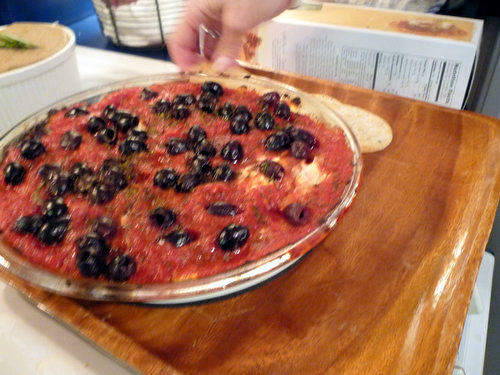 Anne's Goat Cheese Gratin
Six shallow 6-inch round gratin dishes or one 10 1/2-inch round baking dish

About 10 ounces soft goat cheese or a mix or rindless soft goat cheese and cow or sheep's milk cheese, cubed
2 teaspoons minched fresh rosemary leaves
2 teaspoons fresh oregano leaves or a pinch of dried oregano
1 1/2 cups to 2 cups fresh homemade tomato sauce at room temperature
About 24 best-quality black olives such as Nyons, pitted.

Preheat the broiler.
Scatter the cheese on the bottom of the baking dish. Sprinkle with half of the herbs. Spoon on just enough tomato sauce ot evenly coat the cheese. Sprinkle with olives and the remaining herbs.
Place the baking dish under the broiler, about 3 inches from the heat. Broil until the cheese is melted and fragrant, and the tomato sauce is sizzling, 2 to 3 minutes.

For the tomato sauce
2 tablespoons extra virgin olive oil
1 small onion, minced
3 plump fresh garlic cloves, peeled and minced
Sea salt to taste
One 28-ounce can crushed tomatoes in puree
Several sprigs of fresh parsley, bay leaves and celery leaves tied together with twine in a bundle
IN a large unheated saucepan, combine the oil, onion, garlic and salt and stir to coat with oil. Cook over moderate heat just until the garlic turns golden but does not brown, 2 to 3 minutes. Add tomatoes, add herbs, stir to blend and simmer, uncovered, until the sauce begins to thicken, about 15 minutes. Remove the herbs.

Freeze for up to 2 months.
Comments
Add Comments