Jump to navigation
What's a Party Without Hats?
Before last Friday, I'd never realized how important hats are to the making of a good party. But think about it. Why do three-year-olds wear those pointy "Happy Birthday" hats? And how many weddings have you been to where the bride wore a tiara. Plus, I have two words for you: Kentucky Derby. (Actually that should be four words, because I'd like to include, for the same event: Mint Juleps.) What would any of those be without hats?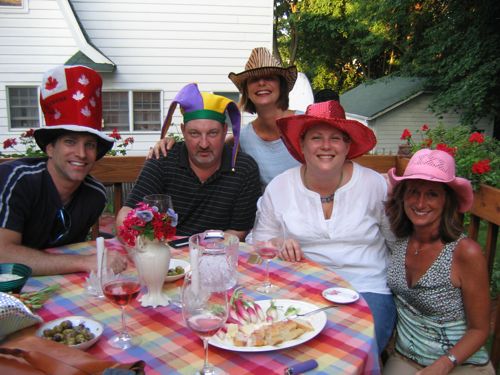 Before the hats arrived, Laurel — known to Sour Cherry Farm readers as the frequent commenter lbabs — and I were doing some prep work, waiting for the folks who had tickets to the U.S. Open to get back.

Most of the dinner was created from this week's Farmers Market Loot, including carrots, which we prepare for grilling —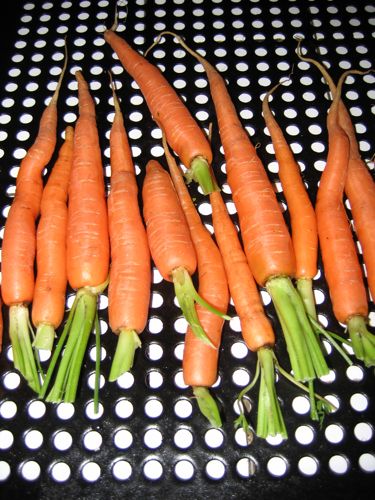 — and raw for hors d'oeuvres: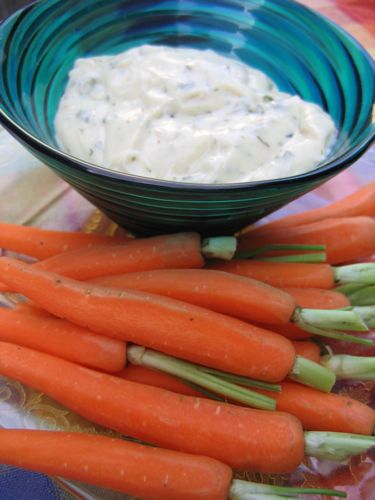 Other horse ovaries were radishes, with butter and salt.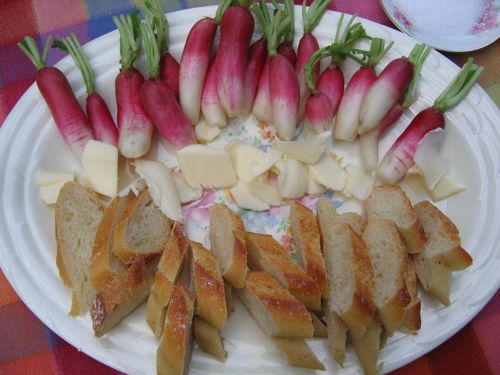 We also picked up some out-of-season vegetables at Whole Foods —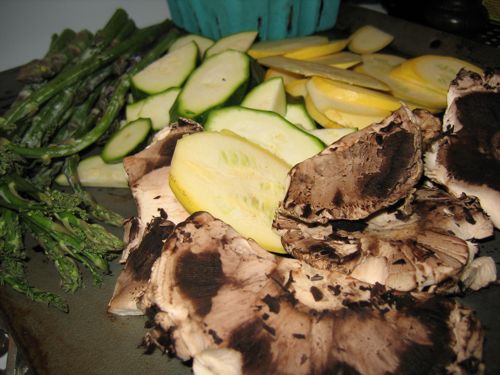 — asparagus, zucchini (green and yellow), and portobellos.

And would you expect any less from the strawberry fairy than strawberries?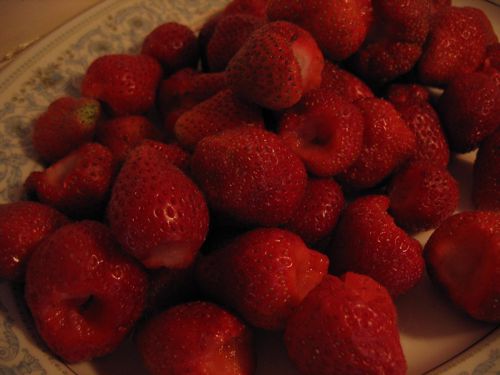 Some were in the salad, but these were to have for dessert, with cheese, also from this week's Farmers Market Loot.

The kids got back from the golf, and Laurel and I were ready with some rose and a Spicy Passionfruit Martinis. See them in the pitcher?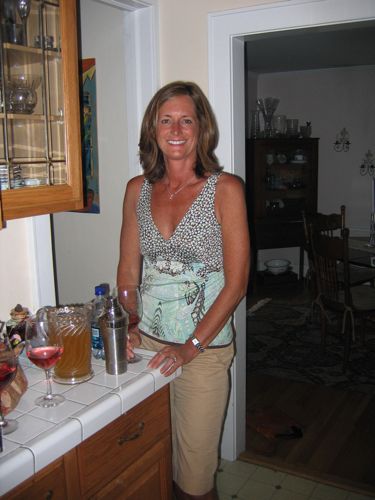 Then the hats arrived. This is Greg's imitation of Galinda from the Broadway show "Wicked." If you've seen it, you'll remember she likes to exaggerate as she throws her hair over her shoulders.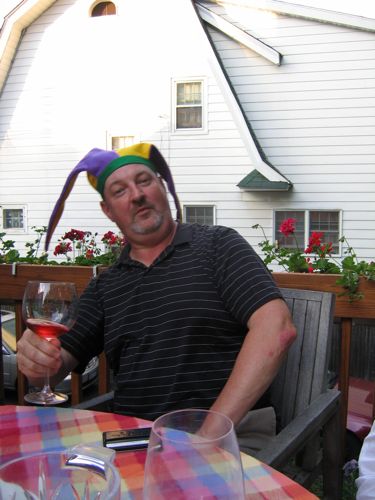 We started the evening off right with a toast.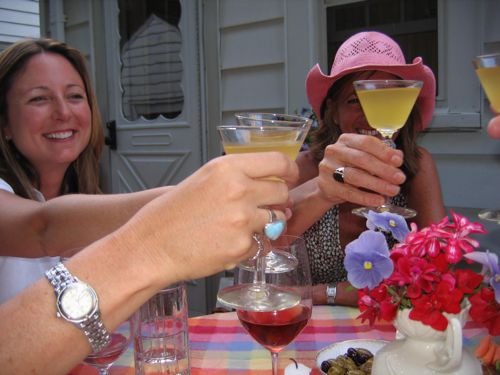 And then somehow, next thing we knew, it was dark.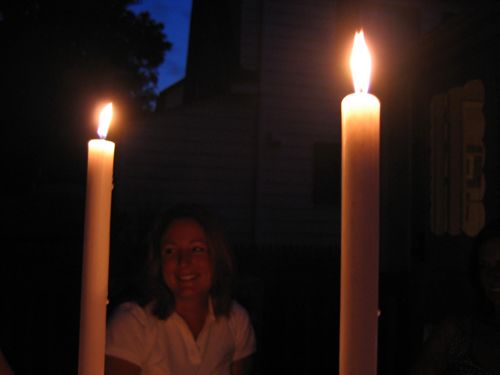 This is my newest friend Diane. She, too, has a Web site. And this was the first time I've shared a table with a fellow Web site owner. It was funny — like dueling cameras. Her site is hilarious. It's written in a newspaper style, and has stories like "Lunch and margies at La Tolteca lead to massive shoe purchase," "Friday night dinner features fine food, wine, fun," and "Diane's pink and green outfits unveiled." Check it out at www.querey.com. If you want to read the stories, including the write-up on this dinner, you'll need a password, though. Just email me or her (the address is on the site) and one of us can talk you through. While you're there, may I recommend visiting the Quiz page? I was especially fond of "Name Those Shoes" and "Name That Rack." Yes, that kind of rack.

Time to start grilling. Thanks Greg.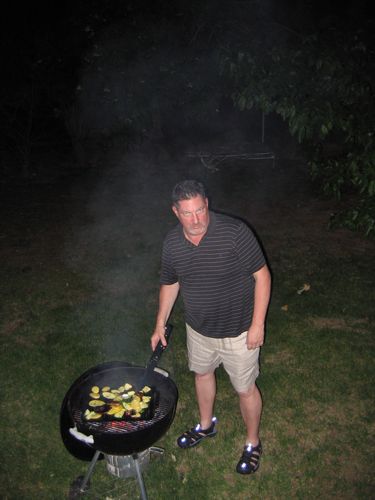 Why, yes, Tom, thank you, I will have some more wine.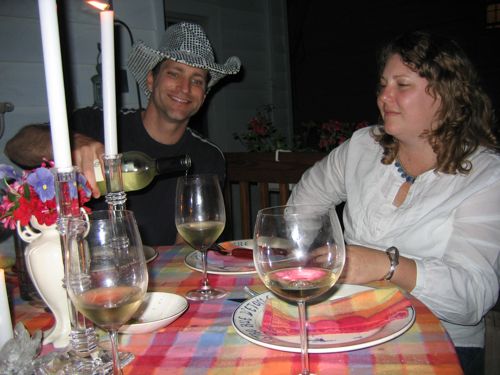 Nice flowers, right Diane?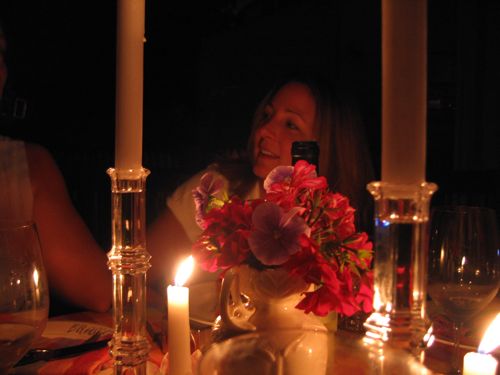 And I love the plates. They're French, you know.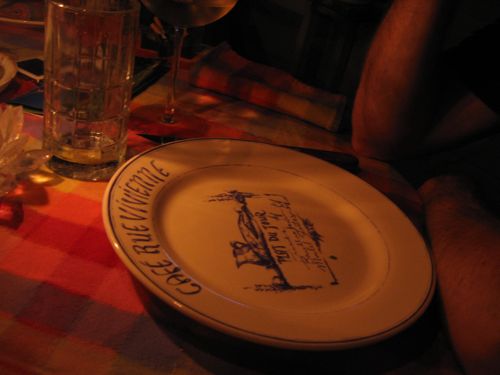 Greg, slicing steak on the bias. See how he's holding the knife? That's how you get that nice strip of crust along the side of the steak.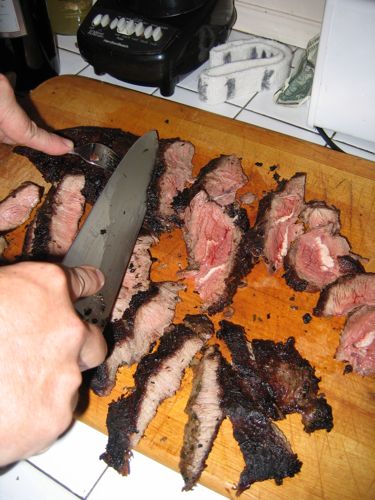 Get in line, Diane!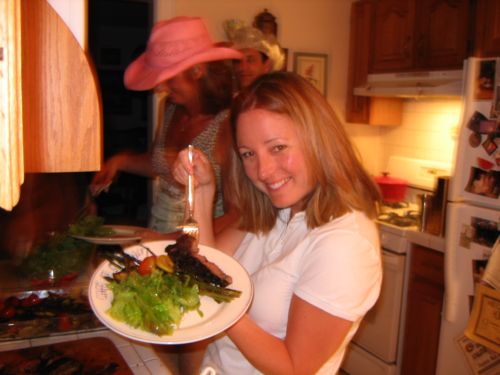 Dinner was flank steak (of course it was. Click here for the step-by-step recipe), grilled vegetables, a potato salad (it was a new recipe — I don't love it) and Sour Cherry Farm lettuce. See Greg with the lettuce on his fork?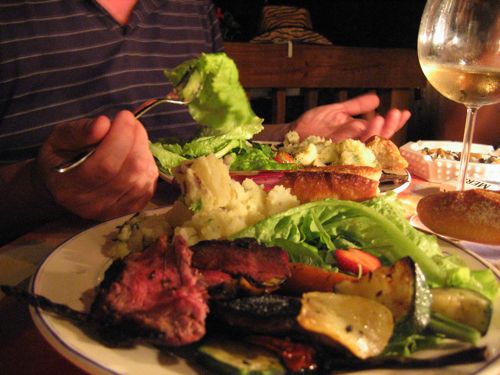 The background music was provided by CynDee's and Liz's iPods.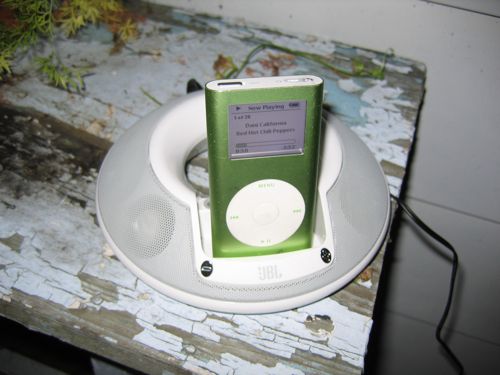 More fun with hats: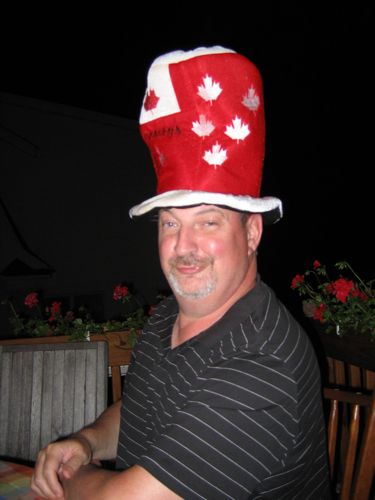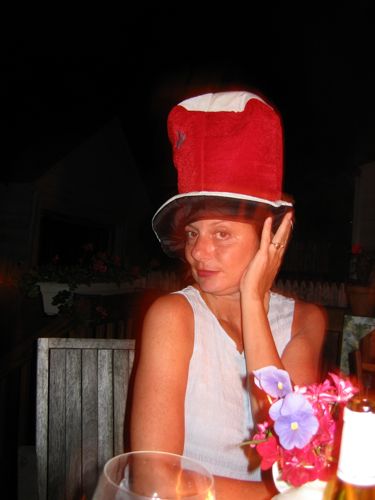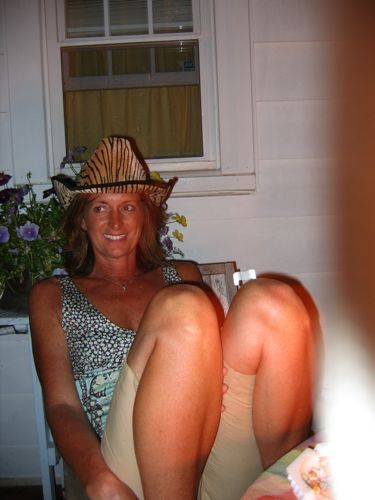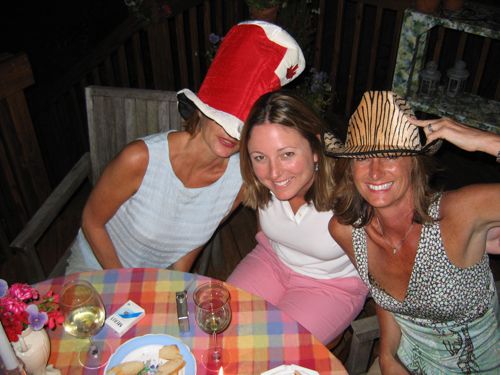 Dessert was cheese from the Valley Shepherd, procured at this week's Farmers Market.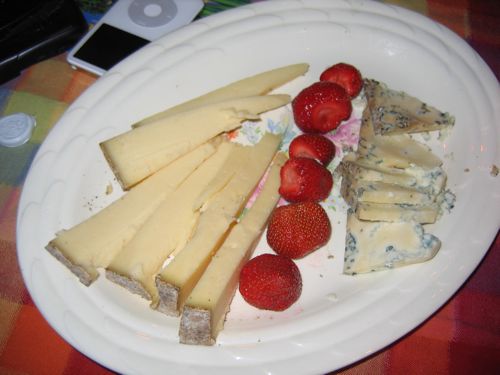 We knew it was time to go home when Tom was taking the hats away. I hope we'll have another hat party soon.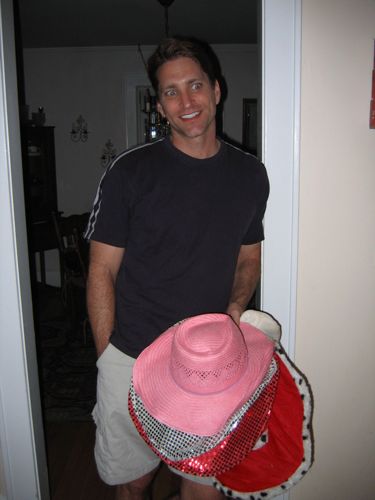 Comments
Add Comments