Jump to navigation
Recipe: Chicken Pot Pie with Leeks and Fennel
What to do with too many root vegetables and a bunch of leftover chicken? A pot pie, of course.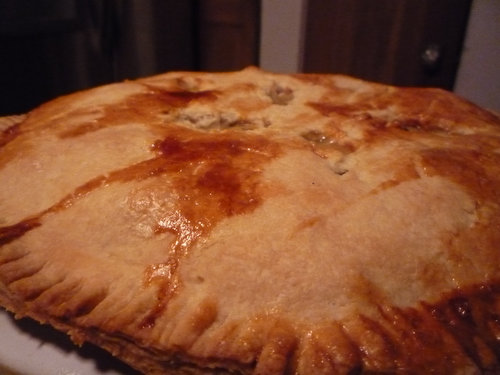 I came across this recipe for Chicken Pot Pie with Leeks and Fennel on the LA Times web site, and it looked great. I added a few tiny things, like different herbs and a few mushrooms, plus I cooked the chicken in cream, which this recipe does not call for.

So y'all know me, right? We start with bacon.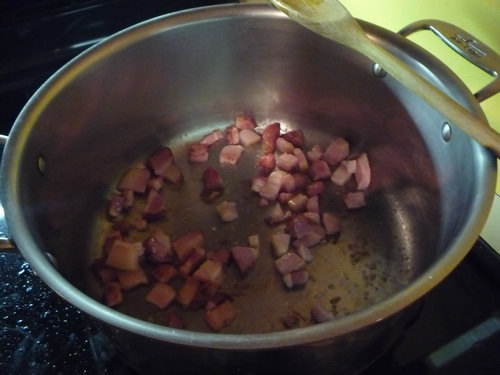 All right — actually — you start with chicken. It has to be cooked before you go. I had some leftover, and I had two breasts in the fridge. I poached the breasts in milk in the oven like I did when I followed this recipe a couple of years ago.

The I tore all the chicken up into chunks.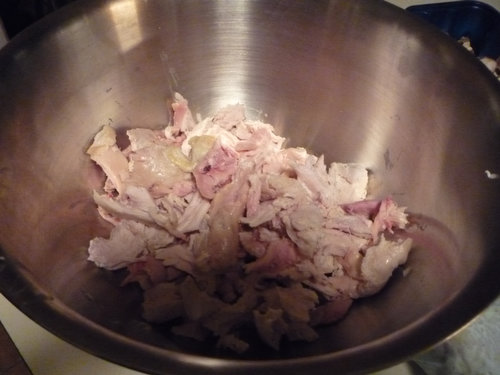 OK back to the bacon. These are the scrumptious little lardons I get packaged from Schaller & Weber (no relation) on the Upper East Side. (Anyone can mail order them, I think.)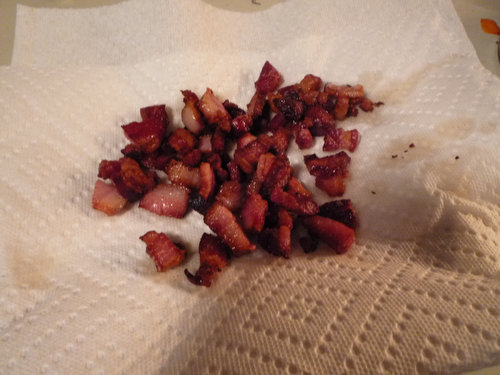 You also chop up a bunch of vegetables. I had leeks, fennel, mushrooms, carrots, onions and celery. So that's what I used: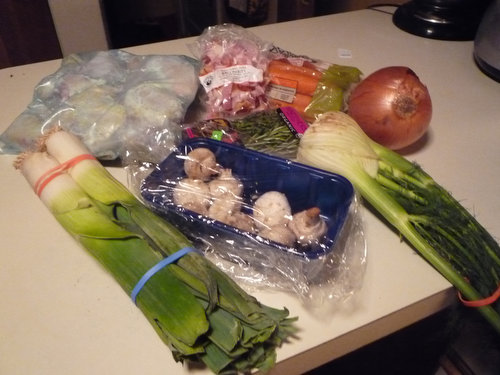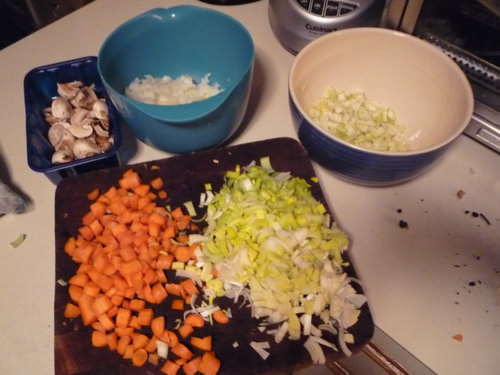 And a little thyme and rosemary, too.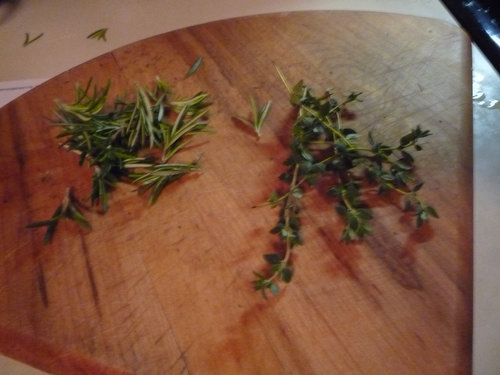 So after you take out the bacon, sweat the vegetables.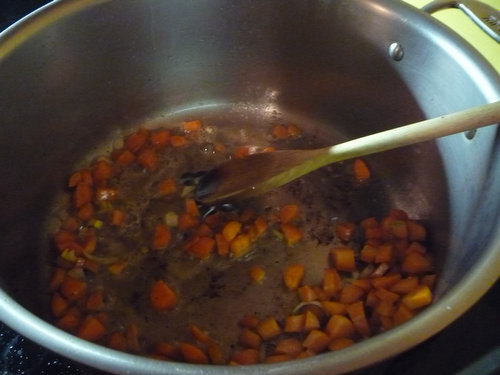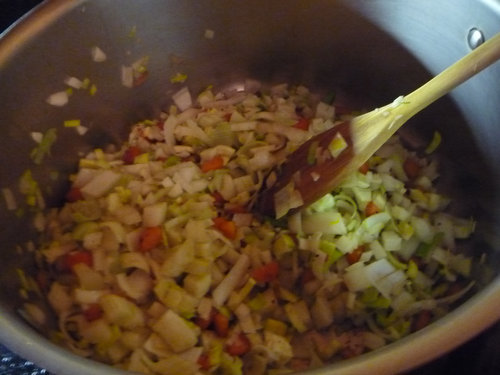 Then you make a roux. This one has 2 1/2 cups milk, 5 tablespoons butter and 5 tablespoons flour.

Milk: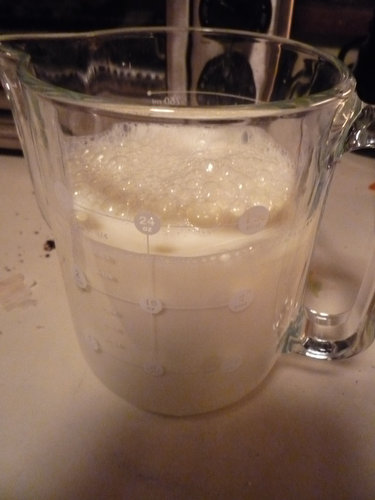 Butter —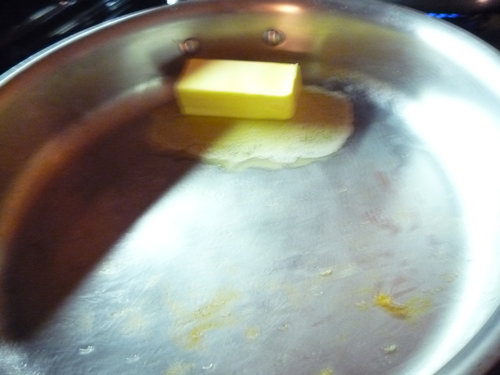 — and flour: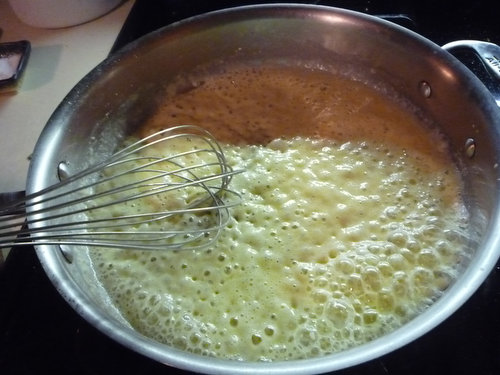 Stir!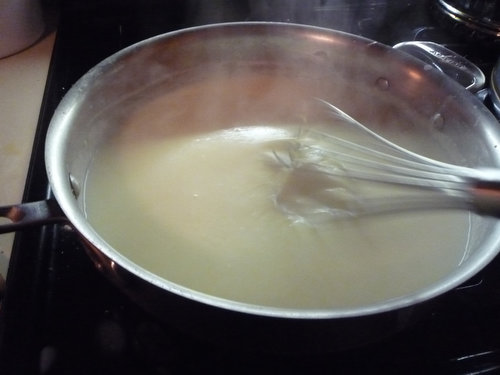 Add roux and chicken to the vegetables.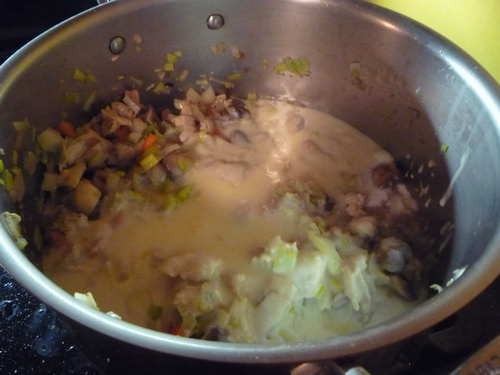 Stir!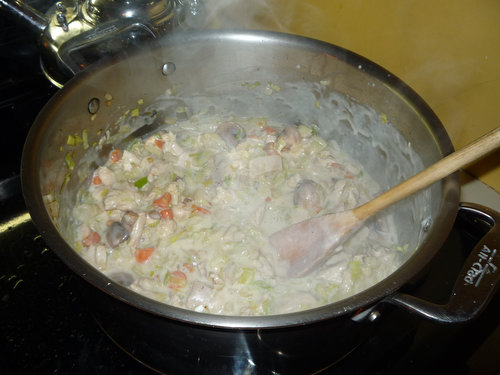 Roll out your dough. (I did not use the LA Times recipe for the dough. I made my own. Or you can use frozen.)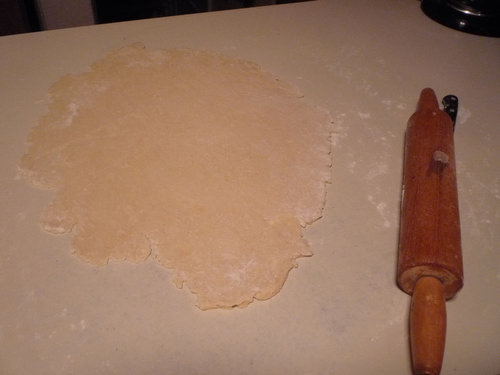 Put in a pie plate: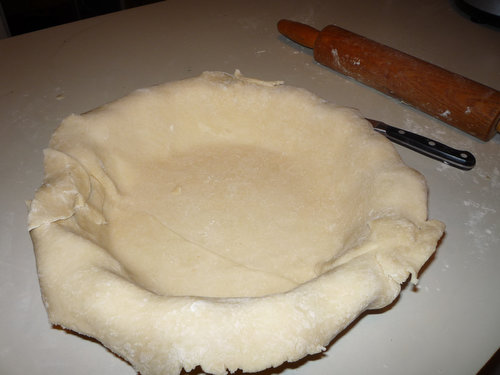 Fill with filling: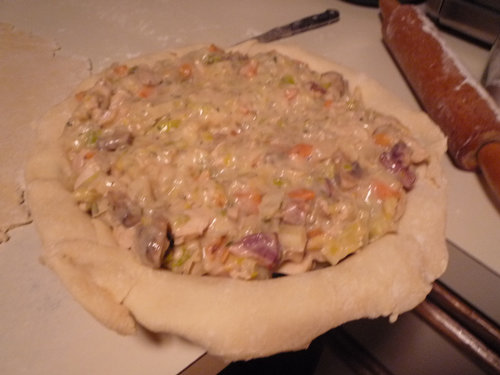 And top with the other half or the dough. Make little fork crinkles if you like: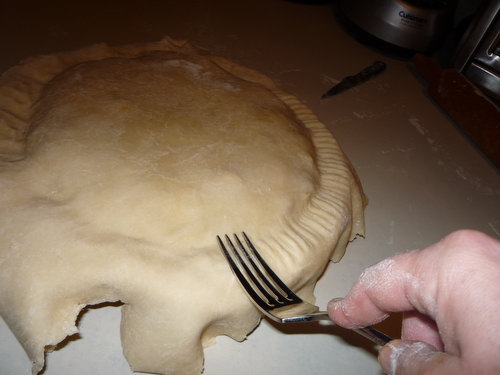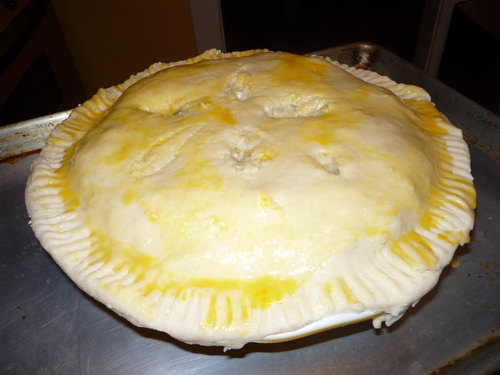 And bake.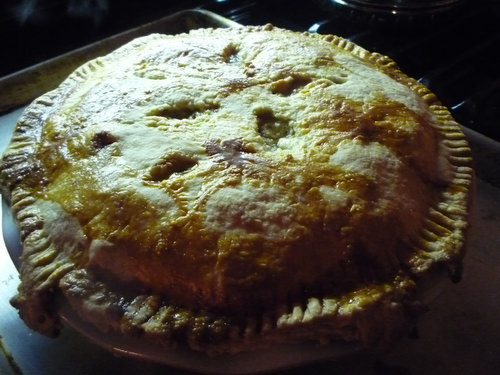 Delishy. And so warm and comforting on a cold winter's day.

Chicken Pot Pie with Leeks and Fennel

Servings: 8 to 10; this makes 1 (9-inch) pie.

5 cups chicken broth

1 cup diced carrot

2 1/2 pounds chicken breasts and thighs (skin on, bone-in)

1/4 pound diced bacon

1 small fennel bulb, trimmed and thinly sliced (about 2/3 cup)

2 leeks, white and pale green parts only, rinsed and sliced into thin rounds (about 2 cups)

1 onion, diced

5 tablespoons butter

5 tablespoons flour

2 1/2 cups milk

2 tablespoons lemon juice, more to taste

1 tablespoon lemon zest

1 tablespoon finely chopped rosemary

1 tablespoon finely chopped parsley

Salt and pepper

1 recipe basic savory pie dough (No. 1 or 2), chilled

1 egg, lightly beaten

1. Heat the oven to 400 degrees.

2. In a large Dutch oven or heavy-bottom pot, bring the broth to a boil. Add the carrots and reduce the heat to a simmer, cooking until the carrots are slightly softened, about 5 minutes. Add the chicken pieces and continue to simmer until the chicken is just cooked through (it will be firm and opaque), about 10 minutes. Remove from heat and strain the chicken and carrots from the liquid (discard or save the liquid for another use). When the chicken is cool enough to handle, remove and discard the skin and bones and chop the meat roughly into 1-inch pieces. Set aside.

3. Heat the Dutch oven over medium heat. Add the bacon and cook until it has browned and rendered its fat, stirring frequently, 8 to 10 minutes. Drain the bacon on paper towels, leaving the bacon fat in the pot. Add the fennel, leeks and onion, and continue to cook, stirring occasionally, until the vegetables are softened and slightly translucent. Stir in the chopped chicken and carrots and cook, stirring occasionally, for 5 more minutes to marry the flavors.

4. While the vegetables are cooking, in a medium, heavy-bottom saucepan, melt the butter over medium heat. Whisk in the flour until thoroughly combined to form a roux, then whisk in the milk. Increase the heat and stir constantly just until the mixture comes to a simmer and thickens, 3 to 5 minutes. Remove from heat.

5. Pour the sauce over the chicken and vegetables and stir to incorporate. Stir in the lemon juice and zest, reserved bacon, rosemary and parsley. Season with 1 teaspoon salt and one-fourth teaspoon pepper, or to taste, and add additional lemon juice if desired. Remove from heat.

6. Separate the chilled dough into two equal-sized balls. On a lightly floured surface, roll out each ball into rounds approximately 13 inches in diameter. Line a 9-inch deep-dish pie plate with 1 round, and fill with the chicken mixture. Cover with second round of dough, trim the edges and crimp to seal.
Comments
Add Comments