Jump to navigation
Urban Italian Sheep's Milk Ricotta
Chef Andrew Carmellini wrote his cookbook,
Urban Italian
, when he wasn't in a professional kitchen, but rather when he was between jobs, and cooking at home with his wife. That makes the recipes super easy for anyone to do at home. And if you've ever been to
Locanda Verde
(check out our visit last fall on this post here),
you'll want to make his recipes at home. Start with the Sheep's Milk Ricotta.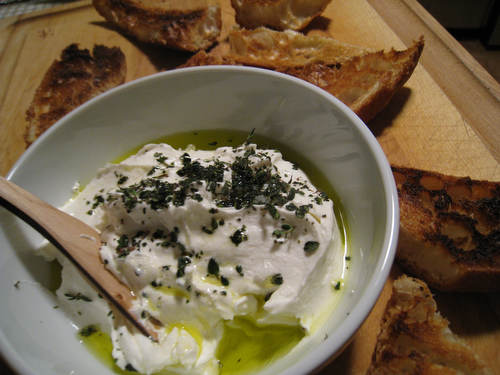 Andrew says this is his most popular antipasti dish. I had trouble finding sheep's milk ricotta. Even at the "so-called" gourmet shop Old World Market. (Can you tell I'm bitter.) So I got a nice tub of cow's milk ricotta from Steve's when I picked up the ground lamb.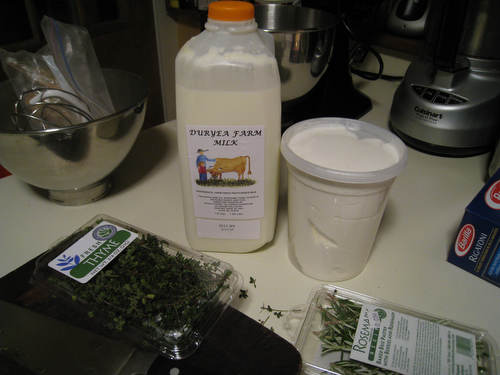 I also had some lovely local milk from right here in Rockland, which I got on my trip to the Hungry Hollow Coop.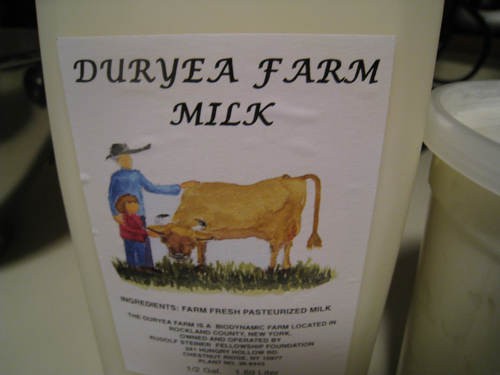 The first time I made the dish, it was very soupy — almost watery. I think there was too much milk.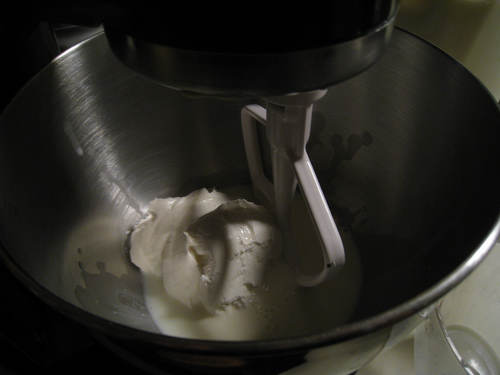 So I decided not to follow the recipe, and instead, I just beat in the milk a little at a time. It came out much, much better.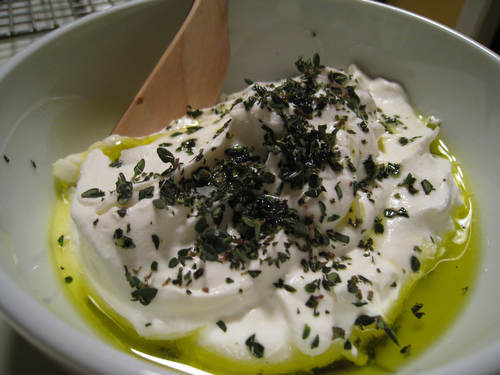 So here's the recipe. But if you feel like it's not the consistency that you'd like, just wing it. It's so easy, anyone can do it.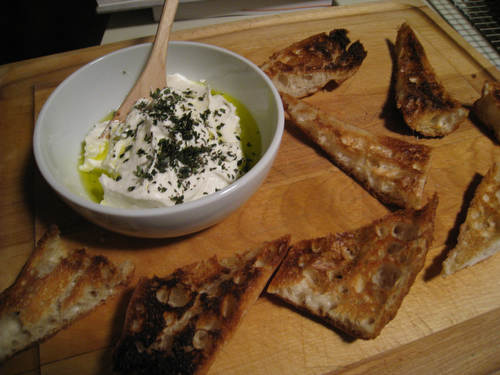 Sheep's Milk Ricotta

2 cups Sardinian sheep's milk ricotta
1 cup whole milk
1 teaspoon table salt
1 teaspoon fleur de sel or coarse sea salt
1 teaspoon coarse-ground black pepper
1 teaspoon fresh thyme leaves
1 tablespoon dried oregano
2 to 3 tablespoons extra virgin olive oil

Beat the ricotta and the milk together until the mixture is light and fluffy, using a Kitchen Aid with the paddle attachment if you've got one, or a whisk and a medium-sized bowl if you don't. Add the table salt and mix well.

Place the mixture in a serving bowl. Sprinkle the fleur de sel, pepper, thyme and oregano generously across the top.

Top with the olive oil, which will settle on and around the cheese. Serve this wit a board full of Grilled Country Bread. I guarantee you won't be able to stop eating it. (That's Andrew saying that, not me, but I fully agree.)
Comments
Add Comments